Drumi Sheets Review
•
Disclosure: By clicking on the product links in this article, Mattress Nerd may receive a commission fee at no cost to you, the reader. Read full disclosure statement.
The Nerd's Take: The Drumi sheets bring resort comfort to your bedroom with their airy, crisp, and sustainable cotton construction. When trying these sheets, I felt relaxed and cool all night, something that will appeal to hot sleepers. Although these cotton sheets are expensive and limited, they're great for shoppers looking for hotel-quality.
Who It's Good For
Eco-friendly shoppers
Sleepers who prefer cotton
Hot sleepers
Who It's Not Good For
Sleeper who dislike crisp sheets
Budget shoppers
Shoppers wanting customization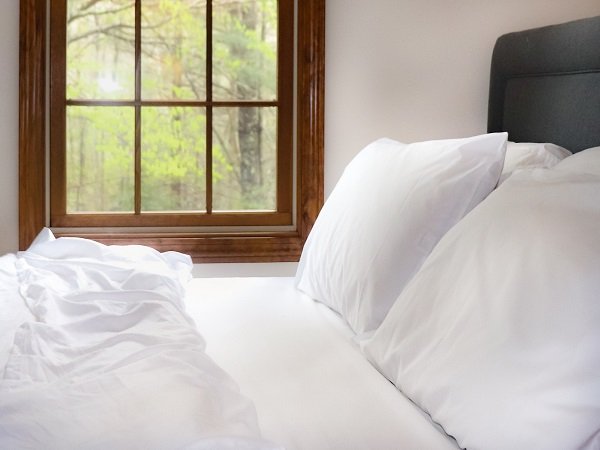 Feel
Trying out the Drumi sheets felt like checking into a vacation hotel room and turning the AC up. The sheets were light and airy on my skin, and their classic crisp and fresh hotel feel was refreshing all night long. Also, since the sheets are made from cotton percale fabric, I felt cool enough to stay comfortable and not break a sweat.
Materials and Construction: What's It Made of?
The Drumi sheets are made from organic cotton percale, and they have a thread count of 400. Furthermore, these sheets' cotton fabric are fair trade and GOTS-certified, meaning there's no harmful chemicals in their construction. Overall, the design of these sheets is both minimal and high-quality, and wrapping myself up in these cotton sheets felt luxurious and brisk.
The Drumi sheet set comes with a flat sheet, fitted sheet, and pillowcase(s), depending on size.
Mattress Nerd Sheets Scores
At Mattress Nerd, once we've spent a night in our sheets, we like to break them down by their feel, their cooling factor, their company's policies, and, of course, their quality—all on a scale of one to five. With that, let's take a closer look at the Drumi sheets.
Temperature Control: 4/5
In terms of temperature, these sheets reminded me most of a fresh hotel room bed. That said, while I didn't have any issues with overheating on the Drumi sheets, they're not the coolest sheets out there. While the Drumi sheets will appeal to many hotter sleepers, their higher thread count and cotton keeps in a little warmth and humidity.
Customizability: 2/5
The Drumi sheets come in four different sizes (from Full to California King) and only one color—white. Although the sheets' minimal design comes with fewer customization options than other cotton sheets, sleepers specifically looking for that hotel feel shouldn't have any issues.
Comfort: 4/5
Like checking into a resort, these sheets felt super relaxing and breezy. The Drumi sheet's quality cotton felt breathable and extra crisp when I first lay down on them. However, sleepers looking for a silkier kind of softness in their sheets, the Drumis' crispness may not be ideal.
Quality of Fabric: 4/5
The construction of the Drumi sheets is simple but well-made, I could feel the quality of the Drumi sheets' thread count and material when trying them out. The sheets have a thread count of 400, and they're made from organic GOTS-certified fair trade cotton. So, the Drumi sheets are good for the environment and feel good on your skin too.
Care: 5/5
The Drumi sheets have no specific restrictions or guidelines on washing them other than that Drumi recommends you wash your sheets regularly. Also, after several washes, you can expect your Drumi sheets to soften up a little bit more. Lastly, even though these sheets only come in white, you shouldn't have any extra trouble removing stains.
Customer Experience: 4/5
If you want to give the Drumi sheets a try, they come with free shipping, a 30-night free trial, and a 1-year Limited Warranty, only in the United States. During your free trial, you can return your Drumi sheets for a full refund if you decide not to keep them. If you do keep your sheets, their warranty only covers manufacturer defects.
Total Score: 3.5/5
Pros/Cons
Pros
Sustainable: Eco-conscious shoppers will appreciate the Drumi sheets' organic and sustainable design. The sheets are made entirely from fair trade and chemical-free cotton percale, plus, the sheets are packaged with no plastic. Lastly, with each purchase of sheets, Drumi donates to save coral reefs.
Cooling: Since the Drumi sheets are made from organic cotton, they felt refreshing and airy. Although these sheets aren't the coolest on the market, they're a great option for hotter sleepers looking to beat the heat with a cool hotel bed feel.
Cons
Not Customizable: These sheets are designed to replicate the feeling of sleeping at a resort but not much else. That means, if you're looking for more colors or smaller sizes, you may be disappointed that Drumi only offers four sizes and their sheets only come in white.
Limited Warranty: Shoppers looking to invest in the best warranties on their sheets should keep in mind that the Drumi sheets' 1-year warranty is limited only to manufacturer defects and not standard wear and tear. Also, this warranty only applies to purchasers in the United States.
Sizing, Pricing & Policies
| | | |
| --- | --- | --- |
| Size | Thread Count | Price |
| Full | 400 | $135 |
| Queen | 400 | $150 |
| King | 400 | $175 |
| California King | 400 | $175 |
Shipping
Regardless of location, each set of Drumi sheets will ship for free.
Trial Period and Warranty
Once you've purchased your Drumi sheets, you will have a 30-night trial during which you can return them for a full refund, as long as the sheets are not damaged. After the 30-night trial, you will also receive a 1-year Limited Warranty for your sheets that covers manufacturer defects exclusively.
FAQs about the Drumi Sheets
Do Drumi Sheets Work?

Compared to other sheets, the Drumi sheets are made with a higher thread count of 400, which means that they can resist wrinkles and are more durable. Also, since the Drumi sheets are woven from cotton percale, they have a stronger and more wrinkle-free design.
Are Drumi Sheets Durable?

The Drumi sheets are designed from high-quality cotton percale and include a high thread count of 400, which help the sheets' fabric to remain more crisp, strong, and tightly woven. Additionally, the Drumi sheets don't require any extra care and cleaning aside from regular washing.
Do the Drumi Sheets Feel Cool?

The Drumi sheets replicate the cool and airy feel of classic hotel bedroom sheets because of their organic cotton construction. However, since these sheets have a higher thread count too, sleepers who often overheat may want to consider even more cooling options for their sheets.
Are the Drumi Sheets Worth It?
If you're a hot sleeper, or if you're looking for sustainable and cooling sheets that feel like you're at a resort, the Drumi sheets are ideal for you. However, if you prefer sheets that feel less crisp over traditional cotton, or if you want more color options for your bed, the Drumi sheets may not be the best option.
Nerd Score Wrap Up
| | |
| --- | --- |
| Performance Factor | Out of 5 |
| Temperature Control | 4 |
| Customizability | 2 |
| Comfort | 4 |
| Quality of Materials | 4 |
| Care | 5 |
| Customer Experience | 4 |
| Total Nerd Score | 3.5 |