Full vs. Queen Size Bed
•
Disclosure: By clicking on the product links in this article, Mattress Nerd may receive a commission fee at no cost to you, the reader. Read full disclosure statement.
There are many considerations that go into purchasing a new mattress. Not only do you need to think about the mattress material and price, but you also need to consider the size. The standard mattress sizes are twin, twin XL, full, queen, king, and California king.
While each of these mattresses comes with their own benefits and features, none of them are a one-size-fits-all solution. Read on to get a better understanding of the primary differences between two popular mattress sizes, full and queen, so that you can see which bed is perfect for you.
| | | |
| --- | --- | --- |
| | Full | Queen |
| Height | 11" | 18" – 36" |
| Width | 53" | 60" |
| Length | 75" | 80" |
| Surface Area | 3,975" | 4,800" |
| Average Cost | $800 | $1,000 |
| Who it's best for | Young adults, teenagers, guest bedrooms | Couples, larger adults, master bedrooms |
| Mattress Options | Best Full Mattresses | Best Queen Mattresses |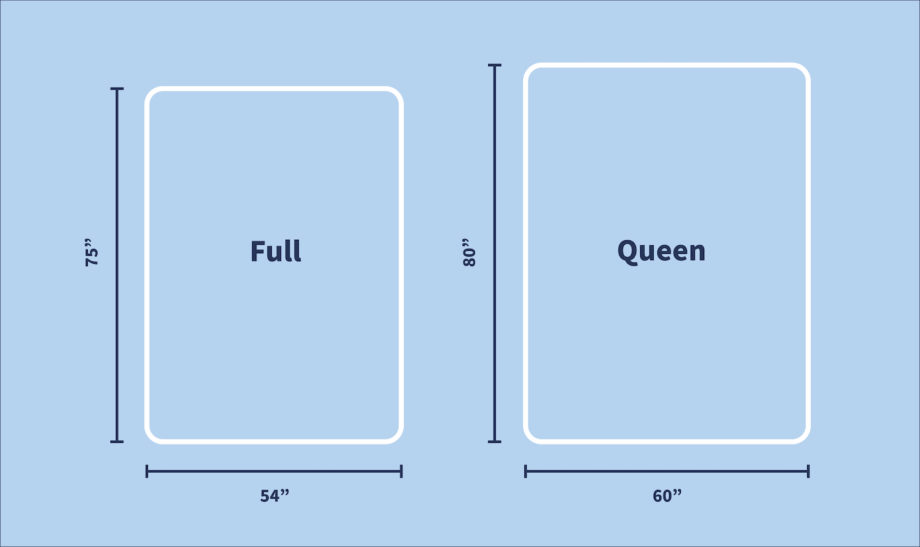 Full and Queen Similarities
Full and queen size mattresses are often considered interchangeable because they share many similarities. The main commonality between them is that they are large enough to accommodate most young adults and adolescents, and they are long enough to provide proper legroom for taller individuals (although the standard queen size has extra overall sleeping space, which is discussed below).
Full and Queen Differences
Looking at the mattress dimensions, a full size mattress measures approximately 53 inches wide and 75 inches long, while a queen size mattress measures roughly 60 inches wide and 80 inches long. This equates to the full size mattress having a 3,975-square-inch surface area, and the queen size mattress having a 4,800-square-inch surface area.
This extra space means that the queen size mattress is a better option for couples that share the bed, and larger single adults. It also allows the full size mattress to be more compact so that it can easily fit into most children's bedrooms and guest rooms, while a queen size bed is better suited for master bedrooms.
Another difference between the two mattress sizes is their height. Full size beds can be up to 11 inches high, while a queen size bed can be between 18 inches and 36 inches high. This makes full size beds easier to get into for shorter individuals.
Finally, there is a gap in the pricing between these two mattress sizes. A full size mattress's average cost can be approximately $800. A queen mattress uses more materials in its construction, and therefore will be slightly more expensive, costing around $1,000 on average.
Considerations When Mattress Shopping
We spend about a third of our lives in bed, so it's important that we do all that we can to ensure we have a good sleep experience. One of the keys to this is finding the right mattress. As mentioned previously, there is no one-size-fits-all solution for mattresses, and everyone's body is unique. Therefore, you need to take into account several considerations, such as bed dimensions, age, and sleeper size, as you're shopping for your new bed option.
Age
Although there is no set age for specific mattresses, there are mattress sizes that are most popular with certain age groups. Younger children who have just grown out of their cribs will often start off with a twin size mattress or twin XL size mattress. 
As they grow older, teenagers and younger adolescents may transition to full size mattresses, which can give them plenty of personal space. Some adults may also like full size mattresses, but many taller or larger adults will instead go with a queen mattress, especially if they are sharing their bed with a sleeping partner. 
Cost
The rule of thumb is that the larger the mattress size, the higher the price point, due to the fact that it will require extra materials for construction. In addition to mattress size and manufacturer, another factor that goes into mattress cost is the type of material being used. Memory foam mattresses, latex mattresses, and innerspring mattresses can all wildly differ from each other in terms of price.
Room Size
When shopping for a mattress, you shouldn't just think about how it affects your sleep. You should also consider how it fits in your room. Twin size and twin XL size mattresses are best suited for smaller rooms, such as children's bedrooms (they are also great for use in bunk beds).
Full size mattresses are ideal for guest bedrooms, college dorm rooms, and medium-sized bedrooms. Queen mattresses and larger are recommended for master bedrooms.
Although queen beds, king beds, and California king beds might fit into smaller bedrooms, you also have to consider how much space they will dominate. You want to ensure you still have enough space for your belongings and that your bed isn't taking over the entire room.
Size of Sleeper
The size of the sleeper is one of the biggest factors to consider when choosing a mattress. A mattress that is too short for the sleeper can lead to a very poor night's rest, while a larger mattress, although accommodating, may take up an unnecessary amount of space.
Twin beds and twin XL beds are primarily for younger children who haven't hit puberty yet. Teenagers will do well with a full size mattress, but if they've hit their growth spurt already, then they may want to upgrade to a queen mattress, which can have enough room to accommodate their larger size.
Young adults may also find a full bed to be adequate, especially college-age students. A queen size mattress with its extra length and width is great for young adults and smaller couples that share their bed.
Single Sleepers vs. Couples
Different mattresses will be better suited for single sleepers and couples. Twin mattresses, twin XL mattresses, and full size mattresses are all small enough to accommodate a single person. If you share your bed with someone else, it's highly recommended that you choose a wider option, such as a queen mattress, a king mattress, or a California king mattress.
Mattress Height
The height of the mattress matters as much as the length and width. When we get in and out of bed, we're putting a lot of stress on our back and joints. That's why you need to find a mattress that isn't too high or low to the ground.
Twin, twin XL, and full beds are oftentimes around 11 inches, while queen, king, and California king beds can range from 18 to 36 inches. A shorter person may have trouble getting in and out of bed with the taller mattresses, while tall people may find it to be taxing on their back and joints if their mattress is too low to the ground.
Always consider all of the mattress dimensions when shopping for a new mattress.
Moving Your Mattress
Are you someone who likes to reorganize their room a lot, or do you have a habit of moving frequently? If so, then you'll want a mattress that isn't too large to maneuver, especially if you plan to do it yourself.
Twin, twin XL, and full size mattresses are small enough for you to move around on your own. However, when you go with a queen, king, or California king size mattress, it's very important that you find someone to help you with moving.
Trying to move a larger bed in and out of your home by yourself can potentially lead to injury or damage.
Which Mattress Size is Right for You?
There are numerous factors that will impact your search for the proper mattress. Ultimately, you want to find a sleep option that is comfortable for you. You deserve a good night's sleep, and this guide will hopefully put you on the right track toward finding the best mattress that will help you accomplish that goal.