How and Where to Get Rid of Your Mattress
•
Disclosure: By clicking on the product links in this article, Mattress Nerd may receive a commission fee at no cost to you, the reader. Read full disclosure statement.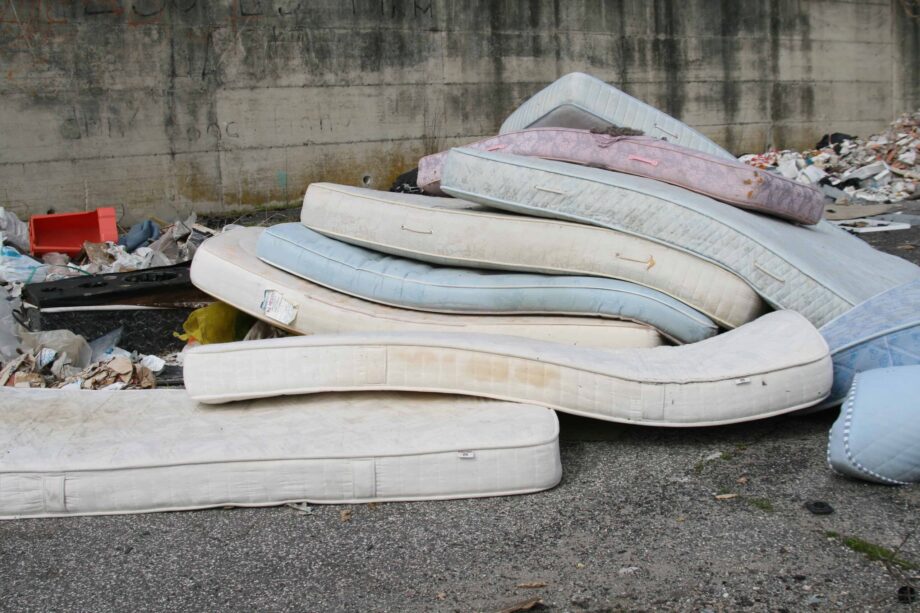 So you want to get rid of your old mattress and are not sure the best way to go about it? Each state has its own quirks when it comes to ditching your mattress. Figuring it all out can take some serious research. The good news is, we did the hard work for you, whether you want to resell, recycle, donate or dump your old bed. But before you decide, let's consider the options:
Resell: Want to make some extra money by reselling your old mattress? Regardless of where you live, you shouldn't have a problem selling it in a yard sale or on an online marketplace through sites like Facebook or Craigslist. But, if your mattress is stained or noticeably lumpy, you'll probably not have any takers. You're not required to, but if your mattress is in good enough shape to sell, it would be nice for you to have your mattress professionally cleaned first. However, if you're a retailer and you want to sell a used mattress, you have legal hoops to jump through. Check with your state or local health department for details.
Donate: If you don't want to hassle with selling your old mattress, you can donate it. But, don't assume that any charity will welcome your mattress. Some are wary of taking mattresses due to health laws that require them to sanitize mattresses before they can resell them. For example, Goodwill does not accept mattresses, but the Salvation Army will. You can also contact local furniture banks, homeless shelters, or Habitat for Humanity. As with reselling your mattress, if it's stained and saggy, it's probably not good enough for donating for reuse, either.
Dump: If you are getting rid of your old mattress because you bought a new one, ask the company from which you bought your new mattress whether they will remove your old mattress. In some states, like California, retailers are required by law to offer to remove your old mattress for free (which they are required to recycle, if possible). If not, most residential solid waste services will pick up your old mattress curbside or allow you to schedule curbside pickup. What you don't want to do is dump your old mattress randomly on the street, in an alley, in a dumpster, or any property that is not your home or a permitted waste removal facility, because it's illegal, and you may face steep fines and possible incarceration.
Recycle: Be kind to Mother Earth, and consider recycling your mattress instead of dumping it, where it'll add to all the waste already taking up space in landfills and encroaching on animal habitats. Recycling reduces your carbon footprint, too. Depending upon where you live, you can contact a local recycling center to arrange for pickup or delivery of your mattress. Many recycling centers and landfills contract with junk haulers (like Mattress Disposal Plus, which you can contact directly as well) who can determine whether your mattress can be recycled and/or if there is a recycling facility nearby. If you live in a smaller city or rural community, you may not have the option to recycle. To find out if there is a mattress recycling center near you, check out Earth 911.
If your mattress can be recycled, you will likely pay a fee for breaking it down to materials that can be recycled, such as steel, wool, and cotton. If you want to avoid that fee, you can break down your mattress and boxspring yourself by following the steps provided by Budget Dumpster.
Three states — California, Connecticut, and Rhode Island — have laws that allow residents to recycle their mattresses for free.
What's Allowed in My State?
Alabama
Alaska
Arizona
Arkansas
California
Colorado
Connecticut
Delaware
Florida
Georgia
Hawaii
Idaho
Illinois
Indiana
Iowa
Kansas
Kentucky
Louisiana
Maine
Maryland
Massachusetts
Michigan
Minnesota
Mississippi
Missouri
Montana
Nebraska
Nevada
New Hampshire
New Jersey
New Mexico
New York
North Carolina
North Dakota
Ohio
Oklahoma
Oregon
Pennsylvania
Rhode Island
South Carolina
South Dakota
Tennessee
Texas
Utah
Vermont
Virginia
Washington
West Virginia
Wisconsin
Wyoming
Final Thoughts
When it comes to getting rid of your old mattress, you have options. If you are replacing your old mattress with a new one, the most convenient option is to ask if the company will remove your old mattress when they deliver the new one. If not, consider reselling or donating your mattress. If your mattress is stained and saggy, it's probably best to dump it, however it's more eco-friendly to recycle it if you have that option in your community. Speaking of eco-friendly, there are a lot of eco-friendly mattresses if you need a new one.