Nectar Serenity Weighted Blanket Review
•
Disclosure: By clicking on the product links in this article, Mattress Nerd may receive a commission fee at no cost to you, the reader. Read full disclosure statement.
The Mattress Nerd's Take: The Nectar Serenity weighted blanket is one of the best weighted blankets for multi-seasonal use. The cooling side of the cover is genuinely cooling, and the warming side keeps you warm without overheating. The stiffness of the inner blanket detracts from its overall coziness, but it's still worth your attention.
This blanket was previously named the Resident Serenity Sleep weighted blanket. 
Who It's Good For
Individual sleepers

Couples

Hot sleepers
Who It's Not Good For
Light sleepers concerned about noise

Those with heavyweight body types (since they need a blanket that weighs at least eight to 15 percent of their

body weight

)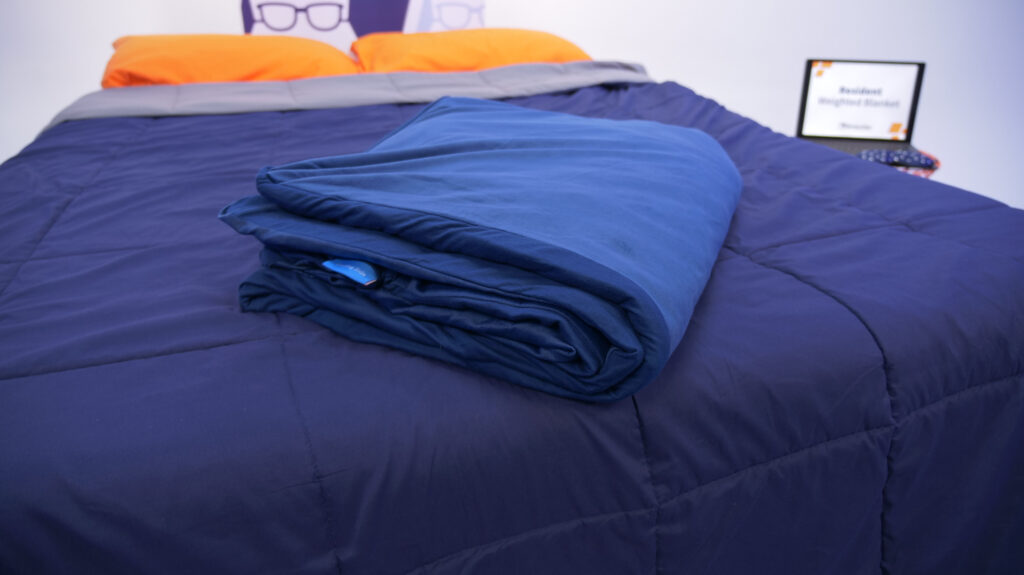 Nectar Serenity Weighted Blanket Video Review
Feel
The Nectar Serenity weighted blanket is (predictably) heavier than a regular throw blanket. We tried out the 15 lb version, and while I like even more weight than 15 lbs, less weight makes this version more portable and versatile.  
I actually notice a difference in temperature when flipping between the warm side and cool side. The warm side has a soft, velvety cover and stays more temperature-neutral than warm. 
The cool side feels significantly cooler, like when you stretch your legs to a part of the bed that hasn't been warmed by your body. However, I don't love the feel of the cover on the cool side—the fabric is stretchy and smooth, but not soft enough to feel cozy. That's partly because the weighted insert has a polyester shell on the cool side that's stiffer—and more cooling—than the material on the warm side.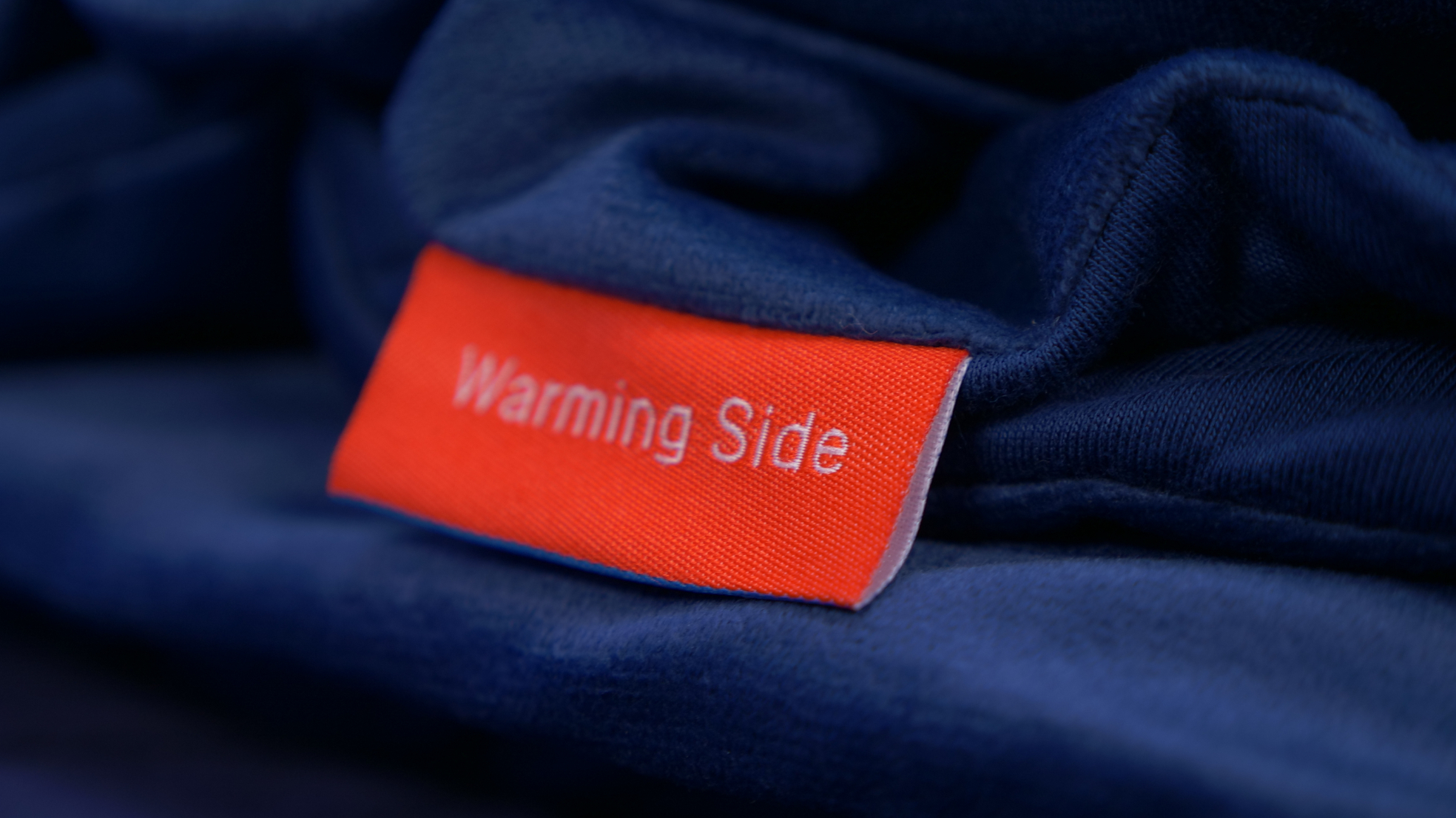 Mattress Nerd Weighted Blanket Scores
We cozy up with the weighted blankets we test and rate them on six performance factors that range from temperature to even weight distribution. Each performance category is scored out of five and averaged for a total score.
Weight Distribution: 4/5
The Nectar Serenity weighted blanket has a fairly even weight distribution because the insert is quilted into square shaped pockets—each containing a portion of the fill. The beads can't move outside of six square inches or so, which prevents them from sliding to the sides of the blanket.
I deducted one point from the score because the beads do bunch up within their individual squares, which gives the blanket a less even feel than other weighted blankets I've tested.
Customizability: 5/5
The Serenity Sleep earns a perfect score for customizability because you can choose the temperature, size, and weight that best meet your needs. My only complaint is that I'd like more color options than the tan, navy, and gray that are available.
Temperature Control: 5/5
This is one of the coolest weighted blankets I've tested. It doesn't just stay at a neutral "room temperature"; it actively cools your body each time you move. The sensation is similar to continually sleeping on the cool side of your pillow.
The warm side takes a minute to warm up. I wouldn't quite call it warming, but it stays at a comfortable temperature. It's also worth noting that the blanket doesn't feel particularly breathable, but that doesn't take away from the cooling effects.
Quality of Materials: 4/5
The Nectar Serenity blanket is made primarily with polyester, which is known for its durability and softness. It's also made with a bamboo rayon jersey knit, which is both soft and stretchy. The fill is glass beads that are small enough not to feel lumpy.
Overall, the materials are good, but I deducted a point because the cooling side of the insert has a plastic-like feel that takes away from the quietness and coziness of the blanket. I'd also like to see higher quality materials, like an organic cotton cover.
Care: 4/5
The outer cover of this blanket can be removed for cleaning, and is machine washable and dryer safe. Use cold water when you machine wash the blanket, and tumble dry on low heat. The weighted insert is spot clean only, which is why I deducted a point from the score in this category.
Customer Experience: 4/5
The Nectar Serenity blanket is protected by a 5-year warranty, which is four years longer than the average weighted blanket warranty. However, it lacks a meaningful trial period. Most online bedding companies have a 30-day return window for used weighted blankets, but the Serenity Sleep can be returned within the first 50 days of delivery only if it's unopened. 
I like that Nectar Sleep has an online chat function and reliable customer service team, which is why I only docked one point in this category.
Total Score: 4.3/5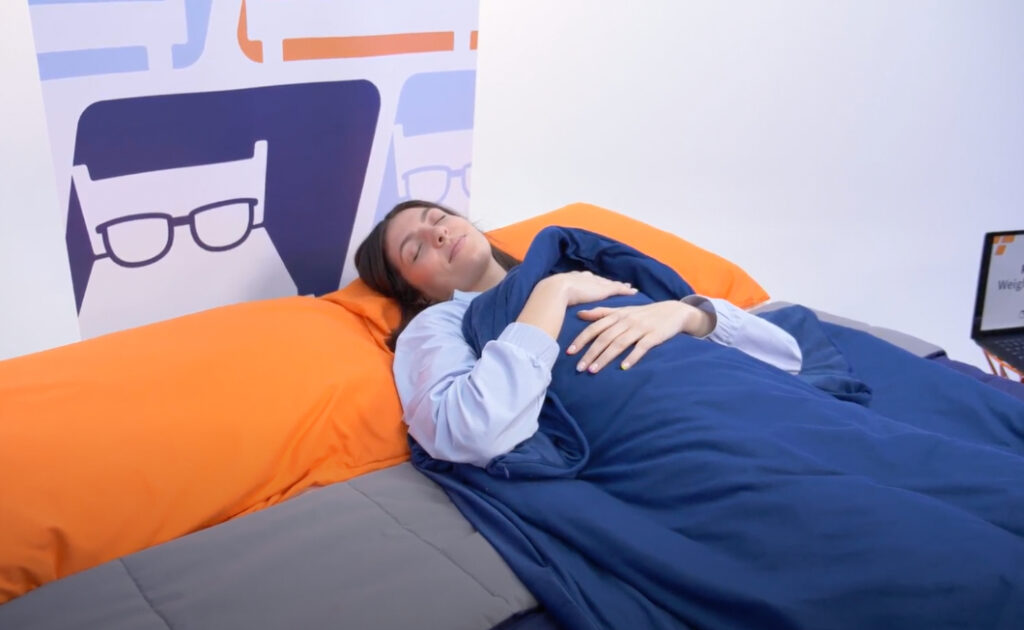 Materials and Construction: What's It Made of?
The Nectar Serenity weighted blanket has two layers—a duvet cover and the weighted insert. The cover has a cool side and a warm side. The warm side is microfiber mink, which is an ultra-soft fleece fabric made from 100 percent polyester. Micro mink is known for its velvety softness and warmth. The cool side is a soft jersey knit made from 100 percent bamboo rayon. This material is naturally cooling and stretchy.
The weighted insert is made from 100 percent polyester fabric that's quilted into 5.5" squares. Each square holds a portion of the fill that gives the blanket most of its weight. Like many weighted blankets on the market, the fill is made up of tiny glass beads. The Nectar blanket also has a polyester fiber fill that makes the blanket much quieter than other blankets with beads.
Pros/Cons
Pros
Dual-Temperature Design:

The cool side of the Nectar Serenity blanket stays noticeably cool, and the warm side of the blanket gently warms without overheating.

Even Weight Distribution:

The weighted insert is

quilted

for a more even weight distribution of the fill.

Easy Cleaning:

The

removable cover

is

washer

and dryer safe.
Cons
Loose Fit:

The weighted insert slides around inside the cover a little.

Small Dimensions:

I wish the

Standard size

were longer (I'm 5' 10" and felt a little cramped). The Large size better accommodates tall folks and couples, but it's smaller than the

Queen size

and

King size

options offered by competitors.

Noisy:

The cooling side of the insert makes a crinkly sound when you move under the blanket.
Sizing, Pricing, and Policies
| | | | |
| --- | --- | --- | --- |
| Size | Weight | Dimensions | Price |
| Standard | 15 lbs | 48" x 72" | $149 |
| Standard | 20 lbs | 48" x 72" | $149 |
| Large | 15 lbs | 80" x 87" | $169 |
| Large | 20 lbs | 80" x 87" | $169 |
Shipping
 Nectar products typically ship for free within three business days in the contiguous United States. Returns are also free in the contiguous U.S., but there's a shipping cost for returns outside of the states. 
Trial Period and Warranty
Most weighted blankets from online companies come with a 30-day return policy, giving you the chance to test out the blanket before making a final decision. The Nectar Serenity weighted blanket has a 50-day return period, but only for unopened blankets. 
It's protected by a five year warranty that covers manufacturing defects. Most blankets come with only a one year warranty, so Nectart's warranty is significantly longer.
FAQs
Which brand has the best weighted blanket?
Most online bedding companies are now making high-quality weighted blankets—each with their own strengths and weaknesses. In addition to the Nectar Serenity weighted blanket, we recommend the Gravity blanket and the weighted blankets by Bearaby, Hush, Layla, and Helix Sleep.
What are the cons of weighted blankets?
When it comes to weighted blankets, the pros outweigh the cons, but there are a few downsides. To start, they're too heavy to safely be used by young kids. Also, they have the potential to trap body heat, making them hot, and they're too heavy for travel.
What do weighted blankets do?
Weighted blankets provide deep pressure therapy, which offers the same benefits as an extended hug. They help alleviate anxiety, promote a good night's sleep, boost serotonin production, and reduce the production of stress hormones. Research also suggests that they alleviate symptoms of ADHD, autism, and insomnia.
The Nerd's Final Take
The Nectar Serenity weighted blanket is an excellent option for hot sleepers, particularly those who want to spend less than $200. As I've mentioned before, the stiffness of the inner blanket deters me from wanting to snuggle up with the Nectar, but this probably won't bother those concerned primarily about temperature and weight.
Looking for more options? Check out our other best weighted blankets!
Nerd Score Wrap Up
| | |
| --- | --- |
| Performance Factor | Out of 5 |
| Weight Distribution | 4 |
| Customizability | 5 |
| Temperature Control | 5 |
| Quality of Materials | 4 |
| Care | 4 |
| Customer Experience | 4 |
| Total Nerd Score | 4.3 |
Starting at $1,322
Nectar Premier Memory Foam Mattress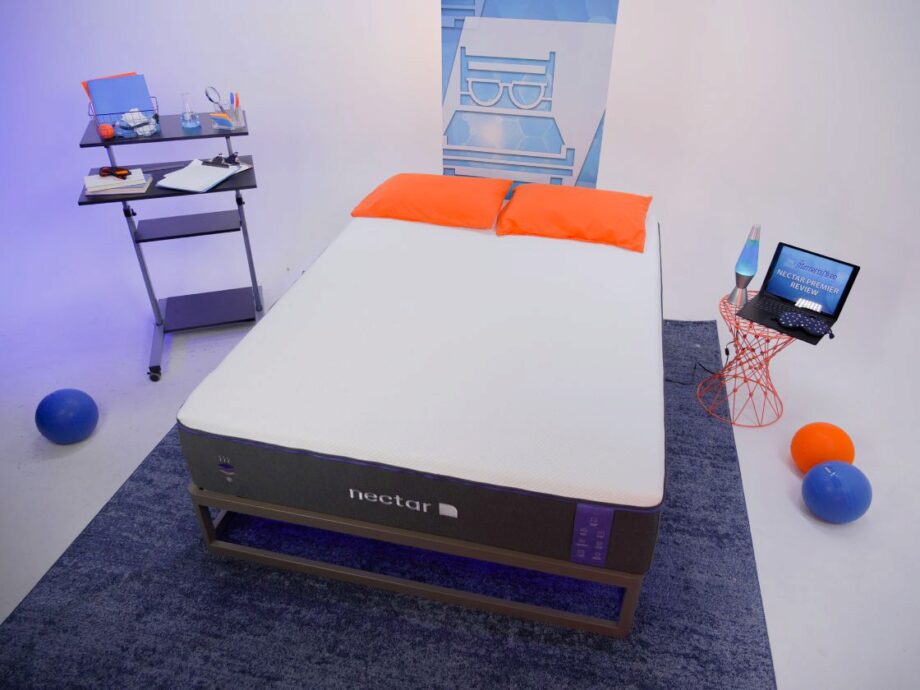 Starting at $75
Nectar Memory Foam Pillow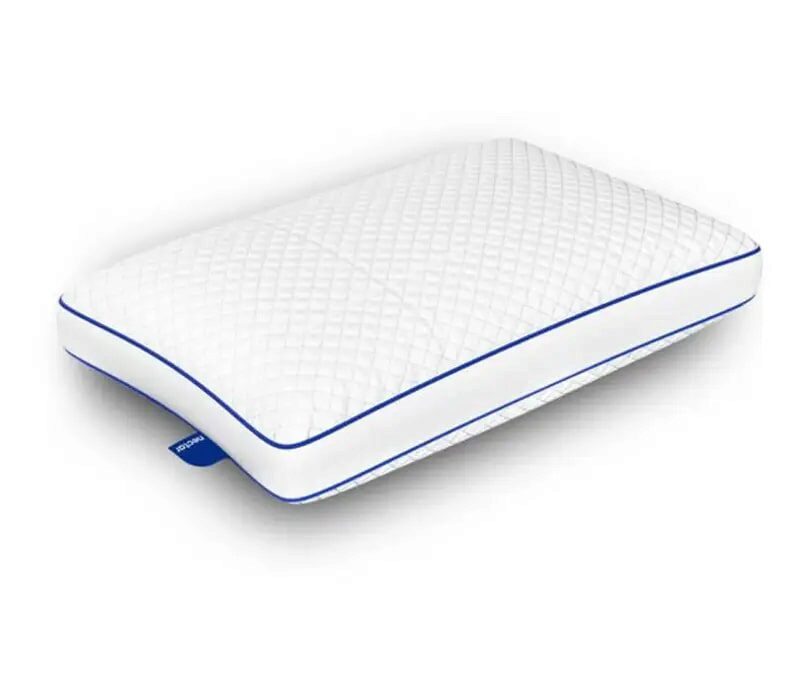 Starting at $849
Nectar Adjustable Base