Thuma Bed Frame Review
•
Disclosure: By clicking on the product links in this article, Mattress Nerd may receive a commission fee at no cost to you, the reader. Read full disclosure statement.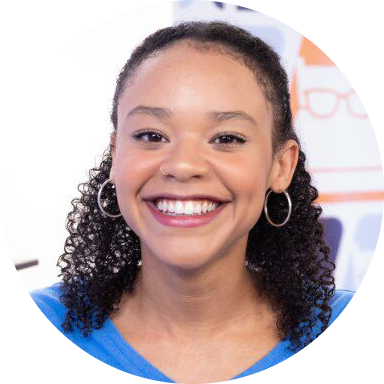 Methodology
Here at Mattress Nerd, we've tested hundreds of sleep products to bring you unbiased, expert reviews of the top brands. Learn more.
In This Article
The Bed by Thuma is a high-quality bed frame that comes with a high price tag. We're breaking down when it's worth the investment – and when it's not.
Looking for a bed frame that's high-quality but also super easy to assemble? Read on to learn more about Thuma.
Thuma claims they've made the perfect platform bed frame. Actually, they don't even just call it a bed—but The Bed. So, let's see what The Bed from Thuma is all about and if it lives up to the hype.
What is The Bed by Thuma?
At this point, you might be curious what The Bed actually is. Well, this one-of-a-kind bed frame is made entirely from eco-friendly materials such as repurposed rubberwood and recycled velcro. Other than that, Thuma has intentionally made this bed frame to be as simple as it gets. In fact, The Bed requires no tools or extra parts to put together (this means no screws, bolts, or anything).
Wondering how The Bed even stays together? The answer is velcro and Japanese joinery. This classic construction technique (not referring to the velcro), works by cutting the wood pieces of the bed frame so that they slide into each other and hold each other in place. Kind of like a grown-up version of playing with Lincoln Logs.
Finally, despite its simplicity, The Bed also comes with several customization options. For the color of your bed frame, you can choose between three options (dark charcoal, gray fog, and light linen). For the design of The Bed, you can choose between a solid wood headboard or a more cushioned pillow board instead. And lastly, Twin to California King sizes are available.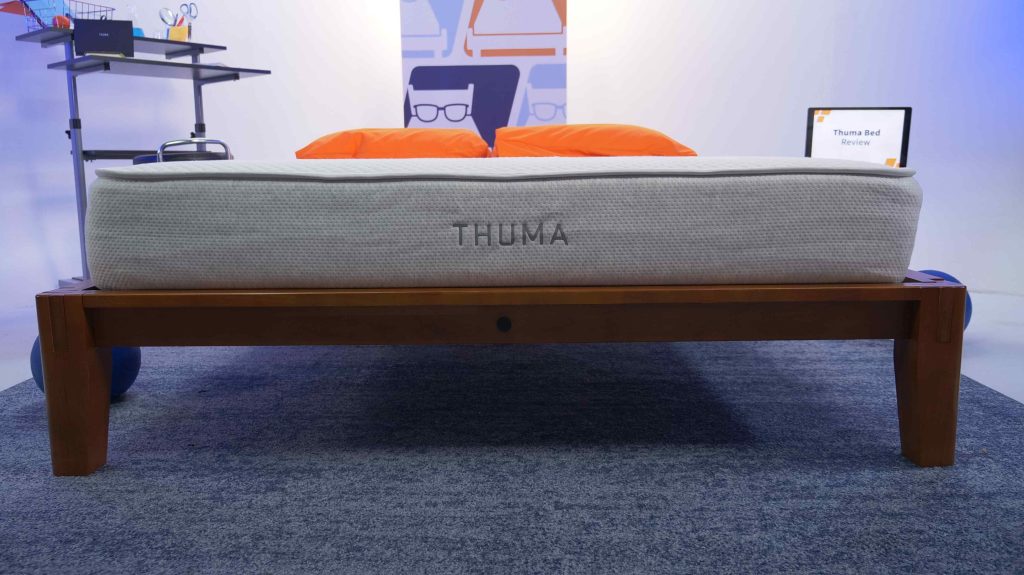 The Thuma Bed Frame Video Review
Want to see for yourself how the Thuma bed holds up? Join Loren in the Nerd Lab to learn more:
Thuma's The Bed Pros
Let's go into more detail about what makes The Bed so great.
High-Quality Construction
The Bed is made with the most rigorous quality checks at every point in its design process. From the start, Thuma sources the best and most sustainable craftsmen to work with the wood that becomes The Bed's frame. This wood is repurposed and has a minimal carbon footprint. Aside from the wood in The Bed, the frame also includes upcycled fabrics, and the packaging itself is recycled cardboard with no environmentally harmful styrofoam included.
Additionally, The Bed is Greenguard Gold Certified, meaning that it's been approved by some of the most vigorous chemical testing in the world. What this means for you is that the materials you sleep on and the air in your bedroom will be much cleaner and more toxin-free than with other bed frames on the market. Finally, Thuma also works with One Tree Planted, an organization that plants three trees for every Thuma bed frame sold.
Quiet
What happens when you take all the squeaky parts of a bed frame out? Well, in the case of Thuma's The Bed, you get a much quieter and less rickety bed frame. Since the corners of the frame are made from solid wooden joints, you'll be able to get a much stabler and quiet sleeping experience. For sleepers who share their bed or toss and turn a lot, this can also mean a much better night's sleep.
Easy Assembly
We talked about what makes the design of The Bed so great, but there's still one more important thing to be said: this bed frame is super easy to assemble. In fact, there's only a few steps in building the entire thing. Firstly, you slide the wooden corner into each other, slide the middle support beam in place, and unroll the slats so they can velcro themselves in place. That's it.
Thuma's The Bed Cons
We've covered the pros of The Bed; now let's talk about some of the cons.
Expensive
Unfortunately, while The Bed is super eco-friendly, it isn't all that budget-friendly. In fact, if you're looking for a King-size version of this bedframe, you can expect to pay up to $2,065 dollars. However, the typical cost of a King-size frame is about $1,000 cheaper. Even for a Twin-size version of The Bed, you can still expect to pay over $1,000 dollars.
Not Very Tall
When fully constructed, The Bed rises only nine inches off of the ground, which can be an issue for sleepers who like a little more height. Whether you may have mobility concerns or you simply want a bed frame that comes with ample storage space underneath, The Bed may not measure up to your needs.
Mattress Not Included
This con goes hand-in-hand with The Bed's cost because, despite the product's name, you're not actually getting a bed, at least not a mattress. If you are looking to combine The Bed with Thuma's mattress (aptly called The Mattress), this will cost about an additional thousand dollars depending on sizing.
Thuma's Policies
If you're looking to get a Thuma bed frame of your own, it's worth checking out the company's policies first.
Shipping & Returns
Once you've bought The Bed, it will be shipped directly to your door in a box and with free shipping directly from Thuma's headquarters in San Francisco. Since The Bed offers an easy setup process, you won't have to schedule a delivery appointment. Lastly, you can expect your bed frame to arrive within one to seven business days.
After The Bed has arrived at your doorstep, you'll be entitled to a 100-day sleep trial, during which you can return your Thuma bed frame if it isn't a great fit for you. However, the company still asks that you wait 30 days to make a return since it does take time for your body to adjust to a new bed frame.
Warranty
If you do decide that you want to keep The Bed, you'll get to sleep easy with a Lifetime warranty that covers any defects with the product. However, it's important to mention that if you do buy The Mattress and The Bed together, you won't be getting a Lifetime warranty on the actual mattress. Instead, this product comes with a 15-year warranty.
Frequently Asked Questions about The Bed by Thuma
Are Thuma beds sold in stores?

The Thuma bed frame is currently only sold online at the brand's website.
Can you put any mattress on a Thuma bed?

The Thuma bed frame fits any mattress of the same size. Whether it's a memory foam, hybrid, or innerspring mattress, The Bed's platform will provide the support you need.
How long does a Thuma bed last?

The Thuma bed frame is made with durable, solid wood, so it should last at least 10 years. Its quality is also backed by a Lifetime warranty.
The Bottom Line
Is The Thuma Bed frame worth it? While we believe that this bed frame is an excellent and eco-friendly choice, we also believe the answer to that question depends on your budget. If you're looking to invest in a long lasting, high-quality frame that's healthy for you and the environment, then we say yes. However, shoppers on a tight budget may want to consider other, more affordable wooden bed frames.