Tomorrow Sleep Hybrid Review
•
Disclosure: By clicking on the product links in this article, Mattress Nerd may receive a commission fee at no cost to you, the reader. Read full disclosure statement.
Our Verdict: You won't be disappointed with the Tomorrow Sleep Hybrid mattress as both the mattress and the brand come highly revered. As a hybrid bed, the Tomorrow Sleep works to accommodate sleepers of all positions with its medium firm or medium soft firmness options. The Tomorrow Sleep also features gel-infused foam layers to increase breathability and airflow. You won't have to sacrifice comfort either as this bed uses foam and coil layers designed for individualized support and a soft feel.
Who the Tomorrow Sleep Hybrid is Best For
Best For…
May Not be Best For…
✅Those who enjoy having options will like the Tomorrow Sleep Hybrid's customizable firmness as the mattress comes in either medium firm or medium soft
✅Back and stomach sleepers will prefer the medium firm option
✅Side sleepers will enjoy the medium soft option as it contours the body and helps with pressure point relief

❌Those who prefer a traditional mattress as the Tomorrow Sleep is a hybrid that features both memory foam layers and pocket coils
SUMMARY
Tomorrow Sleep is an online direct-to-consumer mattress company, one of many to come on the scene in recent years.
But Tomorrow Sleep has something huge to set it apart from the crowd. Tomorrow Sleep is the direct-to-consumer arm of Serta Simmons Bedding, the largest mattress manufacturer in North America.
Serta Simmons knows their way around the mattress since they've been slinging mattresses since the1870s. They were the first company to mass produce coil mattresses in North America.
That kind of experience and know-how is coupled with a desire to exploit new technology for a new age of sleepers. That was the impetus behind the Tomorrow line.
And when I say new age sleepers I mean all of us. Science is telling us, in no uncertain terms, that we need better sleep. Our health depends on it. So putting time into your mattress shopping is a good thing.
And that's why we go through this process to tell you that the Tomorrow Sleep Hybrid is a hybrid mattress that tries to offer individualized support with medium firm and medium soft versions. This newer mattress attempts to increase the breathability and airflow through the mattress.
The Tomorrow Sleep Hybrid will cost you the roughly the same amount as other mattresses in the same category. But the quality is better.
Perhaps we should expect that kind of quality from a mattress pioneer. Here's more info to chew on.
HIGHLIGHTS
Here are some cool things to know about the Tomorrow Sleep Hybrid:
Five-layer hybrid in medium soft or medium hard

Eco-friendly foams are certified by CertiPUR-US

Medium soft mattress is designed to hug your body

Medium firm has a more solid sleeping surface

Premium memory foam for contouring; wrapped coils for support and airflow

Designed for maximum comfort, individualized support, and airflow

365-night trial period, among the best in the industry

Designed to work with any frame or surface, even the floor

Parent company has nearly 150 years of experience making mattresses

You go see the mattress at any CB2 store in the U.S.

Made in the USA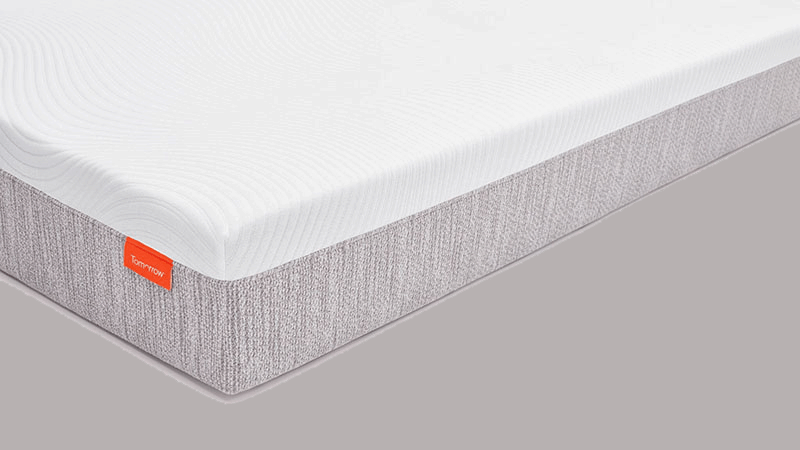 FEATURES
Type
The Tomorrow Sleep Hybrid is a hybrid mattress made of memory foam and innerspring coils.
Cooling
You know that old-timey foam had a bad reputation for heating up too much.
The Tomorrow Sleep Hybrid, because it's a hybrid and because technology is a great thing, has a top made of "phase change" material. That's a fancy way of saying it is meant to keep the temperature fairly neutral.
Also the second layer in these mattresses has perforated edges so heat can escape out of the sides of the mattress. Neither you or the heat should get stuck inside the foam layers.
Firmness
The Tomorrow Sleep Hybrid comes in medium firm and medium soft.
The Medium Firm is quite firm, but doesn't feel too hard on the surface. It uses a 1-inch layer of very firm memory foam that doesn't contour so much. However, the next layer and the coils beneath that will do the contouring.
Tomorrow Sleep says 70% of their customers prefer the Medium Firm over the Medium Soft, but maybe that's because most people are used to a firmer mattress. This one is better for back sleepers, stomach sleepers, and for people who are overweight that sleep in any position.
The Medium Soft is a bit softer on the surface than the Medium Firm, and it contours just a bit more. It's no where near plush, which is probably why they call it the medium soft. If you like a squishy mattress, this isn't it. The Medium Soft is going to be good for side sleepers and people who are on the thin side regardless of their sleeping position.
Motion Transfer
Normally a foam mattress will keep bed partner movements on their respective side of the bed. It would be a good job to isolate the movement.
Same with this hybrid, though with a little more wiggle if your partner or child is waking up early or needing to use the potty and getting up out of the bed. Let's just say it should be of a ferocity that will wake you from a deep sleep.
Edge Support
The Tomorrow Sleep Hybrid has a solid enough base to keep you upright if you're sitting on the edge of the mattress or if you're lying in any position to sleep. The quality of materials helps keep the edges strong.
CONSTRUCTION
The Tomorrow Sleep mattress is made of five different layers. They vary slightly depending on the firmness you choose. We'll explain below.
The top layer is the Tomorrow Cool Memory Foam quilted into a soft fabric. The gel material incorporated into the foam pulls heat from your body to keep you cool.
The second layer is the Tomorrow Airy Comfort Memory Foam. It promotes airflow because the outer edges are perforated. Heat can escape from both sides of the mattress.
The third layer is the Tomorrow Bounce Foam. It's a transition layer that keeps you from sinking all the way down into the coils.
The fourth layer is the Pocketed Coil Network System: Every coil is made from durable high-carbon steel and flexes separately, adapting to your body contours, for head to toe support. The result is a stabilizing structure designed to support each of your sleeping positions and reduce motion transfer between you and your sleep mate.
The fifth layer is the Support Foam Base Layer. All of that adapting and contouring layers above get the stabilizing and support they need from this final, high-density foam layer.
Know that the Medium Firm uses firmer foam and thicker gauge coils in the bottom layers than the Medium Soft version, but both use high density foams that should be very durable in the long run.

SPECS
Here is a breakdown of the Tomorrow Hybrid specifications:
Dimensions
Twin:

38″ x 74.5″

Twin XL:

38" x 79.5"

Full:

53" x 74.5"

Queen:

60" x 79.5"

King:

76" x 79.5"

Cal King:

72" x 83.5"
Weight
110 pounds for the queen
Thickness
10 inches
BUYING EXPERIENCE
Trial
The Tomorrow Sleep Hybrid comes with a full-year trial—365 days, which is the best you'll find anywhere. They encourage you to break in the mattress and get used to the feel of it for at least 30 days before you think about returning it.
If you still want to send it back, you can call the company and have someone pick it up at no cost to you. You will received a full refund.
Warranty
The mattress comes with a 10-year limited warranty, which is about standard in the industry. One scenario? The mattress begins to sag about 1.5 inches. If that's the case, Tomorrow will repair or replace the mattress. You pay delivery charges.
Delivery & Setup
The Tomorrow Sleep Hybrid comes compressed and rolled in a box. It can be delivered in 2-3 business days. It ships for free. If you set it up yourself, simply take it out of the box and plastic, place it on its base and watch it come to life in roughly 10 minutes and fully expand within 24 hours.
You can set up the mattress or chose White Glove service and have them set it up for you. Prices start at $75 and vary by location. For an additional $49, Tomorrow Sleep will remove and dispose of your old mattress.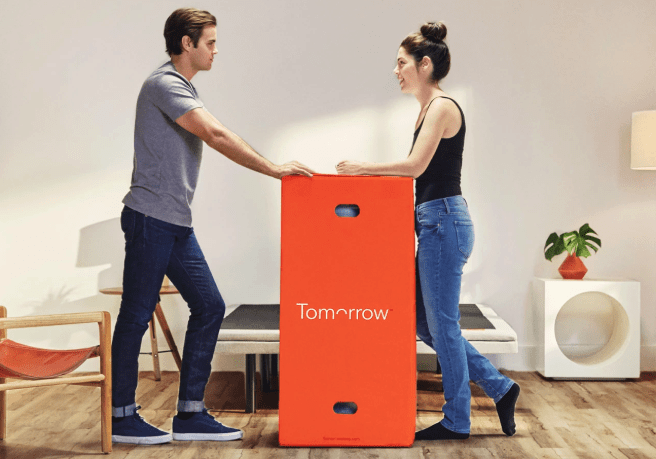 Customer service
The customer care people at Tomorrow Sleep are most easily reached by phone or chat, but only during business hours.
Price
low $$ to low $$$ (See scale below)
| Symbol | Range |
| --- | --- |
| $ | $0-750 |
| $$ | $750-1,250 |
| $$$ | $1,250-2,000 |
| $$$$ | $2,000 – $4,000 |
| $$$$$ | $4,000+ |
Click here to get our Exclusive Deal
CONCLUSION
The Tomorrow Sleep Hybrid mattress is a great value for the money and it is built by the largest mattress manufacturer in the United States.
With so many new online companies, it could be hard to know where to turn. With Tomorrow Sleep mattresses you at least know that Serta Simmons is overseeing the project. That's why you'll find this hybrid in two different firmness levels. Who else can say how personal a mattress purchase is than the company that has been selling them since the 1870s?
If you want a direct-to-consumer mattress but aren't sure about the newer companies that have popped up, the Tomorrow Sleep is a solid choice.
It's better value for your money than most mattresses you'll find in a retail store. And it's backed by a bigger company than other direct-to-consumer mattresses.