Vicks Warm Mist Humidifier Review
•
Disclosure: By clicking on the product links in this article, Mattress Nerd may receive a commission fee at no cost to you, the reader. Read full disclosure statement.
The Mattress Nerd's Take: The Vicks Warm Mist Humidifier brings therapeutic moisture into your home, especially during the colder months, or if you live in a dry climate. The moisture helps relieve symptoms of dry air like congestion, nose bleeds, cough, dry throat, or dry skin. A great feature of the Vicks Warm Mist Humidifier is it's compatible with Vicks inhalants, to help further alleviate cold like symptoms!
Who It's Good For
Those who experience cold symptoms or excessive dryness
Budget shoppers
Those looking for a warm mist humidifier
Who It's Not Good For
Those who can't sleep with noise
Those who can't sleep with light
Those who don't want to keep up with a cleaning schedule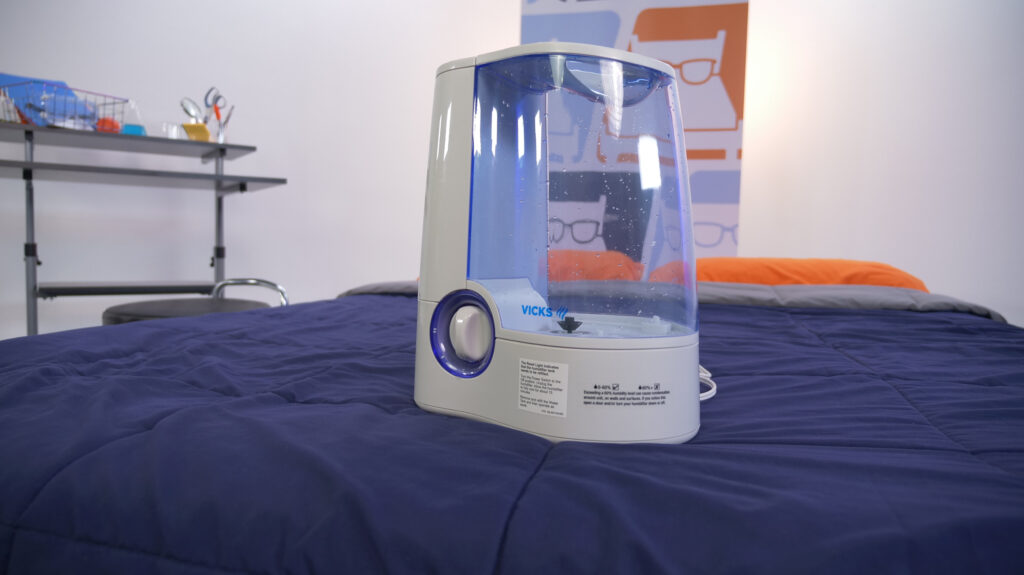 Watch Our Review
Key Features
Water Tank
The water tank that can hold up to a gallon of water.
Medicine Cup
At the top of the device, it has a medicine cup that you can put Vicks inhalant in to help further subside any symptoms you're having. Just add one tablespoon there and it'll get mixed into the steam.
Settings Dial
On the side, you'll find the settings dial. You use this to adjust between the high and low settings, power, and reset.
Spout
The steam is dispensed straight into the air out of the top spout.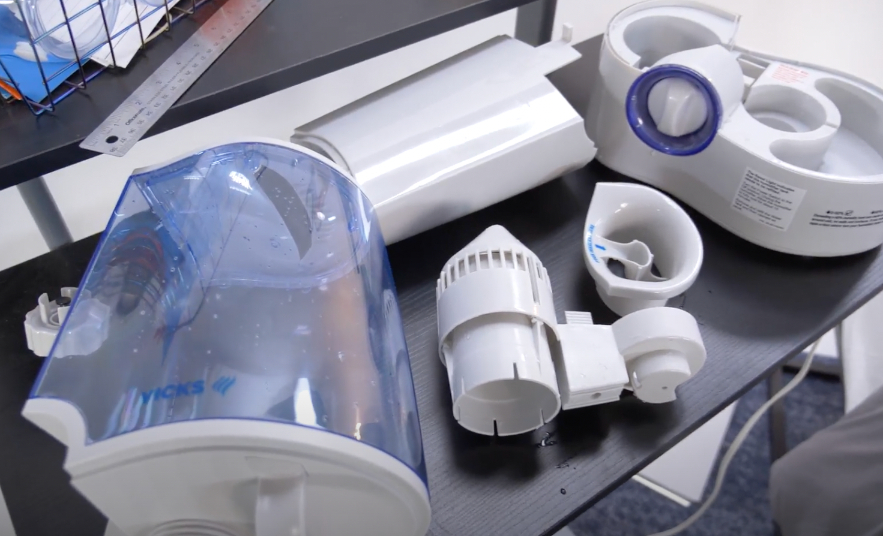 How to Use
Start by filling up the water tank. Remove it from the base, flip it upside down, and find the tank cap. Unscrew it, then fill with clean, cool water— ideally distilled or filtered water. Then we'll place the cap back on and tighten it firmly on to avoid leaks. If you want to add a Vicks inhalant, you can add one tablespoon to the medicine cup prior to turning it on.
Once the tank is filled, carry it safety back to the base, making sure everything is intact and where it needs to be. Lock the tank back into place. It's important to place your humidifier on a flat, elevated, waterproof surface.
Next, plug in the humidifier and turn on the power switch. To get it started, switch to the high or low position. The light around the dial will turn on and the heater will start. It should take a few minutes to boil before vapor appears, making sure it's out of direct line of walls or furniture. From here, the humidifier should be able to provide at least 12 hours continual use.
Lastly, make sure to keep your door cracked open during use to prevent condensation from building on the walls and ceiling! And essential oils cannot be used with this device.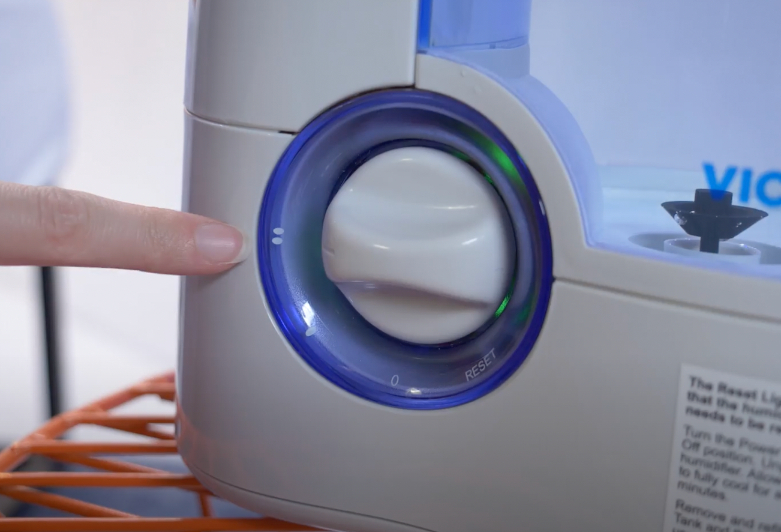 Personal Experience
As with all the products we review on Mattress Nerd, I got to take the Vicks Warm Mist Humidifier home with me to test out. The very first thing I noticed— the functionality is great. Vicks is a company that specializes in these types of symptom relieving products, so their humidifier does a great job at pumping hydration into the air and relieving dryness.
I do struggle with allergies and congestion on a regular basis and I got a great night's sleep while using this humidifier. I didn't add in a Vicks inhalant, but I could imagine if you're feeling sick, like with a sore throat or cough, that feature would be really helpful.
The design is very intuitive. I was able to easily adjust the dial to high, which was enough to fill my larger bedroom. I left mine on all night, about eight hours, and the tank had enough water to last me the duration of the night.
Overall, I felt like it did a nice job making my room feel cozy and humidified, and for the price point, you can't beat it.
How to Clean the Vicks Warm Mist Humidifier
Proper maintenance with humidifiers is important across the board, but even more pertinent when working with a warm-air model. That's because water contains minerals which can't evaporate, so they stay within the tank, on the heating element. If you allow that to build up, it'll create an ideal environment for bacteria and mold to grow— which could make you sick. You'll want to tend to your humidifier both daily and weekly.
For daily cleaning, first, make sure that the device is turned off, unplugged, and completely cooled down. Then lift the water tank from the base, remove the tank cap, and drain the water. You'll want to rinse out the tank with warm water after each use. Next, remove the medicine cup from the cooling chamber. Release the cooling chamber and remove it and the removable water tray from the base. Wipe the medicine cup, cooling camber, water trap, heater, and heating chamber clean with a cloth. Once everything is completely dry, reassemble.
As for weekly maintenance, you'll want to actually disinfect the components of your humidifier through a series of steps using vinegar, water, and bleach. Know that the medicine cup, removable trap, and mist chamber are all top rack dishwasher safe for convenience.
Pros/Cons
Pros
Effective at an affordable price point: From my own experience and from reading the experiences of thousands of other users on Amazon, this humidifier does a great job at relieving cold and allergy symptoms during the dry, cool months. Plus, at a less than $50 price point, it's hard to come up with reasons not to try it out.
Warm mist is therapeutic: Warm humidifiers boil the water into a purified vapor that makes breathing easier and brings comfortable warmth into the home.
Filter free: A great feature of this model is that it's filter free. There's no need to clean or replace a filter— which can make upkeep more expensive and time-consuming.
Cons
Gets noisy on 'high': If you turn the humidifier on high, it does make noise. So just be aware of that if you were looking for a device that stays completely silent.
Nightlight stays on: With this model, the light around the dial stays on and can create a glow during the night. So if you prefer complete darkness while you sleep, be aware that this humidifier will create light.
Weekly cleaning is tedious: Like I touched on earlier, cleaning your humidifier regularly is a non-negotiable. It's crucial to keeping it clean and safe for use. While daily cleaning is pretty standard, the weekly process is a bit tedious and requires attention. Be aware of the responsibility before deciding whether or not to buy!
Sizing, Pricing, and Policies
| | | |
| --- | --- | --- |
| Tank Size | Run Time | Price |
| 1 gallon | ≈ 24 hours | $39.99 |
Shipping
The Vicks Warm Mist Humidifier is available for purchase on Amazon. Plus if you're a prime member, you get free shipping and returns.
Vicks Warm Mist Humidifier FAQs
What's the difference between a warm mist and cool mist humidifier?

A warm mist humidifier uses a heating mechanism to create a hot steam or vapor. A cool mist one doesn't warm the water, instead it releases droplets. A warm mist device tends to be more therapeutic, but more expensive. A cool mist product is usually easier to clean and less expensive.
Should I use the Vicks Warm Mist Humidifier if I'm sick?

Yes! That would be a great time to use it. Plus, you can add Vicks Inhalant to your humidifier to further soothe your symptoms, especially cough and congestion.
Can I use the Vicks Humidifier all year long?

Yes, you can use a humidifier all year long. It's especially helpful if you live in a very dry climate, in order to keep moisture in the home regardless of the outside weather.
The Nerd's Final Take
All in all, the Vicks Warm Mist Humidifier is going to be great especially during the colder months— bringing soothing warm moisture into your room and helping combat common cold symptoms. I'd recommend this model over the Vicks Cool Mist Humidifier for the colder months, especially since this model is compatible with Vicks inhalants, which would further help alleviate symptoms. While I do think the cleaning is very tedious, I think it's worth it if it's going to make you feel better overall on a daily basis.