Best Cooling Pillowcases
•
Disclosure: By clicking on the product links in this article, Mattress Nerd may receive a commission fee at no cost to you, the reader. Read full disclosure statement.
If you've bought a new mattress, mattress topper, mattress pad, and pillow, and you're still having trouble staying cool at night, then you may need to consider one other option: a cooling pillowcase.
Believe it or not, there are specially designed pillowcases available that will help promote nighttime cooling and comfort. Even if you currently have one of the best cooling pillows, it would be a good idea for you to take a look at these top picks for best cooling pillowcases.
Disclosure: By clicking on the product links in this article, Mattress Nerd may receive a commission fee at no cost to you, the reader. Read full disclosure statement.
Best Pillowcases for Hot Sleepers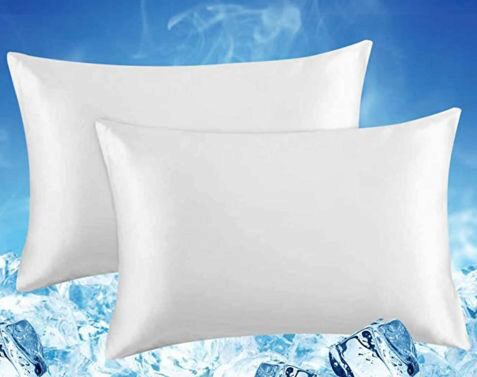 Editor's Pick
The Luxear Double Side Cooling Pillowcase utilizes unique Japanese cooling technology fabric, known as Arc-Chill Cooling Fabric. It can quickly absorb body heat the moment your body touches the surface, resulting in your body temperature dropping approximately two to five degrees.
On one side of the pillow (dubbed the "cool side"), the surface is made of 80 percent mica nylon and 20 percent PE cool fabric. This side features naturally anti-static cooling fibers that both keep you cool and prevent bedhead in the morning. On the other side of the pillow, you'll find 100 percent cotton fabric that's soft and breathable, meaning you can use whichever side of the pillow best suits your preferences.
The pillowcase is machine-washable, or it can be cleaned by hand, and its high durability means that it will last for a very long time without declining in performance.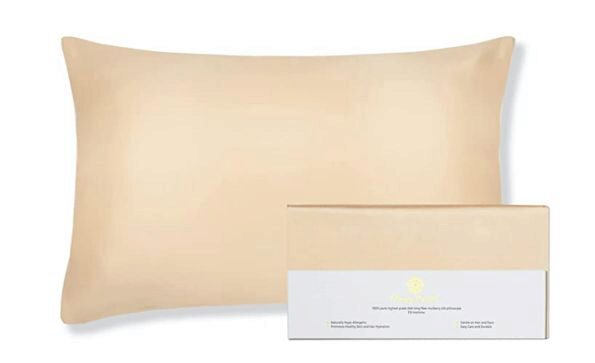 Best Silk Cooling Pillowcase
The Beauty of Orient Natural Silk Pillowcase earns its position as the "Best Silk Cooling Pillowcase" due to its wide variety and unique cooling properties. Silk offers numerous benefits when used in pillows. Since silk's natural fibers are protein-based, it can help your hair and skin retain moisture so that you don't need to worry as much about dry skin in the morning.
Silk also helps with moisture-wicking while you sleep, so you won't be subjected to night sweats. During the colder months, that same silk can create a thin insulated layer, ensuring you stay warm, making silk pillows excellent for year-round comfort.
The Beauty of Orient Pillowcase comes in two styles: 19 Momme and 25 Momme, which refers to the amount of silk used in its construction. The higher the momme, the heavier, softer, and more durable the pillowcase will be. With each pillowcase style, you can choose from a large variety of colors to best match your room's decor.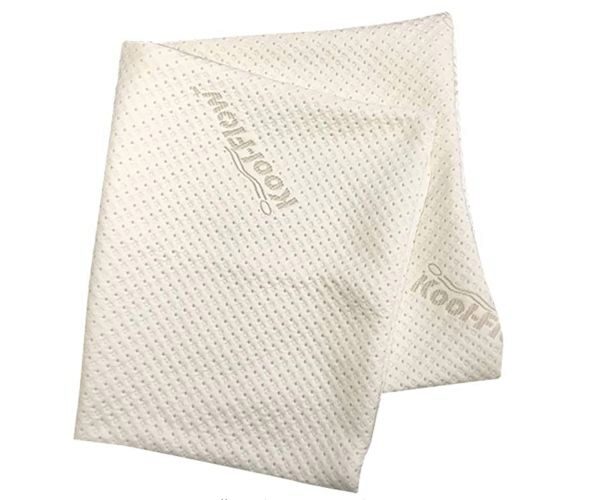 Best Bamboo Cooling Pillowcase
The Snuggle-Pedic Kool-Flow Cooling Pillowcase is the winner in the "Best Bamboo Cooling Pillowcase" category. This eco-friendly pillowcase consists of Kool-Flow micro-vented all-natural bamboo fabric, which excels in terms of breathability and conforming stretch, so you'll never have problems with having to readjust the pillow.
The cooling effect from this pillowcase means you won't have to be wary about night sweats. The bamboo pillowcase is completely hypoallergenic and is made free from any harmful chemicals, additives, or potential allergens.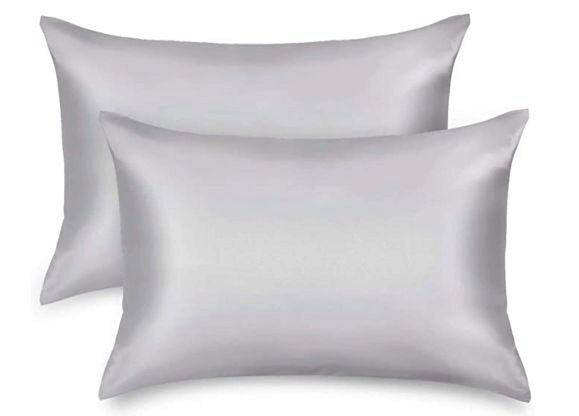 ZAMAT Silky Satin Pillowcase
Best Affordable Cooling Pillowcase
The "Best Affordable Cooling Pillowcase" award goes to the ZAMAT Silky Satin Pillowcase. This pillowcase is made of 100 percent premium polyester microfiber that feels soft to the touch and also retains its strength and durability for a very long time. The satin composition makes the pillowcase extremely breathable, preventing heat from being trapped around your head and neck while you sleep. Satin also absorbs less moisture, ensuring your head doesn't lose any precious moisture as you rest.
For the standard size of the ZAMAT pillowcase, you can expect to pay as little as 8 dollars, as well as shipping. For hot sleepers who are shopping on a budget, the ZAMAT may be your best option.
---
Why Buy a Cooling Pillowcase
There are many ways to keep yourself cool at night aside from turning down the thermostat or throwing off the blanket. One great way to encourage nighttime coolness is to invest in a cooling mattress. However, this can be quite costly, so people turn to more affordable options. One simple and more affordable method for cooling yourself down at night is with a new pillow cover.
Even if you don't have a cooling mattress, a cooling pillowcase can keep your head and neck refreshed, which in turn leads to your whole body feeling much cooler as well. Rather than spending hundreds of dollars on a cooling mattress, if you're on a budget, then you would be wise to check out cooling pillowcase options as a reasonable alternative.
What Makes a Pillowcase Cooling
Why are some pillowcases cooler than others? Simply put: materials and breathability.
Materials
Like with mattresses or pillows, the materials used in a pillowcase's construction contribute to its overall cooling abilities. A pillowcase made of silk or satin can effectively wick away moisture, reducing the chances of night sweats and overheating. Cotton pillowcases or bamboo fiber pillowcases do a great job at regulating body temperature so that you stay nice and cool in the summer, but also warm and cozy in the winter.
One more thing to consider is that cotton can be absorbent, meaning it can draw moisture away from your skin and face and potentially lead to dryness in the morning. If you have sensitive skin and you sleep on your stomach or sides, a silk or satin pillowcase may be a better option.
Breathability
Breathability refers to a pillowcase's ability to allow air to circulate and vent. A non-breathable pillowcase restricts airflow and keeps hot air trapped around your head, leading to overheating. Conversely, a breathable pillowcase lets that hot air escape, ensuring your head and neck stay nice and cool.
More Cooling Sleep Products
Cooling Pillows
While it will cost more than the average cooling pillowcase, a pillow built for breathability and temperature regulation will provide the foundation to keep your head and neck that much more comfortable. Check out our article on the best cooling pillows for some great options and plenty of useful information.
Cooling Weighted Blankets
It may not have crossed your mind to consider a weighted blanket, but there are some great options out there that can simultaneously keep you from overheating and provide the comfort that all we all look for in a good blanket. Head over to our list of the best cooling weighted blankets for more info.
Cooling Mattresses
Your current mattress may be contributing to your problem of sleeping too hot, especially if it's made entirely of foam. It's certainly a bigger purchase than a pillowcase, and much more of a commitment, but if you're looking for a big change that can make a world of difference in the bedroom then a good cooling mattress might be the way to go.
Other Ways to Stay Cool at Night
There are numerous ways to help yourself stay cool at night aside from using a new pillowcase or mattress. You can turn on the air conditioning, but you may experience higher-than-normal electric bills, so it may be a good idea to instead try sleeping with a fan on or with a window cracked to allow fresh, cool air to circulate within your room. You can also remove blankets and comforters to reduce the amount of insulation on your bed.
FAQ
What is the best fabric for pillowcases?
When it comes to the best fabric for pillowcases, itu2019s subjective. What works for some people may not work for others. However, if youu2019re looking for a pillowcase that will keep you nice and cool at night, then youu2019ll want a breathable fabric thatu2019s capable of wicking away moisture and circulating air. This can include cotton, bamboo, silk, and satin.u00a0
Are pillowcases machine washable?
A majority of pillowcases are machine-washable, but itu2019s always advised that you double-check the instruction tag to determine maintenance and care. When in doubt, you should machine-wash your pillowcases in cold water and then dry them on a low setting. Also make sure that you are being careful with the soaps and detergents you use, especially if you have delicate or sensitive skin.u00a0
Are silk pillowcases worth the money?
Silk pillowcases come with a higher price point, but they are usually of higher quality as well, especially if youu2019re purchasing a pillowcase made out of mulberry silk. These temperature-regulating, high-quality pillowcases arenu2019t just great for keeping you cool at night, but they also help with protecting your skin. The soft and smooth surface of a silk pillowcase is kinder to your skin, making it a great option for people with acne or other skin conditions.u00a0
Summary
Similar to buying a new pillow or a mattress, it's important that you do your homework prior to purchasing a new cool pillowcase. No matter which factor is most important to you, whether it's price or material, it's crucial that you take your time when picking out a pillowcase for yourself. You spend a lot of time in bed, so you deserve to have something that will keep you nice and comfortable all night long.