Casper Down Pillow Review
•
Disclosure: By clicking on the product links in this article, Mattress Nerd may receive a commission fee at no cost to you, the reader. Read full disclosure statement.
The Mattress Nerd's Take: The Casper Down pillow is a plush, cloud-like pillow filled with white duck down. It can be molded to fit each sleep position but works best for stomach and back sleepers. Hot sleepers will also enjoy the breathable airiness of the fill because it won't trap heat.
Who It's Good For
Hot sleepers

Combination sleepers

Back sleepers

Stomach sleepers
Who It's Not Good For
Those who like a firm pillow

Side sleepers

with broad shoulders

People looking for a vegan pillow
Video Review
If you want to see exactly how the Casper Down pillow works and doesn't work, then join me as I break down who this pillow is best for.
A Look Inside: Pillow Design
The way a pillow is designed affects its feel, so I'll go over both in this section. This Casper Down pillow is certainly very plush. It has a nice, cloud-like feel. When you lie your head on the pillow you're going to get a pretty deep sink, which back and stomach sleepers will love.
The cover is made with 100 percent cotton, so it's soft and breathable. The feathers are protected by a polyester outer shell, so they won't poke through and annoy you while you sleep.
The inside is completely filled with white duck down feathers (plush) and the outer feather of the bird (firm) for a good amount of head and neck support, not to mention the luxurious feel you get when your head sinks in.
Casper also uses a unique 5-chamber design with this pillow: the inner chambers use more feathers than down, creating a supportive core; the outer chambers use more down than feathers to create a cozy, fluffy feel on first contact. Finally, the Casper pillow comes in two heights: low loft (1.25-inch gusset) and mid loft (2-inch gusset).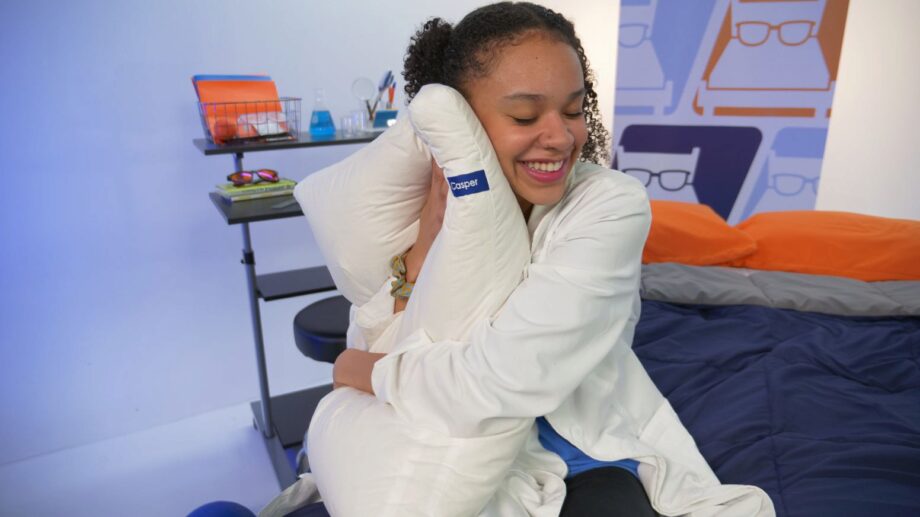 Mattress Nerd Pillow Scores
At Mattress Nerd we're all about scientific processes, so we looked at each different pillow performance factor individually and assigned them a numerical score. We look at factors such as temperature, alignment, and adjustability, so you know exactly what you're getting before you order a Casper Down pillow.
Cooling: 4/5
The Casper Down pillow doesn't have any specific layers dedicated to cooling, but the down feathers allow for a ton of airflow, so it's hard for heat to get trapped. Also, the cotton cover helps with breathability. When I used this pillow, I didn't experience any heat buildup or night sweats.
Alignment: 4/5
Though this is a very plush pillow, it offers a good amount of support thanks to both a firmer inner pillow and softer outer pillow. Head and neck support are the main reasons we even use pillows, so it's a very good sign that the Casper Down pillow keeps stomach sleepers, back sleepers, and the average side sleeper aligned.
We knocked off a point because this pillow may not be lofty enough for heavyweight side sleepers or those with broad shoulders.
Adjustability: 4/5
A great thing about this pillow is that the moldable feathers make it more adjustable than others. So, you can squish it all night long, or fold it for a higher loft, which helps it suit each sleeping position. It's also offered in both a Standard size and King size.
We only knocked a point off because the fill is not adjustable. In fact, you can't open up this pillow at all to get a good look at the fill.
Quality of Materials: 4/5
The Casper Down Pillow is made with ethically sourced, high-quality white duck down—and even meets the Responsible Down Standard (RDS)—so it's non-toxic and eco-friendly. Unlike some down pillows, the Casper is stuffed only with feathers—there's no polyester microfiber fillers.
We took off a point in this category because the pillow isn't a completely green, vegan pillow. But if that's not an issue for you, you can rest easy with the materials.
Care: 5/5
Some pillows are spot clean only. Some pillows have a removable cover that's machine washable. This whole darn pillow can go in both the washing machine and dryer, so it's one of the easiest pillows to care for.
Just pop it in the washer on a gentle cycle with mild detergent, and then use low heat in the dryer. Toss a few clean tennis balls in the dryer with the pillow to help prevent the feathers clumping.
Customer Experience: 4/5
This pillow comes with a 30-night sleep trial and a one year warranty, which is almost on par with the industry standard (100 nights and one year). As an extra plus, Casper has a great customer service team that's even accredited with the Better Business Bureau.
Total Score: 4.2/5
Side Sleeping
Side sleepers, you need a pillow that supports your shoulders and keeps your head in alignment with your spine. I think the mid-loft pillow is perfect for the average side sleeper; it keeps my head in that nice, neutral, comfortable position.
If you have broader shoulders, you may need to fold it in half, or search for a pillow with a higher loft, like the Casper Foam pillow, or check out the best pillows for side sleepers.
Back Sleeping
Back sleepers need a pillow that keeps the head from arching too far back or forward—and the Casper Down pillow does just that. Whether you need the mid loft or low loft simply depends on your body type. Petite sleepers should lean toward the low loft, and average to heavyweight people should opt for the mid loft.
For more great options, check out the best pillows for back sleepers.
Stomach Sleeping
The best pillows for stomach sleepers can be a delicate balance. A flat pillow is the best option because of the harsh angle the neck is placed in while stomach sleeping. As a stomach sleeper, I can happily say that the deep sink in the low-loft down pillow is great for stomach sleepers.
| | | |
| --- | --- | --- |
| Score for Side Sleepers | Score for Stomach Sleepers | Score for Back Sleepers |
| 3/5 | 4/5 | 5/5 |
Pros/Cons
Pros
Breathable Materials:

The breathable, airy down filling doesn't hold much heat, so this pillow should always feel cool.

Works for All Sleep Positions:

This pillow got a 4/5 for adjustability, meaning it can be shaped to work for all

sleeping positions

—even combination sleepers.

Machine Washable: This entire pillow is machine washable and dryable—this is great for those with allergies and people who like a clean sleeping surface.
Cons
Daily Fluffing Required:

The

Casper Down pillow

has a puffy, cloud-like, lofty shape that has to be maintained by daily

fluffing

.

Plush:

If you like a firmer, super-sturdy pillow, the

Casper Down pillow

is not for you. Instead, we suggest you try the

Casper Foam pillow

(a

memory foam pillow

).

Not
Vegan-Friendly: Though it's made with ethically sourced down, this pillow still isn't vegan. If you like to avoid animal-associated products, check out the original Casper pillow.
Sizing, Pricing, and Policies
| | | |
| --- | --- | --- |
| Size | Dimensions | Price |
| Standard | 18" x 26" | $139 |
| King | 18" x 34" | $179 |
For a Casper discount hub see our Casper mattress coupons.
The Casper pillow ships free to the lower 48 states and Canada. There's a shipping fee to Alaska and Hawaii. The pillow comes with a 30-night sleep trial period, meaning you have up to 30 nights to initiate a free return and full refund. During this timeframe, sleep on your Down pillow and see if it's for you. Also, if you buy your Casper pillow from Amazon, double check the return policy.
If you keep your pillow, Casper offers a one year limited warranty that covers the original owner against any manufacturing defects or faults in the material.
FAQs
How do I clean my Casper pillow?
The Casper Down pillow is completely machine washable and dryer safe. Throw it in a front-load washing machine with warm water and a mild detergent, then tumble dry on low with dryer balls or tennis balls. If you do decide to use bleach, use chlorine-free bleach.
Do Casper Pillows go flat?
Eventually, all pillows go flat with regular use. However, as long as you fluff your pillow daily, it shouldnu2019t go flat for at least two years. The brand says that the Casper pillow is designed to puff up easily with a quick fluff every day.
Which Casper pillow is best?
Like everything else in life: it depends. The Down and Original pillows are best for stomach sleepers and back sleepers, while the Foam pillow is best for side sleepers and back sleepers. As you may be able to tell, the pillow back sleepers should pick will depend on their preference.
The Nerd's Final Take
The Casper Down pillow works best for hot sleepers, stomach and back sleepers, and those looking for a cloud-like feel. Side sleepers with broad shoulders, those looking for a vegan or down alternative pillow, and people who want a firm, extra supportive pillow should keep searching, starting with our best pillow guide.
Also remember that Casper gives their pillow customers a 30 night trial period to make sure their new pillow helps them get a good night's sleep.
Curious about other Casper sleep products? Check out our Casper Pillow Review and Casper Mattress Review.
Other Popular Casper Products
Casper Sateen Sheets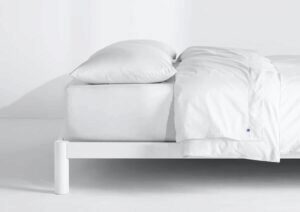 Mattress Nerd Score
4.60 / 5
Casper Foam Pillow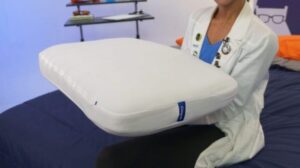 Mattress Nerd Score
4.20 / 5
Casper Weighted Blanket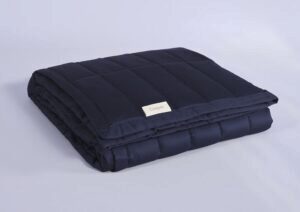 Mattress Nerd Score
4.90 / 5