Cozy Earth Bamboo Sheets Review
•
Disclosure: By clicking on the product links in this article, Mattress Nerd may receive a commission fee at no cost to you, the reader. Read full disclosure statement.
The Nerd's Take: The Cozy Earth bamboo sheets are the softest sheets I've ever felt. They're made entirely from organic and hypoallergenic bamboo viscose, which give the sheets their silky, airy, and luxurious feel. And although more expensive, these sheets are durable and come with a generous warranty.
Who It's Good For
Hot sleepers
Hypoallergenic sleepers
Sustainable shoppers
Who It's Not Good For
Budget shopper
Sleepers who prefer cotton
Sleepers wanting light sheets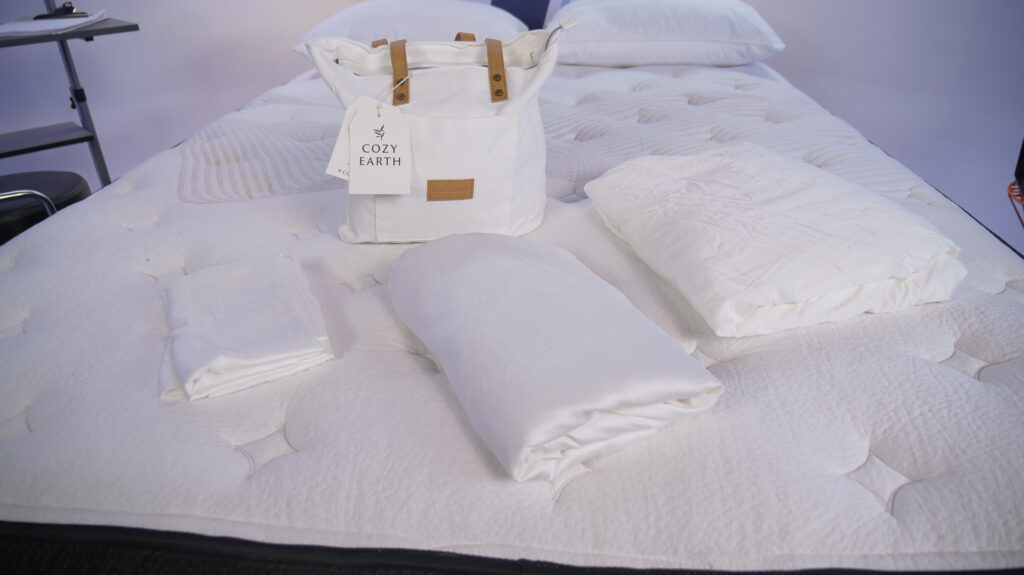 Watch Our Review
Feel
I got to take these sheets home and try them out for myself. I found the texture to be thin, buttery soft, and cool to the touch. They have a silky, luxe feel to them, with a sheen finish. They not only feel luxurious, but look the part as well. So if you're looking for classy, cool, and comfy sheets. These are your best bet.
And hot sleepers, you should be very comfortable with these. Bamboo viscose is a naturally cool material, and not only do these sheets have a refreshing sensation when you initially snuggle into them, but they keep your body temperature neutral throughout the night so you won't overheat!
Materials and Construction: What's It Made of?
The Cozy Earth Sheets are made from 100% bamboo viscose with a sateen weave. The bamboo fabric makes these sheets great at regulating body temperature, wicking moisture, keeping you cool, and they're hypoallergenic! The sateen weave, aka the weave pattern, creates a smooth, silky finish. All these factors make these sheets durable and pill resistant, even over prolonged use.
Each set comes with a fitted sheet, a top sheet, and two pillowcases, and they'll fit both regular and deep pocket mattresses up to 20". So if you have a thick mattress, or use a mattress topper, and find that your sheets don't fit correctly on your bed, these sheets will solve that problem.
As for sizing and color options, you'll be able to choose from Twin/XL all the way up to Split King, and then from 5 different neutral colors.
Mattress Nerd Sheets Scores
Let's get a better feel for the Cozy Earth bamboo sheets. At Mattress Nerd, we test our sheets for quality, comfort, coolness, and company policies—all on a scale of one to five.
Temperature Control: 5/5
Before I even lay down on these Cozy Earth sheets, they felt cool to the touch by just holding them. For hot sleepers, these sheets are a great choice for reducing excess body heat, wicking moisture and humidity, and even cooling off during hot flashes.
Customizability: 4/5
The Cozy Earth bamboo sheets are available in six sizes (from Twin/Twin XL to California King), and they come with five different color options including white, driftwood, and gray. Although the color options could be broader, I didn't have any issues fitting these sheets into my bed setup.
Comfort: 5/5
Since these Cozy Earth sheets are entirely made from bamboo, they felt incredibly soft and naturally cooling the whole night. And, despite having a higher thread count (meaning they're tightly woven), the bamboo fabric kept me refreshed and wicked away any humidity.
Quality of Fabric: 5/5
These sheets aren't just designed to be cooling, but they're also high-quality. While fabrics like cotton are breathable too, the Cozy Earth sheets' bamboo viscose is both more substantial and more airy. Also, these sheets are woven with a high thread count of 300 which boosts durability and softness—without compromising on coolness.
Care: 5/5
Although these sheets are luxurious, they're actually pretty easy to care for and clean. To wash your bamboo sheets, Cozy Earth recommends that you simply put them on a cold wash cycle with just regular detergent (no fabric softener). Beyond that, you can dry them on a standard drying cycle.
Another bonus is that these sheets are naturally stain resistant; however, you may experience more wrinkles than other fabrics like cotton.
Customer Experience: 5/5
Cozy Earth provides free shipping and free returns in the United States in addition to their 100-night trial, at any point during which you can return your bamboo sheets for a full refund. If you decide to keep your sheets past the trial, you'll receive a generous 10-year warranty.
Total Score: 4.8/5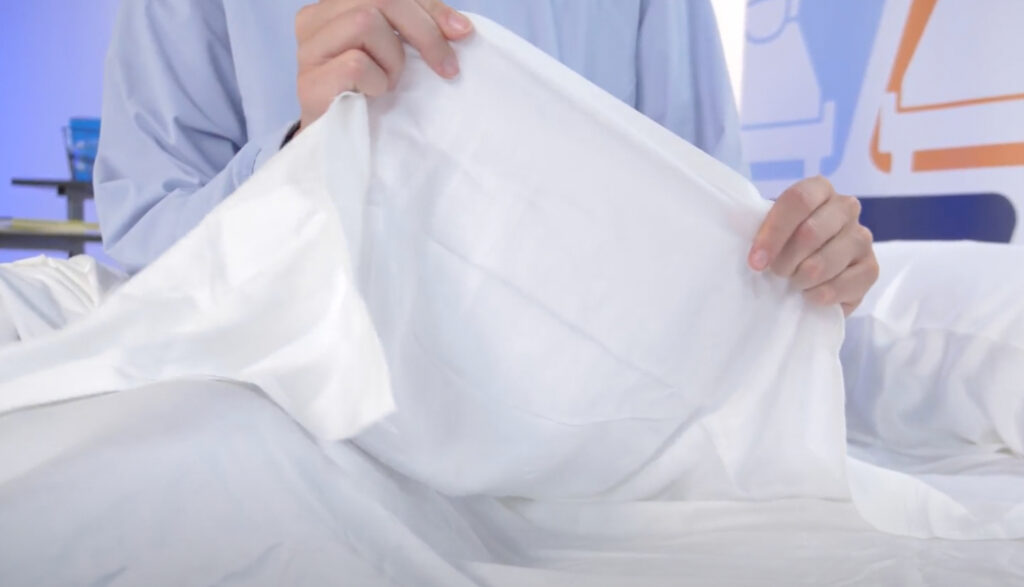 Pros/Cons
Pros
Easy maintenance: Just machine wash your sheets in cold water on a regular cycle with regular detergent. No fabric softener. This will maintain the buttery-softness of your sheets.
Hot sleeper frinedly: Bamboo is great at temperature regulation, and like I said earlier, these sheets are cool to the touch! So, I definitely recommend these for hot sleepers!
Hypoallergenic: As an allergy sufferer myself, I always love to see bedding being made with allergy resistant materials!
Great quality, backed by the brand's warranty: On top of their amazing, silky soft feel, these sheets are made with high quality materials that make them durable and hypoallergenic. The company backs up their quality with a 10-year warranty!
Cons
Prone to wrinkling: This is very common with a bamboo material. It's not a huge deal, but something to be aware of!
Limited color options: You'll get to choose between 5 colors with these sheets, but they're all neutral colors. So if you prefer a pattern, you won't get that with these.
Pricey: A queen set will run you over $350. So, it's not the most affordable option, but Cozy Earth offers payment plans. And as always, be sure to check our links for the most up to date price and the best promotion running.
Sizing, Pricing, & Policies
| | | |
| --- | --- | --- |
| Size | Dimensions | Price |
| Twin/Twin XL | 39" x 75" x 18" | $319 |
| Full | 54" x 75" x 18" | $349 |
| Queen | 60" x 80" x 18" | $369 |
| King | 78" x 80" x 18" | $409 |
| California King | 72" x 84" x 18" | $419 |
| Split King | 39" x 75" x 18" | $439 |
Shipping
Cozy Earth ships their bamboo sheets in the United States for free, and the company covers the shipping costs of any returns you make.
Trial Period and Warranty
Once your bamboo sheets have arrived, you'll have a 100-night sleep trial where you can test out your Cozy Earth sheets and decide if you want to keep them or send them back for a full refund. After the sleep trial, if you want to hold onto your bamboo sheets, you'll get a generous 10-year warranty that covers any product defects like tears, holes, or stains.
FAQs about Cozy Earth Bamboo Sheets
Do Cozy Earth sheets pill? 

The Cozy Earth bamboo sheets have a high-quality bamboo design and a high thread count that protects against damage such as pilling or tearing. However, the company's 10-year warranty does cover any defects (including pilling), and they will arrange for a replacement with free shipping.
What do bamboo sheets feel like?

Cozy Earth's bamboo sheets feel soft like silk because of their cooling, fine fibers and high thread count. Also, hot sleepers will notice how well the Cozy Earth sheets reduce body heat and wick away sweat. Lastly, compared to traditional sheets, Cozy Earth weighs more.
Do Cozy Earth sheets have a good thread count?

Yes. The Cozy Earth bamboo sheets have a thread count of 300, which is in the higher luxury range. However, these sheets' thread count is the only reason Cozy Earth's bamboo sheets are silky and durable; their high-quality bamboo viscose fabric is designed for lasting comfort.
Are the Cozy Earth Bamboo Sheets Worth It?
Firstly, the Cozy Earth bamboo sheets are more costly than many other bedding options on the market. That said, their luxury price tag comes with lasting coolness, easy care, and an incredibly silk-like softness. And, once you've invested in these sheets, they're covered by Cozy Earth's warranty for 10 years. If you're a hot sleeper looking to invest in lasting luxury sheets, Cozy Earth's bamboo sheets are a great option.
Nerd Score Wrap Up
| | |
| --- | --- |
| Performance Factor | Out of 5 |
| Temperature Control | 5 |
| Customizability | 4 |
| Comfort | 5 |
| Quality of Materials | 5 |
| Care | 5 |
| Customer Experience | 5 |
| Total Nerd Score | 4.8 |