Crane Top Fill Humidifier Review
•
Disclosure: By clicking on the product links in this article, Mattress Nerd may receive a commission fee at no cost to you, the reader. Read full disclosure statement.
The Mattress Nerd's Take: The Crane Top Fill Ultrasonic humidifier is a two-for-one humidifier and aroma diffuser, made to fill medium to large sized rooms, up to 500 square feet. It expels cool air from the top mist cap, which can be rotated 360 degrees in any direction of your room. This simple and sleek device can be added to any room in your home to bring moisture into the air, especially during cold winter months or if you live in a dry climate.
Who It's Good For
Those looking to fill a medium to large size room
Those who want a two-in-one humidifier and essential oil diffuser
Those who want a top fill device (easy refills)
Those looking for a filter-free humidifier
Who It's Not Good For
Those with smaller rooms
Those who want a humidifier with a filter
Those looking for a warm mist humidifier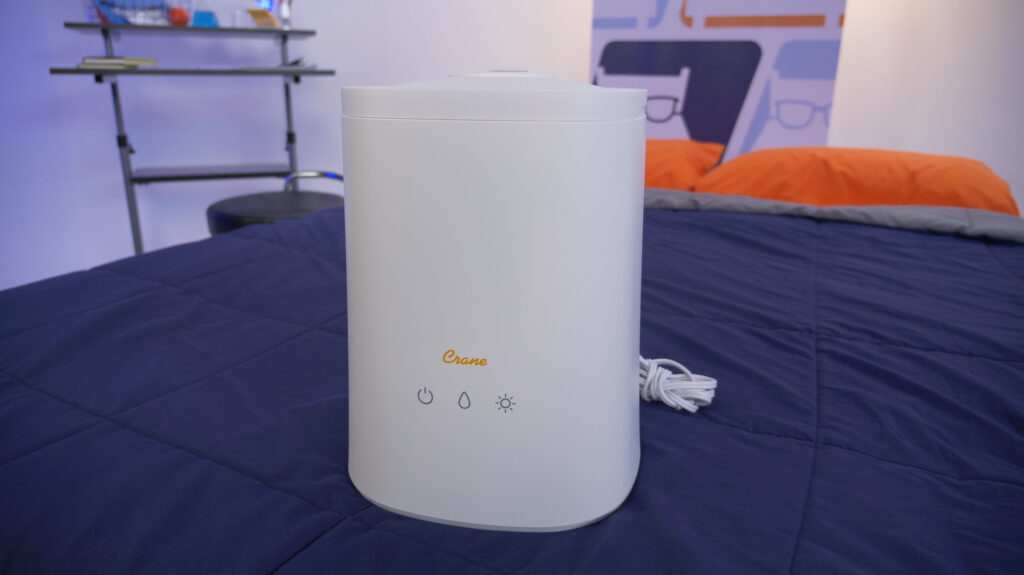 Watch Our Review
Key Features
Water Tank
The Crane's humidifier tank can hold up to 1.2 gallons of water that can run up to 24 hours straight on the low settings. It's made to fill medium to large rooms, up to 500 square feet.
Control Settings
On the front of the device, you'll find three symbols, which correspond with the controls. There's the power button to turn it on and off, the water drop to adjust the mist level between two settings, and a light feature.
Mist Lid & Nozzle
The mist lid is the spout essentially, where the cool mist is released into the room. You can actually manipulate the nozzle to change the direction of the mist in any way that you want— which is a really nice feature.
Optional Night Light
The cover on top of the humidifier, turns into an optional night light. Using the sun symbol, touch once and the lights will change colors continuously, touch the symbol again, and it will keep the current color on, and then a third touch will turn the light off.
Aroma Diffuser
You can also use essential oils with this humidifier, which adds to the overall value, you're getting both a humidifier and diffuser in one. You can add essential oils to the mist chamber prior to use.
Auto Shut-Off
This humidifier also has an automatic shut-off feature that's triggered when the tank runs out of water.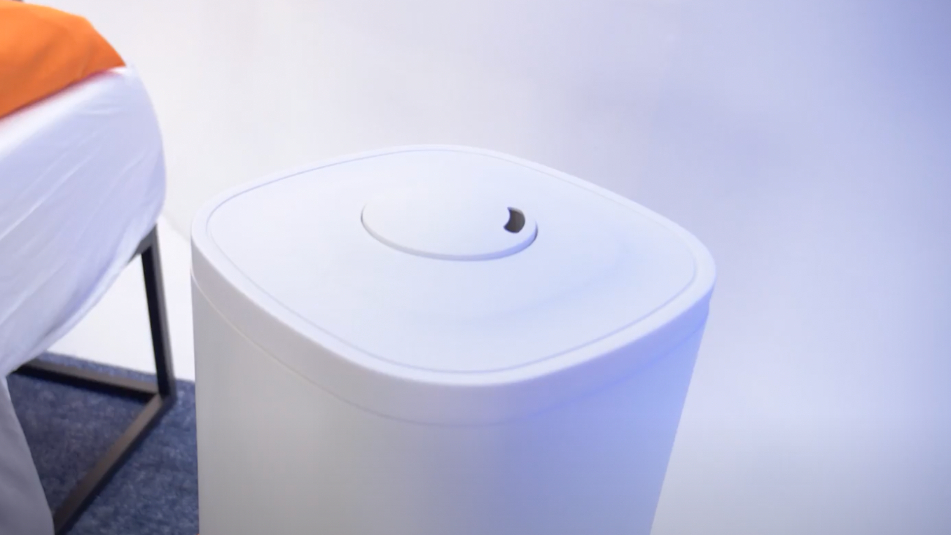 How To Use
The Crane Top Fill humidifier is a relatively simple device to operate. The intuitive control panel and minimal design eliminates confusion. When you're ready for use, remove the cover and mist cap. Make sure the mist chamber is attached correctly and secured into the chamber.
Next, fill the tank up to the max line with fresh, cool water— especially distilled or filtered water if possible. Now is also the time to add essential oils if you'd like, which you'd drop into the mist chamber.
Once the tank has been filled, place the cover and mist cap securely back on top of the base, and set your humidifier up in your room— being mindful to place it on a flat, elevated, waterproof surface, and aimed away from walls and electrical appliances. Then plug in and turn on with one touch using the power button. The power symbol will light up green, and default to a 'high' mist, indicated by the green water drop. One touch to the water drop symbol will set the mist to 'low' and it will turn blue.
If you like a night light, you can adjust that feature using the sun symbol:
One touch, the lights will change colors continuously

Another touch will keep the current color on

A third touch will turn the light off.
The symbol will turn green when the light function is on and blue when the light is off.
When the tank has run out of water, the power symbol will blink red three times and the unit will shut off. To turn it off yourself, touch the power button twice and the light will turn blue.
Lastly, be sure to keep a door cracked while using your humidifier so that condensation doesn't accumulate on the walls or ceiling.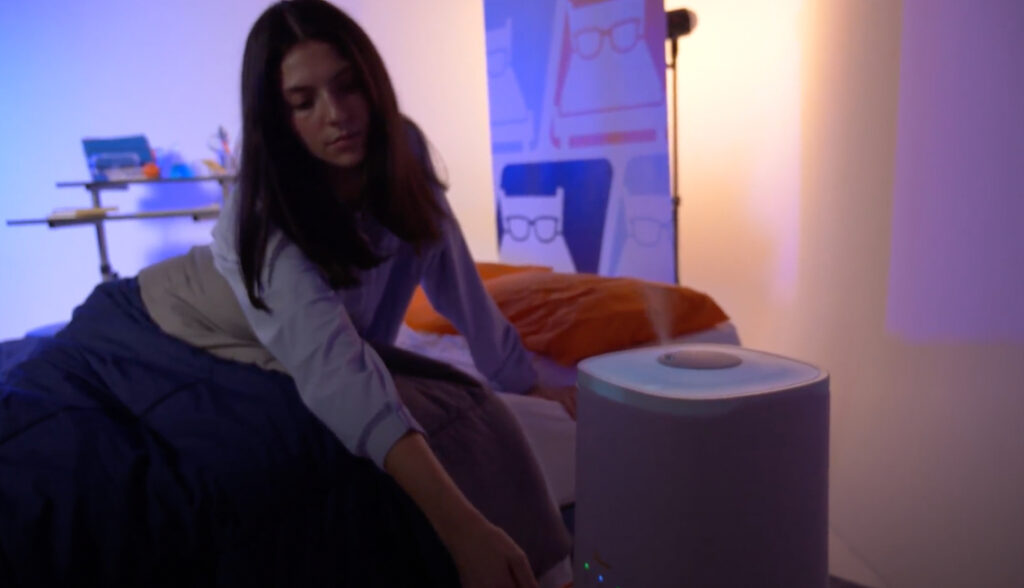 Personal Experience
I took the Crane Top Fill home with me and tried it out in my own bedroom, and I thoroughly enjoyed my experience.
First off, this thing runs so quietly. It doesn't make any distracting sounds or anything that would bother your sleep, which is a nice reassurance. I tested out the night light feature and enjoyed it while winding down for bed to set the mood, but I ended up turning it off for complete darkness when it was time to sleep. So it's nice you can turn it on and off to your preference.
It also just overall looks very nice. The design is modern and minimalist. I think it does a nice job complimenting the room and not looking like an eye sore, which other humidifiers can be.
In terms of adjustability, I appreciated being able to maneuver the mist cap and alter the direction of the mist. It allowed me to put the humidifier in a convenient spot without having to sacrifice the direction of where I wanted the mist to go.
And finally, I loved the overall value of getting a humidifier and diffuser all in one. Instead of needing two devices that take up a lot of space, it's nice to have it all compact in one. I really noticed the scent in the air. This humidifier does a great job at filling the room and making it both humidified and serene.
How to Clean the Crane Top Fill Humidifier
Everyday, be sure to turn off your Crane, unplug it, remove the lid and empty the tank. When emptying, be sure to do it away from the fan outlet so no water gets in there. Also remove the mist chamber and rinse it. Allow all components to dry and then reassemble. It's important to change the water daily so that no mineral deposits or bacteria develop— especially if using tap water.
Then, once a week, wash the cover, mist lid, and mist chamber in a white vinegar and water solution or put it into the dishwasher on the top rack. Next, fill the base halfway with warm water, add two to four tablespoons of white vinegar and let sit for about 20 minutes. Once it's done disinfecting, empty the base and rinse with clean water. Wipe it all off and let dry. Be sure not to dish wash the base or immerse the device in water.
Pros/Cons
Pros
Amazing overall value: This is a two-for-one product. A humidifier and scent diffuser all in one device. You don't need to buy separate products, which would take up space and cost more money. It's under $100, you can run it for 24 hours, it has a night light— it's the total package. So overall, I think this is a great addition to your room, your child's room, or it's a great gift as well.
The adjustability and design: Not only does the Crane look nice in a room, but the mist cap nozzle also allows you to cater the direction of the mist. You don't have to compromise with this product.
Easy to clean: Like I touched on earlier, this humidifier is very easy to clean. You do want to be cleaning it pretty regularly, so the fact you have parts that can go in the dishwasher and you don't have to replace a filter makes life easy!
Runs quietly: The last thing anyone wants is a loud, distracting device running for 24 hours. The Crane runs basically silent, even on the 'high' setting, so no dreams were distributed in the testing of this product, I can assure you.
Cons
It's big: The Crane Top Fill is made for medium to large rooms. So naturally the device is pretty big.
Tank isn't detachable: The tank and base are all in one. So when it comes time to fill up the tank, you have to carry the entire device or bring the water to it. Which isn't the case with other humidifiers where you'd be able to detach the tank. So another thing to consider.
Not many color options: While this humidifier is neutral and sleek in design, it doesn't come in other colors other than off-white.
Sizing, Pricing, and Policies
| | | |
| --- | --- | --- |
| Tank Size | Run time | Price |
| 1.2 gallons | ≈ 24 hours | $55 |
Shipping
The Crane Top Fill humidifier is available for purchase on Amazon. Plus if you're a prime member, you get free shipping and returns.
Crane Top Fill Humidifier FAQs
Is Crane a good humidifier brand?

Crane started in 2005, creating products for the home, like humidifiers, air purifiers, fans, and steam inhalers. They also strive to practice sustainability in their business efforts, like making devices that are long-lasting and using recycled cardboard packaging.
What happens if you don't use filtered water in a humidifier?

If you use tap water in your device, you're more likely to develop deposits from the minerals in the water. In turn, causing you to clean your device more often. The Crane Top Fill also doesn't have a filter, which is typically used to help separate those minerals from the mist. So it's best practice to use filtered, purified, or distilled water when possible.
What does a humidifier help with?

Humidifiers can be used both during the cold winter months to bring moisture into your home, or used in dry climates to humidify the air. They help lubricate the nasal passages to prevent coughing, dry throat, snoring, bloody noses, dry skin, and congestion. This can be helpful not only for adults, but babies as well. Newborns breathe exclusively out of their nose for the first few months of their life. So having a humidifier in their nursery can ensure their nasal passages are moisturized so they can breathe and sleep better. Humidifiers can also be helpful for keeping indoor plants healthy and quickly growing as well!
The Nerd's Final Take
In all, you can't beat the value of this product. Considering you get a device that is capable of both humidifying and diffusing essential oils, means you don't have to buy two products or find room for two bulky devices in your home. I also enjoy the added features like the nightlight and the adjustable mist output, both of which are not guaranteed features with all humidifiers. The top fill makes refilling and emptying the tank easy— let alone the cleaning is less tedious. Lastly, the sleek, modern design compliments a room and doesn't look like an eyesore like many other humidifiers.
With a price under $60, the Crane Top Fill is one of my favorite humidifiers that I've reviewed. It has great value, comes in at a reasonable price point, is easy to use, has fun, unique features, and runs effectively!