Levoit Dual 150 Ultrasonic Cool Mist Humidifier Review
•
Disclosure: By clicking on the product links in this article, Mattress Nerd may receive a commission fee at no cost to you, the reader. Read full disclosure statement.
The Mattress Nerd's Take: The Levoit Dual 150 Ultrasonic Cool Mist Humidifier is a great two-for-one product that helps bring cool moisture into the air and is compatible with essential oil diffusion. Its compact size fits discreetly into a small to medium sized space and holds up to 3 liters of water.
Who It's Good For
Small to medium size rooms
Those who want a humidifier and oil diffuser in one
Budget shoppers
Who It's Not Good For
Those looking to fill a large room for a long period of time
Those who don't want a humidifier with a filter
Those who want a warm mist humidifier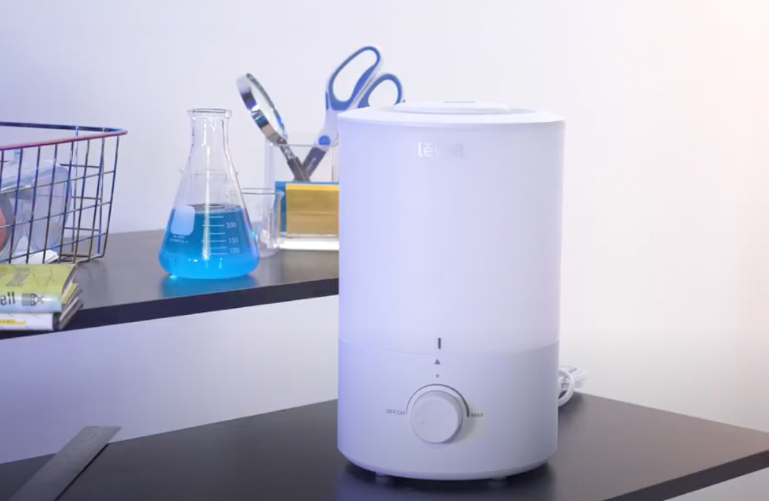 Watch Our Review
Key Features
Water Tank/Top-Fill Design
This humidifier is a top fill, which makes filling up your tank very easy. Just remove the lid and add water! You don't need to disable or detach it from the base. The tank will hold up to 3 liters of water, perfect for a small to medium size room.
Adjustable Dial
The adjustable dial can be found on the front of the device. The on and off switch is here too. You can control the intensity of the vapor from low all the way up to high, depending on how much you want released into the air.
Nozzle
The nozzle on top of the Levoit Humidifier can rotate 360 degrees in any direction you want it to go.
Oil Diffuser
This Levoit model is also compatible with essential oils! Add a few drops of your favorite scent into the water tank and enjoy!
Auto-Stop
You can leave this humidifier running all night and if it runs out of water, the device will automatically turn off.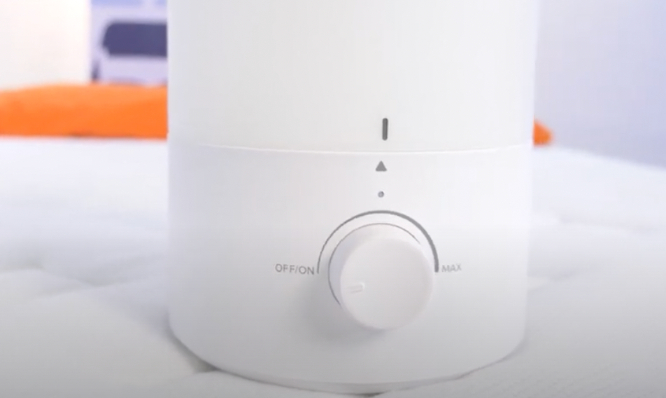 How To Use
This Levoit model is one of the easiest humidifiers to use. Just remove the lid on top of the device and pour water into the tank, preferably distilled or purified, especially if you live somewhere with hard tap water. Before turning on, add essential oils to the water tank if you'd like. Then plug in and turn on. Use the dial to adjust the vapor intensity and you're ready to go! You will see the cool vapor begin to come out of the nozzle. Levoit claims this device can run up to 25 hours of continuous use on the low setting as well.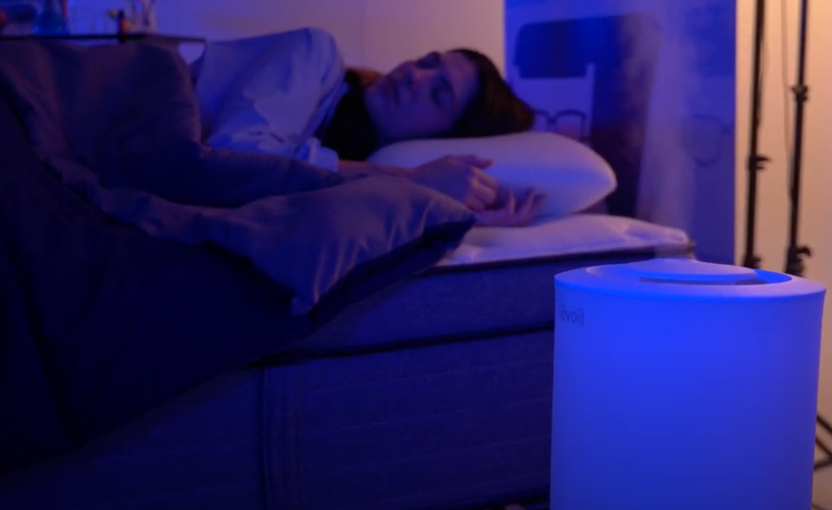 Personal Experience
I took the Levoit Humidifier home with me and tested it out in my own bedroom. Right off the top, I loved how simple and intuitive the device was to use, let alone its sleek and modern design. It's compact, it fit discreetly in my room, and I was able to adjust the nozzle in the direction I wanted the vapor to go and adjust the intensity using the dial.
I also appreciated the fact it ran silently throughout the night. Sometimes humidifiers can be loud while operating, but I didn't experience that at all. I did run it continuously through the night for about 8 hours on the lowest setting, and the water lasted me throughout the night. And I will say, the low setting really was "low", which shows the dial has nice control.
It's a top fill, so putting water in and emptying it out of the tank was easy and didn't cause a mess.
Lastly, I did test out the diffuser function, and thought it did a nice job bringing the smell into the air, without it being overwhelming. Overall, I'd say I really enjoyed this humidifier, especially over others I've tested!
How to Clean the Levoit Humidifier
Everyday, you'll want to change your water. Make sure to empty your tank, rinse it out, and let it completely dry before using again. Changing the water is necessary for maintaining clean and pure vapor, so you don't get sick!
Then, once a week, you'll want to really clean your humidifier, especially the tank and filter. Your device will come with two filter sponges, one extra, and one pre-installed. You'll also get a tiny brush to help you get into the smaller areas. According to the Levoit cleaning manual:
Unplug the humidifier and r

emove the water tank.

Pour out any water from the tank and base chamber.

Remove the water filter from the bottom of the tank.

Rinse the tank, water filter, and base chamber with water

Then fill the tank with three cups of distilled white vinegar. Place the cover back on top and

swish the vinegar around the tank.

Place the tank on the base and soak for 15–20 minutes, allowing the vinegar to drain into the base and loosen mineral buildup.

Once the time is up, pour out any vinegar.

Flip the tank over and remove the noise silencer. To remove the noise silencer, press the release tabs and gently pull away from the humidifier

Remove the float from the base chamber by pulling up one end of the float and pulling the shaft out from the float brackets. One side of the float brackets is open to allow the shaft to be removed.

Place the float, water filter, and noise silencer in a small container, and fill with enough vinegar to cover them. Soak for an additional 15–20 minutes.

Use the cleaning brush and a soft cloth to remove scale from all parts.

Rinse all parts until any vinegar smell is completely gone.

Dry all parts with a cloth. Make sure all parts are completely dry before reassembling or storing.
Pros/Cons
Pros
Compact size and intuitive design: The Levoit Humidifier comes with a top-fill design, a simple control dial, and a nozzle that moves 360 degrees. All in all, it's simple to use and fits discreetly in a room without being an eyesore.
Quiet: I didn't find this humidifier to make bubbling or gurgling noise when it ran. So, if you're a light sleeper, you shouldn't be distubred by this machine during the night.
Humidifier and oil diffuser: I love the value of this product, considering you're getting a humidifier and oil diffuser all in one. No need to spend money on two products or find room for them, you get it all here.
Cons
Has a filter: You'll have to clean and replace your filter overtime, which is important for keeping your device working correctly and safely!
Cleaning is a commitment: This is a general con with humidifiers, the cleaning is a non-negotiable. You have to maintain your product so it doesn't grow mold or bacteria that is then being vaporized into the air for you to breathe in. So make sure you're up for the maintenance before you buy.
Run time can vary: Levoit claims this humidifier can run for 25 hours. Just know that may vary considering the intensity you run it at. I read other user reviews that claimed that time was shorter than 25 hours, so something to be aware of.
Sizing, Pricing, and Policies
| | | |
| --- | --- | --- |
| Tank Size | Run time | Price |
| 3 Liters | ≈ 25 hours | $44 |
Shipping
The Levoit Humidifier is available for purchase on Amazon. Plus if you're a prime member, you get free shipping and returns.
FAQs
Is Levoit a good brand for humidifiers?

Levoit is a brand that creates small home appliances. They're known for their humidifiers, air purifiers, diffusers, and vacuum cleaners. So they specialize in these types of products.
Can I use tap water in a Levoit Humidifier?

Yes, you can use tap water in this humidifier, although it is highly suggested to use purified, filtered, or distilled. Using water from the tap, you're much more likely to develop mineral buildups, which look like white dust, since tap water isn't as treated as thoroughly as filtered types. Using tap water means you'll have to be extra diligent when cleaning.
What are the benefits of an ultrasonic humidifier?

Ultrasonic humidifiers are great at quickly filling a room with humidified air, while running quietly. It does this by having a reservoir of water, a diaphragm, and some type of vibrating mechanism. The diaphragm then vibrates at a very high frequency, so high that the pitch is above human hearing levels. This process shoots minuscule water particles into the air to create mist. Ultrasonic humidifiers are also always going to admit cool mist since there's no heating element.
The Nerd's Final Take
I think the Levoit Humidifier is a great option for those who want a compact two-for-one humidifier and oil diffuser. Instead of buying two devices, you get it all in one, which is great for budget shoppers looking for a deal. Its compact size and sleek design is a nice addition to a bedroom, office, or nursery— a nice aesthetic versus other humidifiers that can look like an eyesore.
This humidifier does take a degree of diligence with cleaning, but that's standard across the board with all humidifiers. So just be aware of that before deciding whether or not to purchase.