Vicks Cool Mist Humidifier Review
•
Disclosure: By clicking on the product links in this article, Mattress Nerd may receive a commission fee at no cost to you, the reader. Read full disclosure statement.
The Mattress Nerd's Take: Using cool vapor to bring moisture into the air, the Vicks Cool Mist Humidifier allows you to incorporate VapoPads inhalants into the mist to help alleviate cold and flu symptoms. Use in the dry, colder months, or all year long, in a medium to large size room.
Who It's Good For
Budget shoppers
Those looking to add inhalants to their humidifier
Those who want a filter free
Who It's Not Good For
Those who don't want tedious cleaning
Those looking to fill a small room
Those who want a warm mist humidifier— if so, check out our review of the Vicks Warm Mist Humidifier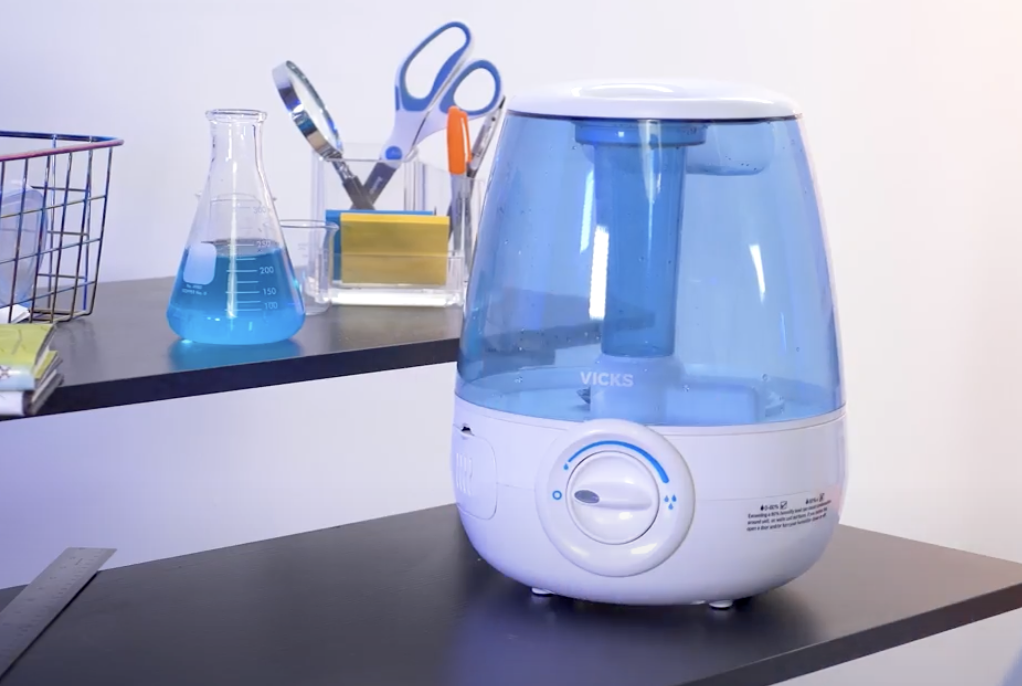 Watch Our Review
Key Features
Water Tank
The tank can hold 1.2 gallons of water, which should last you well throughout the night in a medium to large sized room. Vicks claims this humidifier can run for up to 36 hours straight, which is like a marathon compared to other humidifiers of its size.
Adjustable Dial
On the front of the humidifier, you'll find the control dial. You can adjust the settings from low to high and customize the amount of vapor you want released into the air. The dial also acts as a nightlight and power switch.
Nozzle
The nozzle, where the steam mist out, is on top of the device. You can move it 360 degrees and direct the mist in any direction you need it to go. This is important since you don't want the mist directed towards walls, electronics, or furniture. It's best to have the mist go towards the center of your room so it can get easily distributed throughout.
Auto Shut-Off
This humidifier will also automatically shut off when it runs out of power. So, there's no need to worry about it overheating, which is great if you plan on running your device all day and night.
Scent Pad Door
The Vicks Cool Mist Humidifier can hold up to two Vicks VapoPad Inhalants to further help alleviate cold, cough, or flu symptoms. You can place them at the base of the humidifier, in the scent pad door. You'll receive a pack of VapoPads with purchase.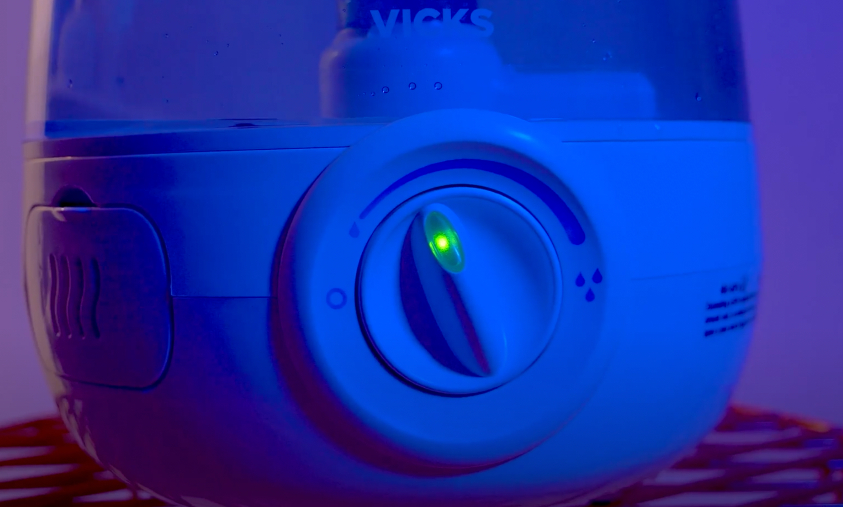 How To Use
When you're ready to set up your Vicks Cool Mist Humidifier, remove the tank from the base, flip it upside down to find the tank cap, twist off, and fill up the tank with water— ideally distilled or filtered especially if your tap water is very hard.
Once it's filled up, place the cap back on securely, assemble the tank back to the base, and plug in your humidifier. If you want to use a VapoPad, place it in the scent pad door. Then adjust the dial to your desired level. To change the direction of the vapor, twist the directional nozzle on top of the device.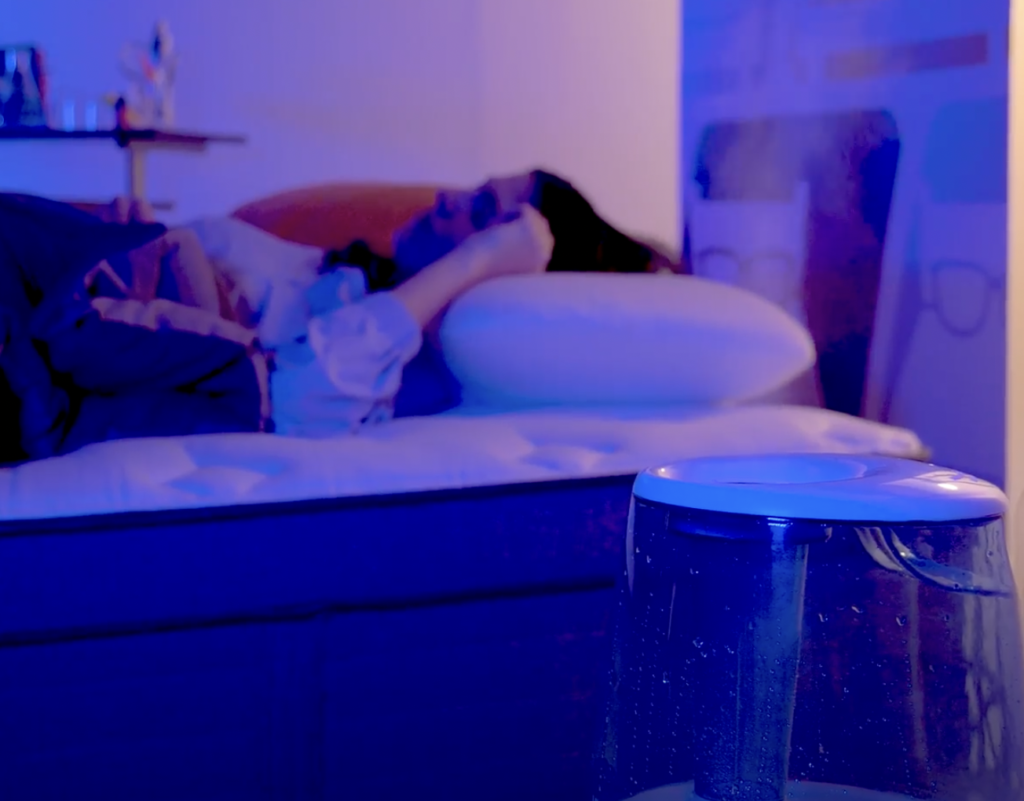 Personal Experience
I took this humidifier home with me and got to test it in my own bedroom. The first thing I noticed was how powerful the unit was. I had it on the high setting initially, and it pumped out a steady stream or vapor very quickly. So, it's very effective at filling a room quickly, especially if you have a larger sized room. Once I went to bed, I lowered the intensity to medium-low, and the device was able to run throughout the duration of my sleep (about 8 hours), without turning off.
I did notice it making a humming noise when running on high. Since this machine is large and has a motor, I'm assuming the sound was coming from that. It wasn't super loud, I think it'd be similar to sleeping with a box fan on. But, it's important to point out. especially if you're used to sleeping in complete silence.
I did not add a VapoPad since I was feeling fine, but I do think that's a really nice feature to have for when you're feeling sick.
How to Clean the Vicks Cool Mist Humidifier
Everyday, make sure to change the water in your tank. Get in the habit of emptying your tank on a daily basis, rinsing it out, and letting it air dry before returning to use.
Then, once a week, you'll want to fully clean and disinfect your humidifier by using vinegar, water, and bleach. This thorough process is crucial to maintaining the health and safety of your humidifier. Not doing so can allow mold and bacteria to grow. For disinfecting:
Turn off, unplug, and disassemble your device.

Empty the water tank, remove top nozzle, and empty any water that leaked into the reservoir.

Next, descale. Pour one cup of undiluted white vinegar into the water tank, put the nozzle inside the tank, and place the tank cap tightly back on.

Swish the vinegar all around the tank, making sure it gets covered in the solution.

Place the tank back onto the base so the vinegar can drain into the reservoir for further disinfecting. Let sit for 20 minutes.

Once done, remove the nozzle, pour out the solution from both the tank and reservoir. Rinse off tank, nozzle, and reservoir until vinegar smell is no longer noticeable.

Next, mix a gallon of water with a teaspoon of bleach. Pour into the tank, place the nozzle back into the tank, and secure the tank lid back on.

Once again, swish the solution to completely cover the tank and place it back into the base to drain. Let sit for another 20 minutes.

Empty out the solution and rinse components until the bleach smell is gone.
Pros/Cons
Pros
Powerful + effective on a budget: This machine is powerful, and will run effectively for at least 10-15+ hours with no problem— especially on the low setting. Plus, for under $100, you're getting a lot of value.
Can add Vicks products: The great part about using a Vicks machine, is it's compatible with Vicks products! You can add Vicks VapoPads to this humidifier and get extra relief for symptoms.
Filter free: No need to upkeep and replace a filter! The Vicks Cool Mist doesn't have a filter, which means you won't have to pay to replace one every few months.
Cons
Nightlight: If you need complete darkness when you sleep, this device has a nightlight on it, which can create a glow.
Can leave condensation if you run it on full blast: If you run it for a long period of time on full blast, you may see condensation building, so be aware of that and make sure you're placing your unit on a waterproof surface, or leave a towel underneath.
Tedious cleaning: Since this humidifier doesn't have a filter, you have to be extra diligent about sticking to your cleaning schedule.
Sizing, Pricing, and Policies
| | | |
| --- | --- | --- |
| Tank Size | Run time | Price |
| 1.2 gallons | ≈ 30 hours | $45 |
Shipping
The Vicks Cool Mist Humidifier is available for purchase on Amazon. Plus if you're a prime member, you get free shipping and returns.
Vicks Cool Mist Humidifier FAQs
Which is better, a cool mist or warm mist humidifier?

Both cool mist and warm mist humidifiers are effective at bringing moisture into the air. Essentially, it'll depend on what temperature you want to make your room. If you're looking to make your room cozy, a warm mist humidifier will raise the temperature and give you a therapeutic feel. So if it's the winter and you live in a cold climate, a warm mist humidifier could help make your room more comfortable, without needing to crank up the heater. Conversely, if you live in an area with a very dry climate, like the desert, a cool mist humidifier could be a great thing to use year round, where you're not drastically changing the temperature of your room, but rather just bringing moisture to the air.
Do you need to use a VapoPad with the Vicks Cool Mist Humidifier?

No, you don't need to use a VapoPad to still work this device. It'll run either way. You'll have the option to use a VapoPad when you're feeling sick and want to further alleviate your symptoms.
Where should a humidifier be placed in your room?

You'll want to place your humidifier on an elevated, waterproof surface, with the vapor directed away from walls, electronics, or furniture. If you're running your device on high for a long period of time, it's possible that condensation will accumulate, so be cognizant of that. Also, keep your door cracked open to help prevent condensation from appearing on the wall or ceiling.
The Nerd's Final Take
All in all, I think the Vicks Cool Mist Humidifier is a nice budget-friendly option for those who want the versatility of year-long humidifier use and symptoms relieving inhalant capability. Not all humidifiers come with a scent pad door, so that's definitely a plus with this option. Plus, if you're looking to fill a medium to large sized room, the 1.2 gallon tank on this device is plenty big to get the job done.
Although I find the cleaning process to be a bit lengthy, it's important for maintaining the cleanliness of your vapor. Again, not doing so can lead to mold and bacteria growth. So before deciding to purchase, be sure you're ready to keep up with the maintenance. If it's any consolation, all humidifiers need to be thoroughly cleaned, so it's not something that's exclusive to this model.