Gravity Weighted Blanket Review
Cozy, therapeutic, and temperature neutral? Too good to be true? Let's take a look.
•
Disclosure: By clicking on the product links in this article, Mattress Nerd may receive a commission fee at no cost to you, the reader. Read full disclosure statement.
The Mattress Nerd's Take: The original Gravity weighted blanket is velvety soft, evenly weighted, temperature neutral, and quiet. It's priced as a luxury item, and we think it's worth the money– especially if you are looking to use this blanket for its therapeutic and calming benefits.
Who It's Good For
Individual adults and couples

Those who weigh between 100–300 lbs

Light sleepers who want a quiet

weighted blanket
Who It's Not Good For
Budget-conscious shoppers

Those prone to night sweats

Kids under 13 years old or who weigh less than 100 lbs
Gravity Weighted Blanket Video Review
Feel
The Gravity weighted blanket has a velvety soft cover and structured feel. It's easy to wrap around my shoulders but doesn't stretch or easily bunch up like standard blankets. The structured feel makes it more compatible with lying flat on my bed than flopped over my lap on the couch. For this reason, I wouldn't consider it to be especially cozy, but it offers all the other benefits of a weighted blanket.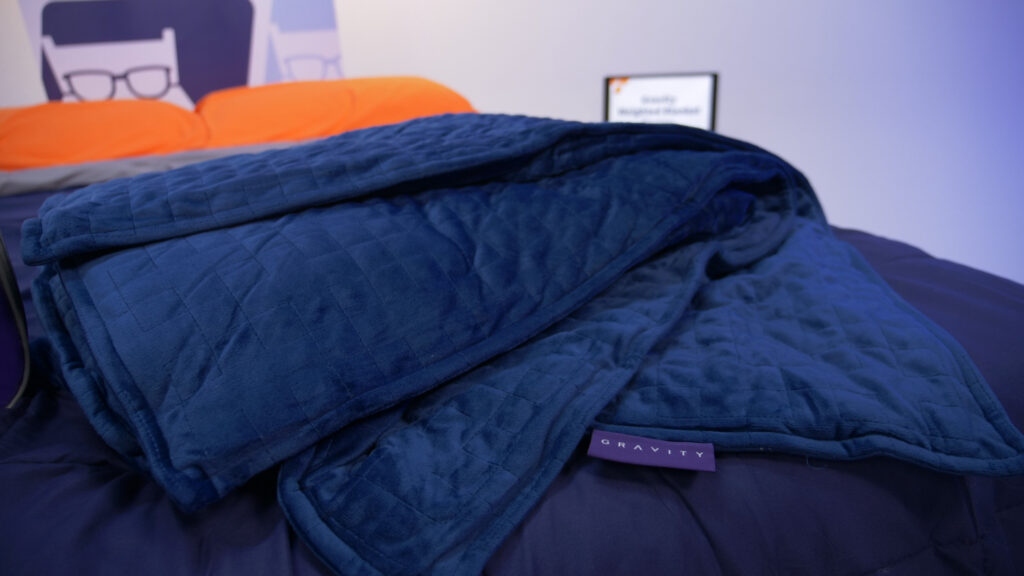 Mattress Nerd Weighted Blanket Scores
At Mattress Nerd, we really do have the best job: napping with weighted blankets! Before dozing off, we take detailed notes about how well the blanket performs over four comfort categories, and then factor in cleaning instructions and customer service. After averaging the six scores, the blanket has a total score ranging from one (lowest) to five (highest).
Weight Distribution: 5/5
The Gravity has an even weight across the entire span of the blanket thanks to gridded stitching. I didn't feel any of the micro-bead fill clumping when lying flat or lounging upright. The Gravity performs better in this category than many other weighted blankets we've tested.
Customizability: 4/5
The Gravity is available in 15 lb, 20 lb, and 35 lb options, and the dimensions are either Single (48" x 72") or Queen/King (90" x 90"). I'd like to see more variety in sizing and colors, as well as a 25 lb option, but otherwise, the Gravity is pretty versatile.
Temperature Control: 4/5
When testing the Gravity, I don't feel any of my body heat getting absorbed into the blanket, and I can feel the coolness of the weighted insert. The cover material doesn't feel like it would do a good job of wicking away sweat, but it is breathable. After an hour or so, there's a good chance that some body heat will begin to accumulate under the blanket, but overall, the Gravity stays pretty temperature neutral.
Quality of Materials: 4/5
The Gravity weighted blanket is made with polyester, which is known for its breathability and durability. The fleece duvet is soft and warm, and the insert is also soft, which keeps the blanket quiet. I'd like to see some organic or eco-friendly materials, but otherwise, this is a high-quality weighted blanket.
Care: 4/5
The outer cover can be removed via a zipper along the foot of the blanket. You can machine wash and dry the cover, but the insert is hand wash and air dry only. To wash the duvet, use cold water and tumble dry on low heat.
Customer Experience: 3/5
The Gravity weighted blanket ships for free and comes with a 30-night trial period, which is the industry standard. There's no warranty, which is a bummer. Make sure you check for any manufacturing defects during the 30-night return window. You can reach customer service via email. I'd like to see at least a one-year warranty and online chat for customer service.
Total Score: 4/5
Materials and Construction: What's It Made of?
The Gravity weighted blanket is made with a polyester weighted comforter that's zipped and tied inside a polyester duvet cover. Inside the cover, there are zippers along the head and foot of the blanket and fabric ties along the sides.
The comforter is quilted into squares containing thousands of fine-grade glass beads, which are considered more eco-friendly than plastic pellets. It feels cool to the touch, though the plush microfiber duvet adds warmth.
Pros/Cons
Pros
Easy upkeep:

As a clean freak myself, I love a machine washable sleep product to keep maintenance easy!

Quiet:

The fitted construction and fine-grade glass beads keep the Gravity quieter than other weighted blankets on the market.

High Quality: I've tested out many weighted blankets, and the Gravity, in particular, is one of the best in terms of quality and durability. I think you really get what you pay for with this option.
Deep Pressure Touch:

Besides the obvious blanket uses, the weight of the blanket provides deep pressure stimulation, which can calm the nervous system by releasing serotonin. Weighted blankets have even helped give better sleep to those with ADHD, autism, or anxiety disorders.
Cons
May be too hot for hot sleepers:

This is typical— hot sleepers can experience overheating with weighted blankets in general

.

But, the Gravity is no exception. It's heavy, so if you are a notoriously hot sleeper, you may find this to get too stuffy and thick.

Not For Kids:

Weighted blankets should be around 10 percent of your body weight. The smallest Gravity Classic is a 15-pound blanket, which is too heavy for most young kids.

Pricey: These blankets are not the most budget friendly option. Although an investment, the price of this blanket, which is over $200, is not going to work for everyone.
Sizing, Pricing, and Policies
| | | |
| --- | --- | --- |
| Size | Weight | Price |
| Single | 15 lb | $249.99 |
| Single | 20 lb | $249.99 |
| Single | 25 lb | $249.99 |
| Queen/King | 35 lb | $299.99 |
Shipping
Gravity offers free shipping in the U.S. and sends you a tracking number via email. Orders typically arrive within five to seven days in the contiguous U.S. and 10–14 days for Alaska, Hawaii, and Canada. Shipping to Canada is determined by weight, with weighted blankets falling in the $50 range. Canadian customers can shop Gravity's Canadian online store for free shipping.
Trial Period and Warranty
You have 30 days to decide if you want to keep the Gravity weighted blanket. For returns, the blanket has to be undamaged and returned in its original packaging. Customers are responsible for any costs associated with shipping.
If you buy your Gravity blanket from a retailer like Amazon, the return policy may be different. There's no warranty for the Gravity Classic blanket.
FAQs
Do weighted blankets improve the quality of your sleep?
Yes! Gravity actually conducted a sleep study that showed 72% of participants reported deeper, more restful sleep and 76% reported falling asleep faster when using the Gravity Blanket. Yay, science!
What's the difference between the Gravity Blanket, the Cooling Blanket, and Modernist Soft Cotton Blanket?
These are the names of all the blankets that Gravity offers. The biggest difference is that each model comes with a different duvet cover material.
While they all feature that outer and inner blanket design:
– The Gravity Blanket has a a micro-fleece duvet cover
– The Cooling Blanket features a moisture-wicking duvet cover
– The Modernist Blanket has a 100% cotton cover
Fun fact: the company even sells their duvet covers separately so you can exchange your cover whenever you want!
What's the best weighted blanket?
There are so many weighted blankets to choose from that finding the best one can be tough. A few of our favorites (besides the Gravity) include the Bearaby Cotton Napper for eco-conscious shoppers, the Baloo for those with allergies, and the Layla for couples who want larger sizes.
The Nerd's Final Take
The Gravity weighted blanket is a pricier option, but it delivers a high-end experience. The fill stays evenly distributed and isn't noisy. The outer cover is plush without being smothering and hot. Plus, it's available in sizes that fit both one person and two people, which we don't see from all brands.
If you can swing the price tag, we say go for it; after all, you have 30 days to decide. Otherwise, the Helix weighted blanket is a more budget-friendly option, though it's a little noisier.
Looking for more options? Check out our other best weighted blankets!
Nerd Score Wrap Up
| | |
| --- | --- |
| Performance Factor | Out of 5 |
| Weight Distribution | 5 |
| Customizability | 4 |
| Temperature Control | 4 |
| Quality of Materials | 4 |
| Care | 4 |
| Customer Experience | 3 |
| Total Nerd Score | 4 |
Starting at $1,250
Gravity Ice Hybrid Mattress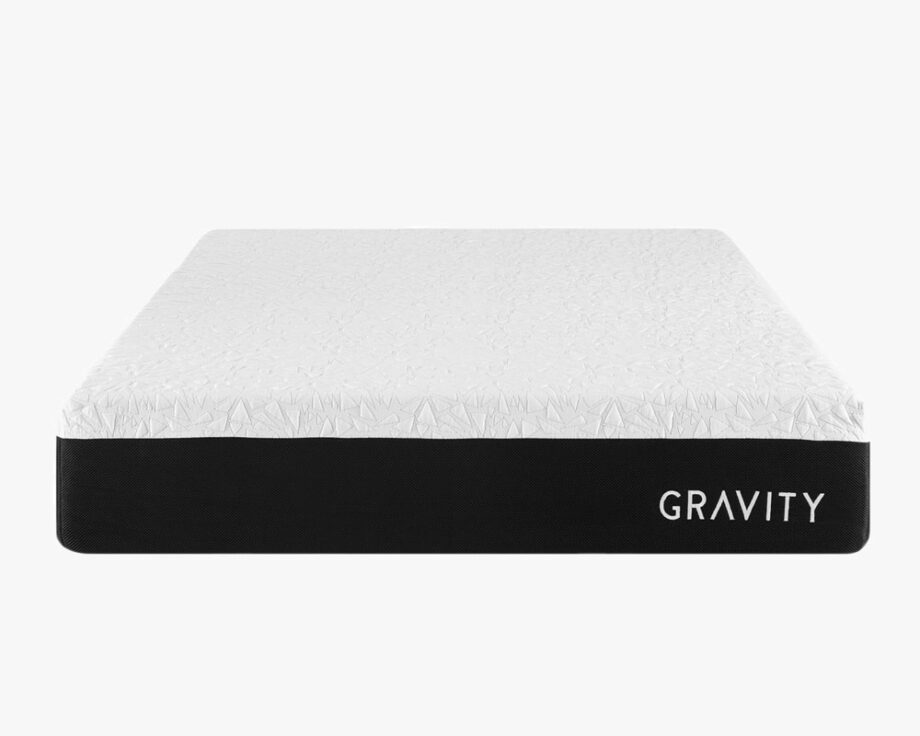 Starting at $130
Gravity Terrycloth Weighted Robe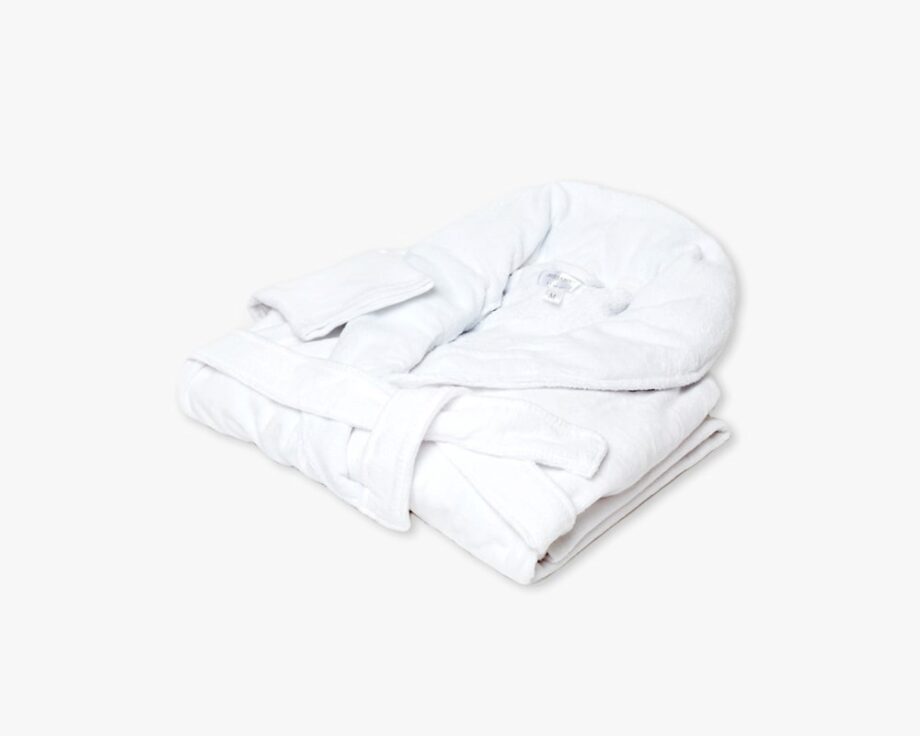 Starting at $40
Gravity Weighted Sleep Mask