Honeywell Cool Moisture Humidifier Review
•
Disclosure: By clicking on the product links in this article, Mattress Nerd may receive a commission fee at no cost to you, the reader. Read full disclosure statement.
The Mattress Nerd's Take: The Honeywell Cool Moisture humidifier works for those looking to fill a medium to large sized room with vapor during the wintertime or in a dry climate. This model comes with extra sanitizing measures like a wicking filter and a UV light to ensure your humidified air is purified and safe to inhale.
Who It's Good For
Those looking to humidify a medium to large size room
Those looking for easy maintenance
Those who want adjustability
Who It's Not Good For
Those looking to humidify a small room
Those who don't want a humidifier with a filter
Those who want a humidifier that runs silently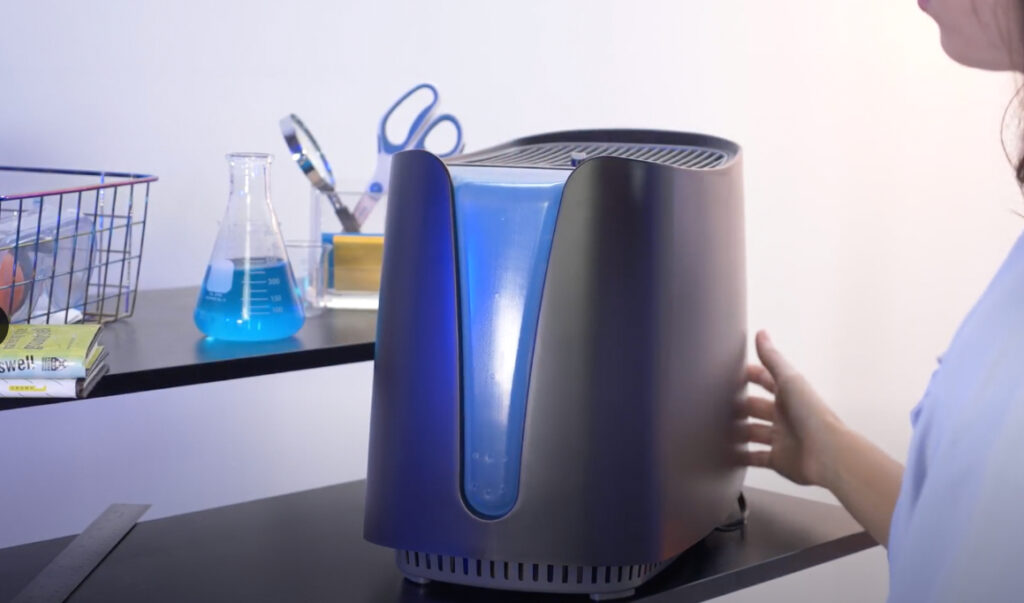 Watch Our Review
Key Features
Water Tank
The Honeywell humidifier comes with a one gallon tank, which is great for a medium to large sized room, like a bedroom or living room. Fully filled, you should be able to get 24 hours of continuous use on the low output setting. You will not see visible vapor coming from the top of this humidifier, the mist is invisible.
Wicking Filter
A downside of humidifiers is the possibility of mold growth if they're not maintained properly. However, this Honeywell model combats this issue by having a wicking filter. It works to prevent mineral deposits from forming, but know that you will have to replace the filter periodically in order to maintain the cleanliness of your humidified air. According to Honeywell, their filters last between one to three months. Once the filter can no longer absorb anymore minerals from the water and can no longer wick moisture, then it will be time to change your filter. You can purchase Honeywell replacement wicking filters here.
UV Light
The UV light, used to sanitize the water, can be found by lifting the top component of the humidifier off of the base. UV light is an effective method for sanitizing water because it destroys 99.9% of microorganisms. While it is a helpful addition to this device, be aware that you will have to replace it once it burns out.
Control Settings
You can adjust the mist output between three settings: low, medium, and high. Once you've set your desired output, the mist will permeate through the air from the top fan, and will come out "invisible", meaning you won't be able to physically see the mist being released.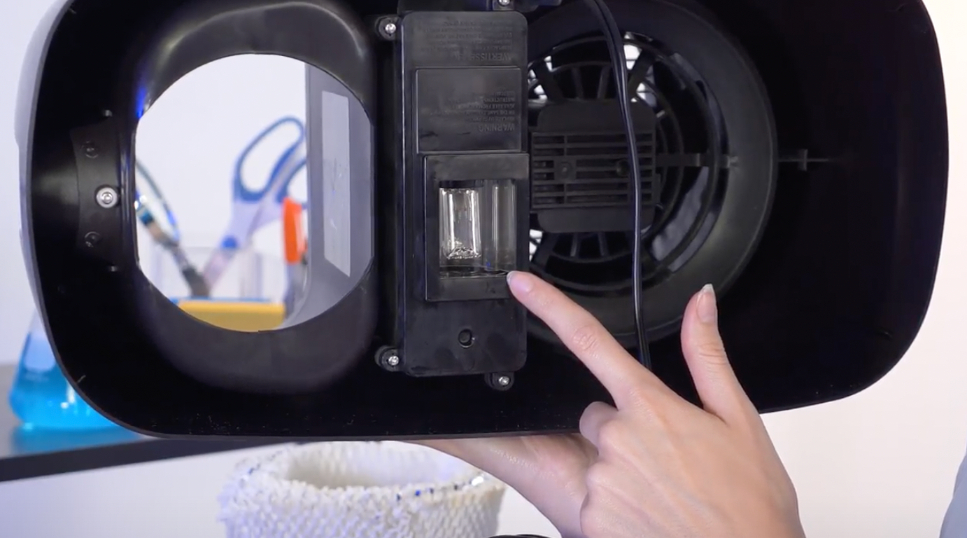 How To Use
Now that we've touched on the main features, let's break down how to use the Honeywell humidifier. Start by removing the water tank from the base and lift the upper enclosure off to get to the filter. Fill the tank with water, preferably distilled or filtered water, and wet the filter. Reassemble the parts you removed and plug it in.
Using the dial on top, adjust the humidifier to whichever level you want your mist to be at: low, medium, or high. The mist will come out invisible, so don't expect to see a billowing mist.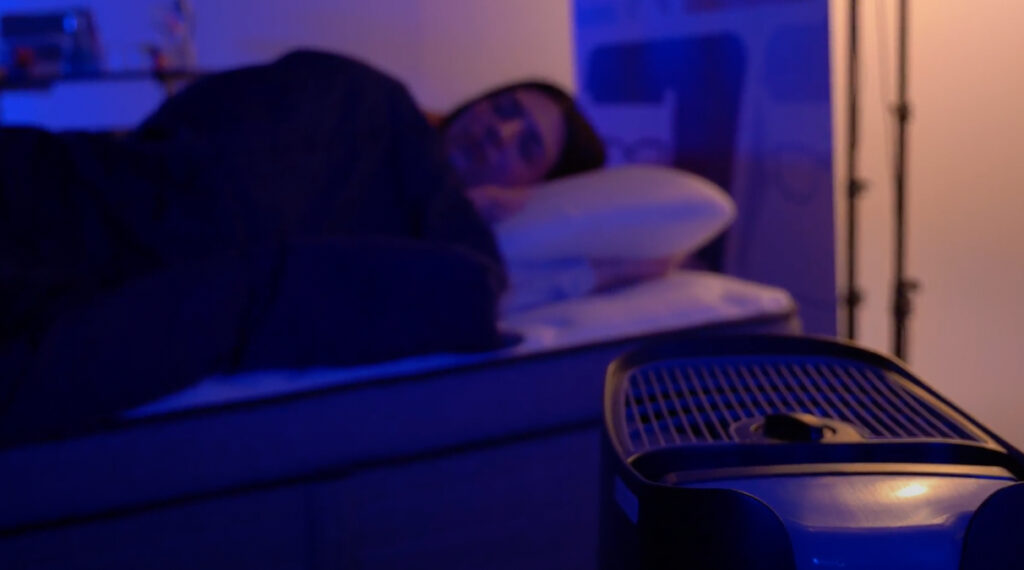 Personal Experience
I took the Honeywell humidifier home and tested it out myself in my own bedroom. It was large enough to fill my bedroom with cool moisture throughout the night without running out of water. I even woke up symptom free, which in the dryer months, is not always the case.
I did notice the fan does make a little bit of noise, even on low, which is the setting I ran it at throughout the night. I didn't mind it, but I usually sleep with some ambient noise anyway. So, if you do like complete silence when sleeping, just be aware of that.
I liked the cool mist. It brings moisture into the air without making the room feel warm or stuffy, which may happen with warm mist humidifiers.
I've tested humidifiers with filters and ones without them. As we've seen, this model does have a wicking filter. I thought it was a bit tedious to add the extra step of having to wet the filter and practically disassemble the entire device just to prep it, and then reassemble it again before use, but I may just be biased considering I've tested other humidifiers where that step isn't necessary.
However, I do like the fact this model prioritizes the cleanliness of the water, and in turn, the mist— especially if you're using this device in your child's room or your own. Between the UV sanitizing light and the wicking filter, this device incorporates useful features to truly give you value and quality with your purchase.
Lastly, I liked being able to adjust the mist output to my preference. I started on the medium setting to kickstart the moisture in the air, and then set it to low to run for the rest of the night. Overall, I enjoyed it!
How to Clean the Honeywell Humidifier
Maintenance is very important with your humidifier. Keeping a consistent cleaning schedule will prevent it from developing mold or bacteria. So, everyday, it's important to rinse out your tank, replace the water, and rinse the filter. Let each component dry completely before using again.
Then, once a week, you'll want to do a full clean. The water tank and base, the parts that actually touch water, are top rack dishwasher safe. You'll also want to clean the filter, the tray, and lid as well.
Pros/Cons
Pros
Holds a lot of water/long run time: The Honeywell humidifier tank can hold up to a gallon of water and run for 24 hours continuously on the low setting.
Easy to clean: Many of the components of this device are dishwasher safe. But overall, there aren't many small parts that make cleaning tedious.
Adjustable settings: I enjoyed how adjustable the mist output was. Some humidifiers only have one setting, but this model allows you to switch between low, medium, and high depending on what you want.
Cons
Have to replace filters often: Cleaning the filter does extend its lifespan, but they don't last forever. Honeywell recommends using their replacement wicking filters for best performance. And you'll have to change the UV bulb eventually as well.
It's large: This tank is large and will take up space. It weighs almost 10 lb, so take that into consideration, and make sure you have the room. The large body is great for holding a lot of water, but it's not the most practical in terms of size.
Makes noise: The fan does make some noise even on low. I personally don't mind this because I sleep with a noise machine, but if you like virtual silence, just be aware.
Sizing, Pricing, and Policies
| | | |
| --- | --- | --- |
| Tank Size | Run time | Price |
| 1.1 gallon | ≈ 24 hours | $80 |
Shipping
The Honeywell Cool Moisture humidifier is available for purchase on Amazon. Plus if you're a prime member, you get free shipping and returns.
Honeywell Humidifier FAQs
What is the difference between a humidifier and an air purifier?

Humidifiers push out moisture into a room— mainly for when the climate outside is dry and cold. On the other hand, air purifiers go through a filtration cycle, pulling in harmful particles from the air in a room and circulating purified air out. Both can help those with respiratory symptoms, like cough and congestion, but air purifiers have more therapeutic benefits for those with asthma or allergies, and those who live in a space with poor ventilation.
How do I know if I need a humidifier?

If you experience symptoms like, dry, itchy skin, congestion, nose bleeds, or static electricity, you could benefit from a humidifier. All those symptoms are effects of dry air. So if it's wintertime, or you live in a dry climate year round, a humidifier can bring moisture into your home and help you feel better. Humidifiers can also help babies, pets, and indoor plants.
What is Honeywell known for?

Honeywell is a large company that makes products for various industries. But as for home products, they make heating, air conditioning, and ventilating systems— like humidifiers!
The Nerd's Final Take
I think the Honeywell Cool Moisture humidifier will work best for those who prioritize cleanliness, want to fill a large space with vapor for a long period of time, and those who want a device with adjustable output settings. Although this model is a bit more expensive than other humidifiers we've reviewed, you get a lot of added value features like the wicking filter and UV sanitizing bulb.
This humidifier does run with a bit of noise, even on the low setting. So, it may not work for you if you like to sleep in complete silence. However, if you enjoy a bit of ambient noise and can overlook that, I think the Honeywell humidifier is a great investment and will last you awhile with good maintenance.