Infinity Pillow Review
A new take on the traditional travel pillow.
•
Disclosure: By clicking on the product links in this article, Mattress Nerd may receive a commission fee at no cost to you, the reader. Read full disclosure statement.
The Nerd's Take: The Infinity pillow is a new take on the traditional travel pillow. Shaped after a Möbius strip, the Infinity pillow is mainly constructed from breathable bamboo fabric, cotton, and soft polyester filling. You can use it on-the-go, as neck support while working, or simply while relaxing on the couch. Although it's bulkier than typical travel-sized pillows, it's surprisingly lightweight and versatile enough to be twisted, wrapped, or folded into different shapes for your most personalized feel.
Who It's Good For
Jet-setters and frequent travelers
Those suffering from neck and shoulder pain
Side sleepers
Who It's Not Good For
Those who prefer a memory foam feel
Those looking for a bed pillow replacement
Heavyweight sleepers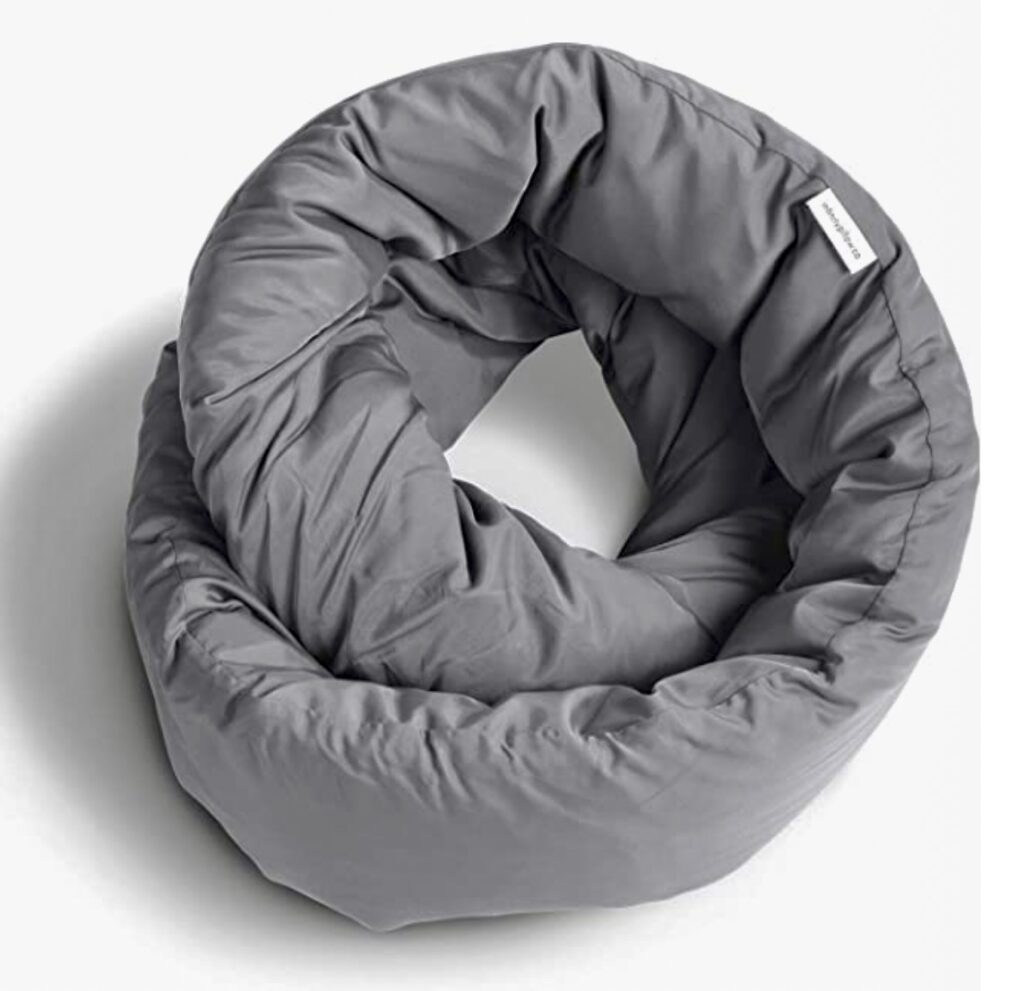 A Look Inside
To give you a good idea of how the Infinity pillow works, here's a closer look at how it's constructed and what it's made of.
Proprietary Möbius-inspired loop design
As you can guess by its name, the Infinity pillow has an infinity shape (a Möbius strip, if we're being technical) that can be twisted and folded into different shapes for extra support and comfort. There are many ways to wrap the Infinity pillow to work for you— around your neck, against your low back, or even around your eyes to block out disruptive light.
Cooling bamboo-blend fabric cover
Its cover is made from a bamboo-polyester blend that boasts breathability, the ability to wick moisture away, and resist allergens! This material blend creates a smooth, soft feel that's pleasant to lie up against for luxurious cushion.
Filling
The Infinity pillow is stuffed with polyester filling, which feels similar to down alternative— plush, soft, and airy.
Mattress Nerd Pillow Scores
Here at Mattress Nerd, we make sure to bring you thorough, unbiased opinions on each and every product we review. To do this, we test and review each product according to the following categories and give the proper rate on a scale of 1 to 5, with 5 being the highest.
Cooling: 5/5
The last thing you want on a 5-hour flight is to be uncomfortably hot from your travel pillow. Thankfully, that'd not a problem with this option. The Infinity pillow feels lightweight and comfortable, thanks to its cooling bamboo and breathable cotton materials.
Also, the fact that you can shape this pillow into whatever form you want allows a great deal of airflow in areas that are prone to overheating. If you want a little more space around your neck, you can easily twist and conform the Infinity pillow however you want.
For more cooling pillow options, check out our Best Cooling Pillows roundup.
Alignment: 4/5
One of the best and most unique things about the Infinity pillow is its ability to change shape. This allows you to conform and mold it to your body shape easily, and provide support in areas where you need it most.
Whether you're using the Infinity pillow for travel, neck support while working, or while relaxing on the couch, it'll adequately support your neck as best as you want it to! We found that it still provided enough support and comfort on our neck, shoulders, and back. However, heavier folks looking to use the Infinity pillow for lumbar support may be better off with a firmer pillow, as they may find it too soft and not supportive enough.
Adjustability: 5/5
As you can guess, the Infinity pillow excels at adjustability and personalization because of its twistable design. And because of this, it can be shaped to suit different sleeping positions or seated positions, depending on use!
Quality of Materials: 3/5
In terms of materials, there's nothing that stands out about the Infinity pillow aside from its cooling cover. The cover is a bamboo-polyester blend, which makes it more breathable and cooling than other regular travel pillows.
The inside of the Infinity pillow is filled with polyester. While this combination feels soft and comfy, they're very common materials you can find in other travel pillows. However, one thing we noticed is that the Infinity pillow uses high-quality polyester that doesn't clump up even if you twist and shape it.
Care: 4/5
Another thing we like about the Infinity pillow is that you can just chuck the whole thing into the washing machine without much fuss. We recommend using cold water on a gentle cycle to clean it.
When it comes to drying, the brand claims you should air-dry it for the best results. However, we did some testing and tumble-dried it on low heat and didn't notice any damage to the pillow. Best to air-dry it to be safe, though!
As mentioned earlier, the Infinity pillow has a non-removable cover. That means that when it's time to clean, you have to clean the entire pillow.
Customer Experience: 3/5
Unfortunately, the Infinity pillow doesn't come with any warranty or trial periods. To their credit, not a lot of traveling pillows come with warranties or trial periods, especially around their price range.
On the other hand, they do accept returns within 14 days of purchase, but only for unopened and unused ones. Refunds are subjected to a 15% restocking fee.
Total Score: 4/5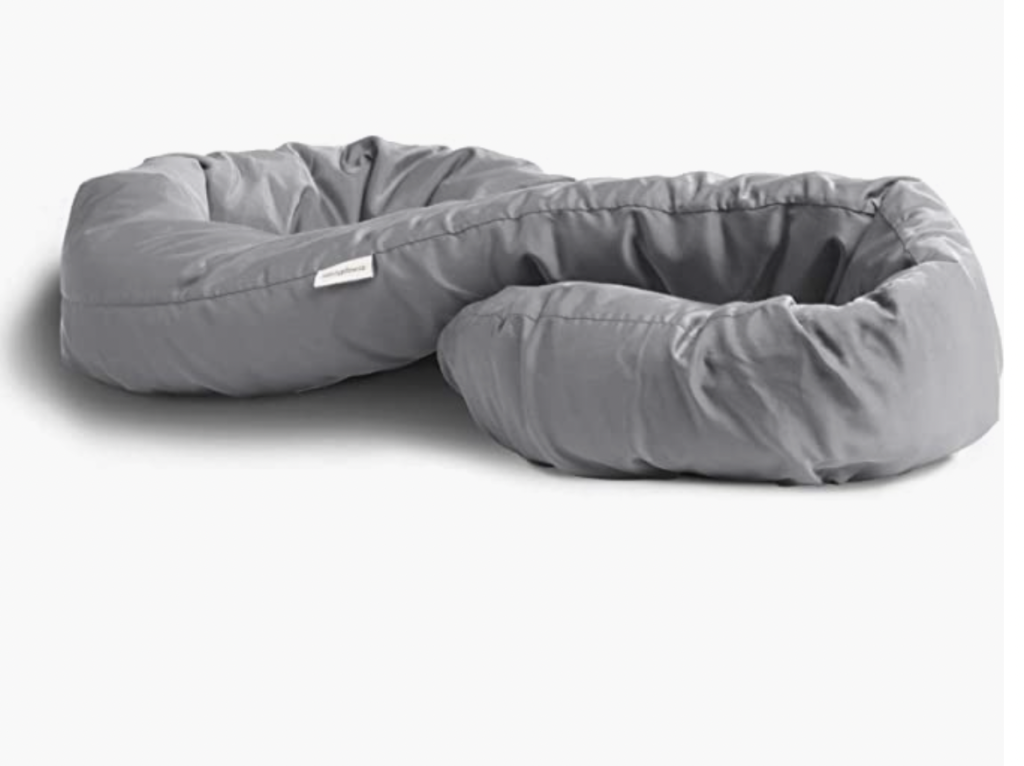 Side Sleeping
Though the Infinity pillow isn't a good replacement for a dedicated side sleeping pillow, we do think that it's a great complementary pillow for those who need extra support.
That said, the Infinity pillow is fantastic for those who want support for their neck and shoulders. Its shapeable loop design allows you to conform it to your natural curves and provide some extra pressure relief.
However, since it's quite soft, we think the Infinity pillow is best suited for lightweight and average-weight sleepers. Heavier folks are better off finding something firmer and more supportive.
Back Sleeping
If you're a back sleeper suffering from back or neck pain and need some pressure relief, we think the Infinity pillow is a great choice. Its loop design can be wrapped around the lumbar region for extra cushion and comfort. You can also fold it into multiple layers if you want a thicker (and firmer) pillow support.
Related: Best Pillows for Back Sleepers
Stomach Sleeping
We think the Infinity pillow is also a good match for stomach sleepers who need a little boost to their hip region. You can also use it to wrap around your lower back or hip part to add extra cushion.
| | | |
| --- | --- | --- |
| Score for Side Sleepers | Score for Stomach Sleepers | Score for Back Sleepers |
| 5/5 | 4/5 | 4/5 |
Pros/Cons
Pros
Versatility: Its main selling point is the ability to twist, fold, and shape it into however you want for maximum comfort and support.
Machine-washable:

You can simply throw the Infinity pillow into the washer when it comes time to clean.

Breathability: Having an airy and breathable traveling pillow makes sleeping on the go much more comfortable vs. waking up all sweaty because your pillow is too dense.
Reasonable pricing: At $44.99, we think the Infinity pillow is a very good deal since you're getting a versatile travel pillow.
Cons
Too bulky: The Infinity pillow is quite big and bulky, which makes it hard to store in your bag when traveling. You can buy it with a travel storage bag, but even then it's still a bit big.
No removable cover: When the cover gets too dirty, you have to wash the entire pillow since the cover is non-removable.
Not-so noise-canceling: Although described as a feature, our testing showed that it's not as noise-canceling as they advertised it to be. You're better off wearing earplugs if you want to snooze in peace.
Sizing, Pricing, and Policies
| | | |
| --- | --- | --- |
| Size | Dimensions | Price |
| One Size | 39" x 6" | $44.99 |
Shipping
Huzi ships free to the U.S. for any orders above $50. They also provide worldwide shipping, but shipping and taxes depend on the destination country.
Trial Period
Unfortunately, Huzi does not offer any trial periods for the Infinity pillow.
FAQs
How does Infinity Pillow work?

The Infinity pillow is a soft travel pillow with a unique design inspired by the infinity shape. It can be twisted, shaped, and folded to different shapes and accommodate different sleeping positions. It's suited for travelers looking for extra cushion, comfort, and support while sleeping on the go.
Where does Infinity Pillow ship from?

The Infinity pillow is shipped from Hong Kong where Huzi, the company that designed the Infinity pillow, is based. They also accept returns (within 15 days of purchase) and refunds (subjected to 15% restocking fee). If you order directly from their site, note that delivery may take some time.
How do you clean an Infinity Pillow?

The Infinity pillow can be cleaned via a washing machine. We recommend a cold, gentle cycle using a mild detergent for the best results. Huzi recommends that you air-dry the pillow to avoid any damage. Based on our tests, the drying time can range from 8 to 10 hours.
The Nerd's Final Take
With its sink-in soft feel and versatile loop design, we think the Infinity pillow is a worth-it sleeping companion. Its ability to be shaped and twisted in different ways really help in getting more restful naps on long travels. We think you're getting good value out of it at its reasonable price point of $44.99, especially if you travel a lot for work or leisure.
But even if you're not using it for travel, the Infinity pillow is a great supplement to your sleep routine. We just wish it had a removable cover and that it was slightly less bulky. But overall, we highly recommend the Infinity pillow.