Layla Down Alternative Comforter Review
•
Disclosure: By clicking on the product links in this article, Mattress Nerd may receive a commission fee at no cost to you, the reader. Read full disclosure statement.
Colder sleepers
Luxury shoppers
Vegan shoppers
Who It's Not Good For
Hot sleepers
Budget shoppers
Shoppers wanting customization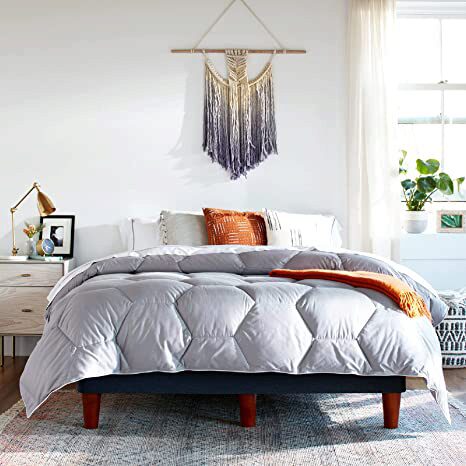 The Layla down alternative comforter is made from vegan and toxin-free materials including a OEKO-Tex-certified cotton shell and hypoallergenic down-alternative filling. While this down-alternative material has a similar plushness to traditional down, it lacks some of the moisture wicking properties. Lastly, this Layla comforter is also made with a thread count of 300, which retains some heat.
Since this Layla comforter is made from down alternative, I could feel the same fluff and airiness of traditional down; however, I also felt more humid and hot. Despite this, the cotton outer layer still felt breathable, crisp, and cool. Overall, this comforter will appeal to most sleepers, but some hotter sleepers will wake up sweating or overheat.
Let's break down the Layla down alternative comforter. At Mattress Nerd, we rate comforters on a scale of 1–5 in several categories: how good they feel, how much you can customize, and what company policies you get with them. Remember, 5 is the best, and 1 is the worst.
Temperature Control: 3.5/5
The comforter is designed to keep you cool all year long, but many hot sleepers probably won't want to stick with it through the summer. Although the cotton shell of the comforter felt light and breathable, I felt like the plush down wasn't wicking away my sweat or body heat.
Customizability: 3/5
First off, this comforter only comes in three different sizes and two different colors. That said, I could still use my Layla comforter with a duvet cover. So, while it's not super customizable, the comforter wasn't too hard to fit into my current bed setup.
Comfort: 5/5
For me, the Layla down alternative comforter definitely nailed the soft, plush, and airy feeling of traditional down. Also, the fluffy down-alternative filling in this comforter is evenly distributed, which makes it even cozier. This is definitely a comforter I'd want to keep around for winter.
Quality of Materials: 4/5
Whether you're shopping for a down-alternative comforter because of allergies or just for comfort, the Layla comforter's materials appeal to all kinds of sleepers, including eco-conscious sleepers and vegan shoppers.
Firstly, the comforter is 100 percent OEKO-Tex certified, meaning that there are no toxins or harmful chemicals in its construction. Also, this product is hypoallergenic, a great option for sleepers who may suffer from allergies to feathers, dust, or mites.
The only mark we can count against this comforter is for shoppers specifically wanting products made in the USA, since the Layla comforter is made in China.
Care: 5/5
Although the Layla comforter is made from high-quality materials, it's actually quite easy to wash and care for. Unlike other luxury comforter options, the Layla down alternative comforter is machine washable and dryer-safe. To wash your comforter, simply use cold water and tumble dry on a low cycle.
Customer Experience: 5/5
If you're on the fence about getting a Layla comforter of your own, the company's exceptional customer experience might just change your mind. For sleepers who want to give the comforter a try, but aren't sure if they want it yet, this Layla comforter comes with free shipping, a 120-night trial, and a 100 percent money-back guarantee.
Then, once you've settled in with your new Layla comforter, you can enjoy an industry-standard 5-year warranty that covers any damages that aren't from misuse.
Total Score: 4.2/5
Pros
High-quality materials: Vegan shoppers, sleepers with allergies, and eco-friendly shoppers will appreciate how this comforter is made with no harmful chemicals or animal cruelty. The comforter is made from toxin-free and OEKO-Tex certified cotton and down alternative.
Easy care: Luxury comforters can be difficult and tedious to care for; however, the Layla down alternative comforter is easy to wash and clean.
Customer experience: Although this comforter isn't cheap, you can rest easy with your 120-night trial and 100 percent money-back guarantee. If you don't like your comforter at any point during the trial, simply send it back with free shipping. However, if you do end up keeping your Layla comforter, you also get a generous 5-year warranty that covers most wear and tear.
Cons
Heat: While the Layla down alternative comforter is designed to be cozy and breathable year-round, many sleepers will find that this product retains too much heat and moisture during the summer. Hot sleepers may want to use this comforter more during the winter or find more cooling comforter options like the Buffy comforters
Customization: With only two color options (white and gray) and three size options, this Layla comforter isn't the most customizable. However, shoppers can also combine a duvet with their comforter for more options.
Price: Some budget shoppers may find the Layla down alternative comforter to be too expensive. That said, for sleepers looking to make the investment, this product comes with a generous trial period, a 5-year warranty, and free shipping too.
| | | |
| --- | --- | --- |
| Size | Dimensions | Price |
| Twin/Twin XL | 66" x 90" | $209 |
| Full/Queen | 90" x 90" | $229 |
| King/California King | 104" x 90" | $249 |
Shipping
Your Layla comforter comes with free shipping in the United States (excluding Alaska and Hawaii) and a handling time of one to three days. However, for shoppers in Alaska, Hawaii, or Canada, there is a shipping fee.
Trial Period and Warranty
Once your Layla comforter has arrived, you can enjoy a generous 120-night sleep trial, at any point during which you can return your comforter for a full refund. After the sleep trial, your comforter will be protected by an industry-standard, 5-year warranty, which covers wear and tear (not caused by misuse) and manufacturer defects.
Does the Layla Down Alternative Comforter Feel Like Down?
This comforter is designed to replicate the softness and fluffiness of traditional down, without any animal cruelty or allergens. You will find that this comforter feels plush and cozy; however, some hot sleepers may sweat since down alternative lacks some of the moisture wicking and cooling properties of traditional down.
Do you Need a Duvet Cover for the Layla Down Alternative Comforter?
Since this comforter works a duvet too, it's an optional addition for your Layla down alternative comforter. However, for people who opt to include a duvet, the comforter comes with four corner loops for easy attachment. Layla recommends double-checking that the measurements for both are equal.
This comforter appeals most to vegan sleepers, people with allergies, and those wanting a plush and cozy alternative to traditional down. Though it's pricier, the Layla down alternative comforter is made from the safest and highest quality materials, plus it comes with a generous return period and warranty.
Nerd Score Wrap Up
| | |
| --- | --- |
| Performance Factor | Out of 5 |
| Temperature Control | 3.5 |
| Customizability | 3 |
| Comfort | 5 |
| Quality of Materials | 4 |
| Care | 5 |
| Customer Experience | 5 |
| Total Nerd Score | 4.25 |
More From Layla