Best Cooling Comforters
•
Disclosure: By clicking on the product links in this article, Mattress Nerd may receive a commission fee at no cost to you, the reader. Read full disclosure statement.
If you're having trouble sleeping at night, it could be because you're overheating. No matter what time of year, there's always the possibility of dealing with temperature issues at night. There are many ways you can cool yourself down, such as removing blankets or turning down the thermostat. However, if you want a more consistently cool sleep experience, then you may want to invest in a cooling comforter. 
Like shopping for a cooling mattress, mattress topper, or mattress pad, there are numerous cooling comforter and cooling blanket options out there, so it can be tough finding the right one. Below you'll find a breakdown of the top cooling comforters in various categories such as weighted, luxury, affordable, and more to help you navigate your search.
Disclosure: By clicking on the product links in this article, Mattress Nerd may receive a commission fee at no cost to you, the reader. Read full disclosure statement.
Best Comforters for Hot Sleepers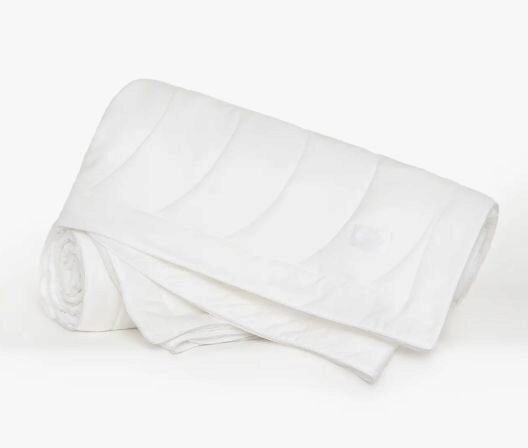 Best Soft Cooling Comforter
Comforters are traditionally soft, but some can have a little bit of firmness to them due to their composition. With the Buffy Breeze Eucalyptus comforter, you won't encounter such a problem.
Made from 100% Eucalyptus fibers, this cruelty-free, Earth-friendly comforter feels soft and durable like cotton, but utilizes less water and produces less waste during its manufacturing process. The Eucalyptus cover and fill don't trap body heat, and instead promote airflow and breathability. The Buffy Breeze comes with free shipping, and if it doesn't live up to your expectations, you can return it within 30 days for a full refund, no questions asked.
Best Luxury Cooling Comforter
The winner for best luxury cooling comforter is the Casper Humidity Fighting Duvet. This comforter comes built with an extra layer of merino wool, which is finer and lighter than regular wool. This material is an excellent insulator that will wick moisture, a common culprit for night-time overheating. Thanks to the merino wool, you can stay nice and cool throughout your entire sleep.
Outside of the merino wool, the comforter is constructed similarly to a puffy jacket with sewn-in down pockets that are soft and fluffy. This promotes further comfort by allowing you to have a nice, soft blanket that won't bunch up in the middle of the night.
The Casper Duvet ships for free across the continental United States and most of Canada. If you don't enjoy your Duvet, you're free to return it for a full refund within 30 days. You also have access to an exclusive Casper help-line seven days a week, where you can speak with sleep specialists about any questions or concerns.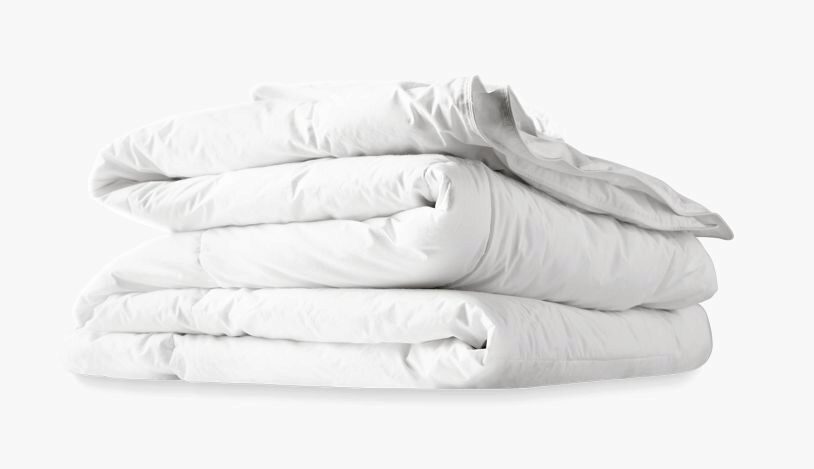 Best Down-Alternative Cooling Comforter
The Lightweight Purple Duvet is an excellent comforter option for someone looking for a down alternative. This comforter is designed to be soft and cozy like a down blanket, except without the bothersome feathers or allergens. Instead, this comforter is made with a 100% cotton luxury duvet cover and a 100% polyester duvet fill. This combination of a breathable fabric cotton cover and lighter fill ensures that you stay at the right level of cool and comfortable all night long.
The 30-day sleep trial on your Lightweight Purple Duvet means you can try it out for up to a month to see if you like it. If you find that it doesn't work for you, then you're able to return it for a full refund within that 30-day period.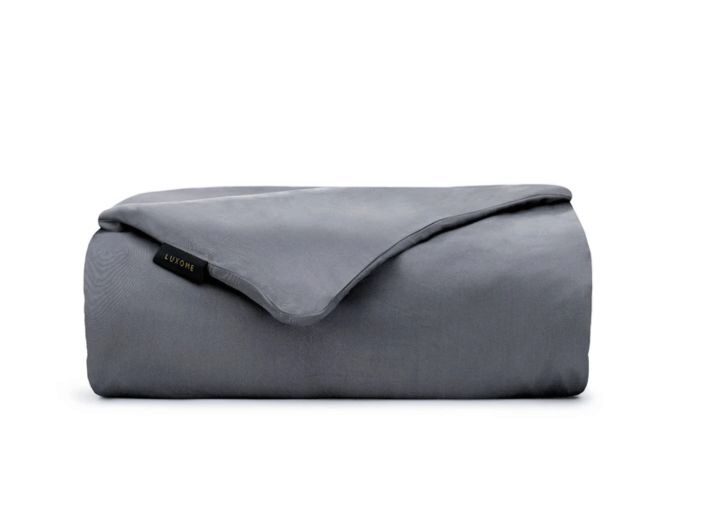 Best Cooling Weighted Blanket
The Luxome Cooling Weighted Blanket is a great option for sleepers who want a heavier comforter that still manages to stay cool. This weighted blanket comes in a wide variety of colors as well as materials, so that you can get a truly customized experience that best fits your preferences.
You can choose luxury Lyocell bamboo, which is eco-friendly, hypoallergenic, temperature-regulating, and softer and cooler than 1,000-thread count Egyptian Cotton, or you can go with ultra-plush minky, which is soft and cozy, but also a bit warmer. There are hybrid options that include both of these materials in their construction as well.
The Luxome Cooling Weighted Blanket can range from eight pounds for the smallest size (designed for children or lap use), to 30 pounds for the extra-large option (for king size, California king size, and queen size beds). No matter which choice you go with, the blanket will be specially engineered to avoid bunching and to keep its weight evenly distributed at all times.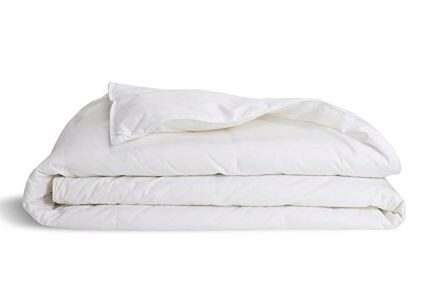 Best Cooling Down Comforter
If you're looking for a more traditional-feeling comforter, then you may like the Brooklinen Lightweight Down Comforter. This comforter features a down cluster fill that is hypoallergenic and treated with ultra-fresh antimicrobials. The sateen 100%-cotton shell is ultra-soft and lightweight, making you feel like you're sleeping within a cloud. Cozy but breathable, lightweight but durable, this comforter will make certain you get the good night's sleep you deserve.
The Brooklinen Lightweight Down Comforter comes with a 365-day return window in which you can get a full refund. You only need to pay for return shipping if you live outside of the United States.
---
What to Look for in a Cooling Comforter
Finding the right comforter for yourself can be tricky. Everyone has their own unique sleep preferences, so there is no one solution. Ultimately, you will need to consider several factors.
Breathability
Some comforters are designed to prevent circulation and to keep air trapped within them. These are mostly for people who sleep very cold or who live in colder climates. If you sleep warm, you'll want a breathable comforter that prevents heat buildup. A cooling comforter will be made of a material that has good airflow, such as cotton or bamboo. Small gaps in these materials allow heat release and moisture wicking.
Temperature Regulation
Certain materials, such as wool and goose down, are temperature regulating, meaning they will keep your body at the right temperature to stay comfortable. During the winter months, these materials will keep you warm, and in the hotter seasons, they will keep you cool.
Moisture Wicking
A common side effect of overheating in the middle of the night is sweating. Sweating can lead to a cycle of removing the blanket when you get hot and replacing it when you get cold because of the moisture. This repeats over and over until you end up losing an entire night's sleep. Fortunately, sweaty sleepers can avoid these headaches with a good, moisture-wicking comforter that will combat the night sweats.
Materials in Cooling Comforters
What makes a comforter cool? Since some comforters can trap heat or feel heavy, you need to check the composition of a comforter for materials that allow breathability.
Cotton: Cotton is a popular material because it is soft, durable, and cooling. The fibers are loosely packed together, which gives more space for airflow and releasing heat. This natural material is also great at soaking up moisture if you sweat at night.
Bamboo: Bamboo is another natural, temperature regulating material that does not cling to your skin. Micro-gaps in the material allows for great heat and moisture ventilation. This means that bamboo can absorb a lot of moisture and release it to quickly evaporate.
Wool: Lightweight wool in particular has fine fibers that allow for moisture wicking and temperature regulation. Because wool draws moisture away from your body, it can help prevent excessive sweating. Its temperature regulating properties pull away heat and displace it so that no one area is too hot.
Creating a Cooling Sleep Experience
Looking to sleep cool at night? In addition to cooling comforters, cooling products can range from mattresses to pads to sheets, and all can help maintain an ideal sleeping temperature.
Mattresses
Your mattress is the primary component of a cool night's sleep. Look for mattresses that have good air circulation and heat absorption in order to prevent sweating. Individually wrapped coils, celliant fiber, and foam infused with gel or copper are all great features in a cooling mattress. Here's our list of best cooling mattresses.
Mattress Pads
A mattress pad, topper, or cover offers the benefit of a cooling mattress without the hefty investment. Look for toppers constructed with gel-infused foam, feathers, wool, or natural latex, as these materials help dissipate heat and regulate temperature. Keep an eye out for toppers that have gel beads or gel-infused foam, feathers, wool, or natural latex. Check out our article on best cooling mattress toppers.
Sheets
Underneath your cooling comforter, consider sheets that regulate temperature at night. Cooling sheets are often soft, lightweight, and moisture-wicking in order to provide extra breathability. These sheets can be made with materials like linen, bamboo, lightweight cotton, and microfiber. Check out our best cooling sheets.
Pillows
Keeping your head and neck cool can be as important as the rest of your body. Cooling pillows can have gel for heat absorption or wool for moisture wicking. Shredded latex has extra head support, and down alternative is more affordable. Here's our selection of best cooling pillows.
Other Factors to Consider
While searching for a cooling comforter, you want to focus on the cooling aspects, but there are other things to consider as well, such as the following.
Price
Buying a comforter may not be as big of a purchase as buying a mattress, but it's still an investment. You want to know that you're getting your money's worth when buying a comforter, but you don't want to splurge. Make sure you're adhering to your budget. You don't need to spend a lot of money to get a high-quality cooling comforter.
Size
Like choosing a mattress, you want to make sure that the comforter you buy is the right size. Most comforters are sized along with mattresses (twin, twin XL, full, etc.). However, it's important that you know that the larger the comforter, the heavier it will be, and this can potentially negate some of its cooling properties. If cooling is your top priority and you don't share a bed with someone else, it may be in your best interest to pick a comforter that is one size smaller than your mattress.
Look
Comforters aren't just about your comfort. They're also a part of your bedroom decor. You don't want a comforter that will clash with the rest of your bedroom's aesthetic and ruin the feng shui. You need to carefully pick and choose a comforter that will help tie the room together while simultaneously keeping you comfortable at night.
Feel
A comforter's cooling properties may do a good job at keeping you from overheating, but they may not always be completely comfortable. For example, a lightweight comforter can be great for circulating air to keep you cool, but it may not be weighted enough to make you feel relaxed. In addition to checking out the cooling ability of a comforter, make sure you also take into account the other physical properties.
FAQ
What are "natural" cooling comforters?
"Natural" cooling comforters are made from organic materials, such as bamboo or eucalyptus. Many sleepers tend to gravitate toward these types of comforters because of claims that organic materials are naturally cooling. However, during the manufacturing process, these cooling effects are usually removed when the plants are chemically modified into fibers.  Natural cooling comforters can still be great at keeping you refreshed at night, but it's unlikely due to the material itself and instead may be due to the overall construction.
How do I wash a cooling comforter?
Cooling comforters are different from regular blankets, which means they require a different type of washing process. The best course of action is to adhere to the guidance on the care tag, but the general instructions for washing a comforter (after determining that it's machine washable) are to use cool or warm water and to set your washing machine on the gentle or delicate setting. When drying, use the low heat option, and put a few tennis balls wrapped inside socks in with the comforter to help fluff it up, so that it is ready for use right out of the dryer.
Do cooling comforters work in the summer?
All-season comforters are designed to keep you comfortable all year round thanks to their temperature regulating abilities. A temperature-regulating comforter will ensure that you stay nice and warm during the cold winter months, but will also keep you cool and refreshed in the summer. 
Summary
Picking out the perfect cooling comforter for a hot sleeper doesn't need to be stressful, but you should still be wise about it. Carefully evaluate all your options and see which ones best align with your preferences. Once you find your ideal comforter, you can enjoy a nice, cool night's sleep.