Buffy Breeze Comforter Review
•
Disclosure: By clicking on the product links in this article, Mattress Nerd may receive a commission fee at no cost to you, the reader. Read full disclosure statement.
The Nerd's Take: The Buffy Breeze is an all-natural, temperature-regulating comforter made specifically with hot sleepers and warm climates in mind. Made with TENCEL lyocell and a 300 thread count sateen weave, expect a silky-soft comforter that's eco-friendly, cool, and safe for those with allergies.
Who It's Good For
Hot Sleepers
Eco-Conscious Shoppers
Those seeking hypoallergenic products
Who It's Not Good For
Cold Sleepers
Those who need a machine washable comforter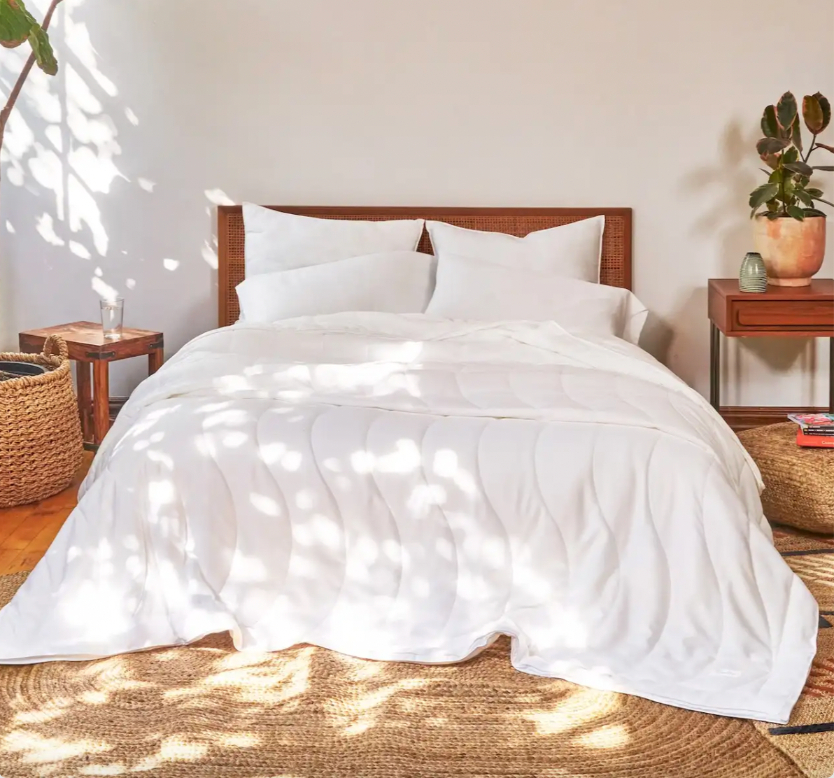 Materials and Construction: What's It Made of?
Cover and Fill
Both the cover and fill of the Buffy Breeze are made from TENCEL lyocell. The cover is made with a 300 thread count, sateen weave for a silky-soft, cool to the touch feel.
TENCEL is better at absorbing moisture than cotton, making it an exceptional fabric for hot sleepers. Lyocell is sourced by dissolving wood pulp, and for the Buffy Breeze, it's sustainably harvested from the wood pulp of eucalyptus trees. Eucalyptus is great for anti-inflammation, it's smooth against sensitive skin, it's cooling, and naturally mold and mildew resistant.
Bottom line— the Buffy Breeze is made with breathable, cooling materials that are ideal for hot sleepers and those with sensitive skin. It won't trap body heat and is perfect for year long use, but especially great to use in the summer months.
While you don't need to add a duvet cover on top of the Buffy Breeze, you can attach a cover of your own and secure it to the loops found on each corner of the comforter. I would recommend doing so since the Breeze only comes in white and the company suggests dry cleaning for maintenance. To make it even easier, Buffy sells two different duvet covers in a bunch of fun colors and patterns.
Feel
The Buffy Breeze Comforter feels lightweight and silky-smooth— yet still cozy enough to snuggle up into. The eucalyptus/TENCEL lyocell material also gives it a cool to the touch sensation that feels very refreshing on the skin. I have to say, the feel of this blanket is pretty awesome. I'm a fan of lyocell products in general, but the fact the Breeze is made of eucalyptus gives it an added level of luxury that's very soothing and comfortable.
When I was testing the Breeze comforter for myself, I noticed how breathable and airy it felt on my body. When I went to drape the comforter over my body, I physically felt the air flow through the materials. It also didn't notice body heat retention throughout the night, so I'd definitely recommend this comforter for hot sleepers who tend to get sweaty while they sleep.
Lastly, the loft of the Buffy Breeze is not very thick. It's definitely a lighter, thinner option than traditional cotton comforters, but that's what prevents it from retaining body heat. It's still fluffy enough to feel cozy, but the fill is not going to be very heavy or warm if that's what you're looking for.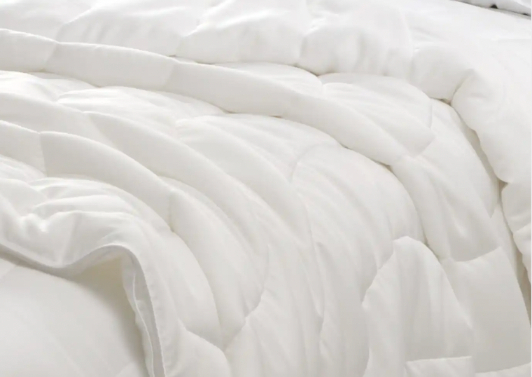 Mattress Nerd Comforter Scores
We evaluate products by running them through a series of tests and scoring them on a scale of 1 to 5, with 5 being the best. We also test the products out ourselves, in our own beds, to get an even better idea as to how the product performs in action. All so we can give you the information you need before you go to buy. Pretty cool, right?
Temperature Control: 5/5
By now you've probably gotten the point— the Buffy Breeze is a perfect match for hot sleepers. The lightweight construction and breathable materials were specifically chosen to accommodate those who deal with overheating at night and those who live in warm climates. The TENCEL lyocell makes this comforter cool to the touch and prevents body heat retention.
Customizability: 3/5
When it comes to options, the Buffy Breeze is a bit limited. You can choose from three size options, all which are combo sizes (a mix between two sizes): Twin/Twin XL, Full/Queen, King/Cal King. Each size comes with loops on each corner so you can put a cover of your choice over the Buffy Breeze if you'd like.
There is only one color option available, white. Which is not ideal considering Buffy says this product is dry clean only. So if you are susceptible to stains or you want easy upkeep, I'd suggest getting a duvet cover of your own to wash on a more regular basis.
Comfort: 5/5
The Buffy Breeze is definitely very comfortable. Again, it's silky-smooth and lightweight, while still being cozy. This comforter is made to accommodate hot sleepers, so it's thin and cool to the touch. If that's what you're looking for, you should enjoy this option. Although I'm not a hot sleeper, I still found the Breeze to be very comfortable, especially in the summertime when it's warmer in the house.
Quality of Materials: 5/5
When doing my testing and research on the Buffy Breeze, I was very impressed with the company's material sourcing and commitment to responsibility. They're focused on making premium quality products while still being environmentally and economically conscious— which is not always the case. TENCEL lyocell is the perfect material choice to keep things cool and comfortable and the eucalyptus makes it feel soft and silky. Plus the 300 thread count, sateen weave keeps it lightweight and breathable. Something that's pretty incredible to top it all off is the fact the Buffy Breeze is fully biodegradable, all for under $300. In testing hundreds of bedding products, the Breeze is truly unique and, in my opinion, worth the hype.
Care: 2/5
Buffy says for best results, you should only dry clean the Breeze comforter. Considering the insert can only be dry cleaned, I definitely suggest getting a duvet cover in order to make maintenance easier.
Customer Experience: 5/5
As for policies, Buffy offers a really unique trial period that I further explain in the policies section. However, as a TLDR, you get an initial 7-day "At Home Trial" which allows you to try out the comforter for free at home without charging your form of payment. After the seven day period, if you choose to keep the Buffy Breeze, you'll be charged the purchase amount, but you'll have an additional 100 days to decide whether or not it's for you and still be eligible for a full refund. Shipping is free to the contiguous United States. In order to get in touch with Buffy, you can send an email to hello@buffy.co.
Total Score: 4.2/5
Pros/Cons
Pros
Sleeps cool: The combination of materials and construction make the Buffy Breeze comforter a great option for hot sleepers or those living in a warm climate to keep cool all night long!
Eco-friendly: All the materials used in the Breeze are responsibly sourced, all-natural, fully biodegradable, and compostable.
Soothing & comfortable: The eucalyptus used in the sourcing for the TENCEL lyocell fabric feels silky smooth against the skin.
Cons
Dry clean only: Buffy says the Breeze comforter is dry clean only.
One color option: This comforter is only available in the color white.
Pricey: Although this is definitely not the most expensive comforter you'll come across, the Buffy Breeze is still not the most budget friendly option. Be sure to use our link when you go to buy in order to get access to the most up to date promotion pricing.
Sizing, Pricing, and Policies
| | | |
| --- | --- | --- |
| Size | Dimensions | Price |
| Twin/Twin XL | 90" x 70" | $199 |
| Full/Queen | 90" x 90" | $249 |
| King/CalKing | 90" x 105" | $299 |
Shipping & Returns
Buffy is a direct to consumer company, meaning they sell directly to their customers rather than going through a wholesaler or retailer. This helps with quick shipping and manufacturing processes. Shipping is free to the contiguous United States. Buffy also ships to Canada for an additional fee.
If you decide the comforter is not for you, Buffy will provide you with a prepaid return label and will refund you. To initiate a return, send an email to hello@buffy.co.
Trial Period and Warranty
Buffy offers a unique trial period which can be broken down into two time periods. Initially, you'll be under their "At Home Trial" which lasts for the first 7 days after you place your order. Once you submit your order, a temporary hold will be placed on your card for the purchase amount. Within those 7 days you should receive your order and decide whether or not the Buffy Breeze is for you. If you decide it's not, again, within those first 7 days, you can email the company at hello@buffy.co, they'll remove the hold on your card and you won't be charged. If you decide you like it, you'll be charged the purchase amount and then allowed another 100 nights to try out the comforter and still be eligible for a full refund.
Buffy does not offer a warranty for their products.
FAQs
What is the difference between the Buffy Cloud and Buffy Breeze Comforters?

What differentiates these two comforters sold by Buffy is their fill materials. The Breeze model has all-natural fill, while the Cloud's fill is synthetic recycled plastic. The Breeze has a lightweight, cooling, silky feel. The Cloud is thicker and meant for warmth. So when choosing which model is better for you, consider how you sleep temperature wise.
Is Buffy an eco-friendly company?

Buffy is an eco-conscious company that uses natural and recycled materials to create their products. They focus on responsibility in regards to material sourcing, supply chain, water usage, and carbon emissions. To add to their "green" intention, the Buffy Breeze Comforter is also fully biodegradable and compostable!
What does Buffy do with returned comforters?

Like I previously mentioned, Buffy looks to be as environmentally responsible as possible with their business practices. This extends as far as their protocol for returned comforters. If a customer returns a comforter, it'll either be donated to a local shelter or recycled so it doesn't have to be dumped in a landfill.
Is the Buffy Breeze Comforter Worth It?
I think if you're a hot sleeper or you're looking for eco-friendly bedding, the Buffy Breeze is going to be a great fit for you. Also, if you like to switch your bedding between the warm and cold seasons, this comforter will be ideal for the spring/summer months since it's so lightweight, breathable, and silky-smooth. Considering it's not crazy expensive, I also think the Buffy Breeze is worth the price tag. High-quality materials are known for lasting a while, and even if the price is a splurge for you, you should get a good few years of use out of it.
Lastly, I'm pretty impressed by Buffy's sustainability practices. The Breeze comforter is made with all-natural materials and is fully biodegradable, so even once you're done using it, it won't sit in a landfill for years and years. Eco-conscious shoppers will love the "green-minded" business model that doesn't compromise on comfort and quality.
Pair the Buffy Breeze Comforter with one of our top picks for the best cooling mattresses for optimal comfort.
Nerd Score Wrap Up
| | |
| --- | --- |
| Performance Factor | Out of 5 |
| Temperature Control | 5 |
| Customizability | 3 |
| Comfort | 5 |
| Quality of Materials | 5 |
| Care | 2 |
| Customer Experience | 5 |
| Total Nerd Score | 4.2/5 |
About Buffy
Buffy's CEO, Leo Wang, comes from a family with more than 50 years of experience in bedding. The company's marketing, as evidenced by Instagram, is meant to be shareable, appealing to millennials in an age where eco-consciousness is almost trendy. The startup launched in December of 2017 and quickly became a rising star in the bedding industry. Buffy's mission is "to make comfy products using innovative materials and design – not cruelty or waste."
To do this, Buffy opts for natural, earth-friendly materials rather than down or cotton. Buffy chose eucalyptus as its source for lyocell, which is made from dissolving wood pulp, because of eucalyptus' skin-soothing and anti-inflammatory properties. According to Buffy's website, the eucalyptus fibers the company uses in its products require ten times less water and are milled in a zero-footprint, Oeko-tex certified environment in Austria.
Passionate about preventing environmental damage and animal cruelty, Buffy also states on its website that 100 square feet of cotton needs 1,000 to 3,000 gallons of water to grow, and the typical down comforter requires 2 pounds of down or the feathers of 12 geese or ducks. To customers, these statements help make the positive environmental impact of purchasing a Buffy comforter in lieu of a traditional cotton or down comforter a little more tangible.