Nolah Weighted Blanket Review
•
Disclosure: By clicking on the product links in this article, Mattress Nerd may receive a commission fee at no cost to you, the reader. Read full disclosure statement.
The Mattress Nerd's Take: The Nolah weighted blanket is a luxury, cooling blanket that comes in multiple weights and sizes. The dual-sided bamboo cover offers different textures: one side is silky and the other is more cozy, and you can alternate between them. It's best for hot sleepers and those with average body types.
Who It's Good For
Hot sleepers

Those with hypoallergenic needs

Average-weight individuals (130–230 lbs)

Those who want a dual-sided blanket
Who It's Not Good For
Petite individuals—instead, try the Casper weighted blanket for a lightweight option.
Those who want easy maintenance—instead, try the Luxome weighted blanket, which can be washed in its entirety.

Budget shoppers—instead, try the Luna weighted blanket, which is much more affordable.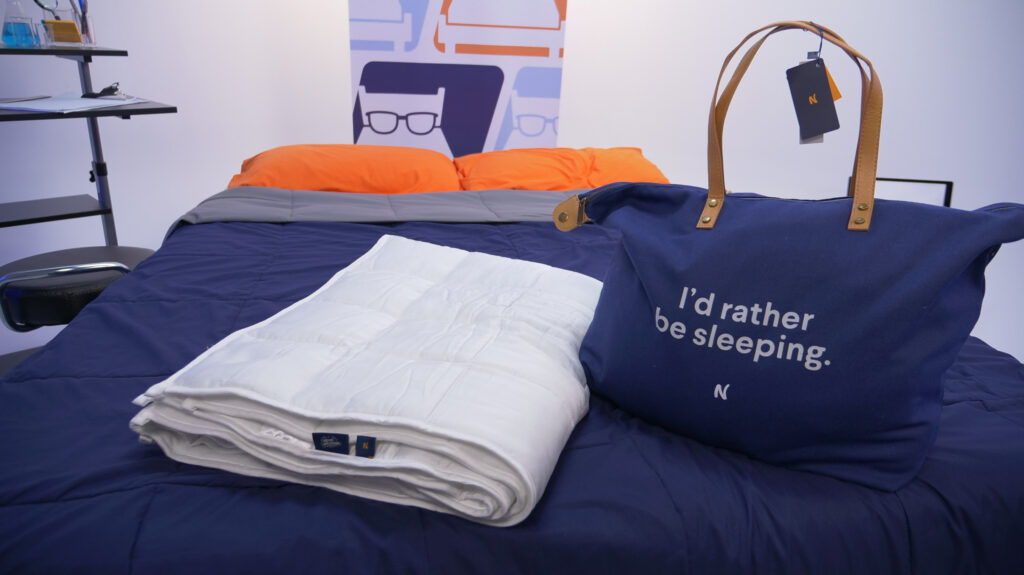 Watch Our Review
Feel
The minute I crawled under this blanket, I immediately experienced a cooling sensation all over my body. The combination of light pressure and pinpoint cooling action felt incredible after a long day.
This blanket has two feels, depending on which side is against the body. One side offers a warmer, more flannel-like feel. The other side has a silky smooth, satin-like texture that's cool and lightweight.
I'm almost six feet tall, and I was impressed by how well this blanket was able to fit over my entire body. For reference, I tested out the standard 15 lb option, and it had even weight distribution from head to toe. I will say, it's not very wide, so take note if you're a combination sleeper that frequently moves around while you sleep.
Lastly, the Nolah weighted blanket felt light and silky on my body. The cozy feel of the material and the fact you can't feel or hear the beads moving around inside the blanket are a testament to the quality and durability of this product.
When choosing the right weight for you, we recommend calculating 10 percent of your body weight. For example, if you're 200 lbs, you'd choose the 20 lb option. If you're between two weights, round up.
What is deep touch pressure?
Deep touch pressure is when you apply firm, yet gentle pressure to your entire body. This triggers your body to think it's receiving the same reward as a hug, squeeze, or swaddle. Your brain responds by releasing serotonin, melatonin, and dopamine, which helps you to relax, reduces feelings of stress and anxiety, and promotes deeper sleep.
This is especially helpful for those with:
Anxiety

Autism Spectrum Disorders

ADHD

High stress lifestyles that affect their ability to calm down at night

Sleep Disorders
Mattress Nerd Weighted Blanket Scores
We score sleep products across six categories, with a score of one being the worst and five being the best. We run the products through a series of tests to evaluate their performance, so you can get a better idea of what to expect from the blanket before you commit to buying it.
Weight Distribution: 5/5
This blanket has a gridded stitching pattern across the surface. Within each stitched pocket are hundreds of tiny glass microbeads and polyester batting fill that give the blanket its weight. The grid allows the fill to stay evenly distributed across the blanket instead of clumping or sliding to one side.
In my personal experience, the blanket felt the same across my body and didn't feel more heavy in one place than another.
Customizability: 5/5
You can choose from three weights: 15, 20 and 25 lbs. The 15 and 20 lb options come in a standard size (48" x 72") and the 25 lb option comes in a large size (80" x 87").
I appreciate the fact that this blanket has a good weight and size range, making it accessible to a wider range of people than other blankets on the market.
Temperature Control: 5/5
This is an excellent cooling blanket option because of the viscose bamboo. This material is great for hot sleepers in particular because it's light, breathable, cooling, and moisture-wicking.
When I tried this blanket out for myself, I experienced the cool-to-the-touch sensation all over my body. Over time, the blanket maintained its cool feel and stayed temperature neutral overnight.
The dual sided cover comes with a silky option on one side. It'd recommend sleeping with that side against your body if you're a hot sleeper. The other side has a cozy flannel feel, which is better for cold sleepers.
For more cooling options, see the best cooling weighted blankets.
Quality of Materials: 5/5
This blanket comes with high-quality materials like viscose bamboo and glass microbeads. Viscose bamboo sleeps cool, is naturally antibacterial, moisture-wicking, and soft. It's even OEKO-TEX certified, so it's free of harmful chemicals.
The glass microbead fill is sustainable, doesn't trap heat, and is more durable than alternative fill materials like plastic pellets or dried rice.
Care: 1/5
Nolah does not recommend putting this blanket in the washing machine. They say the best way to clean it is to get it professionally dry cleaned. The inability to machine wash or even spot clean this blanket at home makes maintenance more difficult and expensive—hence why this category received such a low score.
Customer Experience: 5/5
Nolah has above-average policies for their weighted blanket: free shipping, 30 day free returns, and a limited Lifetime warranty. Shipping is free worldwide, which is unique since most companies offer free shipping only within the contiguous U.S.—yay for our friends in Hawaii and Alaska! Nolah can be reached by phone (866-403-6615), by email (support@nolahmattress.com), or through their live chat feature on their website.
Total Score: 4.3/5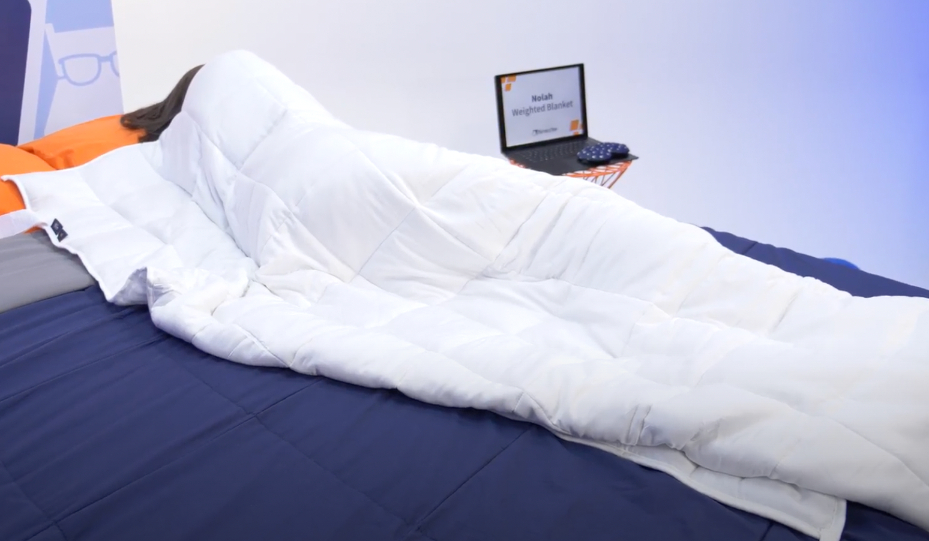 Materials and Construction: What's It Made of?
Fabric Cover
The Nolah weighted blanket cover is made of viscose bamboo. One side is softer and has more of a flannel feel, and the other has a silkier, satin-like texture. Bamboo is a great material for hot sleepers in particular because it's light, breathable, cooling, and moisture-wicking. Plus, it's naturally antibacterial.
Microbeads & Polyester Batting
This blanket has a gridded stitching pattern from head-to-toe. Each individual square holds hundreds of tiny glass microbeads and polyester batting fill that give the blanket its weight. The square stitching keeps the fill evenly distributed throughout the blanket.
Duvet Loops
This blanket doesn't come with an outer duvet cover, but Nolah made the option to attach one easier by including loops along the edges of the blanket.
Pros/Cons
Pros
Great option for hot sleepers:

The viscose bamboo is cooling, breathable, and moisture-wicking. If you're a hot sleeper, I'd especially recommend sleeping with the silky side against the body for a cool-to-the-touch feel.

Multiple size and weight options:

This blanket has a good weight and size range (15—25 lbs), so it should work for a wide range of people.

Dual-sided cover: I love the value of getting two feels out of one blanket. With this option you get a cozy side and a silky side, for whatever mood you're feeling in the moment.
Cons
Dry clean only:

Nolah says the best way to clean this blanket is by getting it dry cleaned, which makes maintenance hard and more costly.

Only one color option:

This blanket only comes in white, which plays off my last point: you have to be careful not to get any stains or marks on it since you can't easily wash it at home. And if you're like me and can't eat or drink anything without getting it on yourself, then this will be a big problem.

Pricey: Retail price for the Nolah weighted blanket starts at over $200, so it's definitely not the most budget-friendly option.
Sizing, Pricing, and Policies
| | | | |
| --- | --- | --- | --- |
| Size | Weight | Dimensions | Price |
| Standard | 15 lbs | 48" x 72" | $249 |
| Standard | 20 lbs | 48" x 72" | $299 |
| Large | 25 lbs | 80" x 87" | $349 |
Shipping
The Nolah Weighted blanket ships for free worldwide.
Trial Period and Warranty
You can return your blanket for free within 30 days of delivery. It also comes with a limited Lifetime warranty, which covers manufacturing defects not caused by normal wear and tear.
FAQs
What is the scientific evidence behind weighted blankets improving sleep?
A study by the American Academy of Sleep Medicine conducted in 2020 showed that participants who slept under a weighted blanket for four weeks were 26 percent more likely to show a 50 percent or higher decrease in their insomnia severity compared to a control group.
There are also many other studies showing the effectiveness of weighted blankets on those who experience anxiety, have autism spectrum disorders, or who have ADHD.
Do weighted blankets affect blood pressure?
Studies show that people who use weighted blankets typically have lower blood pressure and pulse rates, which is a sign of reduced stress levels. If you have high blood pressure, whether from an illness or stress, a weighted blanket could help lower your heart rate.
How long does it take for a weighted blanket to work?
I noticed the benefits of sleeping with a weighted blanket on the very first night. It shouldn't take more than 15 minutes for you to feel calmer and more relaxed because of the deep touch pressure therapy provided by the extra weight of the blanket.
The Nerd's Final Take
The Nolah weighted blanket is a luxury option that's a good choice for couples, those who sleep hot, and those who want the benefits of deep touch pressure therapy. This option is one of the higher-quality cooling weighted blankets on the market—hence, the expensive price tag.
The dual-sided cover is cozy on one side and silky smooth on the other. This versatility allows you to cater the feel of your blanket to your environment or just whatever you're wanting at the moment.
There are some things I'm not a huge fan of, like the fact you have to dry clean the Nolah weighted blanket and it's only available in one color. But if those aren't deal-breakers for you, this is a high-quality product that comes with great policies like free shipping, free returns, and a limited Lifetime warranty.
If you like the idea of this blanket, but can't swing the price, check out the Casper weighted blanket for an alternative option.
Nerd Score Wrap Up
| | |
| --- | --- |
| Performance Factor | Out of 5 |
| Weight Distribution | 5 |
| Customizability | 5 |
| Temperature Control | 5 |
| Quality of Materials | 5 |
| Care | 1 |
| Customer Experience | 5 |
| Total Nerd Score | 4.3 |