PlushBeds Handmade Wool Comforter Review
•
Disclosure: By clicking on the product links in this article, Mattress Nerd may receive a commission fee at no cost to you, the reader. Read full disclosure statement.
Who It's Good For
Hot sleepers
Luxury shoppers
Eco-conscious shoppers
Who It's Not Good For
Budget shoppers
Indecisive shoppers
Sleepers wanting easy upkeep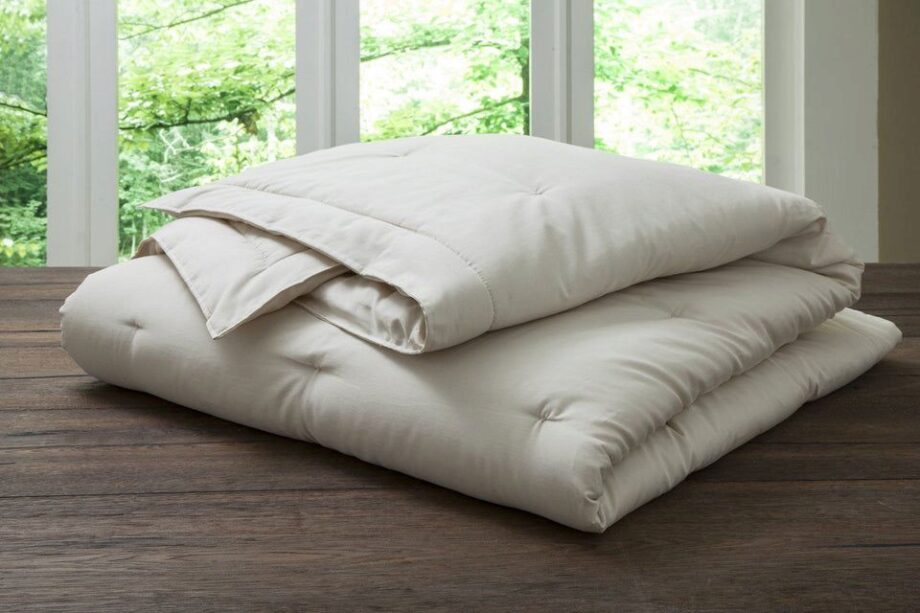 Materials and Construction: What's It Made of?
This PlushBeds comforter doesn't hold back on quality. With 100% chemical-free and cruelty-free organic materials, GOTS-certified cotton sateen, and premium natural wool, anyone can sleep easy on this product's ultra-luxurious and eco-friendly fabric. Sleepers in any climate, but hot sleepers especially, will enjoy this lightweight, cooling, and insulating comforter.
Feel
This comforter felt cool to the touch and light. And, once I got under the PlushBeds comforter, I could feel how silky the fabric is and how well it wicks away moisture and body heat.
Despite its cooling feel, the comforter's insulating premium wool still kept me warm during the winter too. Overall, the PlushBeds handmade comforter is ideal for sleepers who want a thinner, breathable, and luxury comforter that works in any climate.
Mattress Nerd Comforter Scores
At Mattress Nerd, we tally up our comforters by their materials, by how comfy they feel, and by how easy it is for sleepers to customize, return, or replace them. To keep it simple, we do each score on a scale of 1–5, where a 5 is the best out there and a 1 is, well, the worst.
Let's get to know this PlushBeds comforter better:
Temperature Control: 5/5
This organic, airy comforter absolutely crushes it on temperature control—a strong 5. I didn't notice any heat retention while using the PlushBeds comforter, nor did I feel myself starting to sweat. The comforter felt cool in my hands, and it had very little weight. So, if you're a hot sleeper, the PlushBeds wool comforter is a great way to keep humidity off of you all summer. And, during the winter, you can still cuddle up to its plush and insulating wool.
Customizability: 3/5
Although the PlushBeds wool comforter is handmade-to-order, you're not going to get a lot of options. For sizing, you can choose from six sizes (ranging from Twin to California King), but no color options other than white currently exist.
Comfort: 5/5
PlushBeds puts the "comfort" in "comforter"—it's high-quality, and you can definitely feel it. Their premium and eco-friendly cotton and wool felt every bit as soft, light, and luxurious as silk. Underneath the PlushBeds comforter, it felt thin and light—but with enough plush to insert for me to snuggle into.
Quality of Materials: 5/5
If you're looking for a luxurious and eco-friendly comforter, PlushBeds has the best of both worlds. The premium cotton and wool in this comforter felt perfectly insulating—I had enough plush to stay comfy and plenty of breathability to not overheat. Also, eco-conscious shoppers will love that this product is made from cruelty-free and chemical-free materials, while luxury shoppers will appreciate the natural, although expensive, materials.
Care: 4/5
Since this product is high-end (and has a pretty limited warranty), you'll want to go through all the steps of taking care of your PlushBeds comforter. First, the company recommends that you cover your comforter with a washable duvet cover, then spot clean as needed. When you wash your PlushBeds comforter, do so on soak and spin cycles only, and don't tumble dry.
Customer Experience: 2/5
Lastly, the PlushBeds wool comforter's biggest weakness has to be in its customer experience and policies. While similar products typically come with returns and a longer warranty, this comforter has no sleep trial, no returns, and a 30-day limited warranty that only covers manufacturer defects.
Total Score: 4/5
Pros/Cons
Pros
Quality materials: This comforter definitely shines in its materials, especially its organic cotton and wool. All of the materials in the PlushBeds comforter are premium, hypoallergenic, non-toxic, and chemical-free. In short, this comforter is good for you and the environment.
Year-round comfort: Despite its price tag, the PlushBeds comforter has a lot of value as you can comfortably use it in summer and winter, and all kinds of sleepers will find it appealing. For me, the PlushBeds comforter had a great balance of plushness and cooling, thanks to its premium wool and cotton. Whether you sleep hot or not, this comforter will feel both breathable and cozy.
Cons
Care: This luxury comforter requires more care and upkeep than a typical comforter, that means you'll need to wash it carefully and keep the company's cleaning guidelines in mind. You won't be able to dry your PlushBeds comforter, and you'll have to spot clean it directly.
Policies: For a comforter as expensive as the PlushBeds', you would expect to see a more generous trial and return period and a less limited warranty. Unfortunately, this product only comes with a 30-day warranty, and it only covers product defects.
Sizing, Pricing, and Policies
| | | |
| --- | --- | --- |
| Size | Dimensions | Price |
| Twin | 68" x 86" | $586 |
| Twin XL | 68" x 86" | $586 |
| Full | 86" x 86" | $736 |
| Queen | 86" x 86" | $736 |
| King | 100" x 86" | $836 |
| California King | 100" x 86" | $836 |
Shipping
Your PlushBeds comforter will be sent with free shipping to anywhere in the United States (excluding Alaska and Hawaii). Since the comforters are made-to-order and sent from California, you will receive shipping information within a week of placing your order, and you should receive your comforter within another seven business days after that.
Trial Period and Warranty
Due to safety regulations (and because each comforter is custom-made) the PlushBeds Handmade Wool Comforter does not currently come with a trial period nor with any return options. However, you do get a 30-day warranty with your comforter that covers any manufacturer defects.
FAQs
Is the PlushBeds Comforter Good For Winter?
The PlushBeds wool comforter is designed for year-round temperature regulation and use. During the winter, the comforter's organic and high-quality wool insulates and keeps sleepers warm. The comforter also includes natural and lightweight cotton that makes the PlushBeds breathable and moisture-wicking throughout the whole year.
Are PlushBeds Comforters Really Handmade?
Yes. PlushBeds' wool comforters are handmade in California and have a thread count of 344. These comforters are also tufted by hand and made-to-order from hypoallergenic materials including GOTS-certified organic cotton and premium natural wool. This handcrafted design gives each comforter a light but luxurious feel.
Is the PlushBeds Handmade Wool Comforter Worth It?
The only thing holding this comforter back was its customer experience. That aside, it felt silky and airy, with just enough fluff and warmth. So, if you're looking to invest in a luxury comforter, PlushBeds delivers with its GOTS-certified cotton and cruelty-free wool.
Nerd Score Wrap Up
| | |
| --- | --- |
| Performance Factor | Out of 5 |
| Temperature Control | 5 |
| Customizability | 3 |
| Comfort | 5 |
| Quality of Materials | 5 |
| Care | 4 |
| Customer Experience | 2 |
| Total Nerd Score | 4 |
More From PlushBeds