PlushBeds Mattress Reviews
•
Disclosure: By clicking on the product links in this article, Mattress Nerd may receive a commission fee at no cost to you, the reader. Read full disclosure statement.
PlushBeds Mattress Models
PlushBeds leads with a philosophy based on caring for "good health and good sleep." They have steadily risen in esteem since their 2008 launch by using quality natural and organic materials. The mattresses cost a pretty penny, but PlushBeds has taken no shortcuts to deliver quality with their new natural latex mattresses—Botanical Bliss, Luxury Bliss and Natural Bliss. The Botanical model has adjustable firmness. The Luxury model is a hybrid with coils. The Natural model is a great option for vegans. This line comes in up to nine different sizes, up to four different firmness levels and up to three different heights.
These latex mattresses have already aced a battery of tests to earn certifications for their organic materials, low emissions, and sustainable practices. No wonder PlushBeds confidently guarantees these clean, healthy mattresses will last 25 years.
Product
Firmness
Trial Period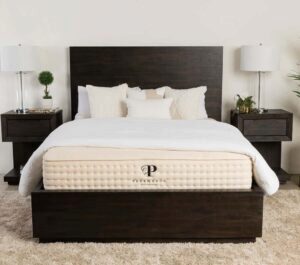 PlushBeds Botanical Bliss Mattress
Multiple firmness options
100 nights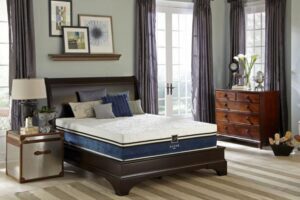 PlushBeds Cool Bliss Mattress
Medium-firm: 6.5/10
100 nights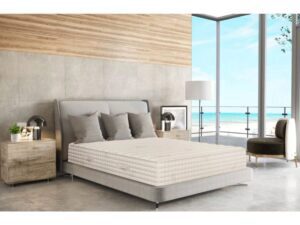 PlushBeds Luxury Bliss Mattress
Multiple firmness options
100 nights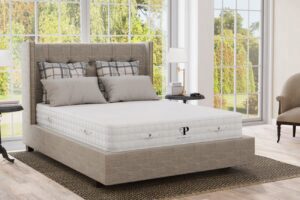 PlushBeds Natural Bliss Mattress
Multiple firmness options
100 nights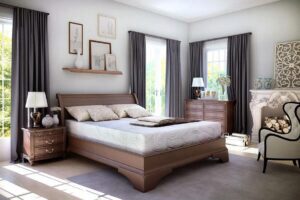 PlushBeds Ocean Mist Mattress
Medium-firm: 6/10
100 nights
Which PlushBeds Mattress Is Best for Me?
All of the latex mattresses offered by PlushBeds are either organic or use natural materials. If you're eco-conscious, you've come to the right place. If you like latex, you've come to the right place. Even if you don't think one brand can deliver on so many promises, you've come to the right place. Latex can adapt to different body types, body weights and sleep positions. It's versatile enough to meet a lot of needs. Let's see just how versatile.
Here's a glimpse into which mattress suits which sleepers best:
The PlushBeds Botanical Bliss mattress is a good fit for:
All sleepers with options to fit so many needs

People who care about how they use the earth's resources

People ready for a long-term bedding solution
The PlushBeds Luxury Bliss Latex Hybrid is a good option for:
All sleepers because hybrids traditionally are good fits for back, side & stomach sleepers

Couples needing to use full surface of mattress

People who care about sustainable practices

People ready for a long-term bedding solution
The PlushBeds Natural Bliss is well suited for:
Vegans

All sleeping positions because of the range of firmness levels

People who are environmentally conscious

People ready for a long-term bedding solution
The Best PlushBeds Mattress by Sleeping Position
You have to consider your body type and preferred sleeping position when you're looking for a new mattress. One mattress cannot please every sleeper. People will experience each mattress differently based on their weight, sleep preference and the materials used to make it. That's why we take the time to break down how well or how poorly mattresses serve side, stomach and back sleepers. Before we begin with PlushBeds, know that their latex mattresses come in so many permutations, most sleepers will find a decent fit among the three models.
Side Sleepers
RECOMMENDED: PlushBeds Luxury Bliss
You can't sleep on your side without worrying if your mattress will relieve pressure, contour to your curves, be firm enough and support your back. So much of your body weight falls on your hips and shoulders when you sleep on your side. Your mattress has to both curve around those parts and support your neck and torso. As a general rule, latex does both jobs well. The PlushBeds also come in several firmness levels within each mattress height. Normally the hybrid models are the best mattresses for side sleepers because the body is cradled at the top and supported with the coil base layer. For that reason, I've named the Luxury Bliss mattress here. Still, take a look at the medium-firm options in the other two. They may also work for you.
Back Sleepers
RECOMMENDED: PlushBeds Botanical Bliss
Back sleepers have the best chance to sleep well and wake up without being sore since their spines stay naturally aligned in that position. You shouldn't use a plush mattress for fear your lower back and hips would sink too low and ruin your gorgeously aligned spine. Medium to firm mattresses should work. The Botanical Bliss and Luxury Bliss lines both feature medium-firm to firm options. You're in luck all the way around. Latex mattresses, in general, also do a good job contouring and supporting your body in equal measure. For other supportive mattresses the distribute the body weight evenly, see the best mattress for back sleepers.
Stomach Sleepers
RECOMMENDED: PlushBeds Natural Bliss
There's no getting around the fact that sleeping on your stomach is hard on your body. It's an unnatural position to find good rest since it puts pressure on your chest, hips and spine. Since those parts press into the mattress most of the night, you'll want a mattress with an adaptive top layer to cradle them. It's also important not to get a mattress that is too soft. Otherwise, your pelvis will sink downward creating an arch in the lower back. Again, medium-firm to firm models, like those within the Natural Bliss model, work best. For firmer mattresses, see the best mattress for stomach sleepers.
---
Pros and Cons of the PlushBeds Mattresses
Pros
Impressive array of model, height & firmness options
As clean, organic and responsibly sourced a line of mattresses as you'll find
Great motion isolation due to the latex
Great conforming qualities due to the latex
Great for heavier sleepers and anyone with back pain due to the latex
Hypoallergenic, as well as anti-microbial and mold-and-mildew proof
Made with CertiPUR-US certified foam
Made with GOLS-certified latex
Made with GOTS Certified Organic Cotton & Wool
GreenGuard Gold certification for low emissions
Oeko-Tex Standard 100 certification for hypoallergenic materials
Control Union certification for sustainability and reduced carbon emissions
Forest Stewardship Council certification for using sustainable woods
Cons
Expensive
Latex is a heavy material to use so beds are weighty
Does not have fantastic edge support
---
PlushBeds Pricing and Specs
Model Dimensions
Twin: 38″ x 75″
Twin XL: 38" x 80"
Full: 54" x 75"
Queen: 60" x 80"
Split Queen: 30″ x 80″ (per side)
King: 76" x 80"
Split King:

38" x 80" (per side)

Cal King: 72" x 84"
Split Cal King:

36" x 84" (per side)
Price by Model
| | | | | | | | | | |
| --- | --- | --- | --- | --- | --- | --- | --- | --- | --- |
| Model | Twin | Twin XL | Full | Queen | Split Queen | King | Split King | Cal King | Split Cal King |
| Botanical Bliss 9 in. | $2,199 | $2,199 | $2,599 | $2,699 | $3,098 | $2,999 | $3,198 | $2,999 | $3,198 |
| Botanical Bliss 10 in. | $2,499 | $2,499 | $2,899 | $2,999 | $3,398 | $3,299 | $3,498 | $3,299 | $3,498 |
| Botanical Bliss 12 in. | $2,799 | $2,799 | $3,399 | $3,399 | $3,898 | $3,699 | $3,998 | $3,699 | $3,998 |
| Luxury Bliss 12 in. | $2,099 | $2,199 | $2,399 | $2,599 | – | $2,899 | $3,198 | $2,899 | – |
| Natural Bliss 6 in. | $1,999 | $1,999 | $2,299 | $2,399 | $2,598 | $2,599 | $2,798 | $2,599 | $2,798 |
| Natural Bliss 6 in. XF | $1,999 | $2,124 | $2,499 | $2,574 | – | $2,799 | $3,048 | $2,799 | – |
| Natural Bliss 8 in. | $2,099 | $2,199 | $2,499 | $2,699 | $2,898 | $2,899 | $3,098 | $2,899 | $3,098 |
| Natural Bliss 8 in. XF | $2,299 | $2,399 | $2,749 | $2,974 | – | $3,224 | $3,498 | $3,224 | – |
| Natural Bliss 10 in. | $2,399 | $2,499 | $2,899 | $3,099 | $3,398 | $3,299 | $3,598 | $3,299 | $3,598 |
Check out the Best Mattress Deals of 2023 or the Best Mattress for the Money for our top picks.
Construction
| | | | | |
| --- | --- | --- | --- | --- |
| Model | Type | Firmness | Weight | Thickness |
| Botanical Bliss | Latex | Offered in medium and medium-firm | Varies | Available at 9, 10 and 12 inches |
| Luxury Bliss | Hybrid | Offered in medium and medium-firm | Varies | 12 inches |
| Natural Bliss | Latex | Offered in soft, medium, firm and extra-firm | Varies | Available at 8, 10 and 12 inches |
PlushBeds Mattress Construction by Model
Botanical Bliss Mattress Construction
The PlushBeds Botanical Bliss mattresses are constructed with three different widths of organic latex. You can buy either a medium or a firm version, and then you can arrange those three latex sections to create a medium, medium-firm or firm mattress.
Layer 1: The cover is a thick, 1-inch layer of quilted organic cotton fabric and organic wool. Both are naturally breathable and the wool is naturally fire-resistant without adding chemicals.
Layer 2: The next three layers are all 3-inch sections of organic Dunlop latex, one each in soft, medium and firm, starting with soft on top.
Layer 3: The second latex layer, then, would be the medium. Keep in mind that you can change the overall firmness of the mattress itself by moving the different layers up or down.
Layer 4: The base layer is the third latex layer, this time in firm. PlushBeds has also added a cooling feature by creating narrow holes from top to bottom in each of these layers. That keeps the air flowing to cool you as you sleep.
Luxury Bliss Mattress Construction
The PlushBeds Luxury Bliss mattress is a hybrid made of latex and a support layer of individually wrapped coils beneath it.
Layer 1: The stretch organic cotton cover is quilted with a thick section of Joma wool. The whole thing is naturally fire-resistant. Quilting allows more air to flow through. Airflow always equals cooling.
Layer 2: The comfort layer is made of 3 inches of natural latex that will feel thicker and more plush as the mattress height increases. Latex reacts to your body curves and your movements so you can move easily and still see the mattress settle quickly.
Layer 3: This thick layer is made of 9 inches of wrapped metal coils that support you and isolate motion.
Natural Bliss Mattress Construction
The PlushBeds Natural Bliss mattresses are made of three layers of natural latex with a thick cover of organic cotton. That makes this bed a true option for vegans. Remember that latex naturally yields to pressure, yet supports areas of less pressure. It molds to your body.
Layer 1: The quilted, organic cotton cover, which is naturally flame-resistant thanks to the plant fibers, stretches over the latex layers.
Layer 2: This 2-inch comfort layer is made of natural Talalay latex that cradles all of your curves. Talalay has more bounce than other types of latex. You won't sink, but feel it contouring to your body's natural line. The 6-inch Natural Bliss does not have this comfort layer. The 8-inch model has this layer. The 10-inch model has two of these layers.
Layer 3: This 6-inch support layer is made of natural Dunlop latex that is denser than the layer above it to hold up you and the mattress.
---
The PlushBeds Buying Experience
PlushBeds Trial Period
PlushBeds gives sleepers 100 nights to try out their mattresses. That matches what other mattress-in-a-box companies offer customers. PlushBeds does require customers to sleep in their mattresses for at least 30 days before deciding to return them or not. It takes that long to know, so that's no hardship. You just paid a decent amount for a mattress. Give it a real shot. If you just cannot wait 30 days to send it back, the company will deduct $99 from your refund.
With the Botanical Bliss line, you can also choose to replace any layer of the latex. You'll pay $145 deposit to swap the layer out. They'll hold onto the deposit until you return the unwanted layer to PlushBeds.
If you don't like the mattress, PlushBeds asks you to repack it in a box. You have to find the box yourself. You probably won't be able to shove it back into the original box. Do your best to get it into a box and out to the curb for pickup after speaking to the company.
PlushBeds Mattress Warranty
PlushBeds offers a 25-year limited warranty on Bliss mattresses if they show some defect due to faulty materials or workmanship. The company will replace or repair the mattress—they'll decide which—for free in the first 10 years. In the final 15 years of the warranty, they will charge you a fee to repair the defect or will prorate your refund based on how long you used the mattress. You have to be the original owner of the warranty to be valid. The warranty covers visible indentations on the mattress surface of at least 1 ½ inches and any physical flaws that cause the latex the crack.
The warranty does not cover:
A decrease in firmness due to normal use

Sags less than 1 ½ inches

Any flaws that come from you abusing the mattress or using it improperly
One last word to customers, you'll be responsible for packing and shipping and paying to ship the mattress to PlushBeds for return or repair.
Shipping and Delivery
PlushBeds mattresses ship compressed into boxes via UPS. The company ships free to all of the lower 48 states (i.e. not Alaska or Hawaii). PlushBeds makes your mattress after you order and that can take 7-9 days. Expect your mattress to arrive 10-14 days after placing your order. You can get faster shipping and weekend delivery for additional fees. PlushBeds will not remove your old mattress.
Financing
You can finance any PlushBeds mattress for 0% APR with Klarna over 6 or 12 months depending on how much you're spending. If you choose "Pay over time with Klarna" during your online checkout, the company will step in and do a quick credit check. No worries. The check won't affect your credit score.
Availability
You can purchase PlushBeds mattresses online at the company's website.
---
FAQ
Does the Plushbeds Mattress offer a sleep trial and/or a warranty?
Yes. The Plushbeds Mattress comes with a standard 100-night sleep trial as well as a generous 25-year warranty.
Who is the Plushbeds Mattress best suited for?
Plushbeds mattresses are often best suited for most types of sleepers, especially those who value sustainability. They're also ideal for luxury shoppers and those searching for a long-term investment.
How does the Plushbeds Mattress ship?
PlushBeds ships their mattresses for free to the contiguous United States. Your mattress should arrive within two weeks of your order.
Conclusion
Basically, if you care about the resources you use and how that impacts our earth, then PlushBeds' mission and execution will speak to you. They plugged that philosophy into every step in building these new Bliss line mattresses—ditto with their popular foam mattresses—starting with naturally-sourced latex.
PlushBeds then delivered a set of mattresses with so many firmnesses, thickness levels and material options that you would have a tough time NOT finding one to match your tastes and needs. If I've done the math correctly, we're talking about 138 different permutations, not counting the ways you can change firmness in the most popular Botanical Bliss model.
Caring for the earth and for the sheer diversity of customer needs, PlushBeds has tried to guarantee you healthy sleep and a durable sleep surface.