Saatva All-Year Down Alternative Comforter Review
•
Disclosure: By clicking on the product links in this article, Mattress Nerd may receive a commission fee at no cost to you, the reader. Read full disclosure statement.
The Nerd's Take: If you're looking for a comforter that is lightweight and breathable for all-season use, the Saatva All-Year Down Alternative Comforter is a worth-while option. It features organic cotton and a blend of down alternative fibers and cooling lyocell fill for a simple, yet effective construction. Use it alone during the summer months, or attach a duvet cover for more warmth during the winter.
Who It's Good For
Hot Sleepers
Those with hypoallergenic concerns
Those who live in climates with drastic seasons
Who It's Not Good For
Budget Shoppers
Those looking for multiple color options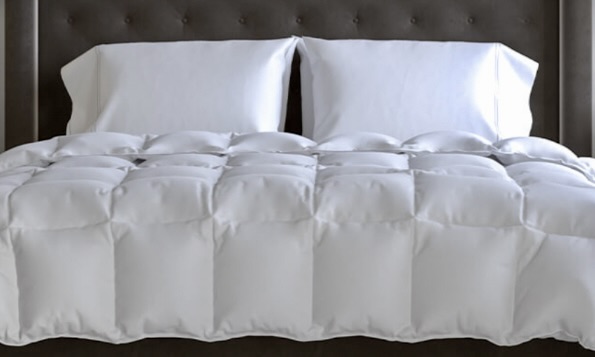 Materials and Construction: What's It Made of?
Cotton Shell
The outer layer is made from 200-thread count, certified organic percale cotton. The cotton is also Fair Trade Certified, meaning it's been sourced responsibly. This material makes the All-Year Comforter feel cool, crisp, and airy. Plus, if you tend to sleep hot, the 200-thread count prevents your cotton sheets from feeling too warm. A higher thread count is more likely to trap body heat.
Blanket Fill
Inside of the All-Year Comforter is a blend of plush down alternative fiber and naturally moisture-wicking lyocell. These materials are known to be temperature-regulating, so they'll respond to your body heat and keep you cool when you're too hot, and warm when you're cold. The design of this comforter also features box quilting, which acts as a partition for the fill so that it all stays evenly distributed throughout the blanket.
Duvet Loops
Along the perimeter of this comforter, are loops you can use to attach a duvet cover (sold separately). You don't have to use them if you wish to keep the comforter as is. But having them there as an option is definitely a plus!
100% Hypoallergenic
The Saatva All-Year Comforter is made with naturally hypoallergenic materials. So if you have allergy concerns, this is a great option.
Feel
Since the cover of this comforter is 100 percent cotton, it is soft, lightweight, and feels luxurious. It has a slight plushness to it, due to the fill, which makes it easy to snuggle into, without feeling like your body heat is getting trapped under the cover.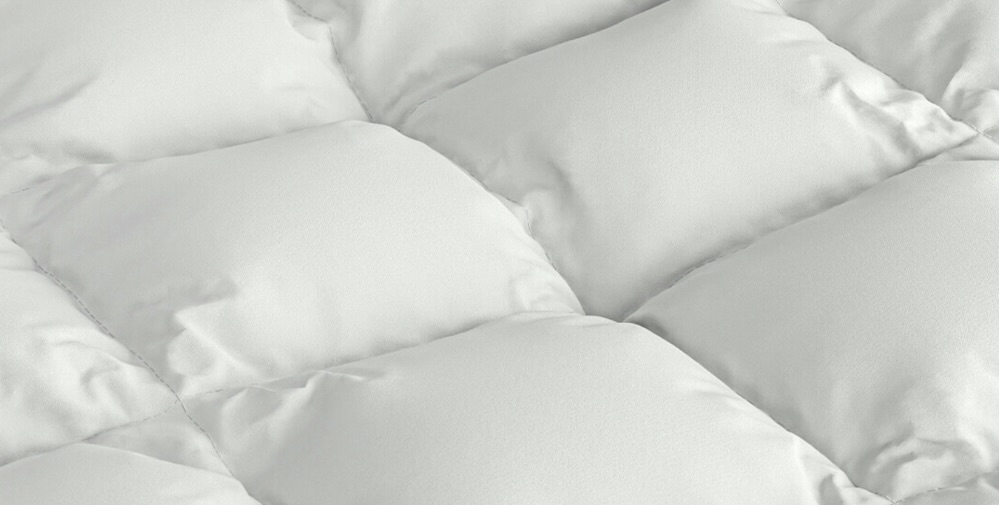 Mattress Nerd Comforter Scores
We evaluate products by running them through a series of tests and scoring them on a scale of one to five, with five being the best. We also test the products out ourselves, in our own beds, to get an even better idea as to how the product performs in action. All so we can give you the information you need before you go to buy. Pretty cool, right?
Temperature Control: 4/5
This comforter was made to be used in all seasons and all climates. When I tried it for myself, I noticed it stayed cool, and didn't seem to trap body heat. That being said, I'm not a "hot sleeper" per say, but I have tested products before that actually made me feel warm and toasty. The Saatva All-Year Down Alternative Comforter did not do that. Even if you are someone who gets really hot at night, the cotton cover and lyocell fill are breathable materials that will help maintain airflow.
Plus, you can opt to not put a cover on this comforter to help keep it light and breathable.
Customizability: 3.5/5
When it comes to options, the Buffy Breeze is a bit limited. You can choose from three size options, all The Saatva All-Year Comforter comes in only one color, which is white, but to personalize it, you can use the duvet loops around the perimeter to attach your own duvet cover.
As for sizing, Saatva uses combination sizing, so there are three options: Twin/Twin XL, Full/Queen, and King/CalKing.
I tested out the Full/Queen option on a queen bed. The comforter fit nicely and didn't look too small, which I've noticed with other products that utilize the same sizing.
Comfort: 5/5
The Saatva All-Year Comforter feels very soft, cool, and luxurious. The fill also gives the comforter an overall plush feel, which adds to its "snuggable" factor. It's a real thing!
I enjoyed using it without a cover for maximum cooling and breathability, especially since I tested this comforter in the summer. However, I could see a cover adding warmth and a bit of weight that would feel nice in the colder months.
Quality of Materials: 5/5
Saatva is known for their high quality products, and their All-Year Comforter is no exception. The materials of the outer shell and inner fill are 100 percent naturally hypoallergenic, moisture-wicking, and durable enough to machine wash and dry. Plus, it utilizes a box quilting stitching design that helps the fill stay evenly distributed so you never have to worry about your blanket getting bunched up.
Care: 5/5
This comforter is easy to clean! It's safe to go right into the washing machine, on its own, in cold water on a gentle cycle with mild detergent. Although it's white, Saatva says to not bleach it. Then, tumble dry on low heat.
Customer Experience: 3.5/5
As for policies, the Saatva All-Year Comforter comes with a 45-night sleep trial, a 1-year limited warranty, and it ships for free within the contiguous United States.
The 1-year limited warranty will only cover workmanship defects.
You can get in touch with Saatva customer service by calling (844) 359-1137, emailing info@saatva.com, or using their chat feature on their website.
Total Score: 4.3/5
Pros/Cons
Pros
Hot Sleeper Friendly: The mix of materials and lightweight design of this comforter make it cool enough for hot sleepers looking for relief.
Hypoallergenic: This entire blanket is made from 100 percent naturally hypoallergenic materials. So, it's perfect for those with allergy concerns.
Easy maintenance: You can machine wash and dry the All-Year Comforter, so it'll be easy to clean and keep fresh for years!
Cons
Only one color option: The Saatva All-Year Comforter is only available in one color– white. Which isn't a super big deal, but it's always nice to have color options so you can match with the color scheme of the room it would be going in. That being said, you can use the duvet loops around the perimeter to attach a cover of your choice if you want a specific color.
Slight off-gassing smell: I did notice when I unboxed this comforter that it had a bit of a funky, earthy smell. But, not to worry, this is typical of bedding products when they're initially opened. The smell will subside within a few hours, or you could immediately wash it to get rid of the smell quicker.
Pricey: This comforter retails between $225 and almost $300, depending on size. While this isn't the most expensive comforter we've come across here at Mattress Nerd, it's still not the most budget-friendly option. But, by using our links, you'll be getting the best pricing available.
Sizing, Pricing, and Policies
| | | |
| --- | --- | --- |
| Size | Dimensions | Price |
| Twin/Twin XL | 68" x 90" | $225 |
| Full/Queen | 88" x 92" | $275 |
| King/CalKing | 106" x 92" | $295 |
Shipping
Saatva offers free shipping within the continental 48 states. They do not ship to Alaska, Canada, or Hawaii.
Trial Period and Warranty
Saatva offers a 45-night trial period for their bedding products. If you decide the comforter is not for you within that period, you can send it back for a full refund to the original form of payment. To initiate a bedding return, call 1-855-760-6234 or email info@saatva.com.
The All-Year Comforter comes with a 1-year limited warranty. The warranty will only cover workmanship defects, not normal wear and tear that may occur during use.
FAQs about the Saatva Down Alternative Comforter
What's the difference between down and down alternative comforters?

What differentiates these two from one another is the materials used to fill the blanket. Down is a natural material found on birds, like ducks and geese. Down alternative, however, is made from non-animal products like cotton or a type of synthetic fill, like polyester. Both mimic the same feel, which is light, airy, and plush.
What does "all year" mean?

Buffy is an eco-conscious company that uses natural and recycled materials to create their products. All year means you can use this comforter in all seasons throughout the year. Depending on what climate you live in, it's common for people who live in places with drastic changes in seasons to swap out their bedding to accommodate for the colder months and the hot summer. With the Saatva All-Year Comforter, the materials used for the fill are thermo-regulating, meaning they can respond to body heat and retain it when your climate is cold, and then disperse the heat when it's warmer out.
How do you fluff up a down alternative comforter?

You can fluff up the fill of a down alternative comforter by throwing it in the dryer on a no-heat cycle. You can even add a dryer ball to help move around the blanket and break up clumps of fill. Sort of like karate chopping a pillow when it falls flat!
Is the Saatva All-Year Down Alternative Comforter Worth It?
After taking a close look at the Saatva All-Year Comforter and testing it out for myself, I would say it's worth the money. It's luxurious, lightweight, useful in all climates throughout the year, and it's versatile thanks to the duvet loops that allow you to customize the look by adding a cover of your own. Plus, it's hypoallergenic and is easy to clean so your sleeping environment can stay nice and hygienic.
Although it does have a relatively pricey mark up, I think it's worth the investment. The high-quality materials are durable and will hold up over time. You could get a good five years out of this comforter with proper upkeep, so consider that when deciding on your purchase.
Nerd Score Wrap Up
| | |
| --- | --- |
| Performance Factor | Out of 5 |
| Temperature Control | 4 |
| Customizability | 3.5 |
| Comfort | 5 |
| Quality of Materials | 5 |
| Care | 5 |
| Customer Experience | 3.5 |
| Total Nerd Score | 4.3/5 |