Serta iComfort Mattress Review
•
Disclosure: By clicking on the product links in this article, Mattress Nerd may receive a commission fee at no cost to you, the reader. Read full disclosure statement.
Serta iComfort Mattress Models
Since opening their doors in 1931, Serta has been recognized in the mattress world as pioneers and innovators of their craft. Every mattress that Serta produces has been carefully designed to provide an exceptional experience for the sleeper, and because of that, Serta has been recognized as the #1 mattress manufacturer in the United States.
Related: Serta Perfect Sleeper Mattress Review
Ever since introducing the Perfect Sleeper mattress to the world, Serta has worked tirelessly to constantly push for improvements to the way we sleep. Introducing us to such innovations as the Sertapedic, the Pillow Soft mattress, and the first ever continuous coil innerspring, Serta has never stopped demonstrating its knowledge and expertise in mattress design.
Serta iSeries
The iSeries Hybrid Collection utilizes a combination of Serta's memory foam technology and an advanced coil system, resulting in outstanding comfort and support. The iSeries also features Serta's HyperFeel Surface, a fabric cover that brings the cooling and comforting feel of the memory foam to the surface, so you can stay cool all night long.
Serta iComfort
Serta's signature mattress line, the iComfort mattress, has been a favorite among sleepers for years. Read on to find out more about the iComfort and its various mattress features and options.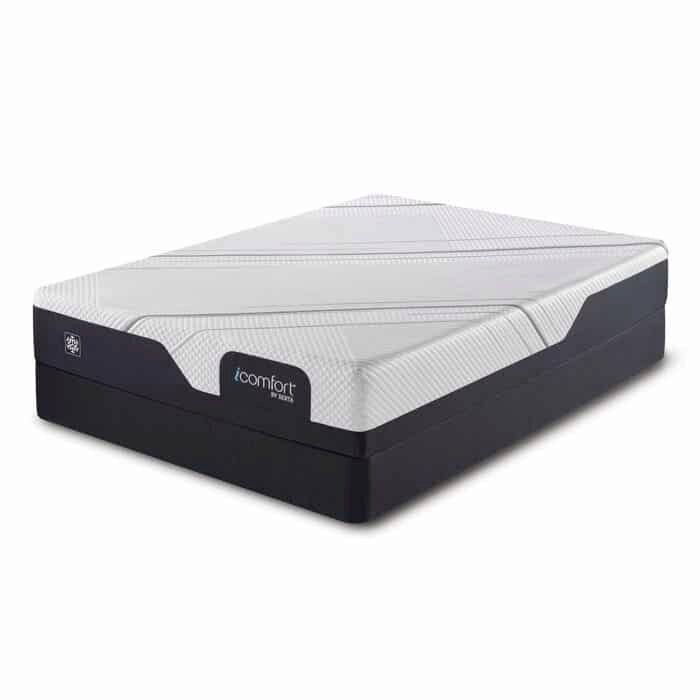 Serta iComfort CF1000
The
iComfort CF1000
is regarded as the perfect balance of cool and comfortable. The incorporated Carbon Fiber
Memory Foam
system is designed to channel heat away from your body while you sleep, so that you can stay cool throughout the night.
The simple yet sturdy materials used in construction makes this a practical mattress option with a budget-friendly price. The
iComfort CF1000
has a 10" thickness and is available in a medium firmness level, making it one of Serta's best mattresses for side sleepers.
Type: Highly supportive and

breathable

memory foam mattress

.

Price Range: $759 – $1,699
Best for:

Combination sleepers

Side sleepers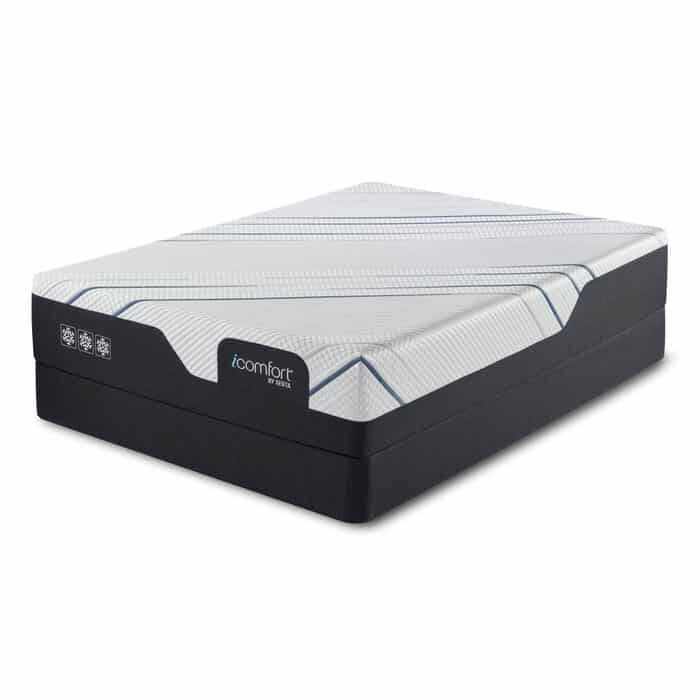 Serta iComfort CF3000
The
iComfort CF3000
takes the base model and goes the extra step in its construction. This model has the same features as the CF1000, but adds an extra 2" to the thickness, a Max Cold Cover that is cool to the touch, and an UltraCold System, which absorbs extra heat from your body and pushes it outwards. If you're a particularly hot sleeper, this is the model for you. Like the CF1000, this comes in medium firmness.
Type: Supportive and

breathable

memory foam mattress

with better cooling.

Price Range: $1,449 – $2,299
Best for:

Hot sleepers

Side sleepers

Back sleepers
Related: Best Cooling Mattresses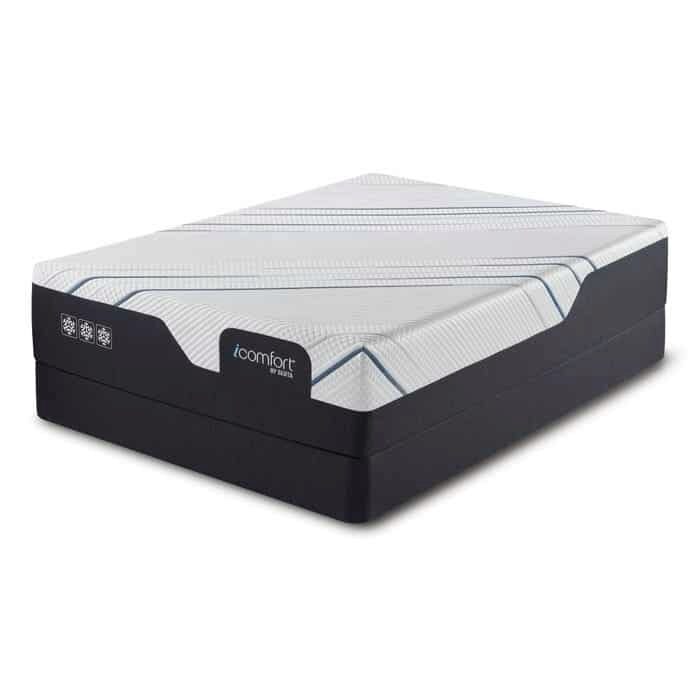 Serta iComfort CF4000
The top of the iComfort line, the CF4000 includes the same features as the previous models, but with extra amenities to maximize comfort. This mattress includes Air
Support Foam
that contours around your body to give you the support you need, and relieves pressure on your body to reduce the chances of aches and pains. The CF4000 has a 13.5" thickness, and is available in firm and
plush
options.
Type: Supportive,

breathable

memory foam mattress

with maximum cooling and an air support layer to relieve pressure on joints. Available in firm or

plush

.

Price Range: $1,849 – $2,899
Best for:

Hot sleepers

Firm model is better for stomach and back sleepers

Plush model is better for side sleepers
Related: Best Firm Mattresses
Which Serta iComfort Mattress Is Best for Me?
The Serta iComfort CF1000 is a good fit for:
Side sleepers
Back and stomach sleepers who want a softer surface
Sleepers who don't overheat
Those with a tighter budget
Sleepers with shoulder or hip pain
The Serta iComfort CF3000 is a good option for:
Hot sleepers

Side sleepers who want more support
Back and stomach sleepers
The Serta iComfort CF4000 is well suited for:
Hot sleepers

Sleepers who need extra support to cushion

pressure points

and aches

Back or stomach sleepers

Those with larger budgets
The Best iComfort Mattress by Sleeping Position
Side Sleepers
Recommended: CF4000 (Plush Version), CF1000
Side sleepers need mattresses that will conform to their body to keep pressure off their hips and shoulders and to promote spinal alignment. That is why we advise side sleepers to seek out mattresses on the lower end of the firmness scale. With the iComfort line, we recommend the CF4000's plush version because of its included Air Support Foam, which moves with your body and contours around it to alleviate pressure points.
Back Sleepers
Recommended: CF3000, CF4000 (Firm Version)
Back sleepers need firmer mattresses that prevent their head, feet, and hips from sinking. A mattress that is too soft may cause your spine to become misaligned, so you want something that is in the medium firmness range. All three of the iComfort models work for back sleepers if you want more cushioning, but when selecting the CF4000, we advise you to pick the firm version for ultimate comfort.
Stomach Sleepers
Recommended: CF3000, CF4000
Stomach sleepers require even greater support than back sleepers in order to keep their spine properly aligned. There is also the need for additional support on the neck because stomach sleepers keep their heads turned to the side. Similar to back sleepers, we recommend stomach sleepers go with one of the more supportive iComfort models, like the CF3000 or CF4000 firm.
Pros and Cons of Serta iComfort Mattresses
Pros
Trusted brand

Great for all body types and sizes

Minimal motion transfer
Cons
Not the most budget-friendly option

Break-in period before return
Pricing and Specs
Price by Model
Base (CF1000)
Cooling upgrade (CF3000)
Cooling/comfort upgrade (CF4000)

Twin mattress

$759

N/A

N/A

Twin XL

mattress

$849

$1,449

$1,849

Full mattress

$1,049

$1,649

N/A

Queen mattress

$1,199

$1,799

$2,199

King mattress

$1,699

$2,299

$2,899

California King mattress

$1,699

$2,299

$2,899
Model Dimensions
Twin: 38" x 74.5"

Twin XL

: 38" x 79.5"

Full: 53" x 74.5"

Queen: 60" x 79.5"

King: 76" x 79.5"

California King: 72" x 83.5"
Construction
| | | | |
| --- | --- | --- | --- |
| | Base (CF1000) | Cooling upgrade (CF3000) | Cooling/comfort upgrade (CF4000) |
| Type | Memory foam | Memory foam | Memory foam |
| Firmness level | 5/10 | 5/10 | 5/10 and 7/10 |
| Thickness/height | 10" | 12" | 13.5" |
iComfort Materials
iComfort mattresses use only the best materials to ensure your body gets the support it needs.
Carbon Fiber Memory Foam
iComfort mattresses are composed of Serta's exclusive Carbon Fiber Memory Foam material, which reduces body temperature by channeling heat away from you while you sleep. This proprietary memory foam also provides extra support for your back and neck.
Max Cold Cover
The Max Cold Cover is made of super cool high-performance fibers, giving sleepers an instant cool-to-the-touch sensation.
Air Support Foam
If you have aches and pains caused by pressure points, you'll be pleased to know that the Air Support Foam moves with your body and contours around it. This promotes spinal alignment and delivers additional comfort for all kinds of sleepers.
Gel Active Max Foam
The Gel Active Max Foam is an open-celled memory foam that promotes airflow. If you're a sleeper who gets that hot, stuffy feeling at night, that worry will be a thing of the past.
Maintenance and Care
Caring for your mattress is necessary if you want it to last. In case of a stain, we recommend adding baking soda to the soiled area and letting it sit for approximately 15 minutes. Afterwards, you can vacuum it up and air out the mattress.
Do not apply any type of liquids to the mattress because they can potentially stain the fabric and make the stain worse. The foam inside the mattress can break down prematurely if exposed to chemicals or moisture, so we recommend that you use a mattress protector.
The iComfort CF1000 Mattress Construction
On top of the CF1000 mattress you'll find a cool-to-the-touch cover for temperature regulation. Underneath that is a unique memory foam layer with carbon fiber to promote cooling, strength, and back support. Next is 3" of Evercool Fuze gel memory foam, which conforms to your body's curves for additional comfort.
After the gel foam layer is the support layer, which uses support foam to provide pressure point relief. Finally, the Serta foam core delivers a solid foundation and gives you conforming support.
The iComfort CF3000 Mattress Construction
The Max Cool Cover is made from super cool high-performance fibers to give an instant cool-to-the-touch sensation. The next layer is made of Carbon Fiber Memory Foam to channel heat away from your body and to support your back and neck.
Then there are two layers of Deep Reaction Max Memory Foam to further enhance the mattress's ability to dissipate heat. Finally, the Serta core of the mattress creates a strong foundation and support for sleepers.
The iComfort CF4000 Mattress Construction
The CF4000 is available in a plush model and a firm model, depending on what level of firmness you desire. Both models have Cool Touch covers to deliver cool-to-touch sensation.
Next is the Carbon Fiber Memory Foam layer to give you exceptional back and neck support while also channeling heat away from your body.
The following layer on the plush mattress is the 3" EverCool Supreme Memory Foam for cradling comfort and to relieve pressure points, while the firm model uses a Deep Reaction Max Memory Foam technology to help with heat dissipation and to enhance the overall comfort level for back sleepers.
The next layer on the plush model is an Ultra-Cool Phase Change Material layer to provide a cooler sleep surface, letting you fall asleep faster.
The following layer utilizes Serta's exclusive air-cushion technology that moves with your body, contouring around it to further relieve aches and pains. The Serta Foam Core is the firm component of the bed that acts as a support system and foundation.
---
The Serta Buying Experience
Serta iComfort Trial-Period
All mattress purchases made through Serta's website are covered under a 120-day in-home trial. The day your mattress is delivered to you, you have 120 days to see if it meets your sleep needs.
Serta recommends that you allow for a two-week break-in period to let your body adjust to the new mattress. If you find that you're still not happy with your iComfort, you can contact Serta by phone or by email and set up your hassle-free return, at no cost to you.
Serta will arrange to have your mattress picked up and removed from your home. If you purchased your iComfort from another retailer, you must reach out to them to handle returns.
Another option if you're unhappy with your mattress is to consider an exchange. Within the 120-day in-home trial period, you are welcome to contact Serta about exchanging for a new item.
When you call Serta, they will walk you through the exchange process, place your new order over the phone, and charge the difference or return the difference to your payment method. It's important to remember that an exchange will void the 120-day trial period on your new product.
Serta iComfort Mattress Warranty
Serta's 10-year limited warranty guarantees your mattress against any defects in material and workmanship. Starting a warranty claim can be done right on the Serta website, and once you've made your claim, a member of the warranty team will reach out to you for the next steps.
Shipping and Delivery
Serta is dedicated to getting you your new mattress as quickly, efficiently, and safely as possible. Once you place your order on Serta's website, a member from their shipping company, XPO Logistics, will reach out to you to schedule the delivery.
Typical delivery hours are from 7am to 7pm, Monday through Saturday, so you can receive your mattress at your convenience. You can expect your mattress delivery within 4 to 14 business days from the date of purchase.
Serta delivers to anywhere within the continental United States. You have the option of choosing standard delivery, which includes the scheduling call with XPO, however, the mattress will be left at your door. If you choose the additional White Glove Delivery option, XPO will not only set up your new mattress, but they will also remove your old mattress and box spring.
Financing
Serta has partnered with Affirm to give customers the option of financing their new mattresses. When you reach the checkout page, you can select the pay-through-Affirm option.
A soft credit check will determine if you're approved, and once you receive confirmation, you'll be provided with multiple financing terms: 3 months, 6 months, or 12 months. Interest charges are presented to you upfront so you don't have to worry about any hidden fees.
Availability
You can order your Serta mattress online, or you can use the Find a Store feature on the Serta website to locate a retailer near you.
---
Conclusion
Serta's iComfort beds may be on the pricier side, but you are getting true value for your money. Hot, combination sleepers will find the iComfort to be the best mattress for their sleep problems, and memory foam lovers will enjoy the level of comfort provided by this line.