Sheex Sheets Review
•
Disclosure: By clicking on the product links in this article, Mattress Nerd may receive a commission fee at no cost to you, the reader. Read full disclosure statement.
SHEEX was founded by two college basketball coaches. Inspired by the comfort they feel walking around in stretchy, breathable athletic wear, they wanted to make sheets, bedding, and pajamas using the fabrics typically found in their comfortable athletic clothing. They wanted to use those fabrics to "sleep fit."
The goal was to make sheets that would stretch, breathe, wick moisture and control temperature, just like athletic wear does. It was a new idea considering traditional cotton sheets have dominated the marketplace since the beginning.
SHEEX fabric was designed to breathe up to 10 times better than cotton. It was also designed to help moisture evaporate 2 to 3 times faster.
In order to get the best possible sleep, we need to be comfortable, cool and dry, that is what SHEEX is trying to do.
The company offers six different lines of sheets. Keep in mind that you shouldn't focus on thread count with this brand. That doesn't apply since these sheets are not woven with traditional cotton fibers.
The different styles all use the same base SHEEX fabric with other elements added in to tackle different tasks. Some use Tencel fabric for a silky feel and to inhibit the growth of bacteria. One version is woven with copper for its antioxidant properties. There is even a set woven with natural bamboo fibers.
It's a unique idea, making sheets out of athletic wear fabrics. SHEEX hopes you think it's a good idea, too.
Disclosure: By clicking on the product links in this article, Mattress Nerd may receive a commission fee at no cost to you, the reader. Read full disclosure statement.
---
Why We Love Them
I'm not that bothered by sheet wrinkles. Who will see them under the covers? But, if wrinkles keep you up at night, the SHEEX fabric pulls taught enough to make a smooth surface, without coming off of the bed. You will never have ridges with SHEEX performance sheets.
The company says their Original Performance Sheet Set has been tested at Diversified Testing Laboratories to show that they won't pile. That is a concern with certain fabrics, but due to those lab tests, it isn't a concern with the Original versions. 
These performance sheets also stretch to fit thick mattresses. They have deep pockets. Also, because they stretch so well without pulling off the bed, SHEEX offers twin-twin XL and queen-king sizes. In other words, SHEEX sheets will fit both sizes.
If you have ever kicked off the covers in the middle of the night because you're too warm, you should consider SHEEX. There are several styles that add fibers or other cooling properties so you don't overheat inside your bed at night.
What They Are Made Of
SHEEX performance sheets are made of a combination of polyester and spandex. The fabrics breathe, sleep cool and have moisture-wicking properties so you stay dry throughout your night of sleep.
Then each style has some other material like bamboo to be eco-friendly, or copper to fight oxidants.
The performance sheet sets include a flat sheet, a fitted sheet and one pillowcase with the twin sizes and two pillowcases with every other side.
I won't lie; I am a huge college basketball fan. It tickles me that the former University of South Carolina women's coach is the brain behind this. I love that. It tells me that new ideas can come from anywhere.
Pros and Cons
PROS
These sheet sets easily stretch to fit thick mattresses.

Each bed sheet is stretchy enough to fit odd sized sleeping areas (boats, campers).
Offer other products like duvet covers, pillows, comforters, mattress pads & sleepwear
You can finance any purchase over $150
Sheets are "ridiculously soft," just like your favorite workout gear
Durable
CONS
Customers warn that rough hands and feet will catch on this fabric.

The sheets are made of mostly synthetic materials.
Expensive: These performance sheets can cost over $100 each.
Who are Sheex Sheets best for?
Because they are built to stay in place, these sheets are great for combination sleepers who change position throughout the night.
These sheets are also great for people who have thick mattresses. SHEEX sheets stretch to fit thicker mattresses fairly easily. And they have "Stay Fit" corners that helps keep them in place. All of that allows SHEEX to call their sheets wrinkle-free. They're held taut so they don't have a chance to wrinkle.
Hot sleepers should take a close look. There are several styles that include fibers that are naturally cool and help moisture evaporate. Both things will help keep you from overheating and waking up.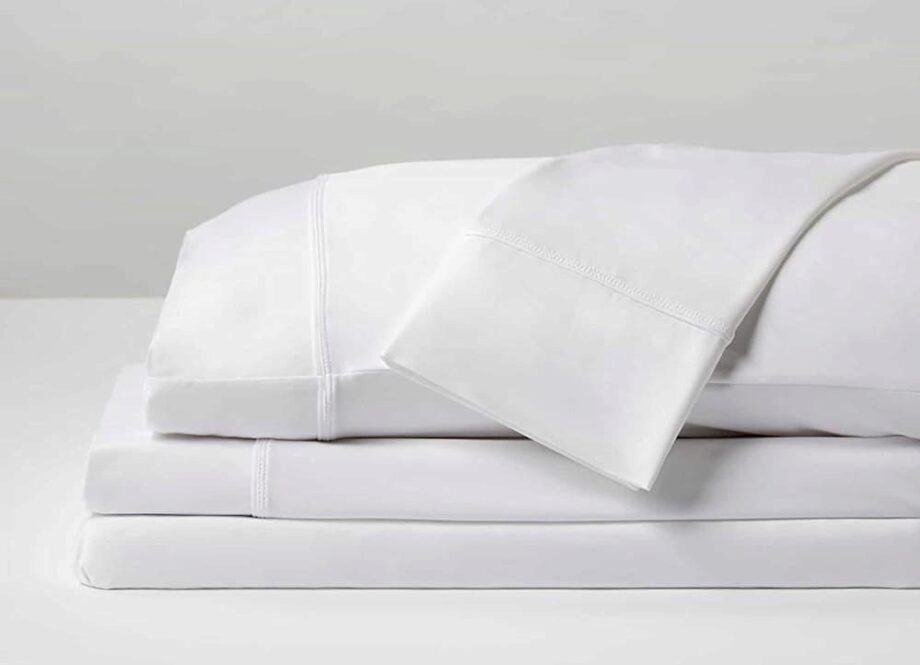 Sizes
Crib

53" L x 27" W

Twin 75" L x 39" W
Twin XL 80" L x 39" W
Full 75" L x 54" W
Queen 80" L x 60" W
King 80" L x 76" W
Cal King 84" L x 72" W
Split King 80" L x 39" W (x2)
Pricing
| | | | | | | | |
| --- | --- | --- | --- | --- | --- | --- | --- |
| TYPE | Twin | Twin XL | Full | Queen | King | Cal King | Split King |
| Original | $210 | $210 | $235 | $250 | $265 | $265 | $290 |
| Arctic Aire | $179.99 | N/A | $189.99 | N/A | N/A | N/A | $219.99 |
| Studio Tch | $239 | $239 | $299 | $299 | $329 | $329 | N/A |
| Lx Copper | $250 | N/A | $280 | $295 | $320 | $320 | N/A |
| Bamboo | $159.99 | N/A | $169.99 | N/A | $199.99 | $189.99 | N/A |
| Experience | $139.99 | $139.99 | $149.99 | N/A | $189.99 | $189.99 | N/A |
Shipping and Returns
You can buy SHEEX at the flagship store in Philadelphia or on the company website. The company ships throughout the U.S., its protectorates, APO/FPO addresses and into Canada. You'll pay extra for international shipping.
Shipping is free in the United States on orders above $150. Shipping anywhere else will be charged regular rates. You can call the SHEEX customer service department to ask about international shipping.
SHEEX gives you a 30-night, money-back guarantee if you want to return an item.
About Sheex
Founded by two college basketball coaches, SHEEX has been in business since 2008.
Back in 2007, Michelle Brooke-Marciniak and Susan Walvius were coaching basketball at the University of South Carolina. One day, during a casual exchange, Brooke-Marciniak casually mentioned she'd love to have sheets made out of the same material in the training gear she was wearing that day.
High-level athletes and coaches rarely get to wear civilian clothes. Brooke-Marciniak was wearing workout gear so comfortable, she was dreaming of sleeping in it! Walvius agreed and the idea grew wings right then and there.
The two female athletes/coaches teamed up to make sheets from fabrics that athletes use and wear. They figured the fabrics that help them feel comfortable while they work out, should help them sleep comfortably, too.