October 26, 2014
Disclosure: This site receives a payment from US Mattress, Leesa®, Tomorrow Sleep, or Nest Bedding when you purchase a product using any links to that company in this article
One commonly asked question is whether it makes more sense to buy a mattress online or in a brick and mortar store. There are certainly benefits to each. Here I will take a look at some of the pros and cons of buying a mattress online vs buying it at a store.
Buying a mattress in a physical store
The main benefit of buying a mattress in a store is that you get to try out the mattress first. It's important to check for proper support and comfort in a mattress, and you just can't do that online. (Proper support means being in your neutral alignment, comfort means not feeling any pressure or discomfort). If you don't know what you're looking for, brick and mortar stores will have salespeople to help walk you through the selection process. Also, if you're a good negotiator, you can get some of the best deals in a store, because most stores have a price match or a price beat guarantee. This can be difficult to do, because comparison shopping for a mattress is made difficult by the retailers, but if you're good at it, you can save the most money.
Another benefit of buying in store is there is a physical place you can go in and get help with customer service if you need to. If you need to exchange a mattress protector, return a pillow, etc, you can often just go into the store.
The downside of buying a mattress in the store is that it can be an intimidating experience, and if you're not a great negotiator, you'll probably pay more money than you would at an online store. A lot of people don't feel comfortable lying down on a mattress in front of people, especially not a salesperson who wants to sell them as expensive a bed as possible.
Buying a mattress online
Buying a mattress online can be very convenient, but it can also be confusing because there are so many choices out there. There are two main types of internet mattress retailers.
Stores that sell mattresses from a bunch of different manufacturers, like US-Mattress.com
Companies that only sell their own product, like Leesa, Tomorrow Sleep, and Nest Bedding.
Places like US Mattress tend to have much cheaper prices on most of their mattresses than physical retail locations, though they have similar products. The main drawback here is that you can't try it before you buy it unless you go into a competing physical retailer first, and then go home and get the lower price online (this is a good idea, by the way). Otherwise, there are either no returns, or a return fee if you don't like the mattress.
This drawback isn't true for the companies that sell their own product. Leesa, Tomorrow Sleep, and Nest Bedding all have free trial periods with a free pickup.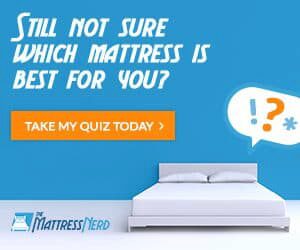 My recommendation on where to buy the mattress
This depends on the amount of work you're willing to do to get a good deal. I have several recommendations.
This method is the one I recommend in my guide to negotiating for the best price. Find the right mattress in a showroom, comparison shop online, and then go back into the showroom with the lowest online price and make them beat it. If they won't, then go and buy it online. This takes the most work, but gives you the best chance at getting the lowest possible price.
If you don't have enough time or patience to do suggestion 1, you can cut out the last part. Go into a showroom, find a good mattress, comparison shop online and just buy it online if the prices are lower. You don't give the retail store a chance to give you an even better deal, but you also have to go through less frustration.
Buy it directly from one of the online manufacturers like Leesa, Tomorrow, or Nest. If you don't like it, you can always return it and then go for one of my other recommendations. This is the lowest-hassle and quickest way to buy a mattress. If you feel overwhelmed by this whole process, there is nothing wrong with going this route first, and then  if it doesn't work, starting with option 1.
I hope this helps give you some direction on where the best place to buy your mattress is. Thank you for reading!
Disclosure: This site receives a payment from US Mattress, Leesa, Tomorrow Sleep, or Nest Bedding when you purchase a product using any links to that company in this article
Related articles