Sleepgram Pillow Review
•
Disclosure: By clicking on the product links in this article, Mattress Nerd may receive a commission fee at no cost to you, the reader. Read full disclosure statement.
The Nerd's Take: The Sleepgram adjustable pillow is best for back and stomach sleepers who like a softer feel. The best way for most side sleepers to get neck and shoulder support is to use the medium or firm versions. The Sleepgram isn't the best fit for side sleepers with bigger bodies.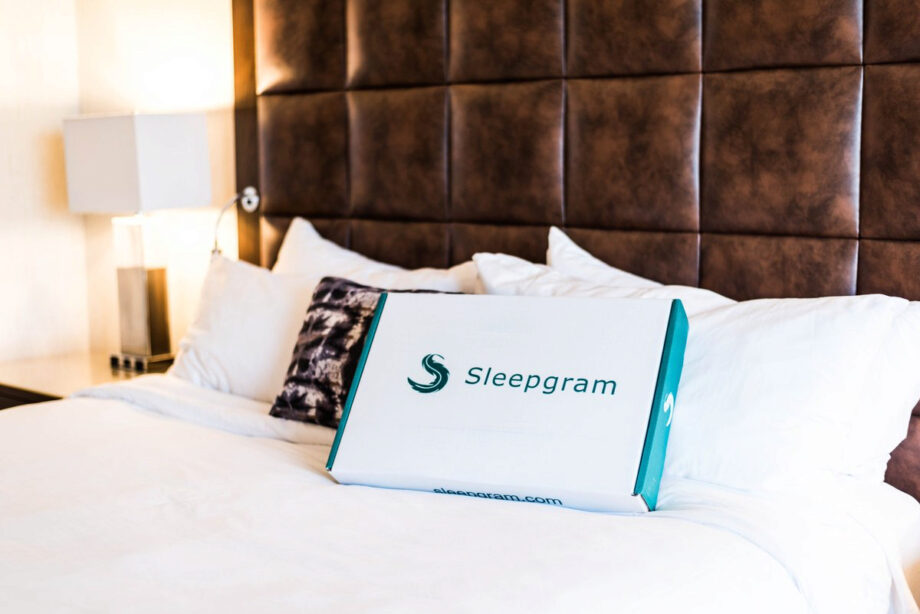 Value shoppers

Back sleepers

Stomach sleepers

Side sleepers

with petite or average body types

Those who want a

soft pillow

with a

fluffy feel
Who It's Not Good For
Those looking for a

firm pillow

or extra

supportive pillow

Side sleepers

with bigger body types

Memory foam pillow

lovers

Those who don't want to spend any time fluffing their pillow
Let's start with the outer cover. It's made of cotton and lined with a polyester fabric. The cover has a gusset—which is kind of like a collar for the pillowcase—to ensure a more even sleeping surface. It also has two zippers to make it easier to add or remove layers.
Speaking of layers, inside the cover are two individual inner pillows stuffed with a polyester microfiber fill. The microfiber is soft, and I would say it feels really similar to down. It's also hypoallergenic and doesn't retain odors.
The first or "red pillow" has a medium to medium-firm feel. It's thicker and firmer than the other "blue pillow." Back sleepers will most likely prefer the red pillow to keep their heads supported.
The second or "blue pillow" is thinner and feels softer. It works best for stomach sleepers because it has a low enough loft to keep these folks' spines in a neutral position.
If you put both pillows into the pillowcase, you'll have a firm pillow that's best for side sleepers and back sleepers who deal with back pain or shoulder pain. The pillow isn't foolproof, but it does hold up reasonably well.
To help you in your search for the best pillow, we broke down how the pillow performed in six factors and then assigned them a numerical score out of 5. We'll also tell you how well the Sleepgram pillow works for your different types of sleepers.
Cooling: 3/5
The best cooling pillows keep you from waking up with your cheek or neck covered in sweat by adding breathable, actively cooling materials to the pillow construction. The breathable cotton and microfiber layers in the Sleepgram pillow may help you sleep temperature neutral, but I did experience a little heat buildup while using this pillow.
Alignment: 4/5
The purpose of having a pillow is to keep your head and neck aligned as you sleep, preventing neck pain. The Sleepgram pillow offers adjustable features to maintain neck alignment for back and stomach sleepers of any body type and average-sized side sleepers. Heavier side sleepers will get better sleep and alignment on a pillow more suited to their sleeping style, specifically firmer pillows with lots of neck support.
See Also: Best Pillows for Neck Pain
Adjustability: 5/5
Sleepgram pillows are customizable since the "pillow" actually comes with two inner pillows of varying heights (loft) and firmness levels (feel) inside of the main cover. All you have to do to change the loft or firmness is add or remove either of the two pillow inserts inside the cover.
Also, the polyester fiber fill they use in the pillow filling can be molded to your desired shape.
Quality of Materials: 4/5
The microfiber fill inside the Sleepgram pillow is a cruelty-free down alternative. This keeps away the off-gassing smell you may experience with foam and allows those with a vegan lifestyle to enjoy the plush feel. It's made with hypoallergenic materials, which should improve the sleep experience of those with dust mite allergies. We deducted a point in this category because these materials have only average durability.
Care: 3/5
This pillow is not 100 percent machine washable. You can remove the cover and throw it into the washer and dryer, but the pillow inserts cannot be washed. Still, cleaning the cover can help with allergens in your pillow. To fluff up the inserts, pop them into the dryer with no heat.
Customer Experience: 4/5
Sleepgram offers you a 100-night sleep trial period and a Lifetime warranty, exceeding the industry-standard for both. They do have great policies, but we knocked off a point because they don't offer free shipping, and they don't have a live chat feature on their website like some other pillow companies. You have to correspond with them via email or phone.
Total Score: 3.8/5
Side Sleeping
Side sleepers need a firm pillow to keep their neck supported and their head elevated. Your pillow shouldn't collapse if you want it to support your head and shoulders. I find that the Sleepgram pillow retains its shape better than most.
With both inserts, the Sleepgram pillow should work well for the average side sleeper, but side sleepers who are heavyweight or have broad shoulders may find that it's not lofty enough. If that sounds like you, see the best pillows for side sleepers.
Back Sleeping
The best pillows for back sleepers keep their heads elevated to eliminate neck pain. These folks also need a decent amount of firmness. They want to avoid having their heads collapse straight back down to the pillow, and will find a good fit using the red pillow by itself. Heavier back sleepers would also feel supported leaving in both inserts.
Stomach Sleeping
Stomach sleepers need a flatter pillow to keep the neck in line with the spine. Stomach sleepers should like using the softer, blue pillow by itself for the plush feel. The pillow is not so thick that it will raise your neck too high and throw it out of alignment with the rest of your spine. For similar choices, see the best pillows for stomach sleepers.
| | | |
| --- | --- | --- |
| Score for Side Sleepers | Score for Stomach Sleepers | Score for Back Sleepers |
| 3.5/5 | 5/5 | 5/5 |
Pros
Affordably Priced:

This pillow gives you a lot of customizability and comes at a lower cost compared to other

adjustable pillows

.
Versatile:

With the adjustable features, the

Sleepgram pillow

should work for all three

sleeping positions

, plus combination sleepers.

Cruelty-free:

Microfiber is a cruelty-free alternative to down, but it gives a similar plush feel.
Cons
Retains a little heat:

Though the

cotton cover

is

breathable

, this pillow does retain some heat, so hot sleepers may want to look for a cooler alternative.

Not firm:

If you're looking for a pillow with a firmer feel, the Sleepgram may be too plush for you.

No high-loft:

Heavier

side sleepers

and those with broad shoulders may need a loftier pillow than the Sleepgram.
| | | |
| --- | --- | --- |
| Size | Dimensions | Price |
| Standard/Queen Size | 18" x 26" | $65 |
| King Size | 18" x 33" | $85 |
Sleepgram ships throughout the U.S. and Canada for a small shipping fee. If you use the Sleepgram pillows for up to 100 nights and find out they don't work for you, you can return them for a full refund. They have to be unused or in "like new" condition. In other words, they still have to be in good enough condition to donate. Sleepgram will decide if they're acceptable for a refund.
You need your original receipt to start a return. You also need an RMA (Return Material Authorization) number to include with your return, and you can get that number from a Sleepgram customer service representative (email help@sleepgram.com or call 877-257-5337). They'll send you a prepaid shipping label, so returns are free. Once Sleepgram receives your pillow, they'll need five to 14 days to process the return and then you'll receive your refund.
The Sleepgram pillow also comes with a Lifetime warranty.
Are Sleepgram pillows made in China?
Yes, Sleepgram pillows are made in China. However, they are designed in California, so it is not a Chinese-based company. They simply outsource the materials and manufacturing process to their production partners in China. Products made in the U.S. typically have faster shipping times, however.
Are Sleepgram pillows toxic?
No, Sleepgram pillows are not toxic; in fact, they use microfiber, a synthetic material that has a silky smooth, plush, down feel. This pillow does not off-gas like foam, and is cruelty-free. So if you're looking for a synthetic alternative to down, the Sleepgram pillow may be for you.
Can you wash a Sleepgram pillow?
Yes, you can wash your Sleepgram pillow but only the cover. To wash, unzip and remove the cover from the inserts, put the cover in the washing machine with cool water on the gentle cycle, and put it in the dryer on low heat. Pretty simple.
The Sleepgram is an adjustable, down-alternative pillow. It works best for back, stomach, and combination sleepers. Those looking for a value buy should also enjoy the Sleepgram, since it's about half the price of competitor options. We don't recommend the Sleepgram to those who overheat at night or who have a heavyweight body type and sleep on their side.
If you're still not convinced that the Sleepgram is the right new pillow for you, remember you can return it for a full refund during the 100-night trial period as long as it's only lightly used.