Aqua Oasis Cool Mist Humidifier Review
•
Disclosure: By clicking on the product links in this article, Mattress Nerd may receive a commission fee at no cost to you, the reader. Read full disclosure statement.
The Mattress Nerd's Take: The Aqua Oasis Cool Mist humidifier is a compact device made to fill small to medium sized rooms with vapor during winter months or year-round in dry climates. The cool moisture works to alleviate symptoms like congestion, dry skin, and scratchy throats. They're also safe to use in bedrooms, nurseries, and offices!
Who It's Good For
Budget shoppers
Those looking for a small humidifier
Those looking for a cool mist humidifier
Who It's Not Good For
Those looking for a warm mist humidifier
Those looking to fill a large room for a long period of time
Those looking for a device with low maintenance
Key Features
Water Tank
The tank fits up to 2.2 liters of water.
Adjustable Dial
On the front of the base, you'll find the adjustable dial, which allows you to control the amount of vapor being released from low all the way up to its full force.
Nozzle
At the top of the humidifier, you'll find the nozzle. It's a removable piece, which also gives you the ability to fully adjust it in any direction you need it to go— so it's not just forced to dispense vapor in one direction.
Auto Shut-Off
You don't have to watch this device like a hawk. It has an auto shut off feature for when your tank runs out of water. This is a safety precaution so your device overheats, but it's also convenient!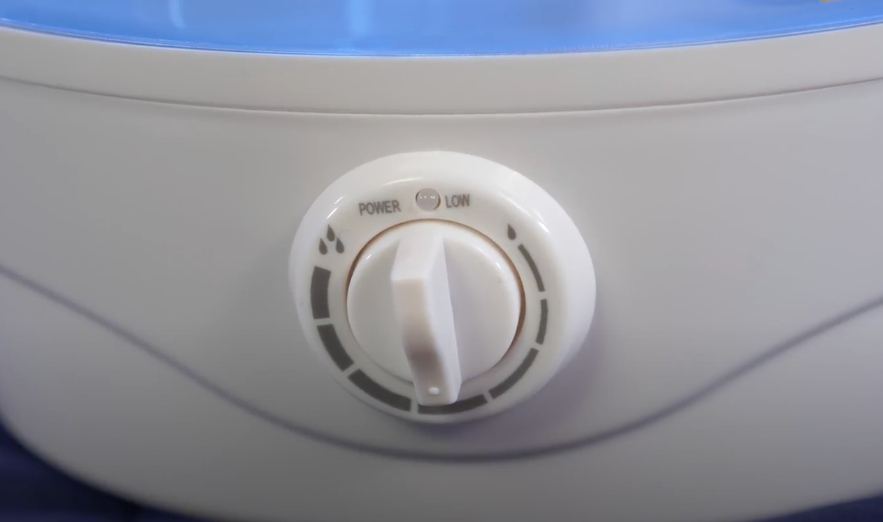 How to Use
The Aqua Oasis humidifier is a simple and easy to use device. First, you'll want to detach the tank from the base and turn it upside down. You'll find the water tank cover, which you can easily unscrew, and fill with clean, cool water— ideally filtered or distilled water. Once you've filled the tank, screw the cap back on tightly and make sure to wipe off any excess water before reassembling.
Now you'll want to find a spot for your humidifier. Somewhere elevated, flat, and waterproof. Once you're set up, plug it in and turn on the power switch. The light will turn on. You can use the knob on the front of the base to adjust the humidity level to your liking. Depending on the intensity level you set, that will determine the amount of time your humidifier will run. The lower the setting the longer it'll last and vice versa.
Then, when the tank is out of water, the auto shut off feature will be triggered and the device will turn off and the indicator light will change to red. Be sure to keep the door of the room you're humidifying open while it's running so that condensation doesn't accumulate on the walls or ceiling!
It's also important to note, you cannot use essential oils with this device. Only water.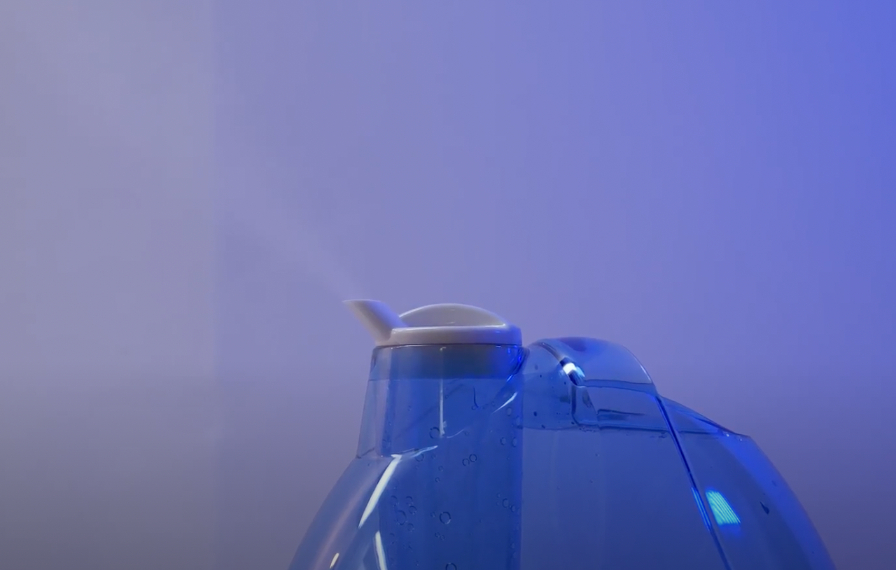 Personal Experience
I took the Aqua Oasis home and tested it in my own bedroom. To preface, I struggle during cool, dry months with dry skin, a scratchy throat, and congestion— so I'm a prime humidifier candidate. I was overall very pleased with the compact size. It fit nicely in the corner of my room, but was still powerful enough to get out a lot of vapor and bring my room to a comfortable humidity.
Operating the device was easy and intuitive. I just used the dial to adjust the vapor pressure to a medium setting. It ran quietly, and I didn't notice any noises or disturbances while sleeping. It ran it throughout the night without stopping, which was about eight hours total. I'd imagine that would vary depending on how strong you put the setting at.
I also liked the fact I could move the nozzle in any direction. That allowed me to put the device where I wanted and direct the vapor towards the center of my room and not towards a wall or furniture.
Looking for other Humidifier options? Check out our Best Humidifiers page.
How to Clean the Aqua Oasis Cool Mist Humidifier
Although the manual says to clean with less frequency, from our experience, we suggest cleaning this humidifier top to bottom weekly, and changing the water every one to two days. This ensures both the tank and the water are clean and will prevent you from getting sick.
Everyday, make sure to change the water in your tank. Simply detach the water tank from the base, empty any remaining water into the sink, rinse the tank, and then fill with fresh water.
Then, once a week, you'll want to fully clean and disinfect your humidifier. First, make sure your humidifier is off and unplugged. Then detach the water tank from the base, flip it upside down, and unscrew the water tank cover. Empty any reminisce, then rinse with water and a small amount of a cleaning agent until the entire tank is clean. Be sure to also do the same with the nozzle. As for external cleaning, use a damp cloth to wipe the outside.
This humidifier even comes with this tiny cleaning brush to help you get into the smaller crevices. Make sure your entire device is fully dry before returning to use.
Pros/Cons
Pros
Effective and affordable: It's common to be a bit weary of affordable products on Amazon. Sometimes quality can come into question— but good news! The hype is real. This humidifier does its job well. It's functional, easy to use, and it comes in at a low price point.
Compact size works great for bedrooms: The 2.2 liter size is compact enough to fit discreetly into a bedroom or bathroom.
Operates quietly: No need to worry about getting distracted or annoyed by sound with this device. It runs quietly and is perfect for use while sleeping.
Cons
Run time may not be as long as advertised: This model claims to be able to run for 12 to 24 hours. I'd say the timeline is more like 6 to 12 hours, especially if using the high setting.
Couple spots are tricky to clean: There are small components to this humidifier. So, just be diligent when cleaning.
Wish it was a top fill: Humidifiers that you can fill from the top make daily water changes easy. With this model however, you have to detach the tank and flip it upside down to fill it— which, if you're not careful, can get a bit messy.
Sizing, Pricing, and Policies
| | | |
| --- | --- | --- |
| Tank Size | Run time | Price |
| 2.2 liters | ≈ 12 hours | $50 |
Shipping
The Aqua Oasis humidifier is available for purchase on Amazon. Plus if you're a prime member, you get free shipping and returns.
FAQs
Can I use tap water with my Aqua Oasis humidifier?

Short answer: yes. But— it's suggested to use filtered or distilled water to prevent buildup from accumulating quickly, since tap water contains many more minerals than filtered water.
Are cool mist humidifiers more effective than warm mist?

They're both effective at bringing moisture into the air and have the same effects on your airways. The main difference is whether or not you want your room to stay at its set temperature or if you want to warm it up. Warm mist has a therapeutic element that makes your room warmer and a bit cozier than a cool mist humidifier would.
Can you use essential oils in the Aqua Oasis humidifier?

No. This device is only compatible with water.
The Nerd's Final Take
In the end, if you have a small to medium room you're looking to add a humidifier too, the Aqua Oasis Cool Mist humidifier is an affordable and effective device to get the job done. While I do wish it was a top fill, making cleaning and refill easier, the design is still intuitive and simple to use. The adjustable dial and nozzle give you the ability to personalize your experience and direct the vapor whether it needs to go in your room at whatever intensity you'd like. Plus, for the price, it's hard to beat the value.
As a general precaution, make sure you're prepared to maintain a proper cleaning schedule with your humidifier. They do require routine cleaning to prevent bacteria or mold from forming so that it doesn't infect your vapor and make you sick. Other than that, the Aqua Oasis is as basic and effective as they come!