Avocado vs. Nectar Mattress Comparison
•
Disclosure: By clicking on the product links in this article, Mattress Nerd may receive a commission fee at no cost to you, the reader. Read full disclosure statement.
Avocado and Nectar are two of the most popular online mattress brands on the market. The Avocado is an eco-friendly hybrid bed made with a combination of breathable natural latex and innerspring coils. The Casper bed is a budget-friendly, all-foam bed that offers deep pressure relief and motion isolation. Keep reading to learn which of these two mattresses is suited for your body type and sleeping position. For more information about how we review and compare mattresses, check out our testing methodology.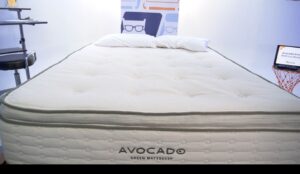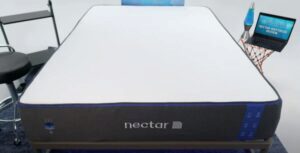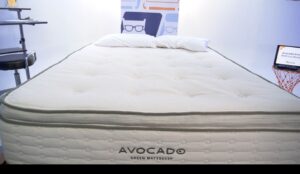 Product
Avocado Green Mattress
Firmness
Medium-soft: 5/10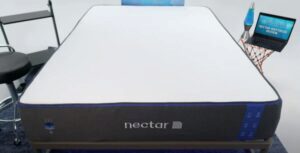 Firmness
Medium-firm: 6/10
Avocado vs. Nectar Overview
| | |
| --- | --- |
| Avocado is best for… | Nectar is best for… |
| All body types | Side sleepers |
| Hot sleepers | Couples |
| Eco-friendly shoppers | Shoppers on a budget |
Who Should Choose the Avocado Mattress?
Who Should Choose the Nectar Mattress?
Avocado vs. Nectar: Top Similarities
Avocado vs. Nectar: Top Differences
Avocado vs. Nectar: Firmness & Feel Differences
These two beds have similar firmness levels, but very different feels when you lay on top of them.
What's the Firmness Of the Avocado & Nectar Mattresses?
We rank mattress firmness on a scale of 1 to 10, where 1 is the softest mattress and 10 is the firmest. The Avocado is a 7/10, while the Nectar is a slightly softer 6.5/10. Both of these beds are considered to be medium firm. This balanced firmness level can support most body types while still being soft enough to provide pressure relief where you need it.
This firmness level will feel firmer to lightweight sleepers, who may not have enough body weight to sink fully into the comfort layer, and will feel softer to heavyweight sleepers.
What Do the Avocado & Nectar Mattresses Feel Like?
When you first lay down on the Avocado mattress, you'll feel the surface will gently conform around the curves of your body without allowing it to sink into the mattress. This bed is also bouncy, making it easy to move around on, and cool to the touch.
The Nectar mattress allows you to sink into the bed so that you feel as if the comfort layer of the bed is giving you a hug. The support layers underneath provide pushback so can enjoy the sensation of deep pressure relief without feeling stuck in the bed.
What's It Like to Sleep On the Avocado & Nectar Mattresses?
The Avocado mattress's firm feel and innerspring core provides ample support for back and stomach sleepers. This bed may feel too stiff for side sleepers, who generally prefer a bed with deeper pressure relief.
The Nectar is well suited to side sleeping—its comfort layers cradle the hips and shoulders to relieve pain as they press against the mattress. This bed also is supportive enough to keep back sleepers comfortable, but it's soft memory foam surface isn't well suited to stomach sleeping. Stomach sleepers may find that their midsections sink too far into the bed, which could cause lower back pain.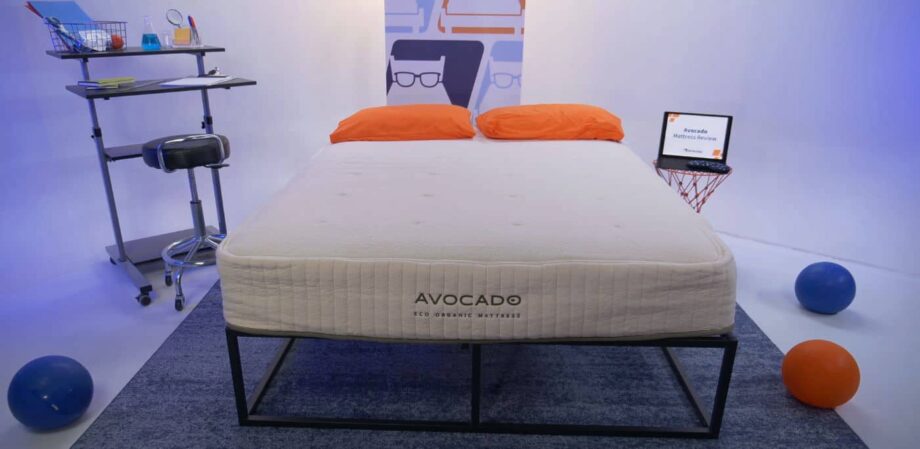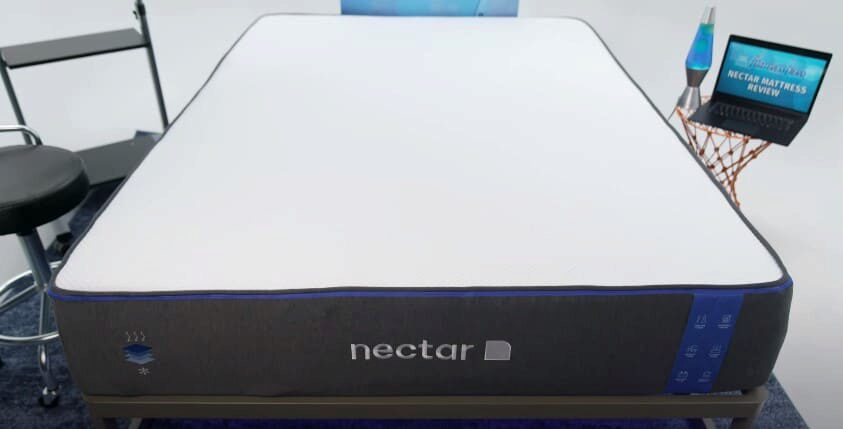 The Avocado vs. Nectar Mattresses By Body Type
Avocado Performance By Sleeping Position:
| | | | |
| --- | --- | --- | --- |
| Body Type: | BACK SLEEPERS | STOMACH SLEEPERS | SIDE SLEEPERS |
| Lightweight (< 130 lbs): | 4 | 5 | 2 |
| Average weight (130 – 230 lbs): | 4 | 5 | 3 |
| Heavyweight (> 230 lbs): | 4 | 4 | 2 |
Nectar Performance By Sleeping Position:
| | | | |
| --- | --- | --- | --- |
| Body Type: | BACK SLEEPERS | STOMACH SLEEPERS | SIDE SLEEPERS |
| Lightweight (< 130 lbs): | 4 | 3 | 3 |
| Average weight (130 – 230 lbs): | 4 | 2 | 5 |
| Heavyweight (> 230 lbs): | 2 | 2 | 3 |
1 = Very poor, 2 = Not good, 3 = Fair, 4 = Good, 5 = Excellent
Average-Weight Sleepers (130–230 lbs)
Both the Avocado mattress and the Nectar bed have a medium-firm firmness level that makes either mattress a good pick for heavyweight back sleepers. Both mattresses also are responsive enough to make it easy for combination sleepers to change sleeping positions easily without feeling stuck in the mattress.
The Avocado's firm support layer makes it a great choice for stomach sleepers, who need extra stability around the midsection to prevent lower back pain. The Nectar's top layers are too soft to keep stomach sleepers from sinking, but this plush contouring makes it a great pick for side sleepers who need extra comfort around the hips and shoulders.
Heavyweight Sleepers (> 230 lbs)
The innerspring coil layer at the center of the Avocado mattress provides durable support for heavyweight stomach and back sleepers. This supportive layer keeps the hips and spine propped up in a healthy posture, while the top latex layer contours gently around the stomach, shoulders, and spine. This comfort layer is also easy for heavyweight combination sleepers to move around on. However, it doesn't provide enough cushioning to keep side sleepers who are over 230 lbs comfortable.
Heavyweight sleepers won't get the support they need on the Nectar bed. It's a memory foam mattress, so they'll probably sink in more easily, regardless of sleeping posiiton.
Lightweight Sleepers (< 130 lbs)
Lightweight back sleepers will get the support and comfort they need on both the Avocado and Nectar mattresses, but neither of these beds is soft enough to support lightweight side sleepers. The Avocado bed has enough support to keep stomach sleepers under 130 lbs comfortable throughout the night, but stomach sleepers will likely experience uncomfortable sinkage in this bed.
Differences In Mattress Construction
The Avocado mattress is made of 2 Dunlop latex layers and one innerspring coil layer and is 11″ tall—but this mattress is 13″ tall if you add Avocado's optional pillow top. The Nectar bed is an all-foam mattress made with gel-infused memory foam and is 12″ tall.
| | |
| --- | --- |
| Avocado Mattress Materials | Nectar Mattress Materials |
| Organic cotton and wool cover | Breathable quilted cover |
| Dunlop latex layer (2″) | Nectar comfort layer (2″) |
| Pocket coil layer (8″) | Dynamic support layer (3″) |
| Dunlop layer base (1″) | Foam base layer (7″) |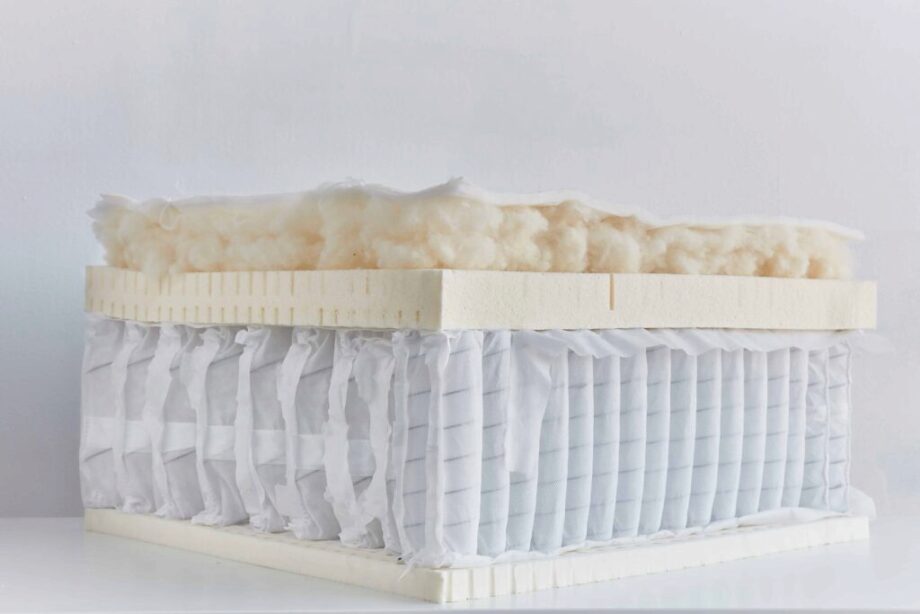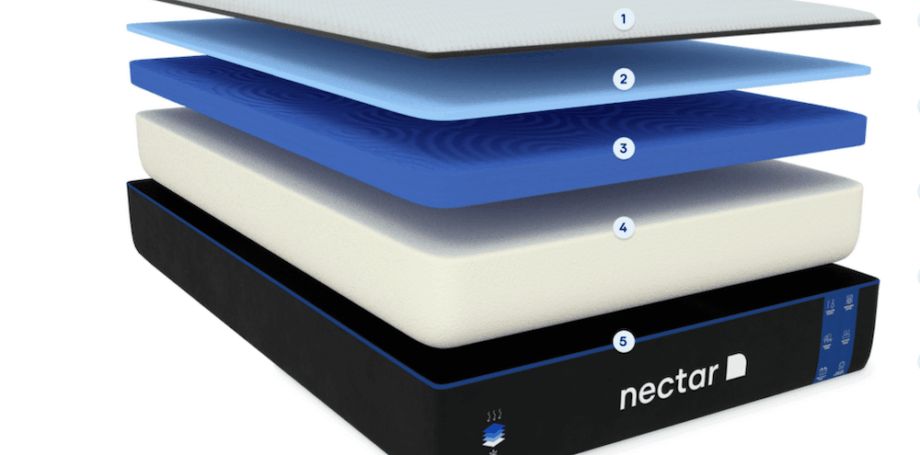 Cover
The Avocado mattress comes wrapped in a cover made from 100 percent organic GOTS-certified cotton with a layer of moisture-wicking wool underneath. The Nectar mattress is topped with a breathable cover with quilted memory foam.
Comfort Layers
The comfort layer of the Avocado mattress is made of natural, hypoallergenic Dunlop latex that lightly cradles the curves of your body. The Nectar's comfort layer is made of 3″ of gel-infused memory foam that allows your body to sink into the surface of the mattress as you sleep.
Support Layers
The Avocado mattress is built with a support layer of 8″ of individually-wrapped pocket coils designed with three ergonomic zones to support the natural shape of your spine. The Nectar's support layer is built of 3″ of adaptive foam and a 7″ layer of durable foam with reinforced edge support.
Avocado vs. Nectar Pricing
| | | |
| --- | --- | --- |
| Size | Avocado Prices | Nectar Prices |
| Twin | $1099.00 | $599.00 |
| Twin XL | $1199.00 | $769.00 |
| Full | $1399.00 | $899.00 |
| Queen | $1599.00 | $999.00 |
| King | $2099.00 | $1299.00 |
| California King | $2099.00 | $1299.00 |
For exclusive discounts see our Nectar mattress coupons.
Avocado vs. Nectar Mattress Performance Ratings & Differences
Temperature
The Nectar bed is infused with a temperature-regulating gel, so it sleeps cool for an all-foam bed—but the Avocado bed will provide a cooler sleeping experience. Latex naturally stays cool to the touch and the innerspring coil layer helps body heat move through the bed.
Motion Transfer
If you sleep with a partner or a pet, you'll want a bed that isolates motion. The Nectar mattress is made of thick foam layers that stop movements from making their way from one side of the bed to another, so you can sleep through the night even if your partner tosses and turns.
Edge Support
Edge support is will keep you stable and safe from slipping off the side of the bed if you sit or sleep near the edges or need extra help getting in or out of bed. When you sit on the edge of the Nectar mattress, you may feel a slight sinking feeling. The Avocado bed, however, stays firm and sturdy no matter how close you get to the edges of the mattress.
Pressure Relief
If you sleep mostly on your side or have sore joints, you'll want a bed with strong pressure relief to take the weight off these tender areas of your body as you sleep. The Avocado bed will subtly contour around your curves, but the Nectar's multiple plush layers of memory foam will allow your joints to sink deeply into the bed to provide deep pressure relief.
Pain Relief
A bed that provides the right amount of support and pressure relief for your body type or sleeping position will help keep your spine in a neutral posture and prevent back pain. The Avocado bed's firm and bouncy innerspring core provide a sturdy sleeping surface to keep back and stomach sleepers in a healthy position throughout the night, while side sleepers should opt for the Nectar's plush pressure relief.
Durability
Both of these beds should last between 7 and 10 years. The Nectar is made of high-quality materials, but typically latex and hybrid mattresses last longer than all-foam beds. The difference in durability is only a year or two, but the Avocado has an edge over the Nectar in terms of durability.
Shipping, Returns, & Warranties
Avocado
The Avocado mattress comes with free shipping to all 50 states, but you can pay an extra fee for in-home delivery and setup service. It comes with a 100-night sleep trial and free returns to all 50 states—including Alaska and Hawaii—if you sleep on the bed for more than 30 days and still don't think it's a good fit for you. If you keep the bed, it comes with a 25-year warranty.
Nectar
The Nectar mattress comes with free shipping within the contiguous United States, but you can ship to Alaska or Hawaii for a fee. This bed has a year-long sleep trial period and a warranty that lasts as long as you have the bed.
Other Models Available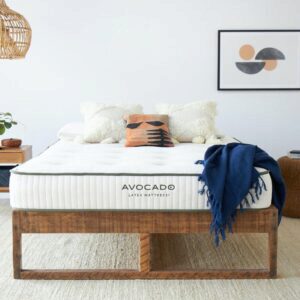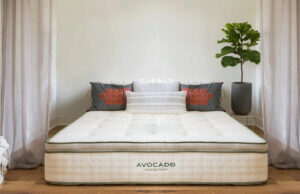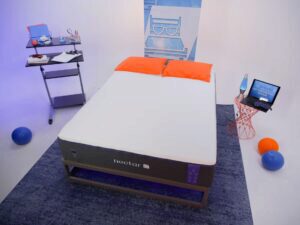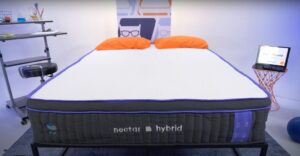 Our Final Take
Back and stomach sleepers of all types will benefit from the firm and springy support of the Avocado mattress. This latex hybrid bed also has other perks that set it apart from the Nectar—it is hypoallergenic, temperature regulating, and holds up slightly longer over time.
The Nectar, however, is a better pick for lightweight and average-weight sleepers who sleep on their sides, need deep pressure relief or prefer the plush feel of an all-foam bed. This bed also has better motion isolation, making it a good pick for couples.
Avocado & Nectar FAQs
How long does it take an Avocado bed to settle?

The Avocado mattress is sold as a bed-in-a-box, meaning that your Avocado bed will arrive compressed in a box. You can sleep on your new mattress right away, but it may take up to 24 hours for your new mattress to expand to its full shape and size.
How long does it take your body to adjust to a new mattress?

It usually takes up to 30 days for your body to adjust to your new mattress and for the mattress to break it, but it can take up to 60. It may take longer for your body to adjust if you are switching to a new type of mattress also.
How often should I flip my Nectar mattress?

If you're used to traditional innerspring beds, you may be used to flipping your mattress. However, you should never flip your Nectar mattress or you won't benefit from the bed's top plush comfort layers. You can rotate the mattress every 2-3 months to keep wear evenly across the bed.