Duvet vs Comforter
•
Disclosure: By clicking on the product links in this article, Mattress Nerd may receive a commission fee at no cost to you, the reader. Read full disclosure statement.
What is a Duvet Cover?
A duvet cover is a protective sleeve that's designed to encase a duvet or comforter, just like a pillowcase on a pillow. Duvet covers can be changed for seasonal or stylistic reasons. Duvet covers protect a duvet or comforter to keep it clean. They typically have zipper, loop, button, or tab closures, can be easily removed and cleaned and are compact for storage.
Duvet vs. Comforter: Differences and Similarities
It's a common misunderstanding that a duvet is the same thing as a comforter, but the two bedding types have several key differences.
A comforter is typically made of a more durable, styled outer fabric than a duvet insert. As a result, comforters do not require covers and can be used on their own.
Duvets, on the other hand, are most often found in simple, white designs and are made to be encased in a duvet cover that enhances their aesthetic.
Here are the key differences between a duvet and a comforter:
Outer Cover

—A comforter is almost always made with a solid color or patterned outer fabric, while duvet inserts typically are simply white.

Variety

—Comforters come in a wide variety of styles, patterns and colors, and duvets do not. However, both options come in many sizes, ranging from Twin to California King.

Shell

—You can easily change the look of a bed that's dressed with a duvet by changing its duvet cover. A comforter is designed with its cover already on it.

Feel

—Duvets tend to be fluffier than comforters, and comforters tend to be flatter. Both types, however, come in a wide variety of fills and quality levels.

Cover Laundering

—A duvet cover can be easily removed for laundering, but both a duvet insert and a comforter can be challenging to clean.

Cost

—Duvet inserts almost always cost less than comforters, especially in down alternative styles.
Here are the key similarities between a duvet and a comforter:
Laundering

—You'll inevitably run into trouble laundering either bedding type. Comforters and duvet inserts are difficult to wash at home and most manufacturers recommend care from a dry cleaner.

Fill

—Both duvets and comforters are filled with down or synthetic fibers.
Pros and Cons of a Comforter
Pros:
No Additional Cover Needed—The additional purchase of a cover is not required. See our Best Comforters for top picks.
Available in Sets

—Comforters in special designs, patterns, and colors are almost always made in sets by bedding manufacturers. This means you could purchase matching pillows to complete the look of your bed.
Cons:
Not Easy to Change

—Unlike duvet covers, which can be easily changed, a comforter must be fully replaced to change the look and feel of the bedding.

May Go Flat with Time

—The stuffing in a comforter will inevitably wear down with time. When this happens, you'll need to replace it.

Challenging to Clean

—Some comforters are machine washable, but most are dry-clean only.
Pros and Cons of a Duvet
Wondering whether a duvet and duvet cover set is right for you? Consider the pros and cons before committing to this bedding style.
Pros:
Covers are Easy to Clean

—A duvet's removable cover makes it easy to clean, and duvet inserts rarely get dirty since they're tucked away inside the cover.

Ideal for Changing Styles

—If you're not one to settle on a pattern, color, or decor style, duvet covers can be easily switched up at a moment's notice.

Affordable

—Duvet covers and inserts tend to be more affordable than comforters.

Fluffier—

Duvets are typically fluffier than comforters and are available in more fill choices.
Cons:
Requires an Additional Piece

—If you purchase a duvet insert, you'll need to purchase a duvet cover to protect it and add style to your bedding.

May Move at Night

—Duvet inserts can bunch up easily at night, even with interior ties that attach it to the duvet cover

Insert Cleaning

—Duvet inserts are also typically dry-clean only.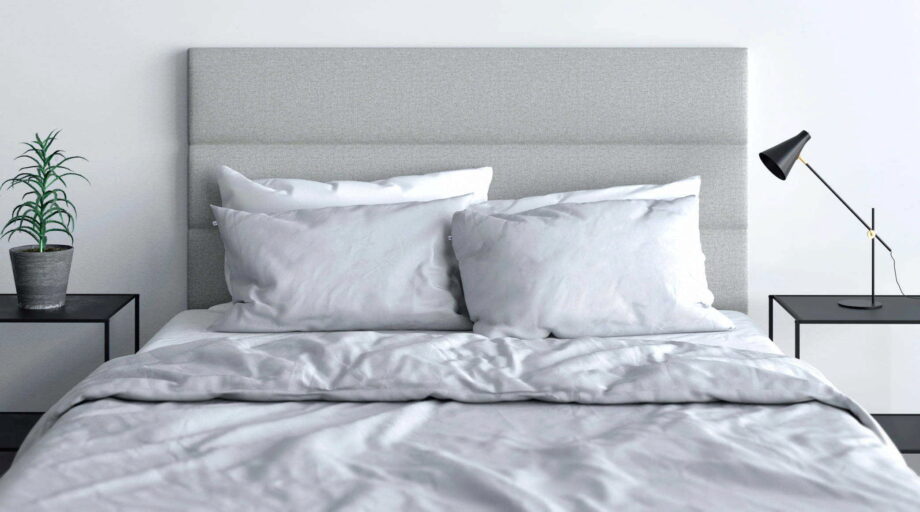 Duvet and Duvet Cover Buying Tips
If you've decided that a duvet insert and duvet cover are the right choice for you, keep these shopping considerations in mind:
Duvet Cover Fabric

—Like bed sheets, duvet covers can be made from cotton, linen, flannel, bamboo, polyester and more. The right material depends on your needs. Cotton duvet covers, for example, can have moisture retention issues but are very comfortable to most sleepers.

Duvet Cover Weave

—A weave is how a fabric is woven together to form a textile, and weaves feel and perform differently. Popular duvet cover weaves include stain, jersey, sateen, twill and percale.

Duvet Closure Style

—A duvet cover will have an opening on one side that allows you to place the duvet insert inside. The cover can be sealed with buttons, clasps, zippers and more, so choose the one that has the look or convenience factor you want.

Duvet Cover Feel

—If you don't plan on using a top sheet (a flat sheet isn't necessary with a duvet set, as the primary purpose of a top sheet is to protect the comforter from body oils, dust, and more), the feel of the duvet cover will be even more important. The best-performing covers have a thread count of 300 to 500.

Duvet Insert Fill Power

—Fill power is defined as how much volume an ounce of down has. High-quality inserts will feature a baffle-box construction. This means that there's an internal fabric that will help the duvet fill remain evenly spread out. Fill power is important too, and fill powers above 600 are best for the winter months, while fill powers below 600 are best for the summer months.

Down vs. Down Alternative Duvet Inserts

—Duvets filled with down contain the plumage of ducks or geese, and they're ideal for insulation and a lightweight feel. Down alternative duvets are filled with synthetic fibers and are more affordable, easier to maintain, and best for people who are allergic to authentic down.
Ready to buy? Here are our recommendations for the Best Duvet Covers of 2020.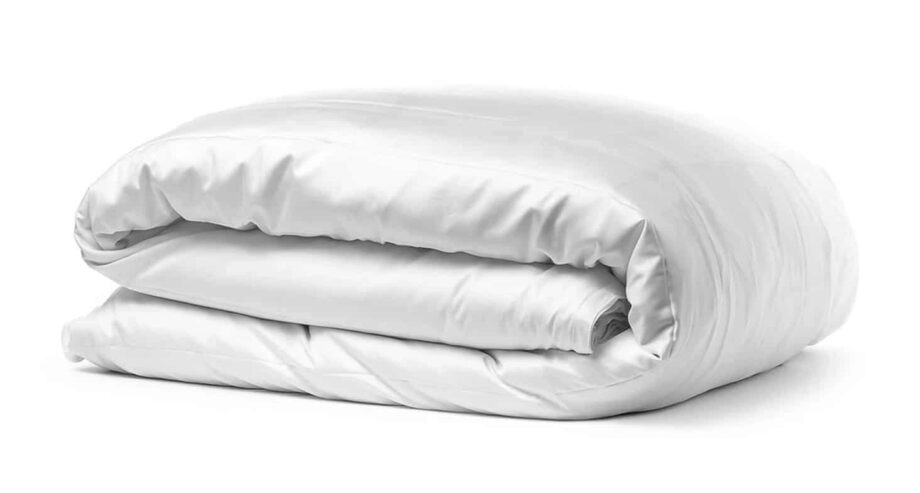 Comforter Buying Tips
Learning toward a comforter? Here are some tips to keep in mind when shopping:
Comforter Material

—The exterior of a comforter, or shell, can be made from cotton, wool, silk or a cotton-polyester blend. These materials each have their pros and cons (cooling, breathability, warmth, etc.), so

learn about each type

before deciding on the right one for you.

Comforter Fill Power

— The higher the fill power, the more volume and warmth the comforter can offer. Comforters with high fill power are also more expensive.

Comforter Stitching Style

—This is important because stitching style affects how easy the comforter is to clean as well as how well it keeps you warm, how long it lasts, and more. Familiarize yourself with the pros and cons of the style options, which include gusseted, sewn-through, baffle stitching, and diamond-quilted.

Comforter Design—The beauty of a comforter is that they're sewn in one piece, but this means that the exterior cover should be a pattern or color you're happy with for many years to come, especially if you plan on spending a significant amount on your bedding.
Duvet vs Comforter: Which is Right for You?
What goes on top of your mattress, sheets and pillows is just as important as the rest of your bedding. The top layer of your bed can make a difference in how well you sleep, how much you enjoy your bedroom and how attractive a guest bedroom appears to visitors. Your two main options for toppers are duvets and comforters, so how do you know which type of bedding right for you?
The choice between a comforter set and a duvet cover set comes down to convenience and style. If you like changing up the look of your bedroom, a duvet cover and duvet insert makes it easy to change up the look of your bedspread on the fly. If you're the decisive type and already known what you want your bed covering to look like for years to come, comforters have a simpler, one-piece design and may make achieving a matching, layered look more accessible because most brands sell coordinating pillow shams.
At the end of the day, don't get caught in the weeds of the differences between these two bedding styles. The names are often used interchangeably in the United States, and despite a few key differences, both duvets and comforters are designed to offer an attractive, comfortable exterior to your bed.