Lovesac Review
•
Disclosure: By clicking on the product links in this article, Mattress Nerd may receive a commission fee at no cost to you, the reader. Read full disclosure statement.
The Lovesac store sells home furnishings including individual pieces that are riffs on old school furniture.
The Lovesac looks just like a bean bag. It isn't. It is not filled with beads or beans. It is filled with recycled foam remnants called Durafoam. The Lovesac looks familiar, but it feels completely different from the hard bean bags from the 1970s.
The foam fill called Durafoam is a proprietary mix of recycled, virgin memory foam. Softer pieces hug the body and firmer pieces support your body whether you are lying down or sitting up. You don't need to dig your booty into or shove your shoulder into it, hoping that it shapes to your body. Ease back. Let the foam do the work.
You can buy the Lovesac in six different sizes. You will choose from 250+ removable and washable covers. The sack has double overlock stitching for strong seams and double zippers to keep the filling where it belongs. There are also tie loops on the sack to secure it to the sack cover.
Also, the guts are made from foam and ship in smaller boxes than their actual size. The Lovesacs are compressed to ⅛ of its actual volume for shipping.
I want to mention here that Lovesac also sells sectional furniture called Sactionals. I will talk more about how you can easily add or subtract sections. Just know that the Sactionals are also guaranteed for life. Also, Lovesac bills the Sactionals as the last couch you will ever need.
Why I love the Lovesac
When I was a kid, sitting on a bean bag was fun. At that age, you never think about it as a piece of furniture. You jump on it and throw it around. If it happens to split and the filling spills all over the place, even better!
The Lovesac is different. It's the bean bag for the generation that loves everything "luxe" and "elevated" and "using the latest technology." It doesn't use beans or beads but is filled with Durafoam. The moldable, adaptable foam gives it an airy feel. Yet the foam inside still supports body weight.
The hand-sewn cover is washable and Lovesac promises it will never shrink, fade or pill. You can also change out the cover to any of the 250 different fabric or leather covers they offer.
And the largest size is huge. The BigOne is so big, you can fit four people on it. You can cuddle with your honey, your kid and a dog.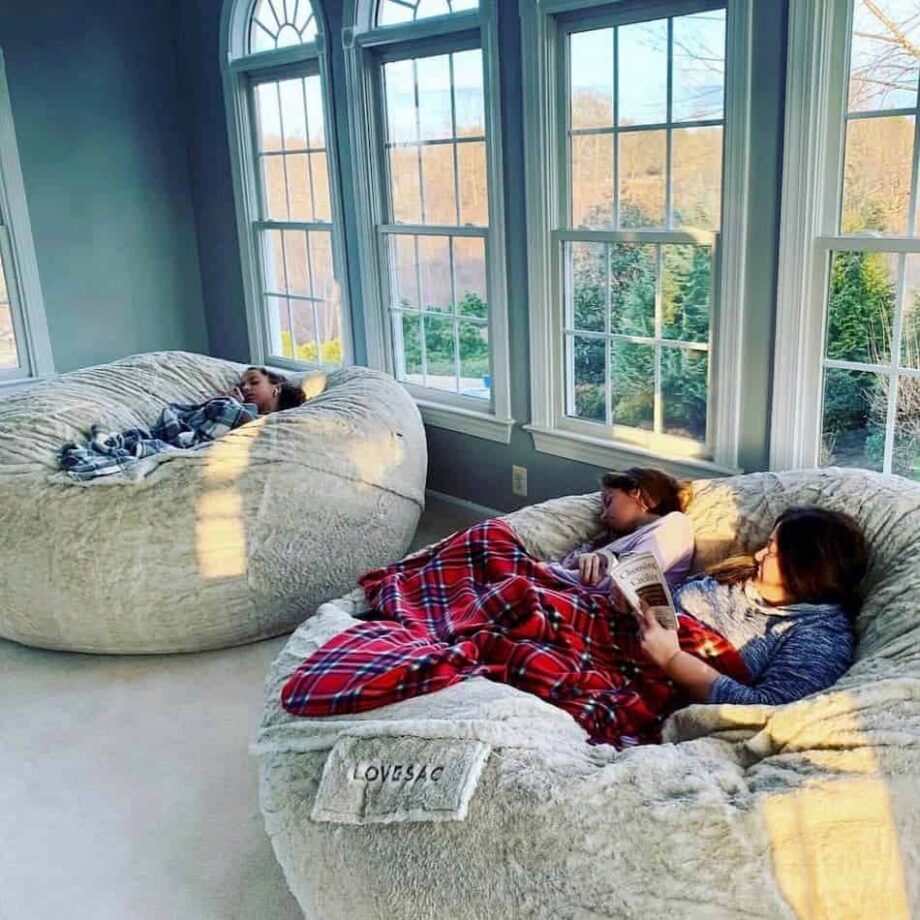 Sizes and Pricing
| | | | | |
| --- | --- | --- | --- | --- |
| MODEL | CAPACITY | SIZE | WEIGHT | PRICE |
| BigOne | Fits 4 people | 6'W x 4'1"H | 95 lbs | $1300 |
| Supersac | Fits 3 people | 5'W x 3'10"H | 75 lbs | $1000 |
| Moviesac | Fits 2 people | 4'W x 3'7"H | 45 lbs | $850 |
| Pillowsac | Fits 2 people | 4'6"W x 6'3"L | 36 lbs | $650 |
| Citysac | Fits 1 person | 3'W x 3'3"H | 35 lbs | $550 |
| Gamersac | Fits 1 person | 2'6'W x 2'8"H | 22 lbs | $350 |
Warranty
The Lovesac insert has a lifetime warranty. The standard leather covers have a 3-year warranty. The top-grain leather covers have a 5-year warranty. All non-leather covers have 3-year warranties.
The hard parts of the Sactionals have a lifetime warranty. The standard soft, padded pieces have a 3-year warranty. The Down/Lovesoft padded pieces have a 5-year warranty. The covers have the same warranty lengths as the Lovesac covers.
The warranties don't cover accessories or any damage done by pets or while being used in a rental or commercial property. It doesn't cover fading, failing to wash them properly, burns, odors, mold, ink stains, water or fire damage, natural disasters or bodily fluids.
Where to buy
You can purchase Lovesacs and Sactionals at Lovesac stores or on the company website. Lovesac also sells pillows and blankets.
They do offer promotional financing through the Lovesac Synchrony credit card. The company does offer specials of one type or another all the time.
Oh yeah, you can select "Bill Me Later" and PayPal at checkout. If you qualify, you can make interest free payments for six months.
Shipping and returns
When you order from the Lovesac website, shipping is free in the lower 48 states. You will pay to ship to Alaska, Hawaii, and Canada.
You can return Lovesac items—that aren't special orders, personalized or final sales—within 60 days for a full refund (minus shipping costs). There is a 15% restocking fee. You will have to pay to return anything from Canada. The company will send return shipping boxes to you to send back Sactionals seat or side inserts.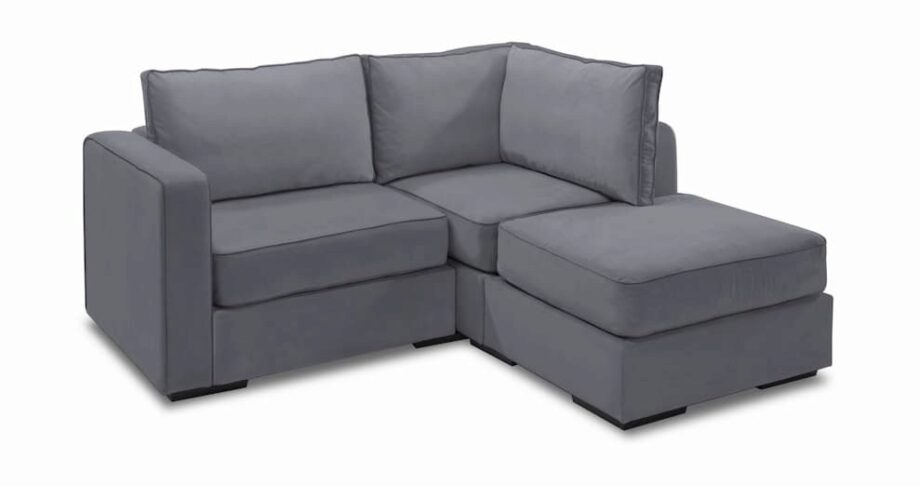 Other Products
I would be selling the brand short if I didn't specifically mention their sectional furniture called Sactionals and their Sac Shrink Kit.
Lovesac Sactionals
Lovesac is also known for specializing in a patented modular furniture system called "sactionals." Yes, they are cubes of furniture that you can arrange into couches, loveseats and large seating areas depending on how many cubes you choose.
The cubes come in seats and sides. Seats are the actual couch or padded seat sections. The Sides are made of solid hardwood and covered in fabric using 100% recycled plastic. They provide the backing that helps you arrange the furniture. You will pay according to how many of each you purchase.
You can also customize your Sactionals with the fabric and color of your choice. And then you are off to the races. You can arrange and rearrange sectionals quickly and easily. You can add and subtract sections at any time. The sections lock together with wood and steel clamps, so you don't have to worry about them coming apart.Even if you want to change the look of the sections, you can quickly and easily swap out the hand-sewn, machine washable fabric covers. (Those are sold separately.) Because Sactionals are versatile size-wise and the way they look, Lovesac believes you'll never need another couch.
Here's a rundown on the pricing for the sactionals:
| | |
| --- | --- |
| PIECES | FULL PRICE |
| 2 seats + 4 sides | $2000 |
| 3 seats + 4 sides | $2520 |
| 3 seats + 5 sides | $2760 |
| 4 seats + 4 sides | $3040 |
| 4 seats + 5 sides | $3280 |
| 5 seats + 5 sides | $3800 |
| 6 seats + 6 sides | $4560 |
| 6 seats + 8 sides | $5040 |
| 7 seats + 8 sides | $5560 |
| 8 seats + 10 sides | $6560 |
| 10 seats + 12 sides | $8080 |
Here are the dimensions of all of the seat pieces:
Seat Frame

35″W x 29″D x 18″H

Seat Cushion

35″W x 29″D x 7.7″H)

Back Pillow

35″W x 2.9″D x 22.4″H
Here are the dimensions of the side pieces:
Side Frame

35″W x 6″D x 28.5″H
Sac Shrink Kit
I have to applaud a company that sells you a way to shrink and transport A PIECE OF FURNITURE. The kit comes with three big plastic bags and a duffel bag. You put the Lovesac into one of the plastic bags and then use a shop vac (not included) to suck out all of the air from the Durafoam inside of the Lovesac. Then you shove it into the duffel bag.
Easy as that. Pick it up and take it to your next place. The Sac Shrink Kit for the Pillowsac or Citysac runs for $65.
Lounging Experience (Lovesac & Sactionals)
If the Lovesac ever feels flat, all you need to do is rough it up for a few minutes, turning and fluffing it up, to help it return to its full shape. Customers say Lovesacs are kind of a no-brainer for dorm rooms, family rooms, and TV rooms.
The Sactionals come filled with either the Durafoam shredded foam or a combination of down and Lovesoft foam.
Sactionals are great for people just starting out, that need versatility and furniture that is easily transportable.
Pros & Cons
PROS
Double zippers on the Lovesac insert keep the filling inside the sac
6 different LoveSac sizes
11 different Sactionals configurations
Free shipping on Lovesacs and Sactionals
Frequent sales
5% discount for active and retired military
Easy to change the color of Sactionals by changing the covers
150+ of your cover fabric choices washable
250+ choices of cover fabric
Lifetime guarantee
CONS
Limited style designs for the Sactionals
Lovesac can flatten out over time even if it is guaranteed for life
Some customers felt the hard pieces of the Sactional while seated or sleeping on it
Some customers complained about poor customer service and delivery experiences
Who is the Lovesac Best For?
I kind of want to say Lovesacs are best for people who love a good cuddle. They're made for lounging and relaxing. But because they come in sizes, you can enjoy them with your loved ones and fur babies or just kicking back solo.
Who are the Sactionals Best For?
The Sactionals are great for people just starting out in life and buying their first furniture. You can buy as many or as few pieces as you need to fit your space. They're also great for growing families, those needing more seating because you can easily add sections.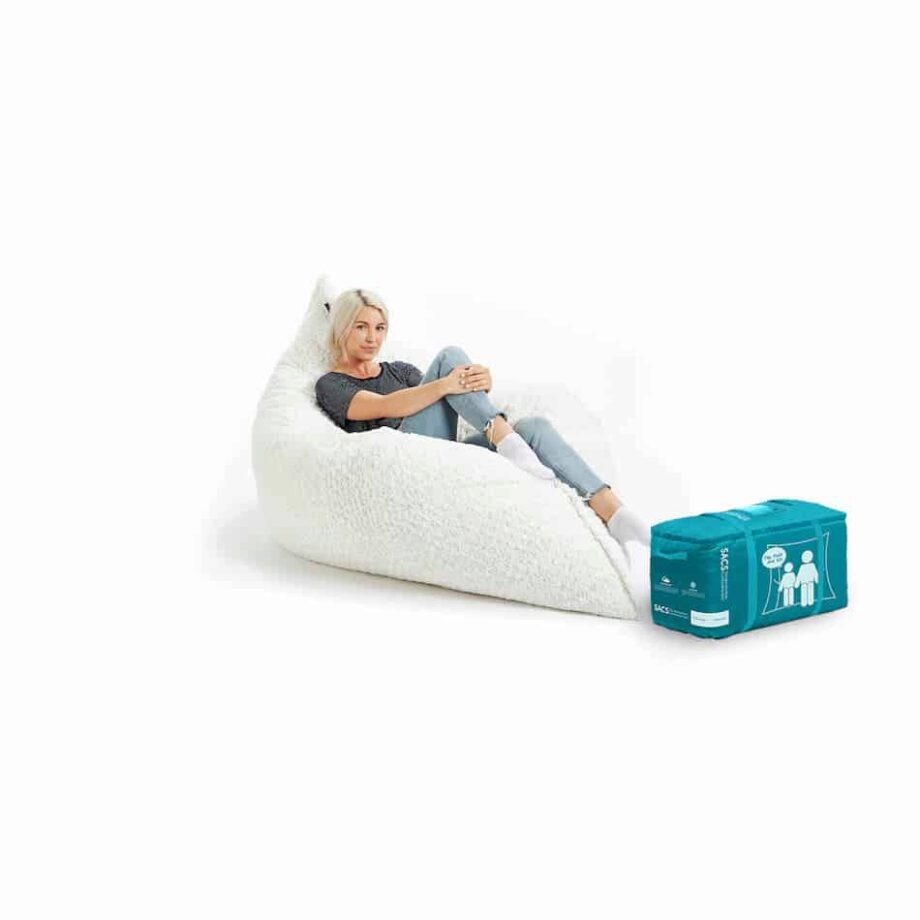 Conclusion
I do appreciate how much thought Lovesac put into reimagining simple furniture concepts. Both the Lovesac and the Sactionals feature upgrades that either elevate the piece (Lovesac foam) or make it easier to use (Sactional design concept).
The Lovesac is stuffed with different types of foam. It should feel comfortable. It is also moldable and easily movable. The Sactionals are easy to add to, subtract from or change the look of using removable fabric or leather covers. They're also portable. You can take the furniture apart and transport the pieces. You will never have to navigate tight corners in a small living space.
Lovesac products are customer friendly. But the lifetime guarantee only applies to certain parts of the Lovesac or the Sactionals. Lovesac sells longevity and ease of use, but make sure you are using each the way they are meant to be used.