MyPillow Mattress Topper Review
•
Disclosure: By clicking on the product links in this article, Mattress Nerd may receive a commission fee at no cost to you, the reader. Read full disclosure statement.
The Mattress Nerd's Take: Here at Mattress Nerd, we're big fans of great-value products. The MyPillow topper's hefty price tag definitely gives us pause, but we think the topper could be a great fit for those searching for a major bed revival or simply trying to spruce up a tired mattress. It'll work best for those who like firmer beds, as the two foam layers in the MyPillow topper are known to be a bit firmer than traditional pillow-top or memory foam toppers.
MyPillow's new foam mattress topper has an all-foam, multi-layered foam construction complete with a phase-changing cover designed to deliver cooling comfort throughout the night. But is it worth the hefty price tag?
The MyPillow company started by manufacturing—this will shock you—pillows. Backed by a popular product and peppy advertising, MyPillow has done fairly well for itself thanks to their enthusiastic CEO, the guy behind the fun infomercials. The pillows sold well and the company has now branched out, using their patented pillow foam to make mattress toppers.
The company CEO and inventor of MyPillow personally guarantees that this foam topper will turn your bed into the "most comfortable bed" you will own. If you're looking for a mattress pad or topper that's on the firm side to add a little life to your bed or help with back pain, this could be the answer.
But while online reviews rave about the topper's ability to ease pain on pressure points and regulate temperature, it comes at quite a price: the King and California King sized toppers each cost $499.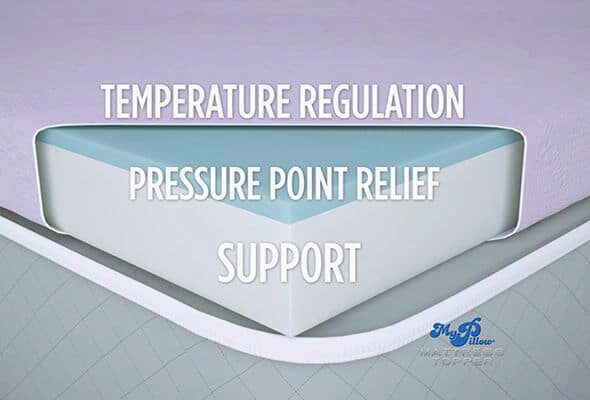 What Makes the MyPillow Mattress Topper Stand Out?
Pros
Cons
Complaints that the topper is too firm
Expensive given how long customers say it works for them
Complaints about quality control with materials
Brooklyn Bedding Gel Swirl Mattress Topper
What is the MyPillow Mattress Topper Made Of?
Top Layer: MyPillow® foam
The top layer is made of the patented MyPillow® foam. This top layer is a bit softer than the second layer, so it curves around body parts and offers a more cradling feeling.
Bottom Layer: Transitional Foam
The second layer is thicker and firmer. It is a transitional foam that serves as a buffer between you and the mattress, but also distributes body weight evenly to ease and relieve pressure points. Overall, the two layers of foam mimic the construction of a decent memory foam mattress.
Phase-Changing Cooling Cover
The topper cover is made with phase-change material for temperature regulation. Phase-change material has a cooling effect. It absorbs heat (and softens) when you're too hot, and absorbs cool air (and firms up) when you're too cold. If you're looking for a cooler sleeping experience, the MyPillow topper will help keep you at a neutral temperature throughout the night.
While the cover has materials that will help regulate your body temperature, it works best for people who don't need a lot of help. The material in the topper cover can't solve a big problem, like if you wake up in a sweat.
What does the MyPillow Mattress Topper Feel Like?
When you put your hands on the MyPillow mattress topper, you should expect to feel a relatively firm foam design. That design will be good for back sleepers and some stomach sleepers, because firmer foam is good for supporting the hips and shoulders and distributing weight evenly across the mattress. Side sleepers should steer clear of any firm-feeling topper, because such toppers likely won't provide the pressure relief that's necessary for a good night's sleep.
Since the topper is made of foam, it shouldn't feel too cool to the touch. The material isn't especially breathable, and the phase-changing material in the cover doesn't really kick in until heat is generated on top of the topper. A major selling point of the MyPillow topper are the four straps – one on each corner of the topper – designed to hold the layered-foam piece in place on a bed.
My Pillow Mattress Topper Pricing and Specs
| | | |
| --- | --- | --- |
| BED SIZE | TOPPER DIMENSION | REGULAR PRICE |
| Twin | 74.5"L x 37.5"W x 3"H | $284.99 |
| Twin XL | 79.5"L x 37.5"W x 3"H | $284.99 |
| Full | 74.5"L x 53.5"W x 3"H | $359.99 |
| Queen | 79.5"L x 59.5"W x 3"H | $424.99 |
| RV Queen | 73.5"L x 59.5"W x 3"H | $499.99 |
| King | 79.5"L x 75.5"W x 3"H | $499.99 |
| Cal King | 83.5"L x 71.5"W x 3"H | $499.99 |
MyPillow Mattress Topper Policies
Shipping
If you're ordering from the MyPillow website, you can expect your order to arrive via FedEx in 7 to 10 business days. Shipping will cost $29.95, and financing is available for orders over $200.
Sleep Trial
MyPillow's mattress topper return policy says you'll have 60 days to try the mattress topper. If you return it, MyPillow will refund the purchase price minus the cost of shipping your product back. But keep in mind, you'll have to wait 30 days to get your refund.
Warranty Coverage
MyPillow's warranty is a limited 10-year warranty for any problems with workmanship or materials. They company will replace the bad product with something of equal or greater value. MyPillow will also pay for all of the shipping.
MyPillow Mattress Topper FAQs
Is the MyPillow mattress topper made in the U.S.?
Yes, all MyPillow products are manufactured in Minnesota.
Whatu2019s the difference between a Queen sized mattress topper and an RV Queen size mattress topper?
The only difference between a Queen sized mattress topper and an RV Queen sized mattress topper is that the RV Queen is just a bit shorter and designed to fit more readily in the small space of a camper. The width and height of the topper stays the exact same.
Who founded MyPillow?
If the name Mike Lindell rings a bell, you already know the answer! The inventor of MyPillow has embarked on a multi-year marketing strategy thatu2019s included TV infomercials, newspapers and radio ads.
The Nerd's Final Take
You might be looking for a mattress topper because you're waking up with soreness in your back or hips. You may be sleeping too hot. You may like a squishier feel to your sleep surface, but still want and need the support you get from your mattress underneath. You may just need something to get your old mattress through another couple of years.
The MyPillow Mattress Topper can be the answer to all of those issues. The temperature-regulating phase change material and multi-layer foam design of this mattress topper add up to a luxurious, cooling feeling that can help certain sleepers get their best sleep. Moreover, the removable cover and contouring foam of the memory foam topper can move you closer to optimal sleep.
Still, we've seen complaints about quality control in the materials and complaints that the mattress topper is a bit too firm to properly cradle pressure points. If you're tired of trying out plush down alternative toppers and pure memory foam mattress toppers, the MyPillow topper might be the one for you.
Moreover, a King size MyPillow Mattress Topper will cost up to $500. If you have major problems or a mattress older than 7 years, it might be best to just start looking for a new mattress.
See more: Best Mattress Toppers for Back Pain