Novaform Mattress Reviews
•
Disclosure: By clicking on the product links in this article, Mattress Nerd may receive a commission fee at no cost to you, the reader. Read full disclosure statement.
Novaform has eight different mattress models. They vary in their construction, with some different cooling features between models, and that is mainly how they vary in how firmness they feel from one customer to another.
Novaform manages to adapt firmness without a wholesale change in materials, and therefore, without increasing their costs. They change how firm or soft the mattress is by reordering the medium-grade foam layers closest to the sleeper.
It's a big enough line to appeal to a lot of different types of sleepers, but only those who want or are used to the unique feel of memory foam. All of these mattresses are made exclusively of memory foam.
The medium mattresses are the So Fresh and Overnight Recovery. The medium-firm models are the Comfort Grande or the Gel Memory Foam. The firm mattress is Advanced Back Support.
The Serafina Pearl actually comes in three firmness levels—plush, medium-firm and firm.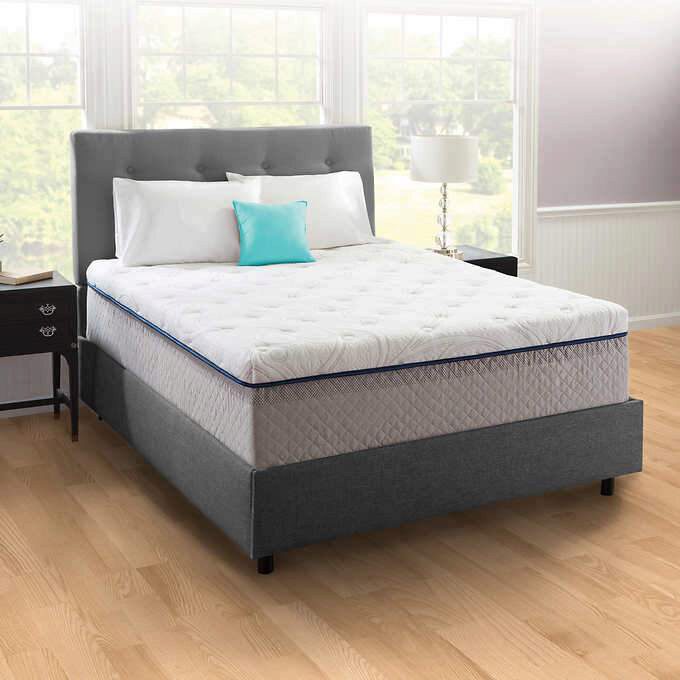 Type: Memory Foam
Price Range: $449.99 to $799.99
Best for: Hot sleepers since it has several features to keep you cool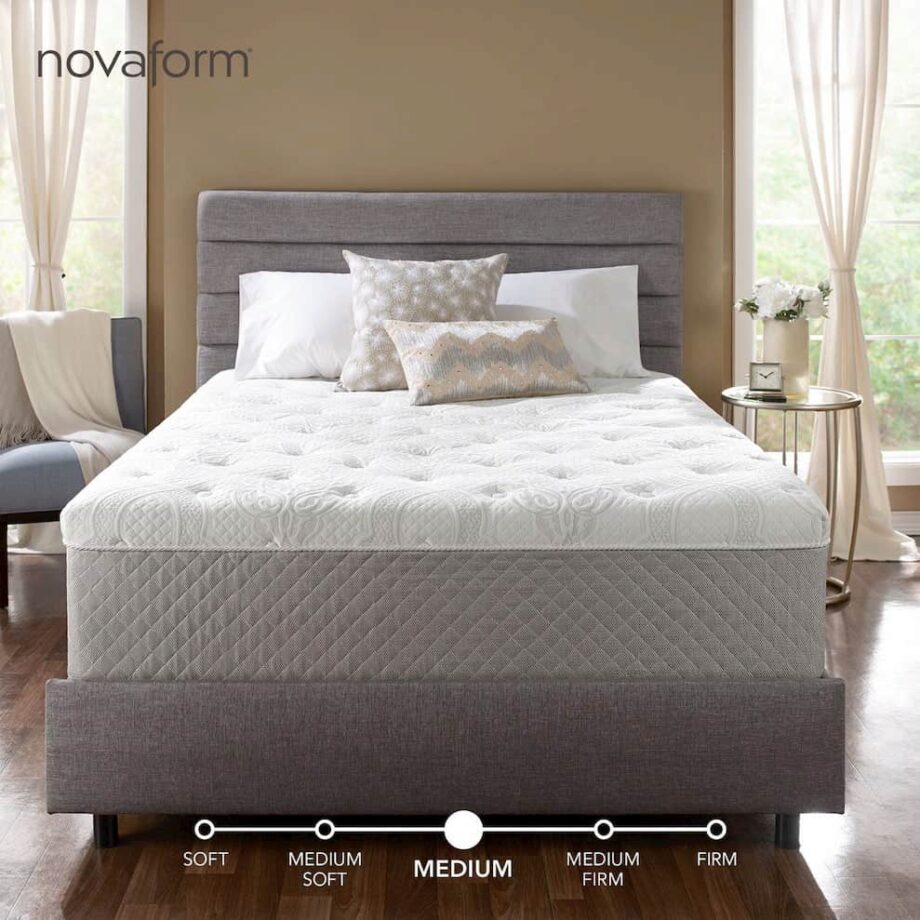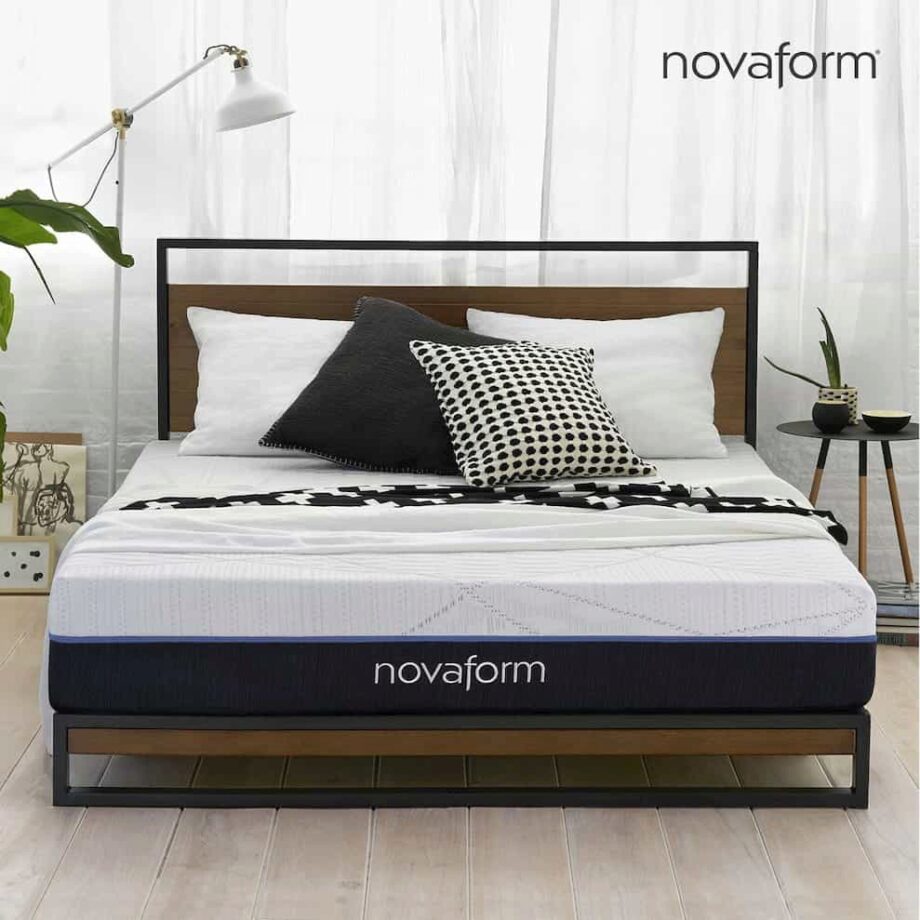 Type: Memory Foam
Price Range: $399.99 to $599.99
Best for: People who insist on clean and sanitary sleep space due to features to resist stains, mold, bacteria, etc.
Comfort Grande Might Be Good For You If….
You are a side sleeper

You sleep hot
Serafina Pearl Might Be Good For You If….
You are a side or combination sleeper

You want this model and to be able to choose the firmness of that model
So Fresh Might Be Good For You If….
You have allergies and need extra help resisting mold, bacteria, and allergens

You have back pain
Best Novaform Mattress by Sleeping Position
Side Sleepers need, and should like, some give to their mattress. Anything to relieve pain and pressure on hips and shoulders. In this case, a medium mattress is probably your best bet. Take a look at the Overnight Recovery and So Fresh models.
Back Sleepers need something a little firmer. The Back Recovery models and the Serafina Pearl are the firmest in the Novaform stable. Since these are memory foam mattresses, they should give you the contouring you need around your booty.
Stomach Sleepers usually do well with a medium-firm option. Stomach sleepers are the toughest to accommodate because of the competing needs, i.e. contouring for the tummy, but can't collapse under the hips. I'd say give the Comfort Grade of the Serafina Pearl in medium-firm a try.
Pros and Cons of Novaform Mattresses
PROS
Comes in three different firmness levels
Memory foam mattresses conform to the body and isolate motion
Cheaper than similar mattresses in this category
CertiPUR-US® certified foams (environmentally friendly)
Non-pro-rated 20-year warranty from Costco
Free returns to any Costco for a full refund
CONS
You may get too hot sleeping on this memory foam
Foam can swallow heavier sleepers, making it hard to maneuver
| | | | | | |
| --- | --- | --- | --- | --- | --- |
| MODEL | TWIN | FULL | QUEEN | KING | CAL KING |
| Comfort Grande | $449.99 | $499.99 | $599.99 | $799.99 | $799.99 |
| Serafina Pearl | N/A | N/A | $599.99 | $949.99 | $949.99 |
| Serafina Pearl Firm | N/A | N/A | $799.99 | $949.99 | $949.99 |
| Serafina Pearl Plush | N/A | N/A | $799.99 | $949.99 | $949.99 |
| Gel Memory Foam | $199.99 | $249.99 | N/A | N/A | N/A |
| So Fresh | $399.99 | $449.99 | $499.99 | $599.99 | $599.99 |
| Overnight Recovery | N/A | N/A | $699.99 | $799.99 | $799.99 |
| Advanced Back Support | N/A | $499.99 | N/A | N/A | $699.99 |
Novaform Dimensions
Twin

75" L X 39" W

Full

75" L X 54" W

Queen

80" L X 60" W

King

80" L X 76" W

Cal King

84" L X 72" W
| | | | | |
| --- | --- | --- | --- | --- |
| MODEL | TYPE | FIRMNESS | WEIGHT (queen) | HEIGHT |
| Comfort Grande | Memory foam | Med. Firm: 7/10 | 89.5 lbs | 14 inches |
| Serafina Pearl | Memory foam | Medium: 5/10 | 110.7 lbs | 14 inches |
| Serafina Pearl Firm | Memory foam | Firm: 9/10 | 96.8 lbs | 14 inches |
| Serafina Pearl Plush | Memory foam | Soft: 3/10 | 93.0 lbs | 14 inches |
| Gel Memory Foam | Memory foam | Med. Firm: 7/10 | 29.3 lbs | 8 inches |
| So Fresh | Memory foam | Medium: 5/10 | 66.0 lbs | 10 inches |
| Overnight Recovery | Memory foam | Medium: 5/10 | 74.8 lbs | 12 inches |
| Advanced Back Support | Memory foam | Firm: 9/10 | 62.5 lbs | 12 inches |
Comfort Grande Construction
The Comfort Grande uses EVENcor GelPlus™ inside of its three foam layers. The selling point is that it doesn't get softer when it's hot or too hard when it's a cooler temperature. It is meant to evenly distribute your weight, too.

The top cooling layer is made of 3 inches of the EVENcor GelPlus™ foam.
The second comfort layer is made of 3 inches of premium support foam. This is cut with air channels that help carry away heat and odors.
The final support layer is made of 8 inches of thick, dense support foam to solidly hold the rest of the mattress.
The mattress is covered with a quilted cover made of another cooling feature—the AdaptiCool™ fabric. It wicks moisture away to keep you both dry and cool.
Serafina Pearl Construction
The Serafina Pearl mattress has a 3-inch cooling layer of what the company calls ComfortLuxe® Gel-Pearl Technology that cools you when you become too hot as you sleep. Novaform says it keeps you twice as cool as a traditional memory foam mattress.

The second 3-inch comfort layer is made of CustomWave™ foam, doing what most memory foams do—quickly adapt to curves and movement.
The support layer is 8 inches of high-density foam for stability.
A quilted and breathable fabric, which wicks away moisture, covers the entire mattress.
So Fresh Construction
This mattress has features that help you keep the mattress fresh and clean smelling. It starts with a removable, washable and stain-resistant cover. It's treated to resist bacteria and mold. It is made to stay cleaner longer.

The top comfort layer is made of 2 inches of the LURAcor™ foam that is infused with naturally antimicrobial copper to help the mattress smell fresh between cover washings.
The middle comfort layer is 2 inches of regular memory foam for more contouring and cushioning. Memory foam does a good job curving around your body without collapsing in between.
The 6-inch support layer is there to hold everything else up. Because it's a thinner layer, this mattress will feel a bit firmer than other, thicker options in this class.
---
Trial Period
You have 30 days to return the mattress if it doesn't work for you. You can return it for free through the mail or at any Costco location
Warranty
Novaform mattresses come with a 10-year limited warranty.
Shipping and Delivery
Shipping costs are included within the mattress price. Costco ships via UPS Ground. Your mattress will arrive between 5 to 10 business days.
Folks in Alaska, Hawaii and Puerto Rico can have items shipped there with an additional fee. Obviously, shipping to those places will also take longer.
Availability
You can buy these mattresses both at Costco.com and at actual Costco locations throughout the country.
Conclusion
Novaform has a tight partnership with Costco, so their mattresses have a strong reputation as the "Costco" brand mattress. As such, the company knows it has to come in at a good price to serve the Costco philosophy. 
Mission accomplished with the Novaform stable of memory foam mattresses. The eight models come in firm, soft, medium, and medium-firm types, and there are options to appeal to those with back pain, concern about allergens and the hot sleepers among us. It's a solid selection across the board.
But when you're talking about needing to cut a corner or two with the quality of the materials, you also have to deal with a mattress with a shorter lifespan. Enough customer reviews question the durability of the Novaform mattresses for me to raise a flag for you here.
However, if your goal is fast and easy, these Costco brand options will do just fine. If you're used to memory foam and prefer something on the firmer side, Novaform may be a good option.