Saatva Memory Foam Pillow Review
•
Disclosure: By clicking on the product links in this article, Mattress Nerd may receive a commission fee at no cost to you, the reader. Read full disclosure statement.
The Mattress Nerd's Take: The Saatva Memory Foam pillow is a dual construction model that combines both solid and shredded foam together to give you a supported, contouring pillow that's perfect for back and side sleepers. The graphite-infusion in the solid foam also helps prevent body heat from getting trapped, making it a hot sleeper friendly option as well.
Who It's Good For
Side Sleepers
Back Sleepers
Hot Sleepers
Who It's Not Good For
Stomach Sleepers
Those who don't like memory foam
Those who prefer a fluffy down pillow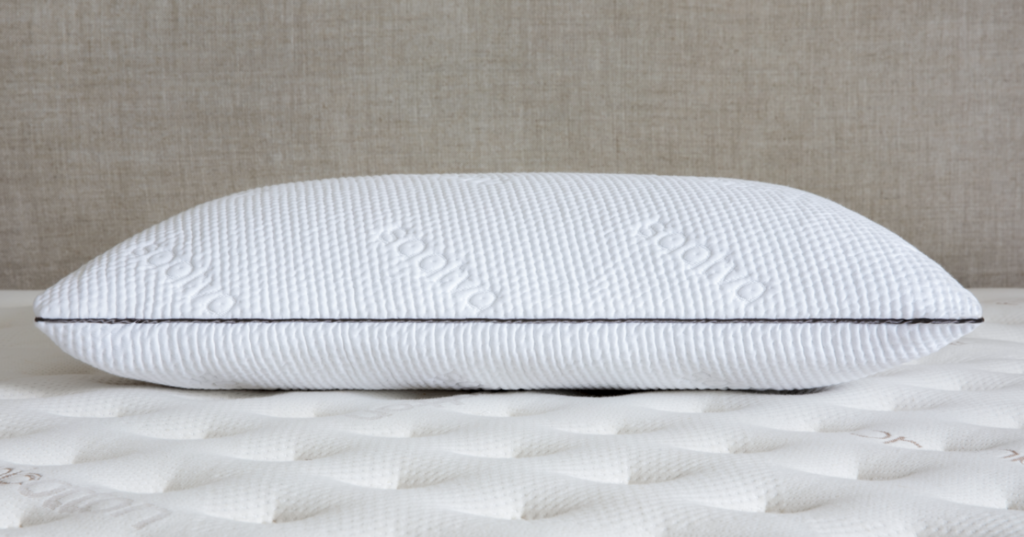 A Look Inside
To get a better idea of what to expect from the Saatva Memory Foam pillow, let's examine the materials so we know how it will perform during use.
Organic cotton cover: The cover that comes wrapped around this Saatva pillow is made from an organic cotton blend, which feels soft and breathable.
Graphite-infused memory foam: Graphite-infused foam works to draw heat away, rather than retain it, to help keep you cool while sleeping. Plus, this solid block of foam layer will contour to the shape of your head and neck for comfortable support.
Shredded memory foam core: The last layer is the innermost core, made of a blend of shredded memory foam and natural latex. The two materials make for a supportive and durable center that'll also keep air flowing while you sleep.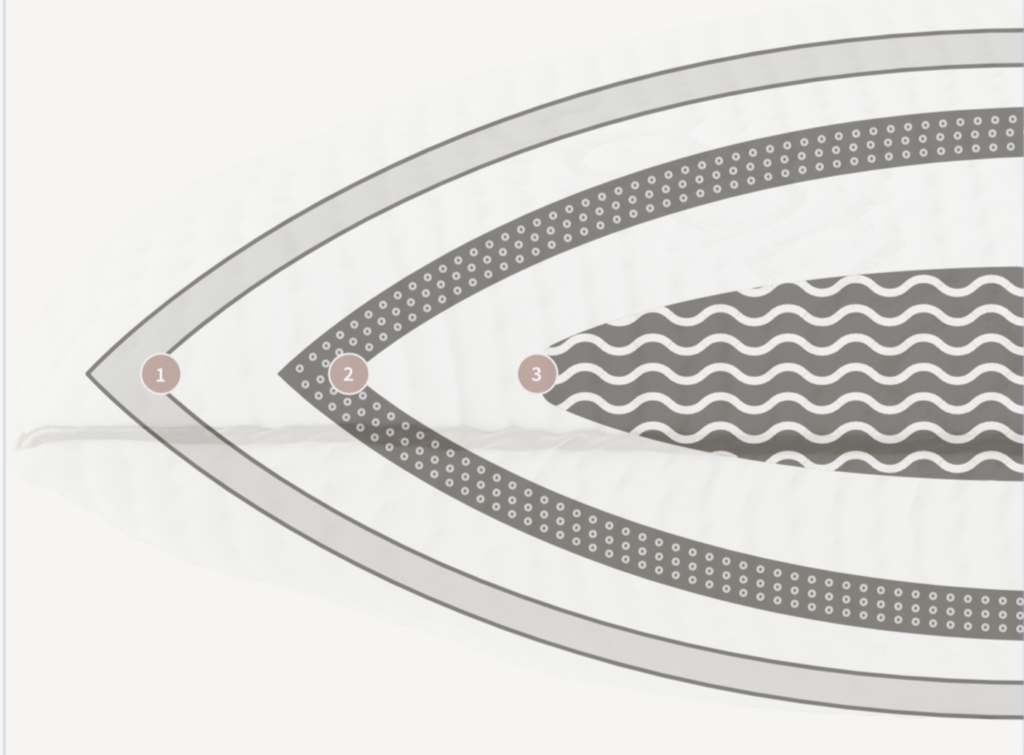 Mattress Nerd Pillow Scores
At Mattress Nerd, we test our products over six performance categories on a scale from one to five, with five being the best. We personally test each product before we review it.
Cooling: 4/5
The Saatva Memory Foam pillow was made with hot sleepers in mind. From the graphite-infused foam, to the shredded core, and the breathable cotton cover, each component compliments the needs of those who tend to overheat at night.
When I tried it out for myself, I definitely didn't notice any heat retention at all— but, I didn't feel like I was being "cooled down" either. It overall felt neutral to me. Which means the pillow is essentially doing its job. There isn't cooling gel or celliant built in that's making the surface cool to the touch in this pillow's construction. However, this pillow felt very breathable and kept me at my body's core temperature while I slept.
Alignment: 3.5/5
This pillow comes with a high loft, around six and a half inches, so it's not going to give everyone optimal spinal alignment. However, if you are a side sleeper, or an average to heavyweight back sleeper, the loft will be perfect for accommodating your sleeping position and body type.
The two layers of memory foam feel very supportive and contouring on the head and neck, so it's great for those looking to alleviate neck pain. It'll be able to hold up the weight of your head without engulfing it into the surface.
However, stomach sleepers will be out of optimal alignment with this option, since the high loft is likely to strain the neck and cause discomfort.
Adjustability: 3/5
While the Saatva memory pillow is supportive and soft, it's not very adjustable. You can fold it over, but you can't really change the overall shape or mold it in a specific way, like you could a down feather pillow for example. It technically has a dual construction from the outer layer of solid memory foam and inner core of shredded foam, but you can't remove any portion and alter the feel like an adjustable pillow.
Quality of Materials: 5/5
Like all of Saatva products, their memory foam pillow does not falter on quality. It's made from 100 percent CertiPUR-US certified foams, it has graphite technology infused within, and an organic cotton, machine washable cover. All together, it's a hypoallergenic and well made pillow that should last you years.
I only got to try it out for a few nights, but when researching the product for this review, I came across tons of reviews of people saying they've owned this pillow for a while and it's kept its shape and has been easy to upkeep– which is a testament to its quality.
Care: 5/5
This pillow is easy to clean! You can unzip and remove the inner pillow and machine wash the outer cotton cover. The inner pillow can be spot cleaned if needed, but cannot be machine washed.
Customer Experience: 4/5
Saatva offers a 45-night sleep trial, free shipping and returns, and a 1-year limited warranty for their pillows. When put head-to-head against the industry standard policies, the 1-year warranty aligns with what's typically offered, however, the 45-night sleep trial is less than the norm, which is typically 100 nights. For more information on Saatva's bedding policies, head down to the policies portion of this article.
Total Score: 4.1/5
Side Sleeping
I mainly sleep on my side, so when I tested this pillow out for myself, I really enjoyed it. The high loft and contouring this pillow provides, felt very comfortable and supportive on my head and neck.
Back Sleeping
Back sleepers of average to heavy body weight will fare best with this pillow. The higher loft shouldn't be an issue for alignment, and your head will feel perfectly contoured as you stay comfortably propped atop the pillow's surface. When I tried it out on my back, I particularly enjoyed how this pillow felt against my neck, which I tend to get some soreness around.
Stomach Sleeping
I would not recommend this pillow for stomach sleepers. Plain and simple— it's not flat enough to keep your spine in proper alignment, which could lead to neck strain overtime.
| | | |
| --- | --- | --- |
| Score for Side Sleepers | Score for Stomach Sleepers | Score for Back Sleepers |
| 5/5 | 2/5 | 4/5 |
Pros/Cons
Pros
Support for neck pain: The contouring memory foam of this Saatva pillow is perfect for alleviating head and neck pain. The foam is dense and supportive, keeping your neck propped up for optimal alignment.
Great option for side sleepers: This option has a high enough loft to accommodate side sleepers that need a tall pillow to fill the space between the head and shoulders properly. The Saatva Memory Foam pillow does just that with its six and a half inch loft.
Graphite-infusion helps hot sleepers: Graphite-infused foam is a cooling material used in bedding to prevent body heat retention. Memory foam is notorious for making hot sleepers sweaty since it traps body heat, so the graphite infusion aids in keeping you cool while you sleep!
Cons
Doesn't work for stomach sleepers: The six and a half inch loft of this pillow makes it too tall for stomach sleepers. Stomach sleepers need a low loft pillow so their necks don't get strained and can stay aligned with the spine while sleeping.
Initial off-gassing smell: It's typical for memory foam products to have a slight off-gassing smell, similar to the smell of a fresh can of paint. It will subside within a day of unboxing, but it's something to be aware of— especially if you are sensitive to smells.
Pricey: The Saatva Memory Foam pillow base price is $165, which is pretty pricey. But, with good care, this pillow is set to last you for years of nightly use.
Sizing, Pricing, and Policies
| | | |
| --- | --- | --- |
| Size | Dimensions | Price |
| Queen | 28″ x 16″ x 6.5" | $165 |
| King | 34″ x 16″ x 6.5" | $185 |
Head to our Saatva coupons page to see our exclusive discounts.
Shipping
The Saatva Memory Foam pillow ships for free via FedEx.
Trial and Warranty
Saatva offers a 45-night sleep trial period for their pillows. With purchase, you'll also be eligible for free returns and a 1-year limited warranty. This means you'll have 45 nights from your delivery date to try out your pillow and still be able to return it for a full refund to your original payment. If you decide to keep it, you'll be protected under Saatva's limited warranty, which covers any manufacturing defects.
According to Saatva's policies, there are no restocking fees for returned products, but they ask you to wash your product before sending it back. To make a return, you can email Saatva at: info@saatva.com.
FAQs about the Saatva Memory Foam Pillow
Which Saatva pillow is best for side sleepers?

I would say it's a tie between this memory foam model and the Saatva Latex pillow. Both have a high loft, are very supportive, and comfortable. It would depend on the overall feel you're going for. This memory foam option is more likely to be contouring, while the latex model is more responsive and bouncy— perfect for side-back combo sleepers.
What makes the Saatva Memory Foam pillow different from traditional memory foam pillows?

The Saatva Memory Foam pillow features two layers of foam, versus the traditional single solid block of memory foam most pillows have. The solid layer of foam wraps around the shredded foam core to offer more support, and still allow for breathability and less body heat retention— again, unlike traditional foam options.
Is the Saatva Memory Foam pillow hypoallergenic?

According to Saatva, the memory foam used in their pillow is hypoallergenic. Plus, the pillow cover, the outermost component of this pillow, is made with 100 percent organic cotton, which is hypoallergenic.
The Nerd's Final Take
If you've made it this far and you're still on the fence, let's recap so you can come to your final decision. The Saatva Memory Foam pillow should work for you if you're a back or side sleeper who prefers the feel of memory foam. If sleeping cool is a priority, I'd say this is a good option, but not the best one on the market. For more cooling pillow options, check our Best Cooling Pillows roundup for more options. If you're on a budget, this isn't the most affordable pillow. However, Saatva offers a payment plan for their products, and you cannot go wrong with the quality here, so it is an investment. Best yet— this pillow comes with a 45-night sleep trial. So if you're on the fence, just order it and worst case, you return it!
| | |
| --- | --- |
| Performance Factor | Out of 5 |
| Cooling | 4 |
| Alignment | 3.5 |
| Adjustability | 3 |
| Quality of Materials | 5 |
| Care | 5 |
| Customer Experience | 4 |
| Total Nerd Score | 4.1 |