Sleep Restoration Down Alternative Comforter Review
•
Disclosure: By clicking on the product links in this article, Mattress Nerd may receive a commission fee at no cost to you, the reader. Read full disclosure statement.
Who It's Good For
Budget shoppers
Hot sleepers
Sleepers with allergies or asthma
Who It's Not Good For
Luxury comforter shoppers
Sleepers wanting a heavier comforter
Shoppers wanting a warranty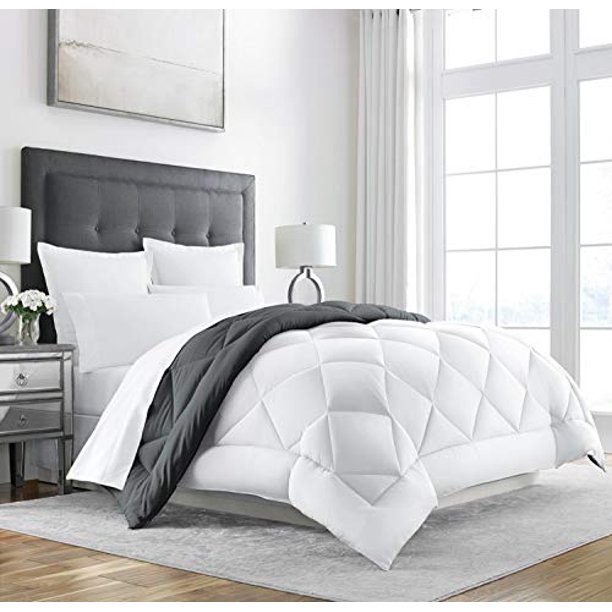 Materials and Construction: What's It Made of?
This Sleep Restoration comforter is made from a down alternative—synthetic polyester that feels like the natural, soft down of a bird. Although down alternative isn't natural, many shoppers will appreciate that it's a hypoallergenic and ethical alternative to traditional down.
Feel
This Sleep Restoration comforter is plush and oversized; it felt a lot like getting into a cool but cozy hotel bed. Despite its thin and light design, this initial rrefreshing feeling didn't last as I started to warm up more under the comforter. While the comforter felt soft to the touch, with gridding stitching across the fabric, its outer cover felt less substantial and cheaper than a traditional comforter.
Mattress Nerd Comforter Scores
At Mattress Nerd, we get to know our comforters by measuring their comfort level, temperature control, quality, and company policies—all on a scale of 1–5. For these scores, think of a 1 as the worst and a 5 as five-star.
With that, let's give the Sleep Restoration down alternative comforter a try:
Temperature Control: 4/5
Getting under this comforter for the first time felt super light and airy, like a thin hotel room blanket. That said, this refreshing coolness didn't last throughout the night, and I felt myself heating up a bit. While this down alternative comforter should work for many hot sleepers, it's not the most breathable.
Customizability: 5/5
This Sleep Restoration comforter comes with so many color options and customizations, I didn't have to make any compromises with my current bedding. In fact, this comforter comes with 11 color options (from pink to white to chocolate). Plus, it's double-sided too, letting you switch between a second color.
Lastly, for sizing, this comforter has three different oversized options (from Twin to California King), and it can be used with a duvet as well.
Comfort: 4/5
Similar to traditional down, this Sleep Restoration comforter felt plush and feathery; however, its cover material felt somewhat thin and cheap. While this may be an issue for some sleepers, the comforter does come with duvet loops in its corners, allowing you to attach a cover of your choice.
Quality of Materials: 4/5
One of the main benefits of down alternatives, like this Sleep Restoration comforter, is that it's more ethically sourced than traditional down, and it's hypoallergenic. Also, although the outer cover may feel thinner than other comforter options, this Sleep Restoration comforter's gridded stitching is designed to add more strength and durability to the fabric.
Care: 5/5
The Sleep Restoration down alternative comforter is machine washable and dryer-safe. To wash your comforter, simply use cold water on a gentle washing cycle. To dry, you can either leave your comforter out to dry, or you can put it through a delicate drying cycle.
Customer Experience: 2/5
This comforter comes with a month-long trial period, during which you can return your down alternative comforter; however, this product doesn't come with any warranty. So, while this comforter is an affordable option, buyers may run into issues with durability further down the line.
Total Score: 4/5
Pros/Cons
Pros
Lightweight: This Sleep Restoration comforter succeeds at replicating the plush feeling of down with its lightweight design. For hot sleepers, a lighter comforter means more breathability without compromising on coziness.
Customizable: Another benefit of the Sleep Restoration down alternative comforter is that it comes in a large variety of colors, is double-sided, and can be attached to a duvet. With two sides and 11 color combinations, you won't have to compromise your bed setup at all.
Hypoallergenic: For sleepers suffering from allergies, compared to traditional down, down alternative has the benefit of being hypoallergenic. This means that your Sleep Restoration comforter repeals common allergens and is more resistant to mold and mildew.
Cons
Cheap cover: The Sleep Restoration down alternative comforter offers hotel luxury at an affordable price; however, some sleepers may notice the cover of the comforter feels cheaper compared to a traditional down comforter. That said, shoppers can also attach a separate or higher quality duvet cover.
Retains heat: This comforter replicates the coolness of a hotel bed at first, but, because it is made of down alternative, heat can start to build up. Where traditional down is naturally breathable, down alternative is less fluffy and can trap moisture and heat more easily.
No warranty: Although the Sleep Restoration down alternative comforter is affordable, it doesn't come with any sort of warranty beyond the initial trial. This means that, regardless of product defects or wear and tear, you won't be able to receive a refund or replacement for your comforter.
Sizing, Pricing, and Policies
| | | |
| --- | --- | --- |
| Size | Dimensions | Price |
| Twin | 89" x 74" | $39.99 |
| Twin XL | 89" x 74" | $39.99 |
| Full | 89" x 89" | $49.99 |
| Queen | 89" x 89" | $49.99 |
| King | 104" x 89" | $54.99 |
| California King | 104" x 89" | $54.99 |
Shipping
Once you've ordered your Sleep Restoration down alternative comforter, you can expect it to arrive within a week of your purchase; however, this product does not come with free shipping.
Trial Period and Warranty
Your Sleep Restoration comforter comes with a 30-day trial, at any point during which you can return your comforter for a full refund. That said, shoppers should keep in mind that after this initial return period, there is no warranty available.
FAQs
Is Down Alternative Safe For Asthma?
Sleep Restoration's down alternative comforter is hypoallergenic, which means it is safe for sleepers with asthma. Also, the comforter is easy to clean, as it only requires machine-washing and drying. Lastly, this down alternative comforter protects against common allergens including dust mites, mildew, and mold.
Is Down Hotter Than Down Alternative?
Sleep Restoration's down alternative comforter is designed to mimic the light, airy, but cozy feeling of traditional feather down. However, down alternative lacks some of the breathable qualities of traditional downing, meaning that, although it is cool to the touch, down alternative retains more heat.
Is Down Alternative Toxic?
No. Sleep Restoration's down alternative fabric is actually more eco-friendly than many traditional down comforter options. Instead of using feathers from real birds, down alternative is made from synthetic microfibers. Plus, for hypoallergenic sleepers, down alternative repels mold and dust mites better than traditional down.
Is the Sleep Restoration Down Alternative Comforter Worth It?
Sleep Restoration's down alternative comforter is affordable, cozy, and plush, but some hot sleepers won't get enough breathability. Also, for some shoppers, the cover may feel cheap, which could be concerning with no warranty. Instead, shoppers looking to invest more in a luxurious comforter should check out the Layla down alternative comforter.
Nerd Score Wrap Up
| | |
| --- | --- |
| Performance Factor | Out of 5 |
| Temperature Control | 4 |
| Customizability | 5 |
| Comfort | 4 |
| Quality of Materials | 4 |
| Care | 5 |
| Customer Experience | 2 |
| Total Nerd Score | 4 |