What is a Euro Top Mattress?
•
Disclosure: By clicking on the product links in this article, Mattress Nerd may receive a commission fee at no cost to you, the reader. Read full disclosure statement.
What is a Euro-Top Mattress?
A euro-top mattress is a mattress with an additional layer of cushioning sewn to the top surface of the mattress for added comfort. Euro-tops are typically packed with more material than pillow-tops, and they have denser, higher-quality foam or fiberfill than is found in a pillow-top. Additionally, euro-top mattresses are sewn flush with the edges of the mattress to create a uniform, neat appearance.
Differences Between a Euro-Top and Pillow-Top Mattress
Pillow-tops and euro-tops look and feel deceivingly similar, but they have subtle differences that should be taken into account. Unlike mattress toppers, which are purchased and added to a mattress after-the-fact, euro- and pillow-top beds have a built-in layer of padding to improve comfort and conforming. The cost for each type varies by brand and manufacturer, and material, brand and construction all play a role in the overall price point of either product.
Construction: While a euro-top is sewn to the edges of the mattress, leaving no space between the euro-top and the mattress' comfort layer, a pillow-top is sewn onto the top of the mattress and has a gap that separates the pillow-top from the comfort layer.
Look: As a result of the sewing method used, pillow-top mattresses have an appearance that looks layered while euro-top mattresses look uniformly stacked. This difference in construction ultimately affects how the additional layer looks, feels and lasts.
Feel: Pillow-top mattresses typically balance firmness and cushioning throughout the added layer, but they tend to lose their comfort and plushness over time. Euro-top mattresses have more fill and cushioning at the center but feel firmer around the edges, and they have a longer lifespan overall.
Euro-Top vs. Pillow-Top: Which is Right for You?
There aren't too many differentiating factors between euro-top and pillow-top styles, but we've listed some subtle distinctions that will help you decide which is the best mattress topper style for you.
Feel—For a durable, supportive feel, opt for a euro-top. For a softer, layered look, go with a pillow-top mattress.
Durability—Euro-top mattresses are inherently more durable than pillow-top styles, which are typically thinner and less full.
Cost—Both styles can be found at a range of price points, but you're more likely to find pillow-top styles with higher-quality materials and fills.
Support Level—For enhanced edge support, go with a euro-top. Their design, which allows the top layer to rest flush with the edges of the mattress, makes them more supportive. Pillow-top mattresses have less support around the perimeter of the bed.
Appearance—Pillow-tops look like an addition to the bed, while euro-tops look like a stacked comfort layer because they're sewn flush with the mattress.
Thickness—Pillow-top mattresses may add slightly more height to your mattress because they aren't sewn flush with the bed. For either mattress type, you'll need to invest in deep-pocketed bed sheets.
Advantages of a Euro-Top Mattress
Here are some of the advantages of euro-top mattresses, including reasons why you might opt for a euro-top over a pillow-top mattress.
Extra Comfort—The extra layer of cushioning in a euro-top mattress may help sleepers find comfort more quickly in any sleeping position.
Contouring—Euro-top mattresses are excellent for those seeking more contouring in their mattress.
Enhanced Aesthetic—Euro-top mattresses offer a dense, uniform and supportive aesthetic, while pillow-top mattresses look more softly layered.
Pain Reduction—The extra layer of cushioning in euro-top mattresses may help sleepers with spinal pain, low back pain or aches in other areas of the body find relief.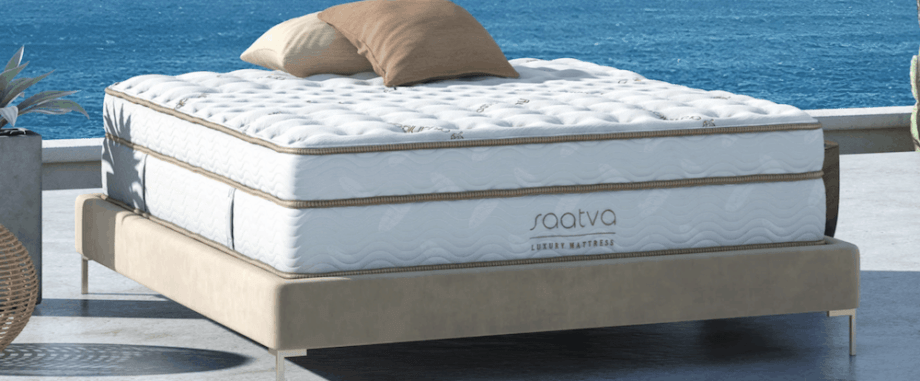 How to Take Care of a Euro-Top Mattress
The extra material in a euro-top mattress makes it all the more important to properly care for the bed to ensure its longevity, durability and hygiene over the years. The average mattress lasts anywhere from 7 to 10 years, but a euro-top that isn't properly maintained may begin to sag near the side of the mattress and perform poorly.
You should vacuum your euro-top mattress regularly to remove dust mites, food crumbs, skin cells and other debris. Regular vacuuming may also help plump the euro-top. To remove a stain on the euro-top, use mild dish detergent and cold water coupled with a clean rag.
You can prolong the life of your euro-top mattress by rotating it once every month. This will ensure that the mattress wears evenly, helping to prevent dips and sags that naturally occur where pressure is applied.
Mattress Nerd's Top Picks for Euro-Top Mattresses
Convinced the extra padding in a euro-top style will be the best new mattress for you? Here's a shortlist of our top picks for the best euro-top mattresses on the market today.
Read our full Avocado Green Mattress Review.
Read our full Saatva Classic Mattress Review.
Read our full WinkBeds Mattress Review.
Read our full DreamCloud Mattress Review.