Zeopedic Mattress Review
•
Disclosure: By clicking on the product links in this article, Mattress Nerd may receive a commission fee at no cost to you, the reader. Read full disclosure statement.
Update: The Zeopedic mattress has been discontinued. Check our mattress reviews page for similar mattresses.
Who The Zeopedic Mattress Is Best For
Best For…
May Not be Best For…
✅ College students, visiting grandmas, guest bedrooms in general
✅Shoppers on a budget
✅Sleepers who get warm at night
❌Anyone with any long-standing sleep issues
❌Someone who loves a firmer feel in their bed
Zeopedic Mattress In-Depth Review
Zeopedic is essentially the Big Lots mattress brand. Well, it's the brand they choose to sell, along with a few others, but the brand that is most solidly associated with Big Lots. (I quite like the name because it reminds me of the Zootopia movie!)
When I started looking into the Zeopedic mattress I was quite impressed by the overwhelmingly positive customer reviews. People rave about how comfortable the mattress is, what a great value it is, how well guests love sleeping on it.
However, as someone who looks at mattresses all the time, I know to be wary of how durable a comfortable, affordable, memory foam mattress truly is. That is your one marching order: Keep an open mind about, both, how comfortable the Zeopedic mattress and how quickly it might wear down if you sleep on it every day.
Zeopedic Highlights
Gel cooling.

Infusing gel into the memory foam to help dissipate heat is a common feature of memory foam mattresses. It's kind of unique to find it in a budget memory foam mattress.

Removable, washable cover. Being able to easily clean the cover helps the mattress last longer.
Mattress + Framesets. They sell the entire setup together if you need a frame. Pretty cool.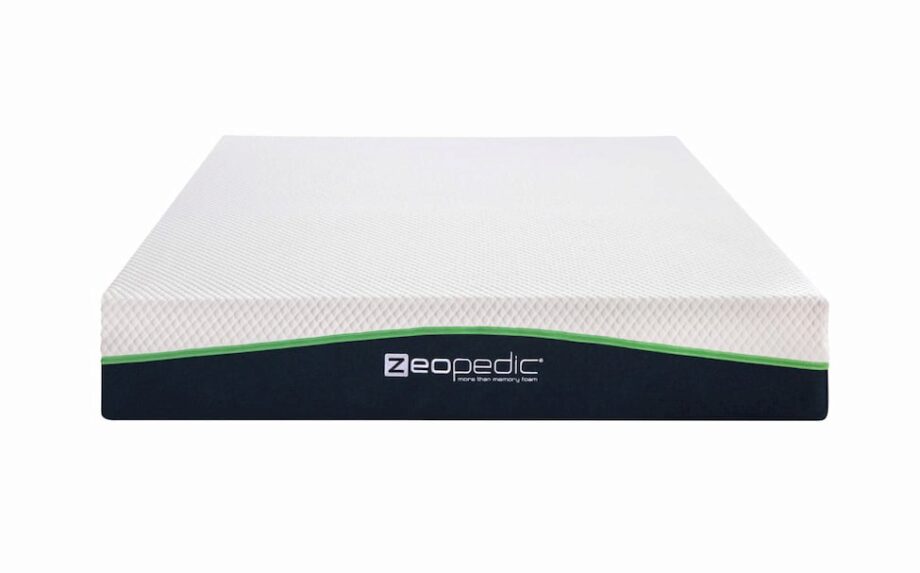 Zeopedic Mattress by Sleeping Positions
Side sleepers probably have the most to gain from memory foam mattresses in general. This one is a little more firm a than side sleepers would typically want. If you're a normal weight or a bit more, the comfort layer should curve around your hips and shoulders quite well. That's what side sleepers need most. If you need a little more contouring and squishy-ness near the top of the mattress you should consider buying the 2-inch mattress topper.
Back sleepers don't need a ton of contouring. The Zeopedic will accommodate the curve around your rear end.
Stomach sleepers have to watch out for mattresses that are too soft. I think the bigger concern here is durability. You'll want the mattress to contour to your tummy, but be on the lookout for any bottoming out. If your hips get thrust too far forward by a soft mattress, your spine will not align and you will likely wake up with a sore back.
Pros
Cons
Removable, washable cover
Cooling gel to help dissipate heat
Affordable
Consistently positive customer reviews
Good temporary solution

No trial period
Not very durable
Zeopedic Mattress Firmness
The Zeopedic mattresses are in the medium-firm range on the firmness scale. This is slightly firmer than many simply designed, all-memory foam options.
Zeopedic Mattress Construction
The Zeopedic mattresses are made of two layers of memory foam with a washable cover and an "anti-skid" bottom that will help anchor the mattress in place on your foundation.
The top layer is 3 inches of gel-infused memory foam, that does what all memory foam is supposed to do—to relieve pressure on the wide parts of the body, like the hips and shoulders. There are "gel-infused pearl beads" that feel cool and help you stay cool. This layer also is cut with ventilated channels that keep the air moving, again to help carry heat away from the body.
The bottom layer is 7 inches of a higher density foam that supports the entire mattress.
Keep in mind Zeopedic also sells a 2-inch memory foam topper that could make the comfort layer thicker, since it's made of similar material. It's sold separately, of course, but if you need more contouring at the top—talking to you side sleepers—you have that option.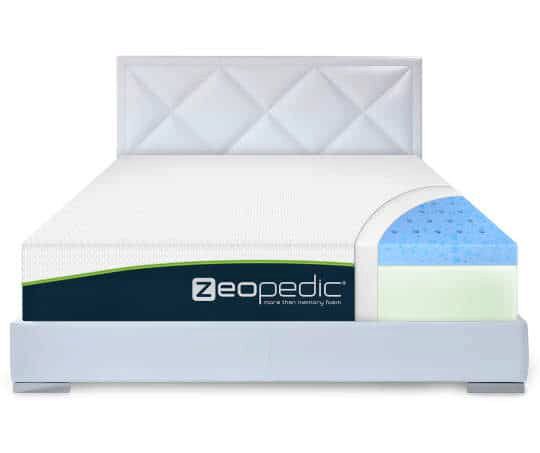 Zeopedic Mattress Sizing and Specs
| | | | | |
| --- | --- | --- | --- | --- |
| MODEL SIZE | DIMENSIONS | WEIGHT | HEIGHT | PRICE |
| Twin | 75" L X 39" W | 44 lbs | 10 inches | $299.99 |
| Full | 75" L X 54" W | 61.4 lbs | 10 inches | $399.99 |
| Queen | 80" L X 60" W | 72.5 lbs | 10 inches | $499.99 |
| King | 80" L X 76" W | 91.9 lbs | 10 inches | $699.99 |
---
Zeopedic Buying Experience
Shipping, Delivery and Returns
Zeopedic mattresses can ship to you from Big Lots, ship to a Big Lots store near you, or be purchased in some stores. You must return the mattress within 30 days of receipt if you want any type of refund. If you take it back to a Big Lots store, you need a copy of the order confirmation email and to bring/send it back with all of the original packaging and in its original state. If you send it back via mail or you're missing your documents or return labels, make sure to call Big Lots first.
If you're returning a model that had a defect or was damaged on arrival, expect to get a full refund. Everyone else should be prepared to pay up to a 15% processing fee and know that Big Lots will not refund you delivery and handling costs. You are responsible for paying whatever costs come with sending it back.
The Zeopedic Trial Period
There is no official trial period. You get 30 days to send it back, so I would say that equals something like a two-week trial. You get what you pay for with Zeopedic and that's it. Please keep that in mind when considering this purchase.
Warranty
There is no official warranty through Big Lots, but the company does offer instructions on what will happen if you get a defective or damaged item.
If the thing is more than 70 pounds or you didn't receive a return label in your original set of paperwork when it shipped to you, you have to call customer service and let them know. If you bought it at a Big Lots store, it's best that you return it to that store, but bring all your paperwork!
Big Lots will only cover return shipping if you're returning an item that is damaged, defective, or the wrong item.
Availability
You can buy the Zeopedic mattresses, foundations and pillows at any Big Lots store on the Big Lots website.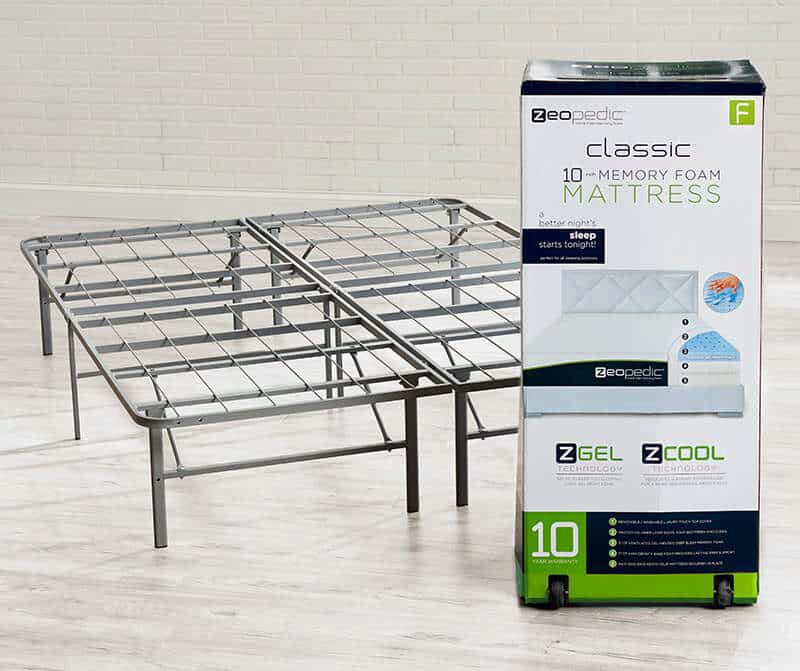 Zeopedic Rating and Conclusion
The Zeopedic is a straightforward mattress made of two layers of memory foam. It ships in a box. It works just fine with traditional box springs, a platform or a steel foundation. It is sold by Big Lots, a discount retailer.
You won't find crazy design features. You won't find crazy high prices easier.
When analyzing the mattress, I found it impressive that a relatively cheap foam mattress sold by a discount retailer would generate such consistently positive reviews from customers. That's not what you usually see.
Still, Big Lots doesn't offer a trial period or a warranty. Once you buy the Zeopedic, you have to deal with the outcome if you don't like it. If you're a fan of memory foam or have previous experience sleeping on one, this could be a good one to try without breaking your bank.
Most people will find that the Zeopedic is, at the very least, a good option for guest bedrooms or other temporary situations, like for a college dorm room or apartment.
Whatever you do use this memory foam mattress for, keep in mind that mattresses, more often than not, are a "you get what you pay for" situation. If you end up liking it so much that it becomes your daily sleep surface, I would say you shouldn't expect it to stay that way for 10 years.