Parachute Pillow Review
•
Disclosure: By clicking on the product links in this article, Mattress Nerd may receive a commission fee at no cost to you, the reader. Read full disclosure statement.
Parachute was founded by design enthusiast Ariel Kaye back in 2014. She launched this mattress company with the intention of having a simple one-stop shop for consumers who want high-quality and affordable bedding and bedding accessories.
Parachute products are designed with the help of expert Portuguese craftspeople and American mattress makers. Every single piece is designed and manufactured with high quality materials and a clean and modern aesthetic, so that they not only feel good, but they also look good. From mattress toppers to comforters, parachute products are made for quality and versatility. They also accommodate a wide range of sleeping positions.
For this review, we'll be going over the Parachute Down Pillow. There are many aspects of this plush pillow that have made it a prime choice for sleepers everywhere. Made with premium, all-natural European white down and a 100% sateen cotton pillowcase, this cooling pillow wicks away heat, encourages air circulation and provides support for your head and neck, no matter how you sleep. If you sleep hot, check out our Best Cooling Mattresses article to learn more.
Another feature of Parachute's down pillow is that you can choose from three different firmness options: soft, medium, and firm. The soft pillow option features sunken plushness and is one of the best pillows for stomach sleepers because it allows the neck to rest in a neutral position throughout the night.
The medium firmness option is softer, but with a medium amount of fluff. We recommend this type of pillow for back sleepers. Finally, the firm option is the most dense and supportive, and it's recommended for people who sleep on their sides and need the extra height to keep their spine aligned and to prevent neck pain and back pain.
See: Best Pillows for Neck Pain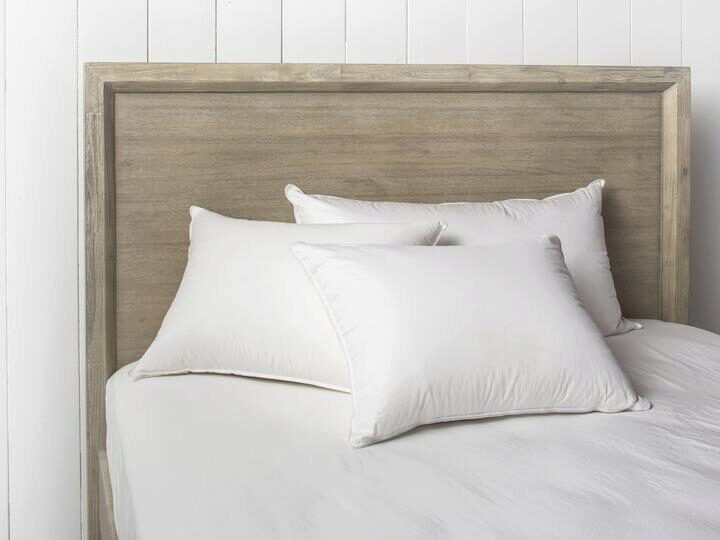 What Makes the Parachute Pillow Stand Out
Unlike traditional

memory foam pillows

, this pillow is made of 85% down and 15%

down feather

, making it softer and more cushioned than pure feather pillow options.

The pillow is available in two sizes and three different

firm densities

: soft, medium and firm. These three versions provide the right amount of comfort and

neck support

for back, stomach and

side sleepers

respectively.

You can try out the

Parachute Down Pillow

for up to 60 days to see if it suits you. If you're unhappy during that time period, you can return it for a full refund.

The pillow is protected by a 100%

sateen

cotton cover

. This

cotton shell

is

breathable

so that body heat doesn't become trapped. It's

machine-washable

, making cleaning simple. .

A down pillow's fill power, or fluffiness, indicates how much air an ounce of the down can trap and insulate, and it is measured on a scale of 300 to 900. The Parachute Pillow's fill power is 750, which is the ideal amount of insulation for a bed pillow to provide optimal support and comfort.
See: Best Pillows for Side Sleepers
What is the Parachute Pillow Made Of?
European White Down
The Parachute Pillow is made of high-quality, premium all-natural European white down, which consists of 85% down and 15% down and feather fibers.
For people who are unfamiliar with down, it's important to understand the difference between down and pure feather. Whereas feathers contain a harder quill shaft with fibers that join together at the side, down comes from the undercoating of geese and ducks, and it doesn't contain the stiff quill shaft. That means that a duck down or goose down pillow may provide an overall better sleeping experience.
Parachute Pillow Pricing and Specs
| | | |
| --- | --- | --- |
| Size/Firmness | Dimensions | Price |
| Standard Size/Soft | 20" x 26" | $89 |
| Standard Size/Medium | 20" x 26" | $109 |
| Standard Size/Firm | 20" x 26" | $129 |
| King Size/Soft | 20" x 36" | $129 |
| King Size/Medium | 20" x 36" | $149 |
| King Size/Firm | 20" x 36" | $169 |
FAQs
Does the Parachute Pillow pass environmental certification standards?
All of Parachuteu2019s bedding products have received the Oeko-Tex certification, which means that they are created without harmful synthetics or chemicals that can potentially damage the environment. Parachute is also committed to the Responsible Down Standard; this certification means that the down and feathers used in the pillow have been humanely sourced from ducks and geese.
How do I wash the Parachute Pillow?u00a0
The Parachute Down Pillow is machine-washable, but it must be done carefully to avoid damage or premature wear and tear. The pillow should be dry cleaned or machine-washed on a cool setting using a very mild laundry detergent. Users can also tumble dry the pillow on a low setting and use wool dryer balls. If you''''d like to learn more about taking care of pillows more generally, check out ouru00a0How to Wash Pillows article.u00a0
What is the warranty for the Parachute Down Pillow?
u00a0The Parachute Pillow is protected against manufacturer, material, and workmanship defects by a 3-year warranty.
See parachute.com for more FAQs.
Starting at $130
Parachute Duvet Cover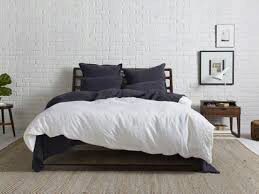 Starting at $249
Parachute Home Quilt
Starting at $109
Parachute Sheets