Bed Bath & Beyond is one of the most recognizable home goods name brands in the United States. Since the company was first founded in 1971, it has been the go-to location to get all your bathroom and bedroom necessities. In recent years, it has become even more convenient and has expanded into a superstore.
One of the primary cornerstones of Bed Bath & Beyond is its selection of bedding and bedding accessories. Between their selection of mattress toppers, hypoallergenic comforters, bed pillows and pillowcases, you're guaranteed to find something at this store that will improve your sleep.
For this review, we're going to take a close look at one of the best sellers from Bed Bath & Beyond: the Wamsutta Cotton Pillow. Available on the company's site and Amazon, this pillow comes with an array of design features that allow it to deliver a comfortable and cool sleep experience.
This 100% cotton, 300-thread count pillow includes a 100% polyester fill and a 2-inch gusset design that provides the perfect amount of support for your upper body and reduces the chances of neck pain and back pain in the morning.
If you struggle with back pain, see our list of the best mattresses for back pain.
What allows this pillow to accommodate various sleeping positions is the variety in its firmness options. Unlike with most memory foam pillows, you can purchase the Wamsutta Cotton Pillow in soft, medium, and firm, and expect the same exceptional level of quality in its design.
Other products available from Bed Bath and Beyond include the Wamsutta Extra-Firm Side Sleeper Pillow, the Wamsutta 500-thread count PimaCott Damask Stripe Bedding Collection, the Wamsutta Quilted Body Pillow, and the Wamsutta Dream Zone Synthetic Down Side Sleeper Pillow. If you'd like to explore even more options, our Best Pillow Guide could help.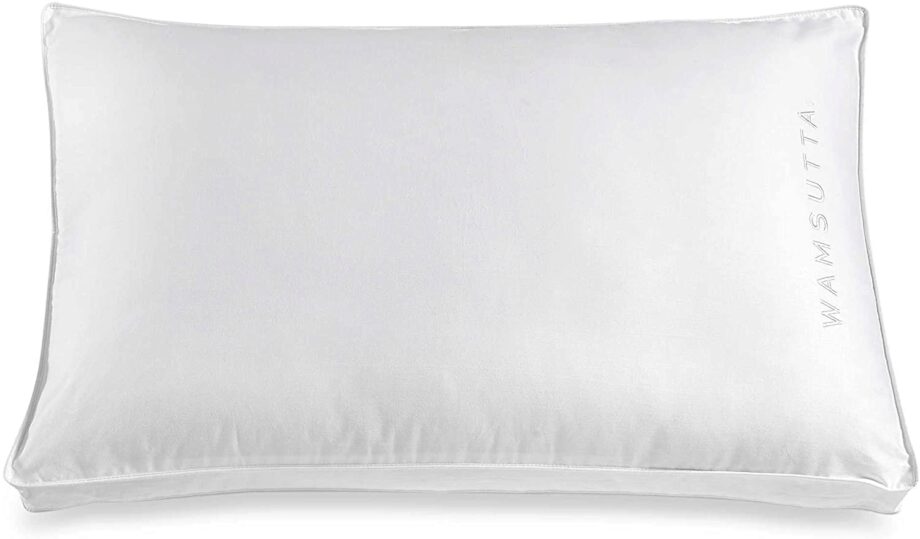 What Makes the Wamsutta Cotton Pillow Stand Out
100%

polyester fill

is stretchy and supportive, and allows the pillow to retain its shape and structure for a long time

The 300

thread count

makes this pillow feel soft to the touch and more comfortable compared to most

feather pillows

and

down pillows

.

The pillow comes in soft, medium, and

firm support

levels. These varying levels of support allow it to accommodate a wide range of sleep personalities and preferences.

The 100%

cotton pillow cover

is machine-washable and easy to clean.
What is the Wamsutta Cotton Pillow Made Of?
The Wamsutta Pillow features two main materials: cotton and polyester. The exterior cover is 100% cotton, which allows air to pass through the pillow easily and create breathability. The pillow also wicks away moisture rather than absorbing it. This moisture-wicking effect is great for those who tend to sweat during the night or who sleep hot. If you're a hot sleeper and need to upgrade your sleep setup, check out our list of the best cooling mattresses.
The pillow fill is 100% polyester, which is stretchy yet supportive, and can maintain its shape and structure for a very long time. Considering its construction, you should also be able to use the pillow for years without worrying about it deflating or flattening.
The pillow has a thread count of 300, meaning that there are 300 horizontal and vertical threads per square inch. In general, the higher the thread count, the softer the material. The Wamsutta's 300 thread count adds to the soft feel of this pillow.
Wamsutta Cotton Pillow Pricing and Specs
Size/Firmness
Price

Queen Size

/

Standard Size

– Soft

$15

Queen Size

/

Standard Size

– Medium

$15

Queen Size

/

Standard Size

– Firm

$15

King Size

– Soft

$20

King Size

– Medium

$20

King Size

– Firm

$20
FAQs
How do you wash the Wamsutta Cotton Pillow?
The Wamsutta pillow is machine-washable, but you must take the proper steps when cleaning it. Itu2019s recommended that you clean the cotton cover with cold water and then tumble dry it on a low setting.u00a0
What is the warranty on the Wamsutta Pillow?
The Wamsutta is protected by a limited warranty for up to 3 years, the average lifespan of a pillow. This warranty covers manufacturing, workmanship and material defects.
Which firmness is right for my sleeping position?
The pillow comes in three firmness options: soft, medium, and firm. In order to get the best support for your neck, back, and shoulders, stomach sleepers should go with the soft or plush option. Back sleepers should choose the medium option, and side sleepers will want the firm pillow option. However, since everyone has different sleep preferences, your experience may vary.
See Amazon.com for more FAQs.
JUMP TO
What Makes the Wamsutta Cotton Pillow Stand Out
What is the Wamsutta Cotton Pillow Made Of?
Wamsutta Cotton Pillow Pricing and Specs
FAQs