Pillow Size Guide
•
Disclosure: By clicking on the product links in this article, Mattress Nerd may receive a commission fee at no cost to you, the reader. Read full disclosure statement.
Like mattresses, the right bed pillows play an essential role in the quality of your sleep. Pillow shoppers need to consider a few factors when deciding which types of pillows to purchase, including material composition, price, and loft. With all that to think about, pillow size is a characteristic that's easy to overlook.
Picking out the right size bed pillow can serve as a manageable starting point before you get to considerations like material, price, pattern or pillowcase size. You want your pillow to feel appropriate for your bed size without feeling overpowering or too small for the surface. Keep reading to learn the common sizes of pillows, the types of pillows available and how to choose the right pillow for your sleeping position and bed size.
What are Typical Sizes for Sleeping Pillows?
Common pillow sizes include the standard size pillow, queen pillow, and king pillow. There are also a few lesser-known options – for instance, the super standard pillow and the euro pillow – that have slightly different dimensions.
| | | |
| --- | --- | --- |
| Standard Pillow Size | Width x Length (Imperial) | Width x Length (Metric) |
| Standard | 20" x 26" | 51 cm x 56 cm |
| Super Standard | 20" x 28" | 51 cm x 71 cm |
| Queen | 20" x 30" | 51 cm x 76 cm |
| King | 20" x 36" | 51 cm x 92 cm |
| European Square (Euro) | 26" x 26" | 66 cm x 66 cm |
| Body Pillow | 20" x 54" | 51 cm x 137 cm |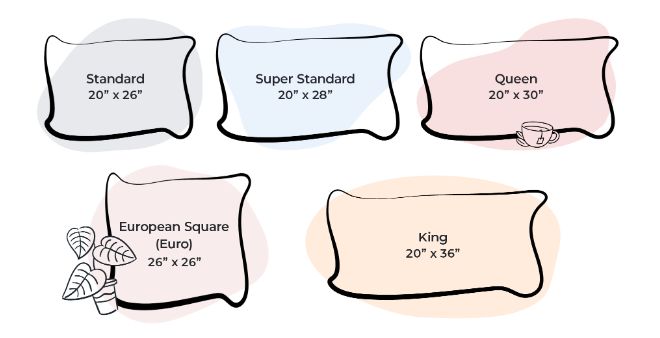 What Makes Each Pillow Size Unique?
Standard is the most common size for bed pillows sold today. These are the shortest, most compact bed pillow options among common sizes. They also tend to be the least expensive because they're so widely available. Most Twin-size and Full-size beds are outfitted with one standard pillow, while Queen and King beds almost always have two standard size pillows.
Super standard bed pillows are just two inches longer than standard pillows, making them an excellent option for sleepers who find standard-size pillows too compact. They cost about the same as standard-size pillows but are a little more difficult to find.
Queen size pillows typically measure 20" x 30", but those measurements may vary slightly depending on the brand. The extra length of a queen pillow when compared to standard and super standard sizes is beneficial for sleepers who toss and turn throughout the night, such as combination sleepers. Most queen bed pillows are placed in pairs on a Queen size bed. On a King or California King size bed, they can be placed size by side with a bit of space in between.
King size pillows are the largest of the standard sizes and are significantly longer than standard and queen size options. King pillows are rarely found on smaller mattress sizes like Twin beds or Full beds, but they give a nice, full look when used in pairs on King and California King beds. They can also serve as backrests for people who like sitting up in bed to read, work or watch TV.
Euro size pillows are generally square-shaped and come in a wide variety of dimensions, the most common of which is 26" x 26". They're typically used as decorative pillows in the United States, but euro pillows are also used as sleep pillows in Europe. These also work as backrests or headrests for people who read in bed.
Body pillows are extra-long pillows made for people who like to lay on or hold onto a pillow while sleeping. These are a popular option for pregnant women and side sleepers, who often place them in between their knees to encourage comfort and proper spinal alignment.
Throw pillows come in a wide variety of styles and sizes, including lumbar pillows, small rectangular pillows, square pillows and bolster pillows. A single lumbar pillow can serve as a decorative accent on a Twin size bed, while Queen and King size beds typically look best with a combination of several Euro pillows, an extra-long lumbar or bolster pillow, and several smaller accent pillows.
Chronic Pain
It can be difficult to get children to settle down for bedtime when they are healthy. But it can be especially challenging if they suffer from pain. Equally frustrating is that inadequate sleep can actually worsen a person's perception of pain. A study published in the journal BMC: Pediatric Rheumatology found that kids who sleep poorly experience increased symptoms related to juvenile arthritis. As a result, their sleep quality may suffer.
Depression / Sleep-Related Anxiety
Chronic pain has been linked to depression and anxiety, both of which can hinder sleep. A study by psychology researchers at the University of North Carolina at Chapel Hill found that children with juvenile idiopathic arthritis were more likely to suffer from depression. Those children also reported sleeping poorly at night. It's difficult to discern whether pain and poor sleep are the cause of depressed mood, or whether depressed mood worsens pain and sleep. Researchers theorize it is a combination of both.
Sleep Disordered Breathing
Obstructive sleep apnea, or OSA, is a potentially serious condition that affects an estimated 22 million American adults. But it can also affect kids. OSA occurs when breathing stops intermittently for several seconds during the night because the soft tissues in the mouth have blocked the airway. In severe cases, OSA can cause a drop in blood-oxygen levels and interrupt sleep, leading to learning, behavior, growth, and heart problems.
According to researchers with the University of Washington, as many as 40% to 50% of school-age children with juvenile idiopathic arthritis have obstructive sleep apnea compared to healthy children of the same age. In most cases, parents and caregivers are unaware their child has OSA. The study also found that children with JA and OSA were more fatigued and had less quality of life compared to children with JA without sleep apnea.
There is no definitive answer as to why children with juvenile arthritis are more prone to sleep apnea. One theory is that they have a higher prevalence of arthritis in the temporomandibular joint, or TMJ (near the jaw), which may impair the growth of the mandibular and thus restrict breathing during sleep resulting in OSA.
How Many Pillows Should be Put on a Bed?
The right bed pillow size for you comes down to personal preference and your mattress size. A good rule of thumb is to match your pillow size to your bed, like using king pillows on a King size bed. This isn't a hard rule, however, so we encourage you to get creative. The larger your mattress size, the more room you have to incorporate different sizes. Here are a few common pillow combinations to get you started:
Twin mattress with one

super standard pillow

and one

euro pillow

.

Queen mattress with two

super standard pillows

and two

euro pillows

.

King or California King mattress with three

euro pillows

, two

king pillows

, two

standard pillows

, and one accent pillow or bolster.
Why are Pillow Sizes Important?
Confused about why pillow width and size is important? Here's a list of medical and aesthetic reasons.
Comfort

—Your head size is a consideration for comfort, as people with broader shoulders and heavier heads will likely feel comfortable on a larger, wider pillow that has the space for more fill and loft.

Spinal Alignment—A pillow that's well-placed and well-sized can help take pressure off of the neck, back, and shoulders and promote spinal alignment. Check out the best pillows for neck pain for our suggestions.
Sleeping Position

—While loft is among the most important factors for all sleeper types, pillow width is equally as important for combination sleepers. When combination sleepers change positions throughout the night, they may roll off the pillow if it isn't wide enough to accommodate their level of movement.

Stomach sleepers

,

back sleepers

and

side sleepers

should consider their body size, weight, and shoulder width when choosing the appropriate pillow width. Check out our best pillow guide for all of our recommendations.
Aesthetic Quality—Bed pillows should appear substantial in scale without feeling overpowering or too small for the mattress. For example, a King size mattress with a single standard pillow isn't as aesthetically pleasing as a King size that's layered with five or six pillows.
What Types of Materials are Used in Pillows? 
These are the most common pillow materials and their pros and cons:
Memory Foam

—

Memory foam pillows

can be filled with shredded memory foam or a single block of memory foam. They offer contouring and come in a variety of firmness levels for different sleeper types, but they can have off-gassing odors and may sleep hot.

Down

—This

type of pillow

is filled with the plumage of ducks or geese and is lightweight, comfortable, and relatively expensive. It absorbs a moderate amount of body heat and can be found in a variety of fill levels.

Down Alternative

—A nice alternative for people who like

down pillows

but want a more affordable option, down alternative pillows are filled with polyester fibers and are lightweight, soft, and suitable for people with down allergies.

Buckwheat

—Buckwheat pillows are filled with hulls or the outer shell of buckwheat kernels and offer great support and pressure relief. However, they're expensive, noisy, and their firmness setting may not be suitable for lightweight sleeper types.

Latex

—Latex pillows can be filled with shredded latex or a single block of latex foam.

Compared to memory foam

, latex has better support and a more responsive feel. These

types of pillows

are more expensive than average and may have an unpleasant smell.
To learn more about each type of pillow and read our advice for finding the perfect pillow for your body type and sleeping position, read our Guide to the Best Pillows in 2023.
Unusual Pillow Sizes
While most pillows sold today come in one of six sizes (Standard, Super Standard, Queen, King, Euro, or Body Pillow), there's no right or wrong when it comes to pillow sizes. There are hundreds of pillows available in non-standard, unique shapes and dimensions. Here's a look at a few of the different sizes:
Emperor

—This pillow type is designed for California

King size

mattresses and typically measures 20" x 42".

Caesar

—A Caesar measures 20" x 48" and is wider than a

King pillow

but not as long as a

body pillow

.

Bolsters

—Bolsters are cylindrical-shaped pillows that are decorative in nature and can measure anywhere from 4" to 9" in diameter.

V-Shape Back Support

—This pillow is designed to provide an above-average support level to the neck and is often used for orthopedic purposes and by nursing mothers.

Boudoir—A boudoir pillow is small, typically measuring just 12" x 16", and is slightly larger than a travel pillow. They're used for decorative purposes or to support another pillow.