Pluto Pillow Review
Learn more about this unique, built-to-order pillow from Pluto!
•
Disclosure: By clicking on the product links in this article, Mattress Nerd may receive a commission fee at no cost to you, the reader. Read full disclosure statement.
The Mattress Nerd's Take: The Pluto pillow is the first custom, built-to-order pillow you can design for your specific needs by adjusting the density, size, and loft height. Because of its personalization, we think it's an excellent choice for virtually all kinds of sleepers—unless you don't want to drop $85 on a pillow.
Who It's Good For
All sleeping positions
Those who want a customized sleeping experience
Those with neck pain
Hot sleepers
Who It's Not Good For
Budget-conscious shoppers
Those who don't like to sleep on a silky surface
Those who don't want to customize their pillow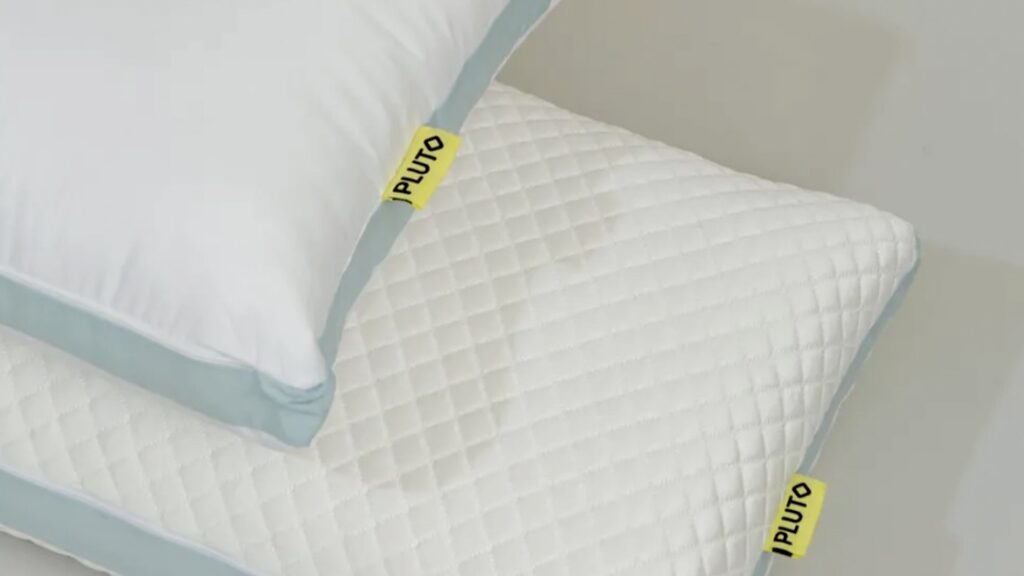 Look Inside
To get a better sense of how the pillow performs, let's take a look inside and see what it's made of—and what makes it so special.
Personalized support and hybrid design
You can't just toss this pillow into a virtual cart and bring it home. Pluto requires all its users to fill out a quick 12-question survey that covers things like sleeping position, firmness, and height preference. Based on your answers, the brand will build a custom-ordered hybrid pillow (think: a pillow inside a pillow) that combines layers of foam surrounded by a plush cover. At the time of this writing, Pluto can create over 35 different variations.
Cooling eucalyptus cover
The top of the pillow is covered with a luxuriously soft, 100 percent eucalyptus surface that's supposed to keep you cool and comfortable throughout the night. And if you have a tendency to run really hot, your Pluto pillow can be custom-designed to include additional lightly quilted, cooling fibers to promote more airflow.
Hypoallergenic and temperature-regulating materials
Those cooling fibers we mentioned? They're also hypoallergenic and suitable for people with down feather allergies, as are all the materials used in Pluto pillow's hybrid construction. Plus, the pillow's breathable eucalyptus cover helps regulate temperature and promote air circulation. Combined with its cooling poly foam layers, these technologies help minimize heat retention and keep you comfortable.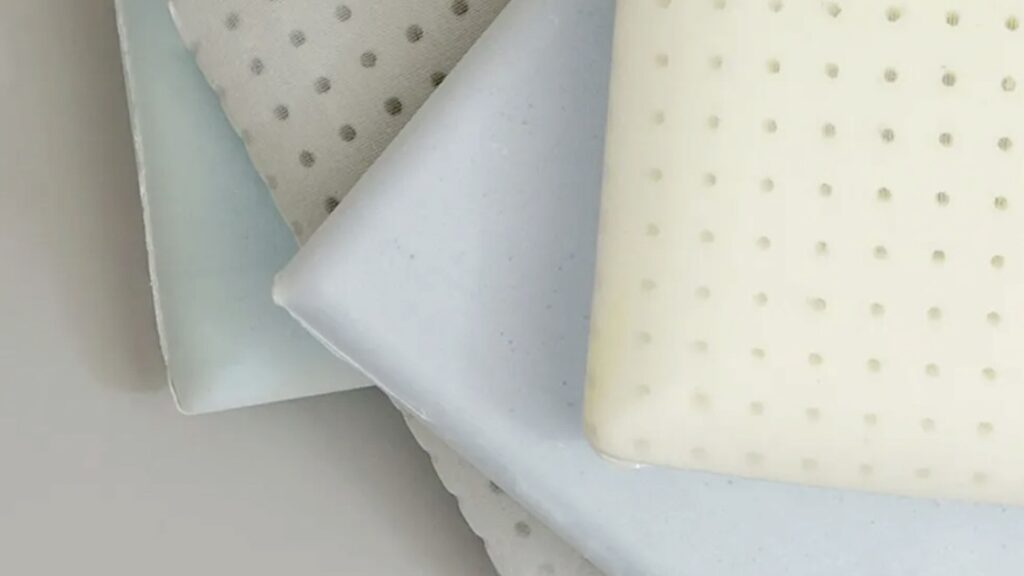 Mattress Nerd Pillow Scores
Mattress Nerd is all about providing you with the latest, unbiased information to make an informed decision about your sleep. To do this, we tested and reviewed the Pluto pillow based on the following key criteria and gave it a score of one to five, with five being the highest.
Cooling: 4/5
Waking up in a pool of sweat is on no one's to-do list. Fortunately, Pluto pillow's high-grade and breathable poly foams are temperature-responsive. Meaning they actively adjust to your body temperature, helping you stay cool and comfortable throughout the night.
And that's just the basic design. The questionnaire takes your personal tendency to overheat into consideration when building out your pillow. So additional cooling fibers may be added to keep you in the sweet no-sweat spot.
To see more cooling pillow options, check out our Best Cooling Pillows roundup.
Alignment: 4/5
Sleeping comfortably—and reducing the likelihood of morning aches and pains—is all about keeping your neck in alignment and maintaining its natural curve. Given its customizable design, the Pluto pillow offers an impressive level of neck support. Depending on your preferences and sleeping position, you can adjust the density and loft height to get a truly personalized experience that helps keep you in a healthy spinal alignment.
The only downside is that finding the perfect position for your neck isn't necessarily as simple as jotting your weight, height, and loft preferences into a survey. Some people may not accurately gauge the amount of support their neck needs. But with a 110-night sleep trial, you can always send the pillow back if it's not quite right.
Adjustability: 5/5
This is where the Pluto pillow truly shines. As a hybrid pillow, it can be completely customized to change shape and provide the right amount of support and contour for pretty much every sleeping position known to man. The brand's 12-question survey covers everything from temperature to firmness preference, allowing you to tailor their one-of-a-kind pillow design to your exact specifications.
Pluto's goal is to create the perfect pillow for you. So while it is a pillow inside a pillow, you can't remove the fill once it's been crafted. However, you can send it back to Pluto for an adjustment (or refund) so long as it's within the 110-night sleep trial period.
Quality of Materials: 4/5
Pluto pillows may not be the most eco-friendly sleeping companions on the market, but the brand doesn't skimp on quality when it comes to its materials. The core is made up of CertiPUR-US certified poly foam, which means it's free of harmful chemicals like PBDEs, TDCPP, or TCEP flame retardants, mercury, lead, formaldehyde, and phthalates. The outer, plush layer is constructed of silky polyfill fibers that are ultra-thin (like thinner than human hair thin) and hypoallergenic.
Depending on your questionnaire answers, the pillow's cover will be made either out of 100 percent eucalyptus or polyethylene fibers. Both can help regulate your body temperature, but the polyethylene option typically offers more cooling benefits.
Care: 5/5
Another win for the Pluto pillow is its user-friendly care instructions. While the core foam should never be washed, you can remove the outer plush casing and machine-wash it whenever you'd like. It can even be thrown in the dryer! Just make sure to clean it separately from other items and use a gentle cycle. Pillow protectors are not required, but they can keep your pillow looking and feeling like new.
Customer Experience: 5/5
Pluto offers a generous 110-night sleep trial—which is 10 days longer than the industry standard—so you can test out its customized design and make sure it's a good fit for your needs. If it's not, Pluto will explore any possible adjustments or offer you a return and full refund. Try sleeping on the pillow for at least two weeks before making a decision.
The pillow also comes with a standard 1-year warranty that covers any defects in the cover or foam. Pluto may not have a customer service number, but their team is always there to help via email.
Total Score: 4.5/5
Side Sleeping
Pluto suggests that most people don't fall into a specific category of sleeper and instead that we're all "combination" sleepers who change positions multiple times throughout the night. That being said, we think their pillow is an ideal choice for all kinds of side sleepers, as you can customize the height and thickness to best support the space between the neck.
Related: Best Pillows for Side Sleepers
Back Sleeping
Back sleepers should opt for a medium-firm pillow to keep the spine in alignment. The Pluto pillow can easily be adjusted to achieve this level of firmness, allowing back sleepers to get some much-needed support without compromising comfort.
Related: Best Pillows for Back Sleepers
Stomach Sleeping
Stomach sleepers should avoid overly thick pillows that can cause the neck to sink and the head to tilt up. We think the Pluto pillow is an excellent choice as you can adjust it to be very thin, allowing stomach sleepers to get some much-needed relief without straining their neck or spine.
Related: Best Pillows for Stomach Sleepers
| | | |
| --- | --- | --- |
| Score for Side Sleepers | Score for Stomach Sleepers | Score for Back Sleepers |
| 5/5 | 5/5 | 5/5 |
Pros/Cons
Pros
Customization: Pretty much every aspect of this pillow can be personalized to meet your specific sleep position, firmness preference, and body size.
Machine-washable: The outer casing of the pillow is machine-washable, so it's easy to keep clean.
Temperature-regulating: Both the eucalyptus and polyethylene cover options can help regulate your body temperature.
Cons
Slippery: Some customers have complained that the cover can be a bit slippery, making it hard for some pillowcases to stay in place.
No customer service number: If you need to speak with someone from Pluto, you'll have to reach out via email.
Expensive: The Pluto pillow is quite pricey, with prices coming in at around $85 to $110.
Sizing, Pricing, and Policies
| | | |
| --- | --- | --- |
| Size | Dimensions | Price |
| Standard | 24″ x 16″ | $100 |
| King | 34″ x 16″ | $140 |
Shipping
The Pluto pillow ships for free, but due to its "made to order" nature, it'll ship in approximately three weeks.
Trial Period & Warranty
The Pluto pillow comes with a 110-night sleep trial period, meaning you'll have 110 nights from your original delivery date to decide whether or not your pillow works for you. If you find it doesn't, within that time frame, you can return your pillow for a full refund.

Pluto also offers a 1-year warranty.
FAQs about the Pluto Pillow
Are customizable pillows better than traditional pillows? 

I wouldn't say a customizable pillow is necessarily "better", but it offers more personalized support overall. With the Pluto pillow, you know you're going to get a pillow that's perfectly matched to your preferences. I'd say if you've tried out other pillows with no luck, going the customizable route may be better for you.
How long does it take to get a Pluto pillow?

According to their website, each Pluto pillow ships in three weeks. This timeline is largely based on the fact that all pillows are built-to-order and customized specifically for each customer. Once you receive your pillow, you have 110 nights to test it out and decide if it's a good fit.
How do you wash a Pluto pillow?

The core foam should never be washed, but the outer plush casing is machine-washable. Simply remove it from the pillow and wash it separately from other laundry using a gentle cycle. Make sure to tumble dry on low heat or air-dry flat to keep the shape.
The Nerd's Final Take
The Pluto pillow is an excellent choice for anyone who wants a custom-built, hybrid pillow that can be tailored to their exact needs. It may not be the cheapest option out there, but it's definitely one of the most innovative—and if you're looking for personalized support and don't mind spending extra on quality, this pillow could be worth the investment. Plus, with a 110-night trial period and 1-year warranty, you can rest easy knowing that if you don't love it, you can always return it.
So if you're looking for a hybrid pillow that's customizable and comfortable, we highly recommend giving the Pluto pillow a try.
| | |
| --- | --- |
| Performance Factor | Out of 5 |
| Cooling | 4 |
| Alignment | 4 |
| Adjustability | 5 |
| Quality of Materials | 4 |
| Care | 5 |
| Customer Experience | 4 |
| Total Nerd Score | 4.5 |