Purple Harmony Pillow Review
The Mattress Nerd's Take: The Purple Harmony pillow is made with a thinner version of the Purple Grid—called the Purple Grid Hex—that softly cradles your head while a Talalay latex foam core provides neck support. Three height options enable you to choose the version that best matches your sleeping position and body type.
Who It's Good For
All

sleeping positions

Hot sleepers

looking for a

cooling pillow

All body types
Who It's Not Good For
Those who prefer a firm pillow

Those who prefer a traditional pillow feeling

Budget shoppers
Purple Harmony Pillow Video Review
The Purple Harmony Pillow features a gel grid layer wrapped around a Talalay latex foam core. Three height options allow you to pick the best size for your sleeping position and body type. In this video review, we're going to break down how this pillow feels. You'll also see FAQs and our lists of pros and cons.
Look Inside
Purple calls the Harmony "the greatest pillow ever invented," based primarily on its pairing of hypoallergenic Talalay latex with the Purple Grid Hex. The Hex is a thinner, lighter version of the 3" Hyper-Elastic Polymer grid used in the original Purple pillow. Instead of a standalone Grid layer, the Hex is built right into the inside of the pillow cover. It's more flexible, so you can sink into the pillow the right amount for comfort.
The pillow core is made of hypoallergenic Talalay latex foam that's perforated (hole-punched) for better airflow. The foam is soft and impressionable, but quickly responds to changes in pressure. Latex foam is cushioning, but supportive, which helps to prevent neck pain.
The whole pillow is wrapped in a mesh cover made with nylon, spandex, and a moisture-wicking treatment. It has air holes punctured throughout the fabric, similar to the look and feel of an athletic jersey. The cover material feels light and stretchy, and it's completely machine washable.
Still curious about the Purple Grid? Learn more in our Purple mattress review, where we dive deeper into the benefits of the Grid and talk about how the Purple makes some of the best mattresses for back pain.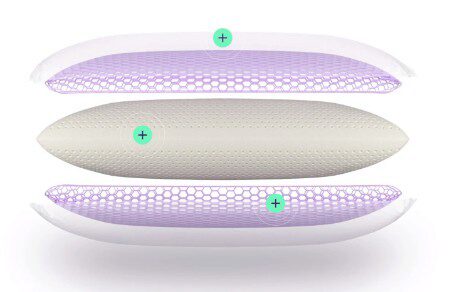 Mattress Nerd Pillow Scores
We evaluate our pillows against the six categories listed below on a scale from 1–5, with 5 being the best.
Cooling: 5/5
Every element of this pillow has cooling features, making it a great choice for hot sleepers. The cover is punctured with hundreds of tiny air holes that promote breathability. The Grid Hex has open-air channels built into its honeycomb-patterned design to allow air to flow through while you sleep. And, lastly, the latex foam core is naturally cooling and, in this case, is ventilated with air holes by design, so that the foam won't trap any heat.
The Harmony received a perfect score in this category since its design is so intentional about giving users a cooling experience in every feature.
Alignment: 5/5
It's hard to miss out on good alignment when a pillow is offered in different loft levels. Since the Purple Harmony is offered in three different height options, you can pick the height that works best for your sleeping position. The ultimate goal is to keep your neck in line with your spine. Here are our recommendations:
Low (5.5"):

Best for petite or average-sized

back sleepers

and

stomach sleepers

with bigger builds

Medium (6.5"): Best for petite or average-sized side sleepers and back sleepers of all body types
Tall (7.5"): Best for side sleepers
Adjustability: 5/5
The Harmony pillow is very flexible, and can easily be folded or manipulated into whatever shape feels most comfortable to you while you sleep. As previously mentioned, this pillow comes in three height options that you can choose from when you purchase, so it's not "adjustable," but in the same way, its loft is personalized to your preferences.
Quality of Materials: 5/5
The Harmony pillow is made with high-quality materials designed for durability, such as Hyper-Elastic Polymer and Talalay latex. Both of these materials are also hypoallergenic, non-toxic, and safe for kids. The whole pillow is protected under warranty for one year after purchase, which is standard for pillows.
Care: 4/5
The removable cover is machine washable, and needs to lay flat to dry. The latex core can only be spot cleaned, which is why we deducted a point in this category.
Customer Experience: 5/5
Purple offers a 100-night sleep trial (industry standard), a 1-year warranty, and free shipping to the contiguous U.S. Purple also allows you to reach their customer service through an online chat feature on their website (purple.com), by phone seven days a week, or by visiting a Purple showroom.
Total Score: 4.8/5
Side Sleeping
The most important features in the best pillows for side sleepers are neck-to-spine alignment and support for the space between the head and shoulders. Those with smaller body types should opt for the medium loft, while those with average or larger body types should go with the tall loft.
Back Sleeping
Back sleepers will want to choose the low or medium loft version of this pillow. Those are the heights most likely to provide these folks with proper neck support. Petite to average-sized sleepers will fare best with the low loft, while those with larger body types will be better off with the medium loft.
Back sleepers can see our favorite picks for this sleeping position by checking out the best pillows for back sleepers.
Stomach Sleeping
Stomach sleepers should stick to the low loft—regardless of body type. This option gives you the best chance of neck-to-spine alignment. At 5.5" tall, the Harmony probably won't work for stomach sleepers with petite body types, but it's flat enough for bigger bodies and average-sized sleepers who spend only part of the night on their stomach.
For more low loft options, check out the best pillows for stomach sleepers.
| | | |
| --- | --- | --- |
| Score for Side Sleepers | Score for Stomach Sleepers | Score for Back Sleepers |
| 5/5 | 3/5 | 5/5 |
Pros/Cons
Pros
Cooling:

Thanks to the breathable cover, honeycomb grid, and ventilated

latex foam

, every feature of this pillow has cooling properties for you

hot sleepers

out there.

Responsive:

This pillow is lightweight, but doesn't fall short on support. It will always regain its shape after use and respond to any movement made on the surface.

Multiple Height Options:

I love that Purple allows you to choose your height with this model so that everyone can find their most comfortable option.

Multiple Pillow Sizes: The Purple Harmony comes in a King size and slightly smaller standard size, so you can choose the size that works best for your mattress size.
Cons
Complaints from Back Sleepers:

I didn't experience this, but in researching reviews from other users online, some

back sleepers

felt this pillow was not firm enough. Know that the Harmony is supportive, but not firm, if that's what you're looking for.

Pricey:

the Harmony pillow retails for over $150 per pillow—making it not the most budget-friendly option.

Not Fully Washable: As someone with allergies who likes to have easy upkeep pillows, I wish the whole pillow could be washed in its entirety.
Sizing, Pricing, and Policies
| | | |
| --- | --- | --- |
| Size | Dimensions | Price |
| Standard | 26″ x 17″ x 5.5″ | $159 |
| King | 34″ x 17″ x 5.5″ | $199 |
Keep up with the best prices for Purple products by using our Purple coupons.
Shipping
Purple ships their sleep accessories for free to the contiguous U.S. If you're shipping to Alaska or Hawaii, you will be charged an extra shipping fee, so keep that in mind if you're not living on the mainland.
Sleep Trial
The Purple pillow comes with a 100-night trial period, which means you can try out the pillow for a few months to see if it's right for you. It's important to note that it can take up to 30 days for your body to adjust to a new pillow, and Purple requires you to keep the pillow for at least 21 days (an industry-standard "break-in period") before initiating a return. If the Harmony pillow is not right for you, you can request a free return and get a full refund.
Note: If you bought your pillow from a retailer other than Purple, you'll need to ask about their trial period and return policy.
Warranty Coverage
Your Purple pillow is protected by a 1-year warranty, as long as you're the original owner. If you think your pillow has a defect, reach out to Purple to request a replacement pillow or repairs. The Purple pillow warranty applies to every feature: the pillowcase cover, Grid Hex, and latex foam core. Make sure you have your original proof of purchase when you contact Purple to make a claim.
FAQs
How good is the Purple Harmony pillow for neck pain?
As long as you choose the right height for your needs (low, medium, or high), you shouldn't develop neck pain while using the Purple Harmony pillow. The combination of the Purple Grid Hex and latex foam provides pressure relief for your head and support for your neck.
Does the Purple Harmony pillow flatten?
Latex pillows are some of the most durable pillows out there because they resist flattening much longer than pillows made of materials like polyfoam or polyester. Latex foam is derived from rubber, which makes it resilient, bouncy, and unlikely to soften or form indentations like a memory foam pillow.
Which is the best Purple pillow?
The Purple Harmony pillow works for the broadest range of sleepers, since you can choose the height of the Talalay latex core that best matches your sleeping position and body type. The original Purple pillow is made mostly of the Purple Grid, but includes two foam boosters for adjustable height.   The Purple Cloud Pillow, formerly called the Purple Plush pillow, looks and feels like the traditional down/down alternative pillow that you're used to using, but it's filled with gel fibers with serious fluff.
The Nerd's Final Take
The Purple Harmony pillow is an all around great option for those looking to invest in a high-quality pillow that offers luxury-level comfort. I think this model is the most versatile and appealing pillow of the Purple pillow line. You get the flexible support from the Grid Hex and the cushiony soft comfort of the latex foam, all while feeling cooling relief from moisture-wicking cover. Bottom line: if you are thinking about buying this pillow, do it.
JUMP TO
Who It's Good For
Who It's Not Good For
Purple Harmony Pillow Video Review
Look Inside
Mattress Nerd Pillow Scores
Pros/Cons
Sizing, Pricing, and Policies
FAQs
The Nerd's Final Take