Sleep Number True Temp Weighted Blanket Review
•
Disclosure: By clicking on the product links in this article, Mattress Nerd may receive a commission fee at no cost to you, the reader. Read full disclosure statement.
The Mattress Nerd's Take: The True Temp™ weighted blanket is Sleep Number's take on a cooling blanket. It uses moisture-wicking technology and a cooling fabric blend to keep hot sleepers cool. It's best for those who want to relax without overheating, but not ideal for those on a budget.
Chances are, you've probably heard of Sleep Number beds: they're some of the most popular adjustable airbeds out there. As it turns out, their bedding collection expands past your average pillow and sheet set. I tested out their True Temp™ weighted blanket—a weighted blanket designed to keep your body at the optimal temperature. Read all about my experience, what I liked, what I didn't, and who I'd recommend it to.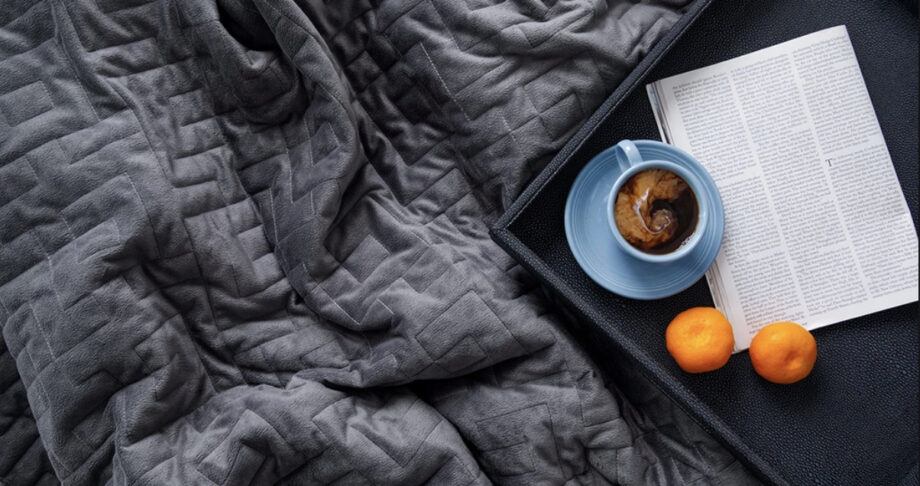 What Makes the Sleep Number Weighted Blanket Stand Out
Pros
Cooling:

This weighted blanket uses True Temp™ technology to keep you at a comfortable temperature during your nap or night of sleep.

Machine washable:

You can remove the cover and throw it in the wash for easy cleaning and care after those late night snacks.

Calming:

The benefits of using a weighted blanket include stress relief and a feeling of relaxation.
Cons
One size only:

The True Temp™ weighted blanket only comes in a size for a single sleeper. If you were looking for something bigger, or something you can share, you may want to check out an alternative, such as the

Gravity weighted blanket

.

Cost:

The Sleep Number Weighted Blanket will run you about $200 before any discount. This could be a bit too much of a luxury buy for some.

Made outside of the U.S.: The weight blanket is made in China. For those who like to support U.S. businesses, Sleep Number may not be your best option.
What Is the Sleep Number Weighted Blanket Made Of?
Quilted Cover
The actual weighted blanket is wrapped in a quilted cover that's made of a mix of cotton and polyester. The outside feels smooth, cool, and a bit slippery. The best thing I can compare it to is the outside of a sleeping bag. The fabric isn't particularly plush or cozy, so I'd recommend using the blanket over a sheet.
What's most interesting about the materials is that the blanket uses True Temp™ technology in the cover, which attracts moisture and then removes it altogether. This is how the blanket stays cool. The cover is also cool to the touch, and when I first slip under the blanket, I get goosebumps on my arms. For more blankets that keep you from overheating, check out our list of the best cooling blankets.
Another great feature of the cover is the fact that it is machine washable, which makes for extremely easy care. To do this, simply remove the cover from the inner blanket, wash in cold water, and put it in the dryer on low. (Make sure you don't use any dryer sheets, though.)
Weighted Inner Blanket
The star of the show, however, is the inner weighted blanket, which is actually what holds the weight (obviously). It is filled with small glass beads that you can choose to be either 12 lbs or 20 lbs of total weight. Picking between the two is easy: simply choose the one closest to 10 percent of your body weight.
What Does the Sleep Number Weighted Blanket Feel Like?
My experience with the True Temp™ weighted blanket was a wholly positive one. I'd been wanting a weighted blanket for a while when the opportunity to test the Sleep Number one was presented to me. So, I wasn't just testing the Sleep Number weighted blanket—I was testing out whether or not I liked weighted blankets in general.
Because I am a lightweight sleeper, I chose the 12 lbs blanket, which was ideal for me: it's not too heavy, but it's heavy enough that I could feel the calming benefits of weighted blankets.
The blanket is certainly cool to the touch. The slick, sleeping-bag-like material was a little chilly on my arms, but I like that the cooling effects last me throughout the entirety of my mid-day nap. I also occasionally add the True Temp™ blanket on top of my duvet at night for some extra weight, and I'll be honest, I sleep through the night way more frequently when I do.
Caring for the blanket is just as easy as the instructions suggest. My favorite part of the inner blanket is the corner ties that are duvet-cover-esque. It makes sure the actual blanket isn't moving the entire time you are. I find that it also keeps the fill evenly distributed.
Pricing and Specs
| | | |
| --- | --- | --- |
| Weight | Dimensions | Price |
| 12 lbs | 48" x 70" | $199.99 |
| 20 lbs | 48" x 70" | $199.99 |
Sleep Number Policies
Shipping
The Sleep Number weighted blanket ships free to the continental U.S. through UPS ground shipping. They also ship to Alaska, Hawaii, Canada, Puerto Rico, and the Virgin Islands (these locations do have to pay a shipping fee).
Sleep Trial
Sleep Number offers a 30-night sleep trial with the purchase of the weighted blanket. This trial period is a little more restrictive than what we're used to seeing. With Sleep Number's bedding trial period, the products are not returnable—they're exchangeable. So, for 30 nights, you can try out the blanket, see if it's for you, and exchange it for another bedding item if it isn't.
Remember: you will be responsible for any shipping fees when exchanging items.
Warranty Coverage
Once you make it through your 30-night trial, you get a one-year warranty on your True Temp™ weighted blanket. This means if your blanket has defects from the manufacturing process, Sleep Number will replace it for free. It doesn't cover normal wear and tear, however. To be able to file a claim, make sure you have your receipt, don't remove the law tag, and keep the blanket in good condition.
FAQs
Does Sleep Numberu00a0have otheru00a0weighted blankets?
The True Tempu2122 weighted blanket is the only weighted blanket Sleep Number currently displays on their website. Itu2019s a great option for people who sleep hot, but not a great choice for people on a tight budget.
Is it okay to sleep with a weighted blanket every night?
Yes, it is completely fine to sleep with a weighted blanket every night if you wish. Weighted blankets arenu2019t more dangerous than the duvet or comforter on your bed. With that said, I would recommend being more cautious with any weighted blanket that uses electricity.
When should you not use a weighted blanket?
There is rarely a time when using a weighted blanket wouldnu2019t be appropriate. However, I would not recommend a weighted blanket for young children. The weight may be too heavy for them, and they may find it difficult to get out from under the blanket.
The Nerd's Final Take
The Sleep Number weighted blanket does a great job of keeping you cool and helping you relax. It feels smooth and slick, and the cover is easy to care for. However, the price is reflective of a luxury product, it doesn't have any other size options, and comes with only two weight options.
Looking for more options? Check out our other best weighted blankets!
More from Sleep Number
Down Alternative Comforter: Starting at $149.99

True Temp Cooling Sheets: Starting at $199.99

True Temp Pillow: Starting at $99.99

Lumbar Pillow: Starting at $24.99