How Many Pillows Go on a King Size Bed?
•
Disclosure: By clicking on the product links in this article, Mattress Nerd may receive a commission fee at no cost to you, the reader. Read full disclosure statement.
If you've invested in a King size mattress but have trouble figuring out how to stack pillows in a formation that's functional and beautiful, this article will teach you about the right number of pillows for a King mattress. We also share five interior-designer-worthy King bed pillow arrangements and tips for choosing your arrangement based on the headboard, room size and more.
How Many Pillows Go on a King Size Bed?
Technically, a King size bed requires just two sleeping pillows, assuming it's accommodating a couple each night. If you sleep alone in a King size bed, you need just one sleeping pillow.
That being said, a King size bed looks plain and even a little odd without the addition of Euro pillows with shams, standard pillows with decorative shams and decorative throw pillows, like boudoirs and bolsters. While a Queen size bed can look nice with two Euros, a couple of standard shams, and some accent pillows, the sheer width of a King size mattress causes it to look empty when it's only outfitted with sheets, a duvet or comforter and a couple of pillows.
To make the most out of your King bed, we recommend choosing a pillow formation that's more robust rather than simply tossing one or two standard pillows on the mattress. Check out our pillow size guide to know more.
Here's a chart of the range of pillows that look best for each size mattress.
| | | |
| --- | --- | --- |
| | Number of Sleeping Pillows | Number of Decorative Pillows |
| Twin | 1 | 3-4 |
| Twin XL | 1 | 3-4 |
| Full | 1-2 | 3-5 |
| Queen | 2 | 5-8 |
| King | 2 | 7-9 |
| California King | 2 | 7-9 |
How to Arrange Pillows on a King Size Bed
If styling and decorating doesn't come naturally to you, you're not alone. Thankfully, there are tried and true bed pillow arrangement formulas to make it easier for you to create a cozy, aesthetically pleasing formation on your King size mattress. Here are few of our favorite King bed pillow arrangements:
The Classic

—Prop three European pillows against the headboard, then add two king size shams and finish with three smaller pillows with decorative or boudoir shams.

The Standard

—Prop three Euro shams along the back of the bed, then swap three queen or standard pillow shams for the second layer. Finish with two boudoir pillows in front. This formation can look lovely when the European squares coordinate with the duvet.

The Romantic—Use three European shams against the headboard, add two king size pillows to the second row, then finish with square decorative pillows (measuring 20" x 20") centered in front of the king size pillows. To create a truly romantic space for your and your partner, check out our Best Mattresses for Sex article.
The Maximalist

—Using the same foundation of three European squares at the back, add three standard size sleeping pillows, then add a third row of three standard size pillows outfitted with shams.

The Bolster

—Add three European squares against the headboard, then stack two king pillows with shams. Add a cylindrical bolster pillow, centered, to the front of this arrangement.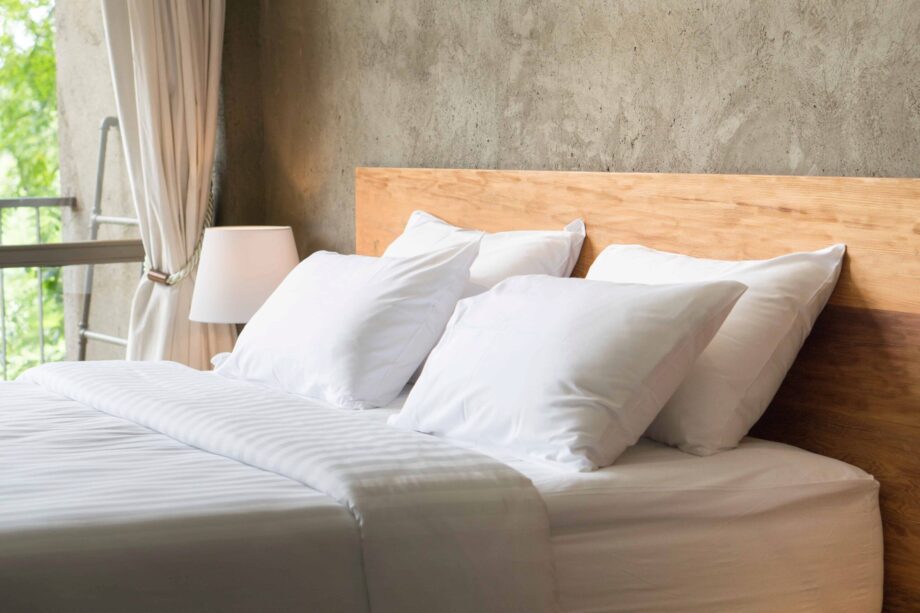 What is a King Size Bed?
A King size mattress traditionally measures 76" x 80", making it 16" wider than a Queen size mattress. It's an excellent mattress choice for couples who need more space than a Queen bed provides. King beds are usually seen in master bedrooms and large hotel rooms. Keep in mind that King size bed frames are even larger than King mattresses, measuring at least 80" x 85". For more information about mattress sizes, see our mattress size guide.
| | |
| --- | --- |
| Mattress Size | Standard Width and Length |
| Twin | 39" x 75" |
| Twin XL | 39" x 80" |
| Full | 54" x 75" |
| Full XL | 54" x 80" |
| Queen | 60" x 80" |
| King | 76" x 80" |
| California King | 72" x 84" |
Tips for Choosing the Right King Bed Pillows
Before you choose an arrangement and take to ordering and stacking pillows, there are a few things to consider that will ensure you choose the best style for you.
Measure the Headboard

—If you have a mattress that's taller than average, your headboard may extend minimally above it. Alternatively, some headboards are designed to show substantially above the top of the mattress. If you have a headboard that measures 2' or more above the mattress surface, it will lend itself to a more robust arrangement. If your headboard is short, keep the pillow arrangement simple.

Consider Color Scheme

—Plan the color scheme of your bed and throw pillows around your existing bedroom color palette. Choose throw pillows and pillow shams that work with your theme.

Review What You Have

—While creating a look from scratch can be fun, pay attention to what you already have and see if there's a king size bed pillow formation that can incorporate your existing pillows. Reusing what you have is a great way to care for the planet, too.

Factor in Price

—The prices of pillow inserts, custom bolsters and decorative shams can add up quickly. Price out the cost of your formation before you order it to make sure it's within your budget.
Why is Choosing the Correct Pillow Important
When it comes to decorative pillow inserts and shams, there's really no right or wrong as long as the pieces fit your personal preferences and have a quality you can rest easy with (no pun intended). However, choosing the correct sleeping pillow is nearly as essential as choosing the best mattress for your body type and sleeping position. Here's a list of the benefits and risks of choosing the right pillow to sleep on:
Size

—A pillow that's too small can lead to restless sleep. For example, King pillows offer extra room on both sides of the head, making them suitable for people who toss and turn throughout the night.

Spinal Alignment

—The right pillow should have a loft that's ideal for your sleeping position and body type. For example, stomach sleepers need a very lofty pillow because too much space between the head and mattress can strain the neck.

Fill—The right pillow material and fill – which ranges from buckwheat to down, latex, memory foam and more – can help prevent allergic reactions and improve sleep quality. Read more in our Memory Foam vs. Latex article.
Body Pillows

—Optional pillows, like body pillows and lumbar pillows, can be a great sleep-improving addition for side sleepers and pregnant women. They improve comfort and help align the spine.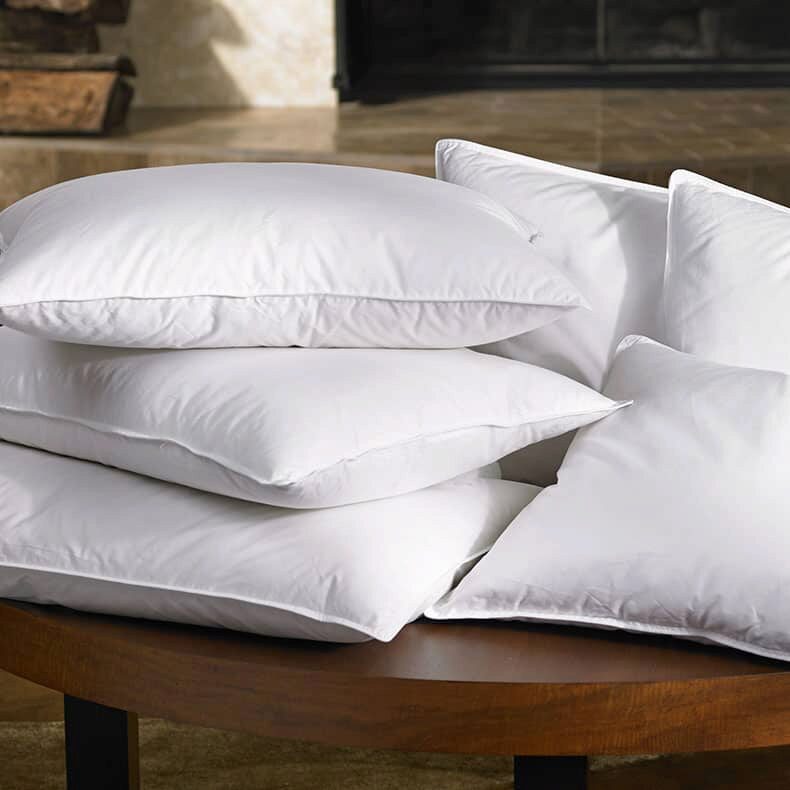 Types of King Size Bed Pillows
Pillows fall into a few categories, including sleeping pillows, decorative pillows and special needs pillows. Sleeping pillows are designed to be the primary pillow that you place your head and neck on throughout the night. They can be made from a wide variety of materials, which include the following:
Memory Foam—This type conforms deeply, cradles the head, and has a slow response time. It offers good firmness and support, but it may break down over time. If you're interested in memory foam, read our best memory foam mattresses article.
Down

— "Down" is the common word for the plumage of ducks and geese. Commonly used as pillow fill, it feels lightweight beneath the head. It doesn't absorb as much body heat as other fill types, but high-end down pillows can cost $200 or more.
Related: Best Cooling Mattresses
Down Alternative

—This pillow type is made from polyester fibers that mimic the feel of down. They are cheaper than authentic down pillows but not quite as durable.

Latex

—Latex pillows, made from material extracted from rubber trees, conform around your pressure points but also have a light bounce. They maintain a shape better than other types of pillows, but they may smell and are somewhat expensive.

Buckwheat

—This type is filled with the outer shell of buckwheat kernels and offers above-average support, pain, and pressure relief. Buckwheat pillows can cost up to $100.