Sleep Number Down Alternative Comforter Review
•
Disclosure: By clicking on the product links in this article, Mattress Nerd may receive a commission fee at no cost to you, the reader. Read full disclosure statement.
The Mattress Nerd's Take: I love the quality and crisp-ness of the Sleep Number Essential Down Alternative comforter. It's not an ultra-cooling comforter, but it's breezy and lightweight while avoiding a flimsy feel. I give this blanket a thumbs-up for design features like duvet loops, but it comes at a hefty price point.
The Essential Down Alternative comforter, manufactured by the longtime classic mattress and bedding brand Sleep Number, oozes sophistication. From the moment I took the Essential Down Alternative comforter out of its sleek grey Sleep Number box, I could tell I was dealing with a classic. I'm a just-out-of-college gal with a still-in-college budget, so my Sleep Number blanket was a bit out of place amongst my numerous Amazon bedding purchases and $50 Ikea bed frame.
But I'm not complaining: The comforter combines classic style with durability and forward-thinking design. On days when I don't want to make my own coffee, much less my own bed, the Logic Label guide on the edge of the comforter makes the bed-making process seem just easy enough to get me over the finish line. And though the comforter isn't uber-cooling, it's cozy and feels lightweight compared to traditional feather comforters. Check out our best comforter guide for other top picks.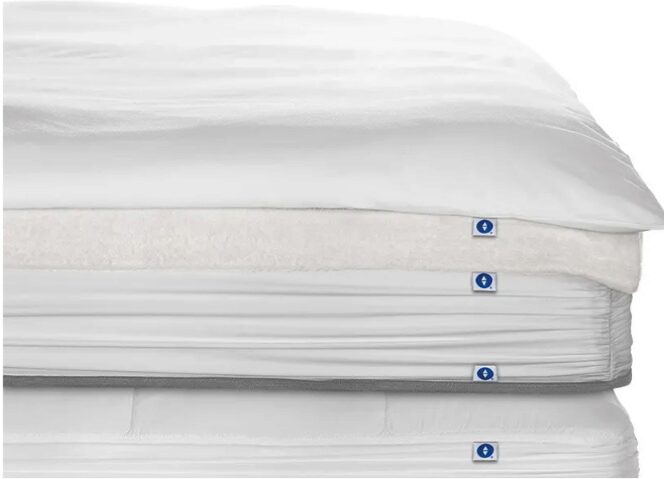 What Makes the Sleep Number Comforter Stand Out?
Pros
Logic Label guide:

Though it seems simple, I promise this little blue tag makes a difference. The visual guide easily shaves five seconds off of my bed-making routine by showing me where to start.

Color selection:

All too often, comforters just come in one Alaskan-tundra-white hue. If you're looking to spice things up—or just hide inevitable night dirt with a darker fabric—Sleep Number delivers a lot of variety in its 10-color options.

Durability: I've been accused of throwing around the word "robust" too often, but this comforter truly deserves it. The stitching on the blanket is substantial, even down to the loops designed to hold a duvet cover in place.
Cons
High price:

The Sleep Number comforter is definitely a luxury buy, and it might be hard for some people to justify the price.

Sleeps too hot: As someone who always sleeps with a pair of socks on, I haven't found this to be an issue personally. But I can see how this lofty, traditional-feeling comforter could build up heat for naturally hot sleepers. If you are a hot sleeper, check out the best cooling mattress toppers for a budget addition to cool your bed.
Not made in the U.S.: If you're a U.S. resident who likes to shop in-house, keep in mind that the Essential Down Alternative comforter is made in China.
What Is the Sleep Number Comforter Made Of?
Cotton percale
:
Reminiscent of a mediterranean beachfront, the breezy percale cotton cover feels crisp and breathable. It's not ultra-cooling (check out Sleep Number's True Temp bedding line for even more temperature regulation), but the 300-thread-count comforter comes in several different colors and designs. My crisp white Essential Down Alternative comforter works well in my post-college eclectic bedroom, but I also have my eye on the "Dark Blue Geo" pattern. I mean, how could anyone pass up that adorable print?
100 percent polyester fill:
It's hard to deny the luxurious sleep experience that comes from traditional down comforters and mattress pads: especially those made with quality materials like premium down. But the down alternative trend is a comfy, yet goose-sparing solution for vegans (like myself, not gonna lie) and anyone who cares about the environment. Sleep Number uses a 100 percent polyester fill to achieve the feel of down, but I'd say it goes a step further: the comforter feels lighter than a traditional down comforter.
What Does the Sleep Number Comforter Feel Like?
Like with most Sleep Number products, the Essential Down Alternative comforter feels luxurious and high-quality. Compared to my ancient, cheap-ish department store comforter (no shade, Big White! You've been my ride-or-die!), the Sleep Number is breezy and lofty, never feeling too heavy on my body. The comforter is somehow huge and luxurious—stretching to the far away, never-reached regions of my Queen bed—without leaving me feeling bogged down.
Another selling point of this comforter? The temperature-balancing feel of the 300-thread-count cover. Made of cotton percale, the cover feels mild and cool to the touch without being excessively slick or giving me the slimy sensation I sometimes get from ultra-cooling mattress covers (and some of the boys I dated in high school, not gonna lie).
I'm not a naturally hot sleeper, but I can attest that the comforter makes me feel cozy without bogging me down or making me feel overheated. I'd expect naturally hot sleepers to feel a bit of heat buildup in the summer underneath this comforter, but they should be just fine during the remaining three seasons.
In those rare moments during the night when my right leg gets a little warm (it's always the right leg, for some reason), I just whip it out from under the comforter and wrap it on top. Boom. Instant cooling relief thanks to the fresh-feeling cotton cover.
I haven't tried washing the comforter yet—after about two more late-night ice cream runs, it's gonna need it—but reviews from verified purchasers have reported that the comforter is easy to clean. According to Sleep Number, you can machine-wash the comforter with a mild detergent. Be sure to use a gentle cycle, and for extra peace of mind, I'd personally recommend using cold water.
Sleep Number Essential Down Alternative Comforter Pricing and Specs
| | | |
| --- | --- | --- |
| Size | Dimensions | Price |
| Twin | 68″ x 86″ | $149 |
| Full/Queen | 88″ x 96″ | $199 |
| King | 107″ x 96″ | $249 |
| California King | 100″ x 100″ | $249 |
Sleep Number Policies
Shipping
Another huge benefit to ordering from Sleep Number: free shipping. Not only do Sleep Number bedding products like duvet covers and toppers ship for free, the brand's mattresses (for instance, the Sleep Number 360) ship free as well. If the current price of the comforter is a bit of a turn-off, consider the dough you can save from a shipping perspective.
Sleep Trial
If you purchase an Essential Down Alternative comforter from Sleep Number, the brand throws in a 30-day exchange policy. If you decide you don't like the comforter, you can exchange it for a different product. There's not a ton of information on Sleep Number's website about the exchange policy, but I've always had good experiences with Sleep Number's customer service. I'm fairly certain their team will work with you if you experience any issues.
Warranty Coverage
Sleep Number offers a one-year limited warranty for the Essential Down Alternative comforter. You'll receive that warranty coverage regardless of what bedding you purchase: whether it's a cotton sheet set or a set of pillowcases. If you discover an issue with the comforter because of material or workmanship defects, let the team at Sleep Number know, and you'll receive a free replacement.
As with the warranty coverage of Sleep Number mattresses, the warranty for the comforter is non-transferrable, meaning you can't receive coverage if you purchased the comforter secondhand.
Sleep Number FAQs
Is the Sleep Number Essential Down Alternative comforter hypoallergenic?u00a0
Yes! The fill in the comforter is a hypoallergenic polyester fiberfill that should keep you sneeze-free and comfortable if you struggle with allergy issues.u00a0
Is the Sleep Number comforter worth it?u00a0
This is always a tricky question, because only you (and your personal FBI agent, if you believe in that sort of thing) know the contents of your bank account. To me, $200 is a lot to spend on a Queen size comforter. But this is a high quality piece of bedding that Iu2019d expect to hold up for years to come. If that durability is worth it to you, it might be time to pull the trigger.u00a0
What sizes are currently offered in the Sleep Number Essential Down Alternative comforter?u00a0
The comforter is currently offered in the following sizes: Twin, Full (also a Queen), King, and California King. You can choose from 10 color schemes and designs, but the price stays the same regardless of the design you choose.
See sleepnumber.com. for more FAQs.
The Nerd's Final Take
The Sleep Number Essential Down comforter is a classic example of Sleep Number quality, durability and design. Without seeming like it weighs a million pounds, the comforter feels substantial and durable: like it would survive a couple hundred trips through the washing machine, or a glamping excursion through the Blue Ridge Mountains. The price is certainly enough to give me pause, but I'd expect that once the comforter is in your life, it will stay with you for a long time. At least, that's my plan for this gorgeous piece of bedding.
Starting at $99
Sleep Number True Temp Pillow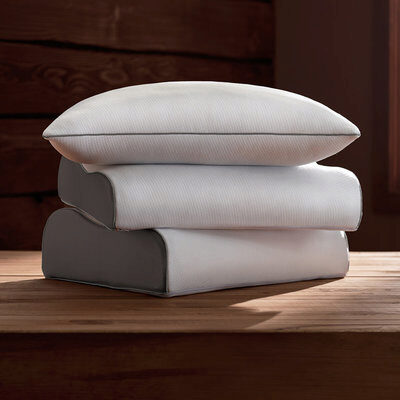 Starting at $119
Sleep Number Cotton Sheets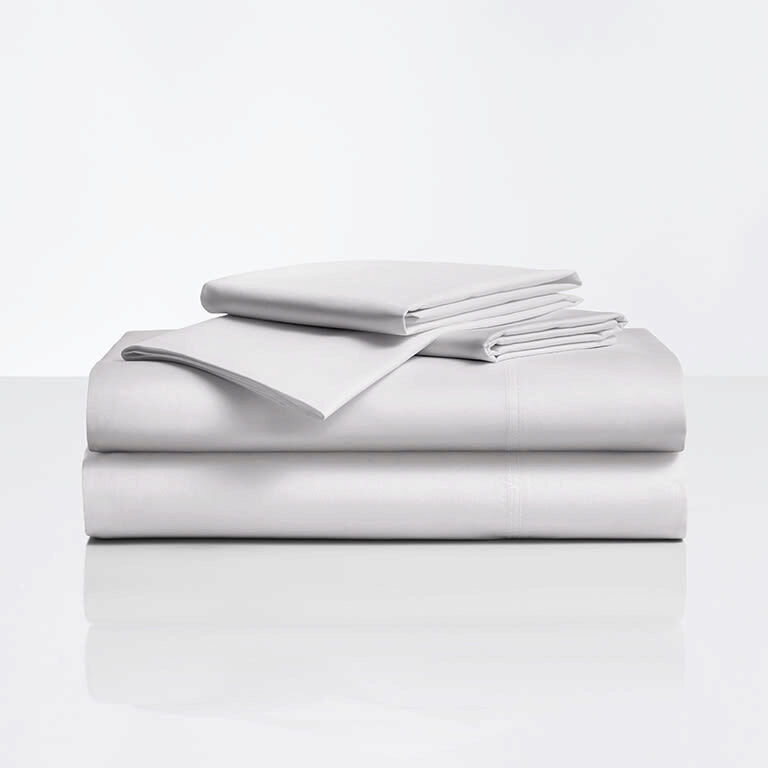 Starting at $199
Sleep Number True Temp Sheets