Sleep Number's True Temp Cooling Sheets Have Changed My Life: Seriously.
That's right: this seasoned bedding reviewer is a huge fan of Sleep Number's temperature regulating bed sheet set. But are they a sure bet for everyone? Check out my firsthand review to see if they could work for you.
The Mattress Nerd's Take: If you sleep hot, Sleep Number's cooling sheets could work well for you. The high-quality True Temp sheets incorporate volcanic sand particles and use your body's infrared light to encourage temperature regulation. (Mind blown.) But ultra-cold sleepers might find the True Temp sheets to be a bit too cool.
Bedding nerds like me will agree: the name "Sleep Number" just comes with a little extra clout. The brand's best-selling Sleep Number beds have been a staple for the higher-end folks in my life (read: my parents and pretty much anyone established enough to also own a slow cooker). But when I pulled these deep pocketed, breathable sheets out of the package, I had a sense I'd soon become a Sleep Number fan as well.
Now I've got to level with you: $200 for a Queen set of sheets seems a little steep in light of my editor's salary. But now that I've spent a while sleeping on this set, I could see myself splurging for another. The color options for these sheets are a bit less daring than, say, Parachute, but they'll work with most bedroom color schemes. And I think the cooling power of these sheets will truly change the game for ultra-hot sleepers. Check out the best sheets guide for more information on our top picks.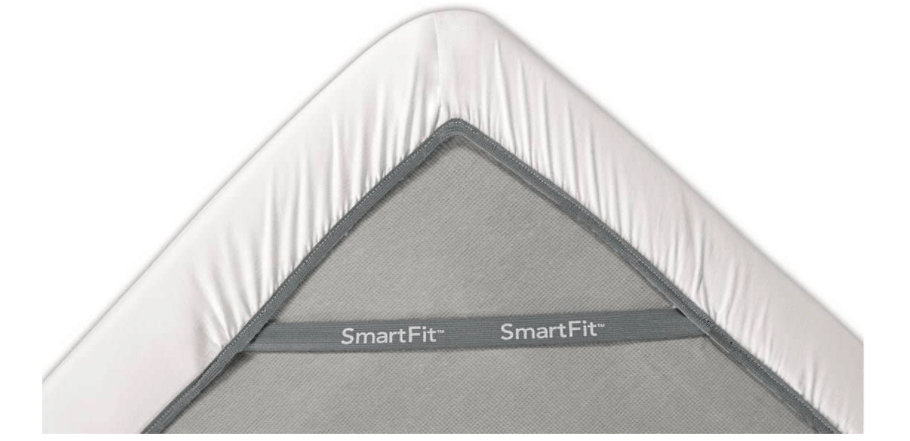 What Makes the Sleep Number Sheets Stand Out?
Pros
Crisp and cool, these sheets certainly live up to their temperature-regulating promises

The Logic Label, a small blue tag on the edge of the sheet set, helps me quickly align the sheets with my Sleep Number comforter.

While it can be difficult to keep a fitted sheet firmly affixed to my mattress, the True Temp sheets have a SmartFit design that keeps them from slipping.
Cons
Of the negative reviews about these sheets online, I've seen several complaints about the product's lack of durability. If you're looking for a sheet set that will outlast the apocalypse, this might not be the choice for you.

As a naturally cold sleeper, I sometimes feel a twinge too cold when I first slink down into these cooling sheets. In colder months, I could foresee this becoming an issue.

These 300 thread count sateen weave sheets are mainly made of cotton, which I personally don't find as soft compared to percale.
What are the Sleep Number True Temp Sheets Made Of?
Cotton percale
:
Reminiscent of a mediterranean beachfront, the breezy percale cotton cover feels crisp and breathable. It's not ultra-cooling (check out Sleep Number's True Temp bedding line for even more temperature regulation), but the 300-thread-count comforter comes in several different colors and designs. My crisp white Essential Down Alternative comforter works well in my post-college eclectic bedroom, but I also have my eye on the "Dark Blue Geo" pattern. I mean, how could anyone pass up that adorable print?
100 percent polyester fill:
It's hard to deny the luxurious sleep experience that comes from traditional down comforters and mattress pads: especially those made with quality materials like premium down. But the down alternative trend is a comfy, yet goose-sparing solution for vegans (like myself, not gonna lie) and anyone who cares about the environment. Sleep Number uses a 100 percent polyester fill to achieve the feel of down, but I'd say it goes a step further: the comforter feels lighter than a traditional down comforter.
What Do the Sleep Number Sheets Feel Like?
Like with most Sleep Number products, the Essential Down Alternative comforter feels luxurious and high-quality. Compared to my ancient, cheap-ish department store comforter (No shade! You've been my ride-or-die!), the Sleep Number is breezy and lofty, never feeling too heavy on my body. The comforter is somehow huge and luxurious—stretching to the far away, never-reached regions of my Queen bed—without leaving me feeling bogged down.
Another selling point of this comforter? The temperature-balancing feel of the 300-thread-count cover. Made of cotton percale, the cover feels mild and cool to the touch without being excessively slick or giving me the slimy sensation I sometimes get from ultra-cooling mattress covers (and some of the boys I dated in high school).
I'm not a naturally hot sleeper, but I can attest that the comforter makes me feel cozy without bogging me down or making me feel overheated. I'd expect naturally hot sleepers to feel a bit of heat buildup in the summer underneath this comforter, but they should be just fine during the remaining three seasons.
In those rare moments during the night when my right leg gets a little warm (it's always the right leg, for some reason), I just whip it out from under the comforter and wrap it on top. Boom. Instant cooling relief thanks to the fresh-feeling cotton cover.
I haven't tried washing the comforter yet—after about two more late-night ice cream runs, it's gonna need it—but reviews from verified purchasers have reported that the comforter is easy to clean. According to Sleep Number, you can machine-wash the comforter with a mild detergent. Be sure to use a gentle cycle, and for extra peace of mind, I'd personally recommend using cold water.
Sleep Number True Temp Sheets Pricing and Specs
| | | |
| --- | --- | --- |
| Size | What's Included? | Price |
| Queen | One oversized flat sheet, one fitted sheet, and two pillowcases | $199 |
| King | One oversized flat sheet, one fitted sheet, and two pillowcases | $239 |
| Split King | One oversized flat sheet, two Twin Extra-Long fitted sheets, and two pillowcases | $279 |
| FlexTop King | One oversized flat sheet, one fitted sheet, and two pillowcases | $319 |
| California King | One oversized flat sheet, one fitted sheet, and two pillowcases | $239 |
| Split California King | One oversized flat sheet, two Twin Extra-Long fitted sheets, and two pillowcases | $279 |
| FlexTop California King | One oversized flat sheet, one fitted sheet and two pillowcases | $319 |
Sleep Number Policies
Shipping
Like many other online mattress and bedding companies, Sleep Number offers free shipping. You don't have to wait for a certain sale date; the free shipping policy is in place all the time.
Sleep Trial
Sleep Number offers a 30-day period during which indecisive customers (*sheepishly raises hand*) can try out bedding. If you decide it's not for you, you can exchange it for another product. I'm not in love with this policy since it doesn't include a simple refund after 30 days … but hey, I'll take what I can get.
Warranty Coverage
The True Temp Sheet set is covered by a 1-year warranty. You likely won't find any warranty policy on bedding from some cheaper online retailers, like Amazon, so consider this a perk of shopping at a high-end company like Sleep Number. If you discover a defect caused by material or workmanship during the warranty period, you can submit a claim.
Sleep Number True Temp Sheets FAQs
Do cooling sheets even work, really?
As someone who's gotten a cool night's sleep on these sheets, I'd say that today's technology makes it entirely possible. Look for cooling sheets that move moisture away from the body and offer a decent amount of breathability. Because while those bamboo sheets or lyocell sheets might look appealing, moisture buildup won't lead to comfort.
What's the best material for sheets to keep you cool?
The answer to this question will depend on your individual preferences. Classic materials like Egyptian cotton sheets might offer breathability to one hot sleeper, but others might sleep better on high-tech Tencel sheets. Some bedding brands allow you to try out the products during a set time period, so take advantage of return policies.
Does a Sleep Number bed need special sheets?
No, a mattress from Sleep Number doesn't necessitate special sheets. But make sure that the size of your sheet set matches the size of your mattress. For instance, a King size bed needs a King sheet, not a Cal King sheet. Just be sure to double check your sheet sizes before placing your order.
The Nerd's Final Take
Overall, I'm really satisfied with my Sleep Number True Temp sheets. They kept me cool and comfortable even during the month of May in hot and humid North Carolina. And of course, you can't put a price on secure, strapped-in fitted sheets that don't come loose from the corner of your mattress. The price on these sheets certainly might give some shoppers pause, but if you're a hot sleeper, these luxury sheets could be your ticket to the best sleep you've had in a while.
Looking for other options? Check out some more luxury sheets options here!
Starting at $99
Sleep Number True Temp Pillow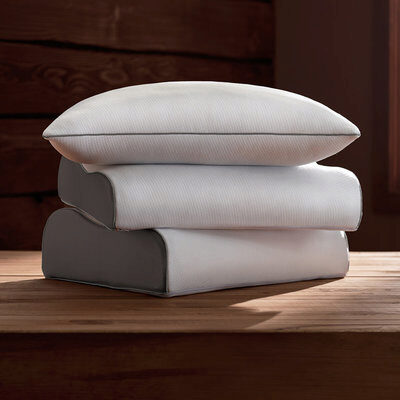 Starting at $119
Sleep Number Cotton Sheets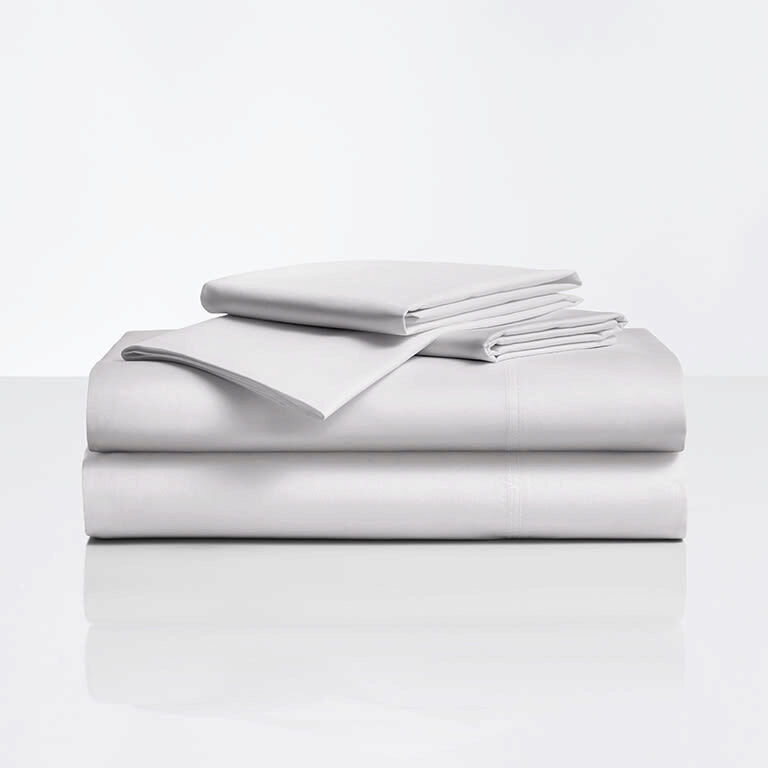 Starting at $159
Sleep Number Alternative Down Comforter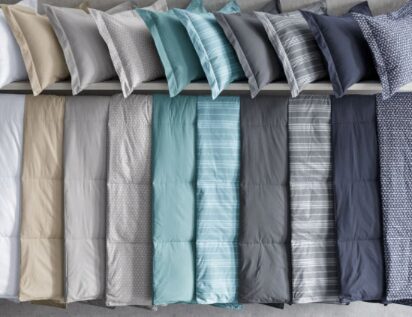 JUMP TO
What Makes the Sleep Number Sheets Stand Out?
What are the Sleep Number True Temp Sheets Made Of?
What Do the Sleep Number Sheets Feel Like?
Sleep Number True Temp Sheets Pricing and Specs
Sleep Number Policies
Sleep Number True Temp Sheets FAQs
The Nerd's Final Take