Sleep Number True Temp Sheets Review
•
Disclosure: By clicking on the product links in this article, Mattress Nerd may receive a commission fee at no cost to you, the reader. Read full disclosure statement.
The Mattress Nerd's Take: If you're a hot sleeper, or you tend to switch between sleeping positions at night, sheets are probably not your favorite aspect of your bed. Maybe they're too hot, or they come undone from your bed. But, with the Sleep Number True Temp sheets, cooling technology and durable features make this set a relief. Find out if they're right for you!
Curious as to how we test and rate sleep products? Check out our testing methodology.
Hot sleepers
Those looking for sheets with color options
Who It's Not Good For
Those who want super soft sheets–The sheets are fairly soft, but not super thick and cozy as they're meant to be breathable.
Those with a twin, twin XL, or full sized bed–These sheets only come in Queen and King size variations.
Those who want an organic or hypoallergenic product–Made with a blend of polyester and cotton, these sheets aren't all-natural and therefore might not be the best for sensitive skin.
Video Review
The True Temp sheets are made up of a blend of 76 percent cotton, 22 percent polyester, and 2 percent spandex. This blend creates a smooth, silky, and breathable material that supports Sleep Number's 37.5 cooling technology, which is embedded in the polyester. The name comes from the ideal body temperature— 37.5 degrees celsius. This patented cooling technology is sourced from natural volcanic minerals, adapting to your body temperature and humidity level to keep you comfortable.
These sheets come with a 300-thread-count sateen weave. Sateen sheets should ideally have a thread count between 300 and 600 to maintain quality, so these fall within that range. Although sateen sheets aren't usually the ideal weave for hot sleepers since they're a bit heavier than other weaves like percale, the 37.5 technology helps combat that.
The fitted sheet that comes in this set is equipped with a few unique features. First, they have "SmartFit" securing straps at each corner, which help the sheet stay snug to your mattress. The elastic around the fitted sheet's perimeter is also durable, and does a nice job clinging to the bed. Lastly, at the bottom right corners, you'll find Sleep Number Logic Labels, which help you align the corners to the correct spots on the bed— defeating the age old issue of having to orient your fitted sheet multiple times before getting it on the bed.
The whole set comes with a fitted sheet (both the split and California split king comes with two fitted sheets), top sheet, and 2 pillow cases, and is available in 6 different colors. The fitted sheet will fit mattresses up to 15 inches thick.
These sheets are also OEKO-Tex Standard 100 certified, which is a textile standard that means they have been tested for harmful chemicals and are safe to use.
As for how the True Temp sheets actually feel to sleep on, the texture is crisp and smooth, which feels very refreshing both on the body and against the face. They feel cool-to-the-touch, a great indicator of that 37.5 technology working its magic. However, they're not overly soft or snuggly, which is probably a testament to the polyester.
When I tested these out for myself at home, I noticed how comfortable I felt temperature wise overtime. I'm not a hot sleeper, but my boyfriend is, and he raved about how cool these sheets kept him as he slept. Even if you're not a hot sleeper, I could still say these sheets are a great option to use in the summer months or if you live in a warm climate in general.
I also enjoyed the snug fit from the fitted sheet which stayed secure against my mattress all night without shifting. Plus, the top sheet felt lightweight enough on the body to keep air flowing, while still being cozy enough to snuggle into.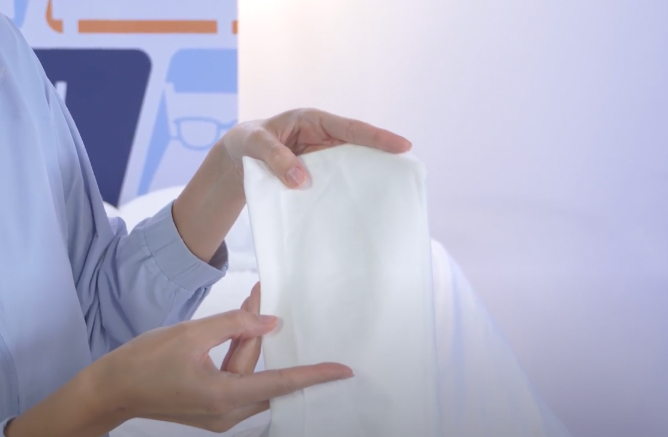 At Mattress Nerd, we rate products on a scale from one to five over six performance categories, with one being the worst and five being the best. We run the products through a series of tests in order to evaluate their ability during use, so you can get a better idea of what to expect before you buy.
Temperature Control: 5/5
The 37.5 technology really works to create the ideal, cool sleeping environment. I experienced the cooling sensation myself when testing these out on my own bed! They even have a 4.5 out 5 star user rating with over 9,000 reviews, with many hot sleepers giving testimonials about the relief they had after using these sheets.
Customizability: 3.5/5
Something I found odd about these sheets, were the size options. There is no option for a twin or full size bed. But— they have a bunch of options for queen and king sized beds, extending into specialty sizes like FlexTop and split king. So, if you already have that size bed, you're in luck, but not if you have something smaller.
Another nice feature of customizability is the color options! You can also choose between six colors, which is a nice range.
Overall, I think the color options are great for versatility, but the fact Sleep Number doesn't carry a full size range for this product is a bit strange.
Comfort: 3.5/5
These sheets were primarily made with hot sleepers in mind, along with those who want some stretch to their sheets. Therefore, the True Temp sheets are generally soft, but they're not very thick or very cozy. With that being said— they do what they need to do for the right type of sleeper.
The texture is light and smooth, which feels very refreshing on both on the body and snuggled against the face. They're also durable and luxurious, so they should feel comfortable for a while with proper maintenance and care.
Quality of Materials: 4.5/5
The material blend of cotton, polyester, and spandex, along with the incorporation of the cooling technology makes this set high quality. The sateen weave has an ideal 300 thread count for the weave pattern, Sleep Number's patented 37.5 tech built into the material blend does a nice job at combating overheating, and the SmartFit straps are a helpful addition to making your bed an effective and simple task.
With that being said, these sheets aren't made with organic or hypoallergenic materials. If you're looking for all-natural bedding, or sensitive skin safe materials, this may not be the set for you. Making a bedding purchase is a catered decision, so be sure to consider what you need before buying!
Care: 5/5
Sheet upkeep is as important as showering! You're literally climbing into these things every night! Here's how to make sure they're nice and clean. Simply machine wash on a gentle cycle in cold water with mild detergent. Do not use chlorine bleach, even on the white color way , or risk messing with the technology woven into the sheets material blend. Then, tumble dry on low heat or line dry. Sleep Number warns against pouring the detergent directly on your sheets, again, probably due to preserving that 37.5 technology.
Another caveat to be aware of from the brand is to not use dryer sheets when drying the True Temp sheets. Sleep Number claims doing so may weaken and break down the yarns of your sheets overtime.
Customer Experience: 4/5
These sheets come with free shipping and returns, a 100-night sleep trial, and a 1-year limited warranty. This means you'll have 100 nights to decide whether or not the True Temp sheets are right for you, or your money back! Sleep Number's bedding policy is more generous than other competitive brands, which added to their overall good score for this category.
If you'd like to return your sheets, you can do so at one of Sleep Number's stores or through their online customer service. Be aware you will be responsible for return shipping. If you do decide to keep your sheets after testing them out for the trial period, you'll be covered under Sleep Number's 1-year limited warranty, which covers any manufacturing defects.
Total Score: 4.25/5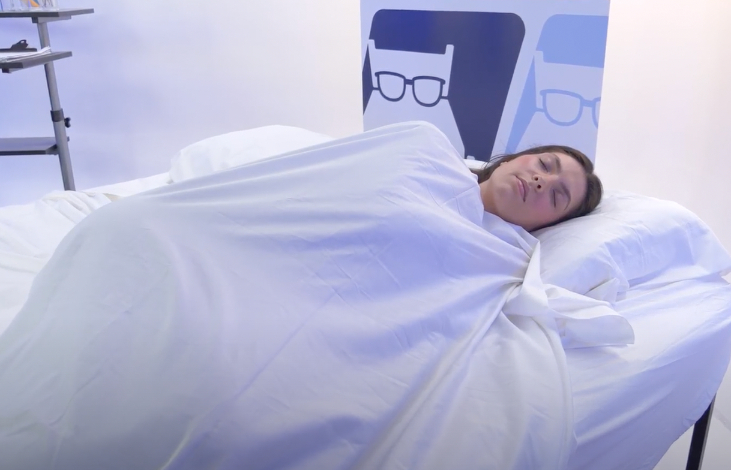 Pros
Great for hot sleepers: The 37.5 technology really works to create the ideal, cool sleeping environment throughout the night.
Good investment in quality cooling tech: Sleep Number is a household name for a reason, they make great products! These sheets alone have a 4.5 out 5 star user rating with over 9,000 reviews.
Great for combo sleepers who's sheets usually come undone: The SmartFit securing straps do a great job at keeping your sheets on the bed without shifting, which if you tend to be an active sleeper, is a big plus!
Cons
Not hypoallergenic: For those with sensitive skin, these sheets aren't made with hypoallergenic materials. So just be aware of that if you do tend to react to fabrics in an adverse way.
Only offered in queen and king sizes: This is unusual but the True Temp sheets only come in queen and king sizes. So there's no size available for a mattress smaller than that, like a twin or full.
Pricey: These sheets start at just above $200 a set. While this isn't the most budget friendly option, be sure to check our links throughout the page for the most up to date pricing with the best promotion available.
| | | |
| --- | --- | --- |
| Size | Dimensions (fitted sheet) | Price |
| Queen | 59″ x 80″ x 15″ | $210 |
| King | 75″ x 80″ x 15″ | $250 |
| Cal King | 71″ x 82″ x 15″ | $250 |
| Split King | 37″ x 82″ x 15″ (x2) | $290 |
| Split Cal King | 35″ x 82″ x 15″ (x2) | $290 |
| FlexTop King | 75″ x 80″ x 15″ | $330 |
| FlexTop Cal King | 71″ x 82″ x 15″ | $330 |
Shipping
The True Temp sheets come with free shipping and returns within the continental United States.
Trial Period and Warranty
You'll have 100 nights to try out your sheets risk free. If you decide to keep them once the trial is up, you'll have an additional year covered by Sleep Number's limited warranty, which covers any manufacturing defects— not normal wear and tear. If you'd like to return your sheets within the trial period, you will be required to cover your own return cost, which would be taken from your reimbursement total.
Will the True Temp sheets fit an extra thick mattress?

These sheets are not made with deep pockets. They will fit mattresses up to 15 inches thick. So, unfortunately no, they won't fit extra thick mattresses.
Can you bleach the True Temp sheets?

Sleep Number advises against using bleach on your sheets, even if they're white. Our best guess is that this may interfere with the the 37.5 technology built into the polyester material. So it's important to be diligent about not spilling anything on your white sheets, because it won't be able to be bleached out.
Do you get king-sized pillows with your set?

Depending on which size you choose, you'll either get two standard or king size pillow cases. The king size cases come with any king size sets.
I would say these sheets are worth it if you're a hot sleeper, you like a lightweight sheet, or you are a combination sleeper whose sheets always come undone from your bed. The materials and construction of this set, between the 37.5 technology, SmartFit straps, and overall durability, are features catered towards those types of individuals, so for that— I'd say they're worth the investment. Plus, with good maintenance, they should last you a few years, unlike cheaper, lower quality options.
Hot sleepers can also check out our Best Cooling Sheets page for more options that'll work for them.
Nerd Score Wrap Up
| | |
| --- | --- |
| Performance Factor | Out of 5 |
| Temperature Control | 5 |
| Customizability | 3.5 |
| Comfort | 3.5 |
| Quality of Materials | 4.5 |
| Care | 5 |
| Customer Experience | 4 |
| Total Nerd Score | 4.25 |
More From Sleep Number
Sleep Number Essential Down Alternative Comforter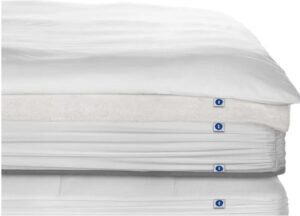 Sleep Number True Temp Weighted Blanket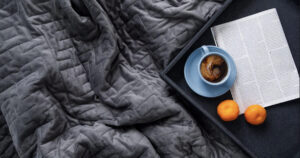 The True Temp™ weighted blanket is Sleep Number's take on a cooling blanket. It uses moisture-wicking technology and a cooling fabric blend to keep hot sleepers cool. It's best for those who want to relax without overheating, but not ideal for those on a budget.
Mattress Nerd Score
4.60 / 5
Read Full Review
Sleep Number True Temp Sheet Set