Tempur-Symphony Pillow Review
•
Disclosure: By clicking on the product links in this article, Mattress Nerd may receive a commission fee at no cost to you, the reader. Read full disclosure statement.
The Mattress Nerd's Take: The Tempur-Symphony from Tempur-Pedic comes with a dual-sided design, an arched side for back sleepers and a flat side for stomach and side sleepers. This personalization offers more concentrated support in areas where you need it most, like the neck, head and shoulders, so you can achieve proper spinal alignment while you sleep.
Who It's Good For
Back sleepers
Side sleepers
Average to Heavyweight stomach sleepers
Combination sleepers
Who It's Not Good For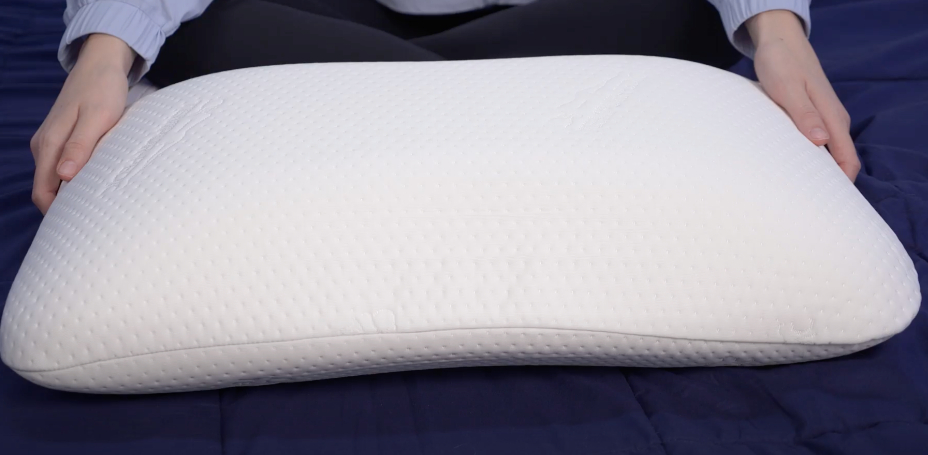 Tempur-Symphony Pillow Video Review
Look Inside
Contoured Side
This is an arched curve designed to provide additional support to the head and neck areas, specifically for back sleepers.
Flat Side
On the other side is a flatter surface that mimics the shape of a traditional pillow. This side is made for side and stomach sleepers.
Cover
The Tempur-Symphony comes with a removable, 100% polyester, hypoallergenic cover. The fabric also has tiny perforations throughout to promote airflow.
The overall feel is soft to the touch, stretchy and light, similar to an athletic jersey. You can sleep directly on the fabric or choose to put an additional pillowcase over it.
Tempur-Material Memory Foam Insert
The solid block of memory foam inside the pillow is soft and impressionable. The overall feeling is firm, but still cradling to the areas where pressure is applied— for a supportive, yet cozy surface.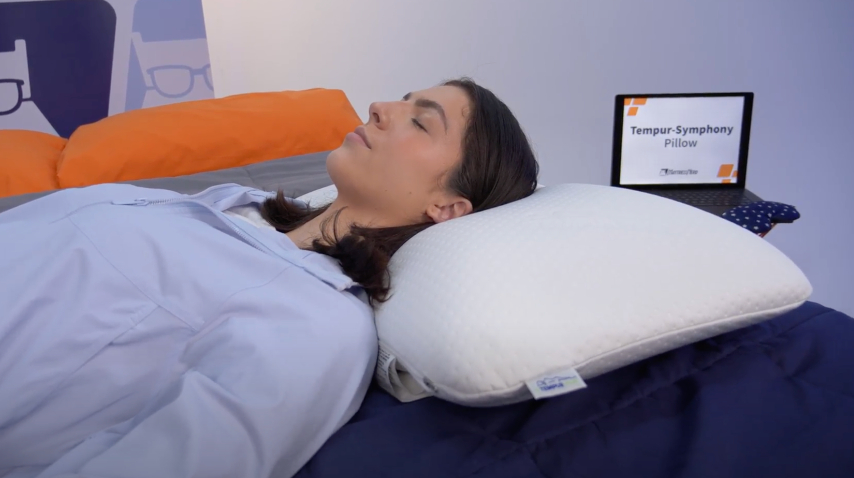 Mattress Nerd Pillow Scores
At Mattress Nerd, we are dedicated to giving you unbiased and honest opinions on the products we review. We compare every product against the following categories and rate them on a scale from 1–5, with 5 being the best.
Cooling: 2/5
The core of this pillow is memory foam, which tends to absorb body heat overnight. This pillow does come with a breathable cover that features perforations throughout the material, so it has some ability to allow for airflow, but it may not be enough for hot sleepers. If you are interested in a Tempur-Pedic pillow that is more hot sleeper friendly, check out our reviews on the Tempur-Cloud Breeze Dual Cooling Pillow or the Tempur-Cloud Adjustable.
Alignment: 4/5
The unique feature about the Tempur-Symphony is the dual-sided design's ability to adapt to the three main sleeping positions for perfect alignment. The arched design is made to give you the perfect spinal alignment on your back, just like the flat side is supposed to do the same while sleeping on your side and stomach. However, if you have a stomach sleeper with a petite body frame, this pillow may be too lofty for you and possibly strain your neck out of alignment.
Adjustability: 5/5
The Tempur-Symphony is very malleable, so you can bend and shape it in any way that you'd like. I like to see this in a pillow because it gives it a higher level of personalization and comfort, especially if you need to travel with the pillow or like to use it in multiple settings.
Quality of Materials: 5/5
Tempur-Pedic products come with a high price tag, but that's because the quality is some of the best in the market. This Tempur-Symphony is made with durable materials, like a 100% polyester knit cover and Tempur-Pedic's patented memory foam. Plus, this pillow comes with a lengthy 5 year warranty, which is a good indicator of the pillow's lifespan.
Care: 4.5/5
The Tempur-Symphony comes with a removable, machine washable cover for easy upkeep. That being said, you cannot wash the memory foam core or you risk damaging the material. Although this is common with most memory foam pillows, it does make the cleaning more of a process, hence why I deducted half a point.
Although you can't wash the foam, you can keep your foam fresh by following a simple process. According to Tempur-Pedic, you can remove the pillowcase and cover and roll the foam up like a towel, and then unroll. Repeat the process and roll in the opposite direction.
Customer Experience: 3.5/5
Tempur-Pedic offers three ways to contact their customer service: an online chat feature on their website, access to representatives via phone, and in person showrooms throughout the United States.
One thing to be aware of before purchase is Tempur-Pedic's product policies. The company does not offer returns, exchanges or trial periods for their pillows. The only situation where these requests would be honored is if there was a defect or damage to the pillow upon delivery. So, just know once you purchase one of these pillows, it's essentially "final sale", which can be a big financial commitment.
Total Score: 4/5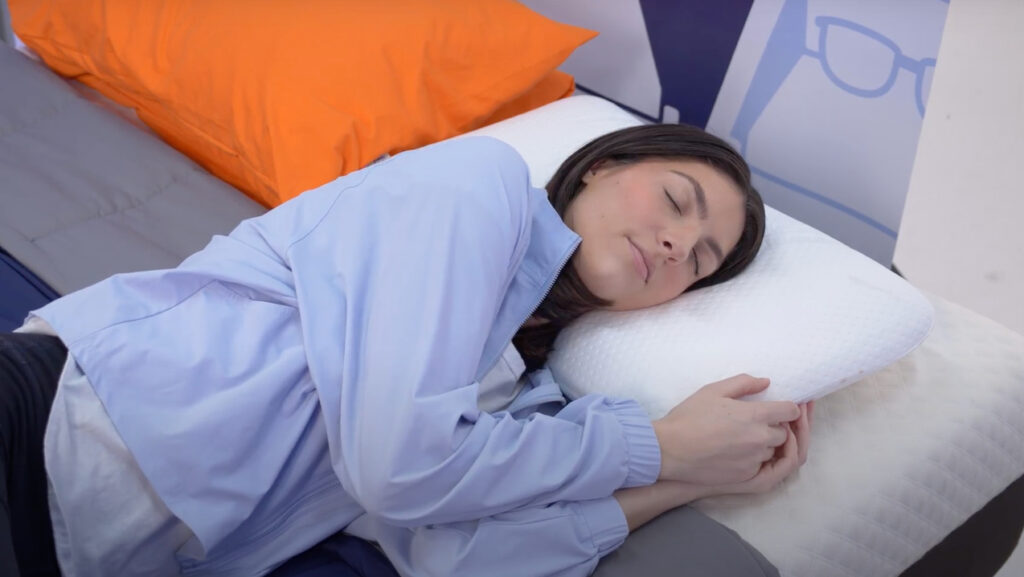 Side Sleeping
Side sleepers, the loft from this pillow will be high enough that it will support your head and neck, while still leaving room for your shoulders to rest comfortably against the bed's surface. When your face makes an impression on the pillow, your face will be cushioned on the surface and hugged around the edges, giving you an overall relaxing feel.
Back Sleeping
Back sleepers, the arched design will provide extra support for your head and neck by propping you up just enough, while still maintaining that neutral spine position. When you lie down, you'll sink the perfect amount while still feeling a unique lift and plush comfort.
Stomach Sleeping
Just like side sleepers, I think stomach sleepers will enjoy the slight impression your face makes on the flat side's surface. Plus, the Tempur-Symphony has a low enough profile for your neck to stay aligned with your spine in a flat back position, so you shouldn't find yourself waking up with any aches and pains. However, if you have a petite body frame, this pillow may be slightly too lofty for your size and could be uncomfortable for you.
| | | |
| --- | --- | --- |
| Score for Side Sleepers | Score for Stomach Sleepers | Score for Back Sleepers |
| 5/5 | 3.5/5 | 5/5 |
Pros/Cons
Pros
Amazing quality:

When looking into customer reviews, I noticed a lot of people saying they've used this pillow for years night after night and the quality has continued to hold up. So, this is a great value buy.

Great pressure relief:

This pillow provides great pressure relief if you suffer from neck or back pain and you're looking for something to alleviate it.

Works for larger body types:

The Tempur-Symphony is a nice option for people with broad shoulders or bigger builds due to its loft and overall firm feel which will allow bigger bodies to make a better impression on the surface.
Cons
Not great for petite stomach sleepers:

I feel like this model is a bit too firm for petite stomach sleepers, they may be uncomfortable and the loft could be too much strain for their necks.

No returns/exchanges:

Tempur-Pedic does not allow for returns or exchanges on their pillows, so just know once you buy it, you gotta keep it.

Expensive:

This pillow is on the pricier side at a little over $100. So it's not the most budget friendly option, but check out our coupons to help lower the cost a bit!
Sizing, Pricing, and Policies
| | | |
| --- | --- | --- |
| Size | Dimensions | Price |
| Standard | 24″ x 17″ x 5″ | $129 |
Shipping
Tempur-Pedic accessories come with complimentary free shipping. Their products are shipped through UPS ground shipping for free (within the contiguous US), and typically arrive within 5-7 business days. The company does not ship to P.O. Boxes.
If you wish to ship to Alaska, Hawaii, Puerto Rico or other US Territories, Tempur-Pedic offers standard shipping for $25 per order.
Sleep Trial
The company does not offer a trial period for their pillows since it is a personal use item.
Returns/Exchanges
Tempur-Pedic does not offer returns or exchanges on their pillows. They only honor returns if the item is damaged or has a manufacturing defect upon delivery.
Warranty Coverage
Tempur-Pedic pillows are covered under a 5-year limited warranty. In order to ensure the smoothest warranty claim process, the company suggests registering your product, once you receive it, on their website here. Within that 5 year span of the warranty, if your pillow needs to be replaced, you can file a claim. To file a claim, you'll need the following information:
Purchase receipt or a bank statement showing the purchase

Product law tag

Photos of the product

Product in full view without bedding

Close up view of the defective area

Purchase receipt

Law tag
FAQs
How many different pillows does Tempur-Pedic sell?
Tempur-Pedic currently sells 14 different pillow models, all designed for a multitude of preferences. Here at Mattress Nerd, we've broken down the differences between all of the options Tempur-Pedic offers, which you can learn more about here.
What is the typical lifespan of this pillow?
The Tempur-Symphony comes with a 5 year warranty, which is typically a good indicator of a pillow's lifespan. I'd say you can definitely get a good 4-5 years out of this pillow, but with proper maintenance and care, you should be able to use it for longer!
Should I wash this pillow before using it?
It's good general practice to wash your pillow before using it. In this case, the cover of the Tempur-Symphony is removable and machine washable for easy care. But— remember to not wash the memory foam core or you could potentially ruin the material. You can sleep directly on the case provided, or put your own over top if you'd like.
The Nerd's Final Take
If you're a back sleeper who has been looking for a pillow with more personalized comfort for your neck and head, I think the Tempur-Symphony will provide that through its arched, contoured design.
I also think if you are a combo sleeper, this would be a value buy because if you switch from your side to your stomach, or side to back, you have a pillow that works for every position you end up in throughout the night.
Although this pillow is not the most budget friendly option, it's a high-quality, durable option from a luxury company that comes with an impressive warranty.