What are Hybrid Mattresses?
•
Disclosure: By clicking on the product links in this article, Mattress Nerd may receive a commission fee at no cost to you, the reader. Read full disclosure statement.
Hybrid mattresses are a relatively new trend in the mattress world. In fact, it seems like most manufacturers are coming out with a hybrid model or two. But what is a hybrid mattress and what are some of the pros and cons? Is this the next best thing in sleep health, or just marketing hype? Let's take a closer look. If you like what you see, check out our list of the best hybrid mattresses.
Disclosure: By clicking on the product links in this article, Mattress Nerd may receive a commission fee at no cost to you, the reader. Read full disclosure statement.
What's the "Hybrid" in Hybrid Mattresses?
Hybrid mattresses combine the classic construction of old-school innerspring mattresses with the comforting top layers of all-foam mattresses. A hybrid mattress will typically have coils (usually individually pocketed coils) and memory foam or latex on top.
If you're well-versed in mattresses, you may have a question at this point.
"Don't most regular coil mattresses use memory foam or latex on top?"
Well, yes. In some respects, the "hybrid" name is just a marketing term; an evolutionary step rather than a revolutionary one. Hybrid mattresses tend to have a little more foam and a little less of the other comfort materials than is used in traditional innerspring mattresses. Also, the top of the hybrid mattress is typically flatter like a foam mattress, rather than tufted like a traditional innerspring mattress.
The Sealy Posturepedic Hybrid in Ability firm setting has a flat top in comparison to the more traditional Posturepedic mattress below.
This is a more traditional innerspring mattress. The little indents on top are tufting, more indicative of a traditional innerspring mattress. Most hybrid mattresses use a smooth surface instead.
A word of caution: not everything labeled a "hybrid" mattress is really a hybrid. It's in fashion now for some manufacturers to call every mattress with both springs and foam "hybrid." The real hybrid mattresses are those that use larger layers of foam on the top and use less fiber. Hybrid mattresses have a very particular feel to them that's hard to describe, but if you spend some time on a hybrid mattress you'll notice the difference. The feel is somewhere between the slow-response of a foam mattress and the bounciness of the older traditional mattresses. If you try a mattress that feels just like every other innerspring mattress, and it uses a tufted top (the little indents sewn down), it's probably not what most people would consider a real hybrid.
But in the end, what ultimately matters is your comfort. No all-foam bed or even hybrid bed is made for every sleep position. To find optimal spinal support, it's best to look for a firmness level that matches sleeping position and provides enough pressure relief and cushioning to leave you well-rested.
For instance, if you're a side sleeper, you'll probably need a mattress that's on the softer side to keep your spine aligned and any back pain in check. The best mattress for a back sleeper would be something a little firmer, to provide a support system that keeps the hips from sinking into the bed too much and causing spinal misalignment.
Check for support and spinal alignment with any bed you try, hybrid or not. If you need help in this area, check out our mattress buying guide.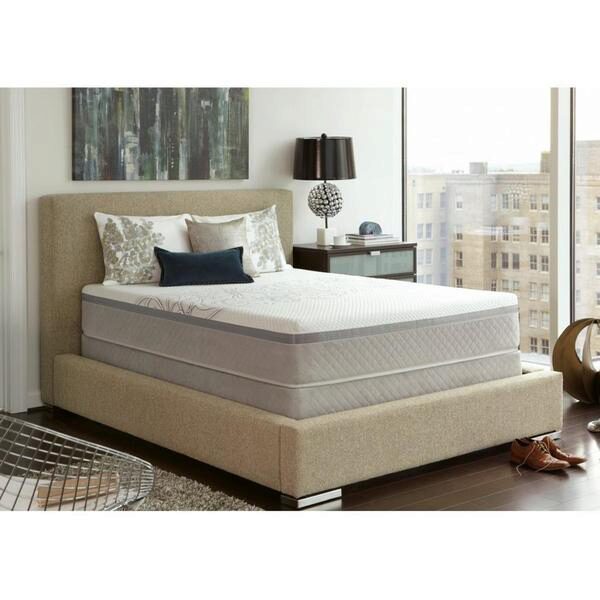 This is a Sealy Posturepedic Hybrid (the Ability firm). Note the flat top in comparison to the more traditional Posturepedic below. Images courtesy of Overstock.com
This is a more traditional innerspring mattress. Note the tufting on the top (the little indents). Most (but not all) hybrid mattresses use a smooth surface instead.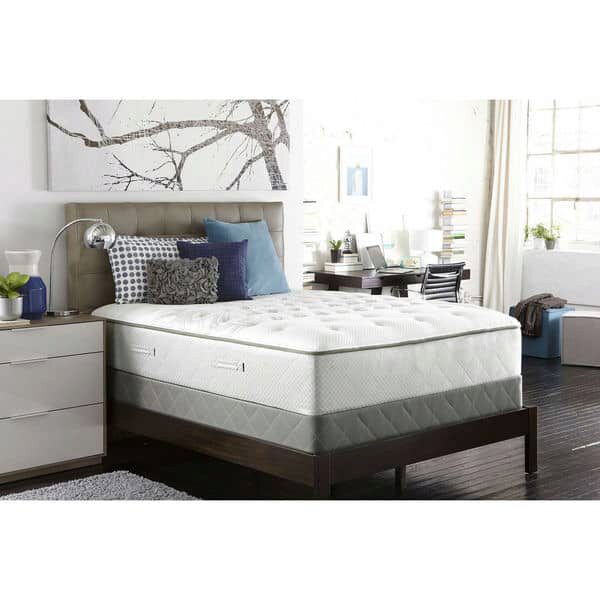 What's the Difference Between Hybrid Mattresses and All-Foam Mattresses?
If you're relatively new to the mattress industry––no judgement!––the difference between a memory foam mattress and a hybrid mattress might not be readily evident. All-foam mattresses are made of several foam layers that contour to your body. These mattresses usually have at least three layers:
A top comfort layer

that offers

plush

protection for delicate

pressure points

like the shoulders and hips

A transition layer

that's a bit firmer than the

comfort layer

and supports larger bodies; this layer keeps

A support layer

, or

base layer

, is made of the highest

density foam

in the mattress enhances durability and keeps the bed from

sagging

over time
In a hybrid bed, usually a foam hybrid, the support layer of an all-foam bed is essentially replaced by a layer of coils, also known as innersprings. Though there are several different types of innerspring designs on the market today, they all have a few things in common: innerspring beds are easier to move around in than all-foam mattresses because they create a more responsive feel. Still, they're not quite as good as all-foam mattresses at motion isolation. A must for couples, mattresses that reduce motion transfer allow a sleeper to remain undisturbed while a partner tosses and turns at night.
But there's a major upside to the coils in a hybrid bed: they enhance breathability and all-night coolness. If you tend to sleep hot, you may gravitate toward breathable coils rather than the heat retention of foam comfort layers found in all-foam beds. The layers of memory foam in all-foam construction are designed to wrap around the body and often trap body heat, though some brands include gel memory foam or cooling polyfoam in an attempt to keep hot sleepers comfortable. Though a latex mattress might be a bit better at reducing heat retention, innerspring coils offer the ultimate breathability and airflow.
For a more in-depth look, check out Memory Foam vs Hybrid.
Pros and Cons of Hybrid Mattresses
Since hybrid mattresses are just a variation of innerspring mattresses, the pros and cons of innersprings apply to hybrids as well. Here are a couple pros and cons specific to hybrid beds:
Pros:
Hybrid mattresses

are better at

contouring

to your body than simpler

innerspring mattresses

Hybrids have a fairly unique feel that some people really like

Because of the metal

coil system

in a

hybrid mattress

, the

edge support

of the bed is better than an all-

foam bed
Cons:
Hybrids are a little more expensive than other mattresses of a similar overall quality. The higher

price tag

is, in part, because hybrids are the latest trend in mattresses.

Everybody seems to be calling their mattress a hybrid these days, so you might have to sift through a few mattresses that aren't

really

hybrids to find one that truly is.
The Bottom Line
Hopefully, now you have a better sense of what a hybrid mattress is and why mattress type is so important when it comes to choosing the right mattress. The basics of finding a new mattress remain the same: try out the mattresses and check for support and comfort. Look at mattress reviews and do some online research, but don't pay too much attention to the word "hybrid," as it is mostly a marketing term.
Still, at least be aware that the mattress will have a slightly different feel, somewhere in between an all-foam mattress and the more traditional innersprings. It's not necessarily better or worse than any other type of mattress, just slightly different.
Do you own a hybrid bed? If so, leave a comment below and let the world know what you think of it.