Panda Life Pillow Review
•
Disclosure: By clicking on the product links in this article, Mattress Nerd may receive a commission fee at no cost to you, the reader. Read full disclosure statement.
The Mattress Nerd's Take: Based on our research, the Panda Life Pillow is a great option for eco-friendly shoppers who still want a high-quality memory foam pillow pillow. It's particularly well-suited to back sleepers and stomach sleepers. However, it's not the best option for side sleepers due to its relatively low loft. Check out our recommendations on the best pillow for side sleepers.
The Panda Life Shredded Memory Foam Pillow is a hypoallergenic bamboo pillow that is soft, comfortable and environment-friendly all at the same time. The shredded memory foam construction allows for better airflow and pressure relief, and the pillow cover is made from renewable bamboo. Let's take a look at what the Panda Life Pillow does well and where it falls short so you can decide if it's right for you.
Panda Life Pillow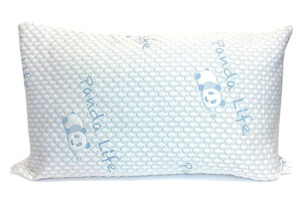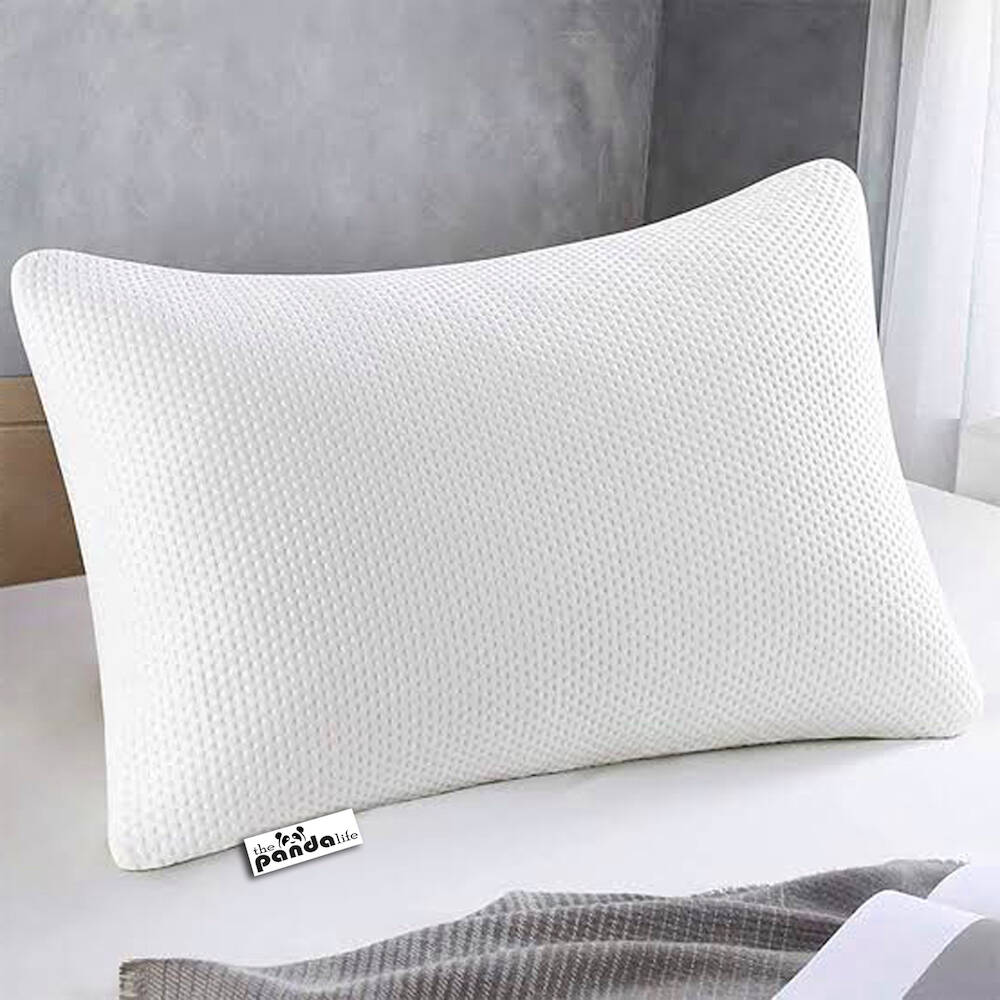 Who It's Good For
Eco-Friendly shoppers –

The materials used in the cover for the Panda Life Shredded Memory Foam Pillow include viscose of bamboo, which is much more environmentally friendly than other common pillow materials.

Sleepers who need pressure relief – The Panda Life Pillow is made with shredded memory foam, which contours to the natural curvature of your neck and cradles your head, but unlike solid blocks of memory foam, it's adjustable. We recommend the Panda Life as one of the best pillows for neck pain.
Hot sleepers –

First, the viscose of bamboo in the cover of the pillow and the use of shredded memory foam (instead of a block of memory foam) has a naturally breathable and cooling effect against the skin.
Who It's Not Good For
Stomach and back sleepers –

This pillow is only 4 inches tall, which is ideal for stomach sleepers and some back sleepers, but this low loft is not a good match for side sleepers.

Budget shoppers –

Generally, a Panda pillow costs $45 to $70 depending on the size. There are plenty of pillows out there that cost a lot more, but there are also ones that cost much less.

Sleepers with a sensitive nose –

Like other memory foam pillows, customer reviews report that the Panda Life Pillow comes with a strong smell when you first open it.
A Look Inside
Shredded Memory Foam Fill:
The Panda Life Pillow is filled with shredded polyurethane memory foam. No other fillers are used in this pillow, so you can rest assured that you will get the full memory foam experience. But traditionally, memory foam isn't very cool or breathable. One solution the Panda Life Pillow has for this overheating problem is using shredded memory foam rather than a block of memory foam. Because the memory foam is shredded instead of solid, air can flow through the pillow, keeping you cool all night long.
Check out Types of Pillow Stuffing for more information on the materials used inside pillows.
Viscose Rayon Bamboo Cover:
The cover of the Panda Life Pillow is made from viscose rayon fabric with bamboo and polyester. The exact proportion is 60% polyester, 40% viscose bamboo.
One of the usual downsides to a memory foam pillow is that memory foam absorbs body heat, making it uncomfortable for hot sleepers. Heat passes right through the bamboo fibre in the Panda Life Pillow instead of being absorbed into the material.
What does the Panda Life Pillow Feel Like?
The most important aspect of any pillow is how it feels. Everyone has their own personal preferences, so let's find out if the Panda Life Pillow will feel good for you.
FIrst, the Panda Life Pillow is medium-firm, meaning it has some give, thanks to the memory foam, but it isn't super soft like a down pillow. If you want a very soft or very firm pillow, the Panda Life Pillow probably won't be right for you, but if you're looking for something in between, it could be perfect.
Another key part of pillow comfort is breathability. We addressed this earlier, but it's worth mentioning again how breathable and cool the Panda Life Pillow is, even though it's made with memory foam. Because the foam is shredded and the cover is made from naturally cool, breathable bamboo, the Panda Life Pillow is a comfortable pillow even for hot sleepers.
One of the most important features of the Panda Life Pillow is its ability to relieve pressure that builds up in the pressure points in your neck and shoulders throughout the night. This is especially important for stomach sleepers. When you sleep on your stomach, the base of your spine tends to dip into the mattress, which can cause pressure to build up in your shoulders and neck, leading to back pain and neck pain. If you sleep on your stomach and need your pillow to be flatter, you can bunch up some of the memory foam shreds and move them off to the side. For similar options, see the best pillows for stomach sleepers. But still, side sleepers might not find enough loft in the Panda Life Pillow for comfort.
Finally, we want to talk about how adjustable the Panda Life Pillow is. If you're one of those people who likes to fluff your pillow throughout the night as you change position, this pillow is great for that. The shredded memory foam can be adjusted for different sleep positions and comfort levels, so even if you tend to toss and turn, the Panda Life Pillow can accommodate most of your sleeping positions. The only position it isn't well-suited for is side sleeping. As we mentioned earlier, side sleepers need more loft from their pillows to better support their necks, and the Panda Life Pillow has a relatively low loft. For a lofter pillow, see the best wedge pillows.
Panda Life Pricing and Specs
| | |
| --- | --- |
| Size | Price |
| Standard Size | $45 |
| Queen Size | $60 |
| King Size | $70 |
If you aren't sure which pillow size is right for you, check out our pillow size guide.
Panda Life Policies
Shipping
Panda Life Pillows ship through Amazon with free shipping. Panda Pillows aren't available for Prime shipping, but their products still ship relatively quickly, typically arriving within two weeks.
Sleep Trial
Unlike many other pillows and mattresses, the Panda Life Pillow doesn't come with any kind of sleep trial. Sleep trials are periods where you can try out a sleep product and if it just isn't right for you, you can return it for a full refund. Unfortunately, once you purchase a Panda Life Pillow, there's no way to return it simply because you find it uncomfortable.
Warranty Coverage
If your pillow comes with some kind of defect or if it falls apart unreasonably quick, you can file a warranty claim any time during the first three years you own the pillow. The warranty doesn't cover comfort preferences or damage inflicted by the owner, only manufacturing defects.
Panda Life Pillow FAQs
Should I use a pillowcase with my Panda Life Pillow?
Because the cover of the Panda Life Pillow is made from soft, breathable bamboo, Panda Life recommends sleeping directly on the pillow without a pillowcase. However, if you want to use a pillowcase, itu2019s probably a good idea to use a bamboo pillowcase, so you still get the breathability.
What does it mean that the Panda Life Pillow is u201chypoallergenicu201d?
When a pillow is listed as hypoallergenic, it means that it absorbs fewer common allergens, like dust mites and bacteria. When it comes to the Panda Life Pillow, it contains viscose bamboo, which is antibacterial and naturally repels common allergens.
Is the Panda Life Pillow machine washable?
The cover is machine washable, but you shouldnu2019t wash the whole pillow. Memory foam absorbs water and it takes a very long time for it to dry. The ongoing dampness can encourage the growth of mold or bacteria, which could lead to health issues for anyone sleeping on the pillow.
See PandaLifeBedding.com for more FAQs.
Panda Life Pillow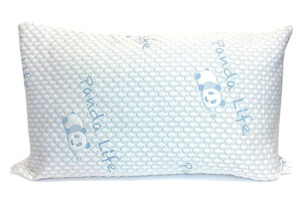 The Nerd's Final Take
Finding the right pillow is key to getting a good night's sleep. If you enjoy the feeling of memory foam and sleep on your back or on your stomach, then the Panda Life Pillow could be a great fit for you. It's breathable, eco-friendly, and easy to adjust. However, its low loft could be uncomfortable for side sleepers, and the price tag may not work for all budgets.